Hardware overview
There is no denying that the Lumia 650 is a really gorgeous phone and in a very non-Lumia way, not necessarily appealing to traditional Lumia design fans. It really looks like the 650 isn't exactly related to any other offers in Microsoft's current lineup, like the Lumia 950 or 550. It is rather in a league of its own - slick, slim, light elegant, with just a touch of metal. Rounded corners and sloping edges have given way to a lot straighter and sharper lines and colorful, glossy plastic is nowhere to be found, just a black or white, mat finish all around.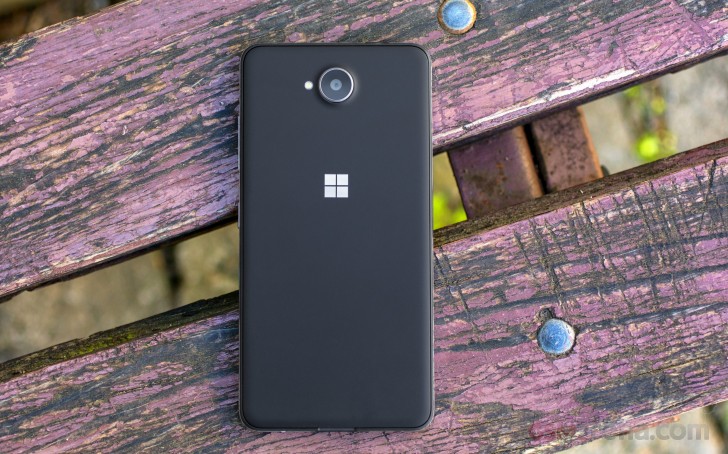 This new push towards a more serious, business exterior seems to be an ongoing Microsoft trend, as it tries to move its lineup, or at least parts of it, away from the youthful approach, but the Lumia 650 really takes it to the next level.
We keep raving about the metal frame and we mean every word of it. It runs all the way along the sides of the device and has a dark steel finish, combined with shining silver edges on the front and back. Even the power and volume buttons on the right side are made of metal.
Of course, it's not all sunshine and roses. The shiny surface of the frame is split at two spots - by the 3.5 audio jack on the top of the unit and the microUSB port on the bottom. These two are surrounded by regular plastic and are an eye-sore.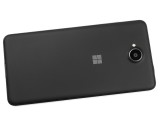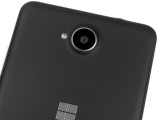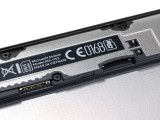 A soft finish plastic back and nicely made insides with metal plates
The Lumia 650 is not only flaunts the metal proudly, but also combines it with a slim profile, measuring only 142 x 70.9 x 6.9 mm. Despite the thin waist line, the Lumia 650 still has a removable back cover that grants access to the 2000mAh battery pack. This is one of the few drawbacks of the design, as it did leave very little room for power cells. The strive for a lightweight body didn't help either, but the results speak for themselves - at 122 g, the Lumia 650 feels almost unnaturally light.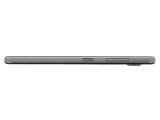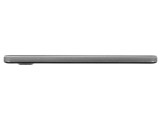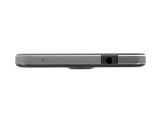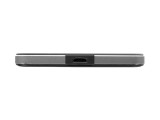 Metal all around, sadly, minus the ports
As for build quality and choice of materials, it is a mixed bag. We really can't complain about the plastic either. The front of the device has a really deep piano black or pure white finish that both work great with the OLED display. And as for the back, It is extremely thin and with a soft-touch finish, also quite flexible, but it appears pretty rigid once it's on the phone.
The only real complaint we have with the build quality is the way the back cover attaches to the back of the unit, which leaves a few gaps here and there. But, that just seems like nitpicking, considering the overall excellent picture.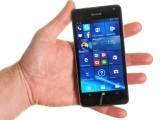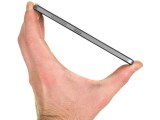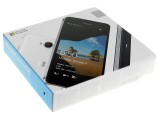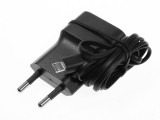 Microsoft Lumia 650 in hand • The retail box • The phone ships with a 2.75W charger (5V, 0.55A)
Display
OLED panels are far from a novelty in the Lumia realm, but it is always a welcome sight to see the technology in a budget-friendly handset. With a current asking price of a little over $200, we wouldn't exactly call the Lumia 650 an entry-level device, but it is a solid mid-ranger, which should be its true place in the lineup, considering the Lumia 950 and the Lumia 550 on either side.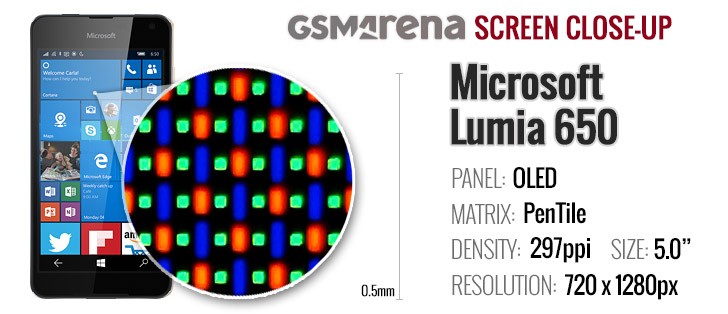 Going by this logic, it is great to see that Microsoft has managed to keep the OLED technology from the higher tier and leave it in the Lumia 650, giving it a clear neck up from its lower-end sibling. It also makes sense if we consider the handset as a spiritual successor to the Lumia 640. The 5.0-inch panel is nice and bright and also visually quite sharp, despite its 720p resolution.
As for the panel itself, it is decent albeit quite old, as it is of the Pentile variety. Maximum brightness is only average and the minimum white brightness is a little high for our taste. Sunlight legibility, on the other hand, is excellent. Color accuracy on the unit is surprisingly good, as well, so it has that going for it. Contrast, of course, is infinite thanks to the OLED technology, which is able to turn off the black completely.
Display test
100% brightness
Black, cd/m2
White, cd/m2
Contrast ratio
Microsoft Lumia 650
0.00
333
∞
Microsoft Lumia 950
0.00
328
∞
Microsoft Lumia 950 (max auto)
0.00
626
∞
Microsoft Lumia 950XL
0.00
335
∞
Microsoft Lumia 950XL (max auto)
0.00
705
∞
Microsoft Lumia 550
0.57
546
963
Microsoft Lumia 640
0.49
508
1034
Nokia Lumia 735
0.00
363
∞
Nokia Lumia 930
0.00
347
∞
Huawei P8lite
0.45
362
802
Samsung Galaxy A3
0.00
470
∞
Xiaomi Redmi Note 3 (MediaTek)
0.42
403
953
ZTE Blade S6
0.46
457
946
Moto G 3rd gen max manual
0.43
430
1009
Moto G 3rd gen max auto
0.53
539
1017
Meizu m2 note
0.42
473
1108
Sunlight contrast ratio
Samsung Galaxy S6 edge+
4.615
Samsung Galaxy S7 edge
4.439
Samsung Galaxy S7
4.376
HTC One A9
4.274
Samsung Galaxy A3
4.241
Samsung Galaxy S6 edge
4.124
Samsung Galaxy Note5
4.09
Huawei Nexus 6P
4.019
OnePlus X
3.983
Oppo R7s
3.964
Samsung Galaxy A7 (2016)
3.918
Samsung Galaxy A5
3.895
Samsung Galaxy J7 outdoor
3.879
Samsung Galaxy J2 outdoor
3.873
Samsung Galaxy A8
3.859
Apple iPhone 6
3.838
Microsoft Lumia 950XL
3.837
Samsung Galaxy A9 (2016)
3.817
Motorola Moto X (2014)
3.816
Samsung Galaxy A5 (2016)
3.789
Apple iPhone 6s
3.783
Meizu Pro 5
3.781
Microsoft Lumia 650
3.772
Vivo X5Pro
3.706
Samsung Galaxy A7
3.679
BlackBerry Priv
3.645
Nokia Lumia 930
3.567
Nokia Lumia 735
3.547
Apple iPhone 6s Plus
3.53
Microsoft Lumia 950
3.512
Oppo R7 Plus
3.499
Samsung Galaxy J7
3.422
Meizu MX5
3.416
Oppo R7
3.32
Samsung Galaxy J2
3.235
Motorola Moto X Play
3.222
Lenovo Vibe Shot
3.113
LG Nexus 5X
3.092
Huawei Mate S
3.073
Microsoft Lumia 640 XL
3.065
Apple iPhone 6 Plus
3.023
Samsung Galaxy Note
2.97
Huawei Mate 8
2.949
HTC One S
2.901
Sony Xperia Z5
2.876
Microsoft Lumia 550
2.851
Sony Xperia Z5 compact
2.784
LG V10
2.744
Xiaomi Redmi 3
2.735
Sony Xperia M5
2.69
Xiaomi Mi 4i
2.641
Xiaomi Mi 4c
2.574
Microsoft Lumia 640
2.563
Motorola Moto G 4G
2.546
Oppo F1
2.528
Sony Xperia Z5 Premium
2.525
Sony Xperia M4 Aqua
2.503
Motorola Moto G
2.477
Huawei G8
2.471
Sony Xperia Z
2.462
Huawei Honor 7
2.406
ZUK Z1 by Lenovo
2.382
HTC One E9+
2.305
Alcatel One Touch Hero
2.272
Apple iPhone 4S
2.269
Lenovo Vibe K4 Note
2.254
Sony Xperia C5 Ultra
2.253
Xiaomi Redmi Note 3 (MediaTek)
2.249
Sony Xperia C4 Dual
2.235
Motorola Moto G (2014)
2.233
LG Nexus 5
2.228
Huawei P8
2.196
Xiaomi Redmi Note 2
2.166
HTC One X
2.158
LG Aka
2.145
Archos 50 Diamond
2.134
Xiaomi Redmi Note
2.119
Huawei P8lite
2.078
Moto G 3rd gen max manual
2.026
Sony Xperia E4g
1.972
ZTE Blade S6
1.927
BlackBerry Leap
1.892
Meizu m2 note
1.892
HTC Butterfly
1.873
ZTE Nubia Z9 mini
1.759
Sony Xperia U
1.758
Asus Zenfone Selfie
1.68
Motorola Moto E (2nd Gen)
1.675
ZTE Nubia Z9
1.659
Motorola Moto E
1.545
Sony Xperia M
1.473
Xiaomi Redmi 2
1.311
Sony Xperia C
1.283
Meizu MX
1.221
Battery Life
The Microsoft Lumia 650 packs a rather small 2000mAh battery. The Snapdragon 212 SoC, combined with the 720p OLED display both spell power efficiency, but oddly enough, the handset eats through the available charge quite quickly.
It only managed to get an overall endurance rating of 55 hours. This is still better than the 43 hours its Lumia 550 sibling managed to clock in, but sadly also quite a bit less than the 76 hours the Lumia 640 earned last year. However, the latter is understandable, considering the 500mAh difference in battery capacity and the drastically new OS.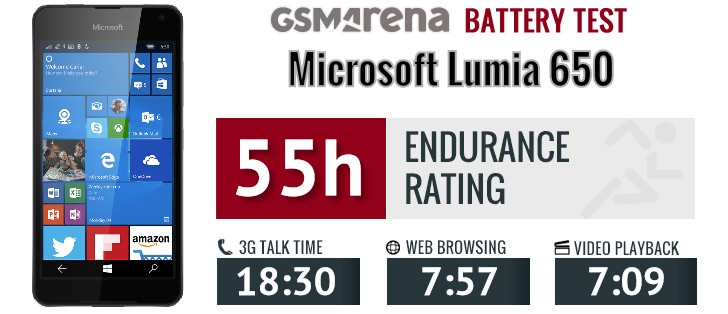 The fact is that the higher-end Lumia 950 only scored 48 hours of endurance in out battery tests, despite its 3000mAh battery. The top-of-the-line Lumia 950 XL managed to ramp that up to 62 hours, but only through the use of an even bigger 3340mAh pack.
So we are inclined to point a finger at Windows 10. While ambitious, Microsoft's latest cross-platform OS effort is still far from optimized or stable. Don't get us wrong, it shows great promise and has really taken usability and the UX to a whole new level, which we will touch upon in the following section. However, despite the fact that the OS is now rolling out officially to all supported handsets, problems are still plentiful - especially from stability point of view.
We found ourselves having to restart the Lumia 650 on several occasions as it had frozen quite badly. On one occasion, we even had to go as far as removing the battery, which, frankly, isn't really acceptable on a mature mobile platform in 2016. All this considered, it is no wonder that battery usage is less than ideal, but hopefully, future optimization will patch most things up, in the otherwise very impressive Windows 10.
Make note that our proprietary score also includes a standby battery draw test, which is not featured in our test scorecard but is calculated in the total endurance rating. The battery testing procedure is described in detail in case you're interested in the nitty-gritties.