5-inch display with 720p resolution - can't complain
The Vibe K5 relies on a 5-inch 720p IPS display. The resolution is one of the few downgrades, compared to the Plus. Or rather the Vibe K5, being the base model, gets the base resolution. At 294ppi, pixel density is still good enough, even if we have to add "considering the price" once again.
No surprises when we put it under the microscope - the Vibe K5's panel has a standard RGB layout with an equal number of subpixels for each primary color.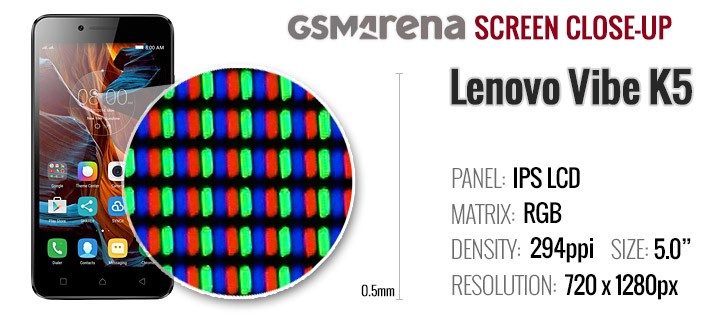 The Vibe K5's display is capable of more than 400nits of brightness in its default mode, which isn't spectacular - more like average. Its black levels aren't too good either, and that somewhat ruins contrast.
Display test
100% brightness
Black, cd/m2
White, cd/m2
Contrast ratio
Lenovo Vibe K5 Plus
0.44
441
998
Lenovo Vibe K5
0.53
426
804
Xiaomi Redmi 3
0.42
520
1238
Xiaomi Redmi 3 Pro
0.49
561
1145
Sony Xperia XA
0.38
523
1376
Samsung Galaxy J2
0.00
346
∞
Samsung Galaxy J2 outdoor
0.00
480
∞
Oppo F1
0.46
408
897
Sony Xperia E5
0.43
540
1243
Color reproduction is reasonably accurate in default mode, with an average DeltaE of 6.1. You can adjust the colors in settings and achieve an average DeltaE of 3, but at the expense of maximum brightness, which drops by about 100nits.
In the sunlight legibility test the Vibe K5 posted virtually the same score as the Plus. The dispay being one of the few parts not shared between the two, we thought this might be an area where they performed differently. Well, they didn't and the Vibe K5 scored a good figure for an LCD - not iPhone-6s-good, but better than the HTC 10, for example.
Sunlight contrast ratio
Samsung Galaxy S6 edge+
4.615
Samsung Galaxy S7 edge
4.439
OnePlus 3
4.424
Samsung Galaxy S7
4.376
HTC One A9
4.274
Samsung Galaxy A3
4.241
Samsung Galaxy S6 edge
4.124
Samsung Galaxy Note5
4.09
Huawei Nexus 6P
4.019
Vivo Xplay5 Elite
3.983
OnePlus X
3.983
Oppo R7s
3.964
Huawei P9 Plus
3.956
Samsung Galaxy A7 (2016)
3.918
Samsung Galaxy A5
3.895
Samsung Galaxy J7 outdoor
3.879
Samsung Galaxy J2 outdoor
3.873
Samsung Galaxy A8
3.859
Apple iPhone 6
3.838
Samsung Galaxy A9 (2016)
3.817
Motorola Moto X (2014)
3.816
Samsung Galaxy J7 (2016) outdoor mode
3.802
Samsung Galaxy A5 (2016)
3.789
Apple iPhone 6s
3.783
Meizu Pro 5
3.781
Microsoft Lumia 650
3.772
Samsung Galaxy J7 (2016)
3.756
Oppo F1 Plus
3.709
Vivo X5Pro
3.706
Apple iPhone SE
3.681
Samsung Galaxy A7
3.679
Meizu PRO 6
3.659
BlackBerry Priv
3.645
Apple iPhone 6s Plus
3.53
Samsung Galaxy J3 (2016) outdoor mode
3.523
Samsung Galaxy J3 (2016)
3.523
Acer Jade Primo
3.521
Microsoft Lumia 950
3.512
Oppo R7 Plus
3.499
Samsung Galaxy J7
3.422
Meizu MX5
3.416
Oppo R7
3.32
Samsung Galaxy J2
3.235
Sony Xperia X Performance
3.234
Motorola Moto X Play
3.222
Huawei P9
3.195
Lenovo Vibe Shot
3.113
Motorola Moto X Force
3.105
LG Nexus 5X
3.092
Huawei Mate S
3.073
Microsoft Lumia 640 XL
3.065
Apple iPhone 6 Plus
3.023
Sony Xperia X
2.989
Samsung Galaxy Note
2.97
Huawei Mate 8
2.949
Sony Xperia XA Ultra
2.906
LG G5
2.905
HTC One S
2.901
Sony Xperia Z5
2.876
Microsoft Lumia 550
2.851
Sony Xperia Z5 compact
2.784
LG V10
2.744
Xiaomi Redmi 3
2.735
Sony Xperia M5
2.69
Huawei P9 Lite
2.679
Vivo V3Max
2.659
Xiaomi Mi 4i
2.641
Sony Xperia XA
2.609
Xiaomi Mi 4c
2.574
LeEco Le Max 2
2.567
Microsoft Lumia 640
2.563
Lenovo Moto G4
2.544
Oppo F1
2.528
Sony Xperia Z5 Premium
2.525
Huawei Honor 7 Lite / Honor 5c
2.506
Sony Xperia M4 Aqua
2.503
Motorola Moto G
2.477
Lenovo Vibe K5 Plus
2.473
Huawei G8
2.471
Sony Xperia Z
2.462
Lenovo Vibe K5
2.459
Huawei Honor 7
2.406
Sony Xperia E5
2.386
ZUK Z1 by Lenovo
2.382
HTC 10
2.378
Samsung Galaxy J5 (2016)
2.378
HTC One E9+
2.305
Alcatel One Touch Hero
2.272
Lenovo Vibe K4 Note
2.254
Sony Xperia C5 Ultra
2.253
Xiaomi Redmi Note 3 (MediaTek)
2.249
Sony Xperia C4 Dual
2.235
Motorola Moto G (2014)
2.233
LG Nexus 5
2.228
Huawei P8
2.196
Xiaomi Redmi Note 2
2.166
OnePlus Two
2.165
HTC One X
2.158
LG Aka
2.145
Archos 50 Diamond
2.134
Xiaomi Redmi Note
2.119
Acer Liquid X2
2.084
Huawei P8lite
2.078
Moto G 3rd gen max manual
2.026
Xiaomi Mi Max
1.996
Sony Xperia E4g
1.972
OnePlus One
1.961
Meizu m3 note
1.923
BlackBerry Leap
1.892
Meizu m2 note
1.892
HTC Butterfly
1.873
ZTE Nubia Z9 mini
1.759
Sony Xperia U
1.758
Asus Zenfone Selfie
1.68
Motorola Moto E (2nd Gen)
1.675
ZTE Nubia Z9
1.659
Motorola Moto E
1.545
Sony Xperia M
1.473
Xiaomi Redmi 2
1.311
Sony Xperia C
1.283
Meizu MX
1.221
Sony Xperia E
1.215
Connectivity
The Vibe K5 is a dual-SIM smartphone and it takes microSIMs in both slots. Both are 2G-capable, but only one gets the 3G/4G treatment. LTE is Cat. 4 for theoretical transfer speeds of 150Mbps down and 50Mbps up. It has a dedicated microSD slot - so no dilemmas between extra storage and a second SIM.
You get single-band 2.4GHz Wi-Fi b/g/n (no ac) with hotspot support, GPS with A-GPS, Bluetooth v4.1, and an FM radio receiver. There's no NFC or an infrared port, though.
The microUSB 2.0 port is USB OTG enabled, and you also get a standard 3.5mm headphone jack.
Lenovo Vibe K5 battery life
The Lenovo Vibe K5 packs a 2,750mAh battery - the same as the K5 Plus. A different (supposedly more frugal) chipset and display resolution sound like the right way improve battery performance but this isn't the case.
The Vibe K5 posted largely the same numbers as the K5 Plus, and while that is more of a testament to the Plus for squeezing the same endurance with higher-grade hardware, this plain K5 is by no means inadequately powered.
Close to 9 hours on the web over Wi-Fi, and 8 hours of video playback are average numbers, and actually pretty good for the battery capacity. The 3G talk time isn't great, at 13 hours, and that's where the K5 Plus lasts a little longer.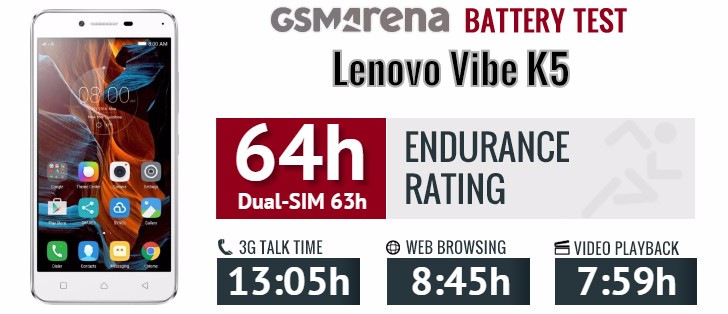 The battery testing procedure is described in detail in case you're interested in the nitty-gritties. You can also check out our complete battery test table, where you can see how all of the smartphones we've tested will compare under your own typical use.