Display
The Lenovo P2 employs a Samsung-made 5.5-inch Super AMOLED panel of 1080p resolution and it's protected by a 2.5D shaped Corning Gorilla Glass 3 piece. The colors are nicely saturated, and the viewing angles are quite good. The pixel arrangement is Diamond PenTile, which is usual for these screens and works out to a sufficiently sharp image because of the 401ppi pixel density.
There is a dedicated High Sensitivity Touch option - once enabled, you should be able to operate the P2 with regular gloves.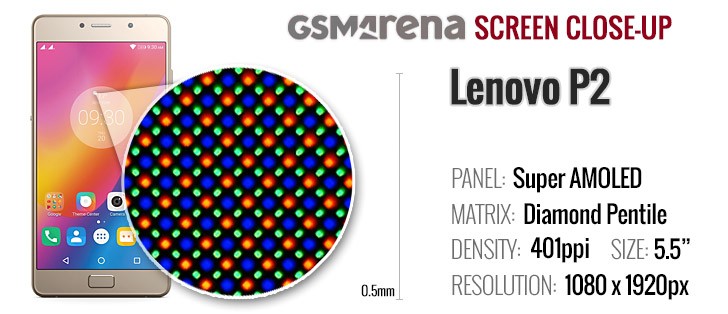 We suspect the P2 relies on the same 5.5" AMOLED screen like the Moto Z Play, and our display tests will shed some more light on the matter.
The color rendering turned out quite good. If you settle for the Normal color mode (Vibrant is default), you'll get an excellent color accuracy with an average DeltaE of 2.1 and maximum deviation of 4.8.
The default Vibrant color mode adds extra saturation, so you get a very punchy image, but the color accuracy suffers as the average DeltaE increases to 5.6, and we get some notable peak deviations in colors such as red, green, and blue.
The Super AMOLED panels deliver infinite contrast and, as expected, the P2 aces this chart. Regarding brightness, the maximum level we get with the P2 is 346nits. It's not an impressive number, but we've seen a few Samsung devices with similar brightness results.
Luckily, you can enjoy an even higher brightness level if you've set the brightness setting to automatic and the ambient light is bright enough to trigger this overdrive mode. In these circumstances, the screen can light up as bright as 510 nits, which is more than enough for even the brightest of days.
Finally, you can find the so-called Brightness Protection setting in the Display section. When turned on, it reduced the screen brightness for night time usage in the dark. It allows the screen brightness to drop to as low as 0.7 nits should you need it to - it's the lowest number we've seen so far.
Display test
100% brightness
Black, cd/m2
White, cd/m2
Contrast ratio
Lenovo P2
0
346
∞
Lenovo P2 max auto
0
510
∞
Motorola Moto Z Play
0
371
∞
Motorola Moto Z Play (max auto)
0
526
∞
Meizu MX6
0.34
457
1344
Meizu PRO 6
0.01
360
40000
Meizu Pro 6 Plus
0.007
450
64286
Samsung Galaxy C7
0.00
422
∞
Samsung Galaxy C7 (Max auto)
0.00
625
∞
Samsung Galaxy A5 (2017)
0
413
∞
Samsung Galaxy A5 (2017) max auto
0
559
∞
Samsung Galaxy C5
0.00
424
∞
Samsung Galaxy C5 (Max auto)
0.00
625
∞
Xiaomi Redmi Note 4
0.38
439
1158
Samsung Galaxy S6 edge
0.00
313
∞
Samsung Galaxy S6 edge max auto
0.00
601
∞
Samsung Galaxy S7 edge
0.00
392
∞
Samsung Galaxy S7 edge max auto
0.00
610
∞
The sunlight legibility is very good, although somewhat below the average for Super AMOLED screens. Still, you should have no problem seeing what's happening on the screen even under bright sunlight.
Sunlight contrast ratio
Samsung Galaxy S6 edge+
4.615
Samsung Galaxy S7 edge
4.439
OnePlus 3
4.424
Samsung Galaxy S7
4.376
HTC One A9
4.274
Samsung Galaxy Note7
4.247
Samsung Galaxy A3
4.241
OnePlus 3T
4.232
Google Pixel XL
4.164
ZTE Axon 7
4.154
Samsung Galaxy S6 edge
4.124
Samsung Galaxy Note5
4.09
Huawei Nexus 6P
4.019
Vivo Xplay5 Elite
3.983
OnePlus X
3.983
Oppo R7s
3.964
Apple iPhone 7
3.964
Huawei P9 Plus
3.956
Meizu Pro 6 Plus
3.935
Lenovo Moto Z
3.931
Samsung Galaxy A7 (2016)
3.918
Samsung Galaxy C5
3.911
Samsung Galaxy C7
3.896
Samsung Galaxy A5
3.895
Samsung Galaxy J7 outdoor
3.879
Samsung Galaxy J2 outdoor
3.873
Samsung Galaxy A8
3.859
Samsung Galaxy A9 (2016)
3.817
Motorola Moto X (2014)
3.816
Samsung Galaxy J7 (2016) outdoor mode
3.802
Xiaomi Redmi Pro
3.798
LG V20 Max auto
3.798
Sony Xperia XZ
3.795
Samsung Galaxy A5 (2016)
3.789
Apple iPhone 6s
3.783
Meizu Pro 5
3.781
Microsoft Lumia 650
3.772
Samsung Galaxy J7 (2016)
3.756
Oppo F1 Plus
3.709
Vivo X5Pro
3.706
Sony Xperia X Compact
3.694
Samsung Galaxy A3 (2017)
3.688
Apple iPhone SE
3.681
Huawei Mate 9
3.68
Samsung Galaxy A7
3.679
Meizu PRO 6
3.659
BlackBerry Priv
3.645
Apple iPhone 7 Plus
3.588
Apple iPhone 6s Plus
3.53
Motorola Moto Z Play
3.526
Samsung Galaxy J3 (2016)
3.523
Samsung Galaxy J3 (2016) outdoor mode
3.523
Acer Jade Primo
3.521
Microsoft Lumia 950
3.512
Oppo R7 Plus
3.499
nubia Z11
3.466
Samsung Galaxy J7
3.422
Meizu MX5
3.416
LG V20
3.402
Oppo R9s
3.352
Oppo R7
3.320
Lenovo P2
3.316
Xiaomi Mi 5s
3.276
Samsung Galaxy J2
3.235
Sony Xperia X Performance
3.234
Xiaomi Mi Note 2
3.228
Motorola Moto X Play
3.222
Huawei P9
3.195
Lenovo Vibe Shot
3.113
Motorola Moto X Force
3.105
LG Nexus 5X
3.092
Huawei Mate S
3.073
Microsoft Lumia 640 XL
3.065
Sony Xperia X
2.989
Huawei Mate 8
2.949
Xiaomi Redmi 3S
2.913
Sony Xperia XA Ultra
2.906
LG G5
2.905
HTC One S
2.901
Xiaomi Redmi 3s Prime
2.893
Xiaomi Mi 5s Plus
2.884
Sony Xperia Z5
2.876
Microsoft Lumia 550
2.851
Lenovo Moto M
2.813
Xiaomi Redmi 3 Pro
2.803
Sony Xperia Z5 compact
2.784
Meizu MX6
2.751
LG V10
2.744
Xiaomi Redmi 3
2.735
Sony Xperia M5
2.69
Huawei P9 Lite
2.679
Xiaomi Redmi 4 Prime
2.679
Vivo V3Max
2.659
Xiaomi Mi Mix
2.658
Xiaomi Mi 4i
2.641
Sony Xperia XA
2.609
Motorola Moto G4 Plus
2.582
Motorola Moto G4 Plus (max auto)
2.582
Xiaomi Mi 4c
2.574
LeEco Le Max 2
2.567
Microsoft Lumia 640
2.563
Asus Zenfone 3 ZE552KL
2.563
Lenovo K6 Note
2.544
Lenovo Moto G4
2.544
Oppo F1
2.528
Sony Xperia Z5 Premium
2.525
Huawei Honor 7 Lite / Honor 5c
2.506
Sony Xperia M4 Aqua
2.503
Oppo F1s
2.481
Motorola Moto G
2.477
Lenovo Vibe K5 Plus
2.473
Huawei G8
2.471
Huawei nova
2.467
Sony Xperia Z
2.462
Lenovo Vibe K5
2.459
Meizu m3 max
2.447
Huawei Honor 7
2.406
Sony Xperia E5
2.386
ZUK Z1 by Lenovo
2.382
Samsung Galaxy J5 (2016)
2.378
HTC 10
2.378
Meizu m1 note
2.362
Huawei nova plus
2.329
HTC One E9+
2.305
Alcatel One Touch Hero
2.272
Apple iPhone 4S
2.269
Lenovo Vibe K4 Note
2.254
Sony Xperia C5 Ultra
2.253
Xiaomi Redmi Note 3 (MediaTek)
2.249
Sony Xperia C4 Dual
2.235
Xiaomi Mi Note
2.234
Motorola Moto G (2014)
2.233
Huawei P8
2.196
Huawei Honor 6
2.169
Xiaomi Redmi Note 2
2.166
OnePlus Two
2.165
HTC One X
2.158
Xiaomi Redmi Note 4
2.145
LG Aka
2.145
Archos 50 Diamond
2.134
Xiaomi Redmi Note
2.119
Acer Liquid X2
2.084
Huawei P8lite
2.078
Moto G 3rd gen max manual
2.026
Xiaomi Mi Max
1.996
Sony Xperia E4g
1.972
OnePlus One
1.961
Meizu m3 note
1.923
BlackBerry Leap
1.892
Meizu m2 note
1.892
ZTE Nubia Z9 mini
1.759
Sony Xperia U
1.758
Asus Zenfone Selfie
1.68
Motorola Moto E (2nd Gen)
1.675
ZTE Nubia Z9
1.659
Jolla Jolla
1.605
Motorola Moto E
1.545
Sony Xperia M
1.473
HTC Desire C
1.3
Sony Xperia C
1.283
Meizu MX
1.221
Sony Xperia E
1.215
Battery life
Lenovo P2 is powered by a massive 5,100 mAh battery. The phone supports Rapid charging technology of undisclosed type and comes with a 24W charger in the retail box. According to the official specs, the charger should fill up the large battery from 0 to 48% in only 30 minutes. An hour of charging should restore up to 78% of the battery capacity. These are some spectacular numbers. Unfortunately, we couldn't put them to test as we didn't get the charger in question.
We initially thought that the Rapid charging tech used by Lenovo must be Quick Charge 3.0 since the P2 uses a Qualcomm chipset. However, our third-party QC3.0 charger didn't charge the P2 particularly fast, so the jury is still out on whether Lenovo is using a proprietary charging technology.
What's more important, however, is that the Lenovo P2 turned out one of the best all-time performers in our battery test with a 149-hour Endurance rating. It did a fabulous job of all tested scenarios - video, calls, web browsing and even stand-by performance (27 days).
The rating of 149 hours means you can rely on the Lenovo P2 for north of six days if you do an hour of 3G calls, web browsing, and video playback each day.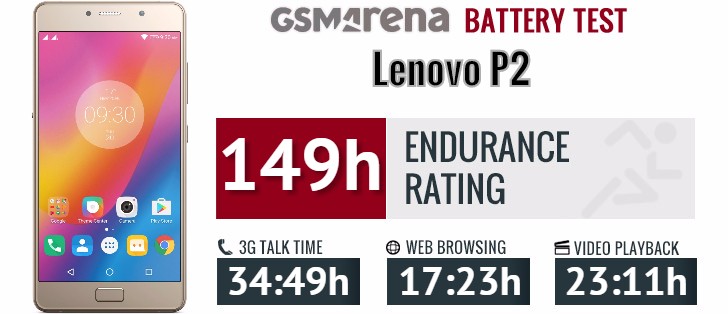 Lenovo has put a dedicated switch on the left side of the P2, which turns on the Ultimate Power Saver mode. This special mode switches to a black screen with just a few monochrome shortcuts - Phone, Contacts, SMS, Alarm, Calendar, Calculator. There is also an option to use the FM radio, if you like. This power saver should be enough for you to use the P2 for much longer on the remaining battery charge.
The battery testing procedure is described in detail in case you're interested in the nitty-gritties. You can also check out our complete battery test table, where you can see how all of the smartphones we've tested will compare under your own typical use.
Connectivity
The Lenovo P2 is available in a Dual-SIM configuration in certain markets. As already mentioned, the downside is that it uses a hybrid tray, so you have to sacrifice one of the SIM cards to get some extra storage. LTE is also on-board with a speed cap set at Cat.6 or 300 Mbps downstream and 50 Mbps up.
The P2 comes with dual-band Wi-Fi 802.11 a/b/g/n/ac support. Bluetooth 4.1 and NFC are available. There is also an FM radio on board - a rare sight these days.
The microUSB 2.0 port supports USB-On-The-Go so that you can hook up flash drives and other USB accessories to it. It cannot output video, as there's no MHL or SlimPort functionality.