Google Photos is smarter than Skynet
Google Photos is your gallery app. The Moto G4 even comes with 2 years of free full-resolution backups (normally this is paid, free accounts get only limited resolution backups). Uploads can happen over Wi-Fi only or use cell data too.
Pinch zoom changes the size of thumbnails, but the search field is pure sci-fi - type in the name of a place, person or just name a thing (e.g. 'swimming pool') and it sifts through years of photos in a moment.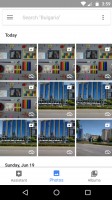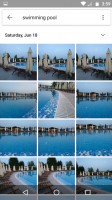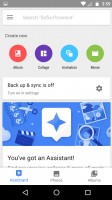 Google Photos • Amazing search • The assistant
The assistant continues the AI tricks by automatically creating panoramas and slideshows (complete with maps of your travels), it even processes certain photos with more skill than your average Joe - it straitens them, adjusts levels, it may decide to make them black & white and so on.
All of these auto features can be triggered manually, of course. From the editing you can hit Auto to fix the colors and contrast, you can auto-level a photo or just add filters.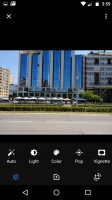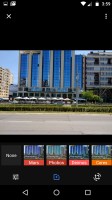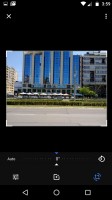 Doing the assistant's job manually
Video player
There's no video player as such, but you can use Google Photos to view videos. That's mostly for ones from your camera as if you want "advanced" features like subtitles you're out of luck.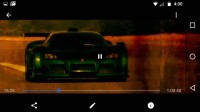 Basic video player from Google Photos
Google Play Music merges streaming and offline
Play Music works as a generic music player, but it's also a streaming app. Google boasts 50,000 tracks and if you're worried about data usage, you can just make your favorite albums offline.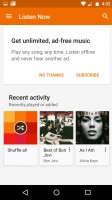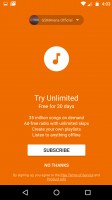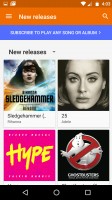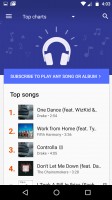 Google Play Now is built around music streaming
Still, if you prefer your own music library, then Play Music will assist you in loading tracks from your computer or a USB drive if you happen to have one.
Separate equalizers are available for wired headsets and the front-facing speaker. For headsets, you can also enable surround sound and other features.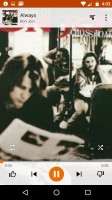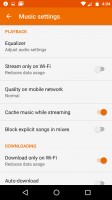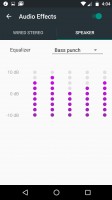 It plays offline music too • You can cache streamed music • Setting up the equalizer
FM radio with RDS and recording
The FM radio app comes courtesy of Lenovo, as Google just doesn't care for non-Internet technologies. The app is full-featured. It has RDS, a sleep timer and record broadcasts (with an auto-off feature when storage runs low). The radio can play through the loudspeaker but still needs the headset connected.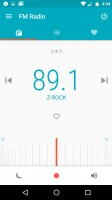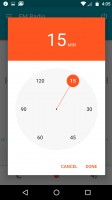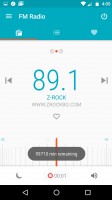 FM radio with RDS • Sleep timer • Broadcast recording
Audio output is very solid
The Motorola Moto G4 delivered excellently clean output when used with an active external amplifier, getting top marks across the board. Its loudness was above average too, for an impressive showing by the mid-ranger.
The headphones test brought more good news - there's virtually no degradation outside of the moderate stereo crosstalk hike. Volume remained above average too, so it's one of the best performances in the price range we've seen.
And now here go the results so you can do your comparison.
Test
Frequency response
Noise level
Dynamic range
THD
IMD + Noise
Stereo crosstalk
Motorola Moto G4
+0.02, -0.07
-92.4
92.5
0.0028
0.0084
-92.1
Motorola Moto G4 (headphones)
+0.04, -0.08
-92.0
92.0
0.0073
0.070
-63.8
Sony Xperia XA
+0.01, -0.18
-93.6
90.6
0.0030
0.010
-91.7
Sony Xperia XA (headphones)
+0.85, -0.18
-87.1
87.8
0.018
0.327
-54.9
Lenovo Vibe K5 Plus
+0.02, -0.08
-93.8
92.8
0.0037
0.034
-91.3
Lenovo Vibe K5 Plus (headphones)
+0.09, -0.03
-93.5
92.6
0.070
0.075
-49.0
Huawei Honor 5X
+0.02, -0.08
-93.4
90.1
0.0028
0.012
-93.4
Huawei Honor 5X (headphones)
+0.10, -0.03
-92.9
89.8
0.0048
0.071
-78.2
Samsung Galaxy A5 (2016)
+0.02, -0.07
-94.3
92.2
0.0065
0.010
-95.0
Samsung Galaxy A5 (2016) (headphones)
+0.42, -0.01
-93.4
87.1
0.029
0.254
-53.0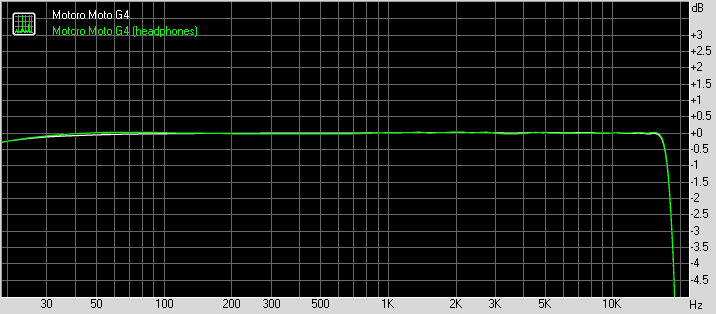 Moto G4 frequency response
You can learn more about the tested parameters and the whole testing process here.