Not only does it fold, it's a little brighter than the Pro's
What the P50 Pocket is all about is its foldable display. Measuring 6.9 inches in diagonal in its open state, the OLED panel has a resolution of 1188x2790pixels - odd by other phones' standards, but Huaweis tend to be like that. The aspect ratio is a similarly unusual 21.1:9, but it makes more sense if you look at it as 2.35:1 - the widescreen cinema aspect. Pixel density works out to 44ppi.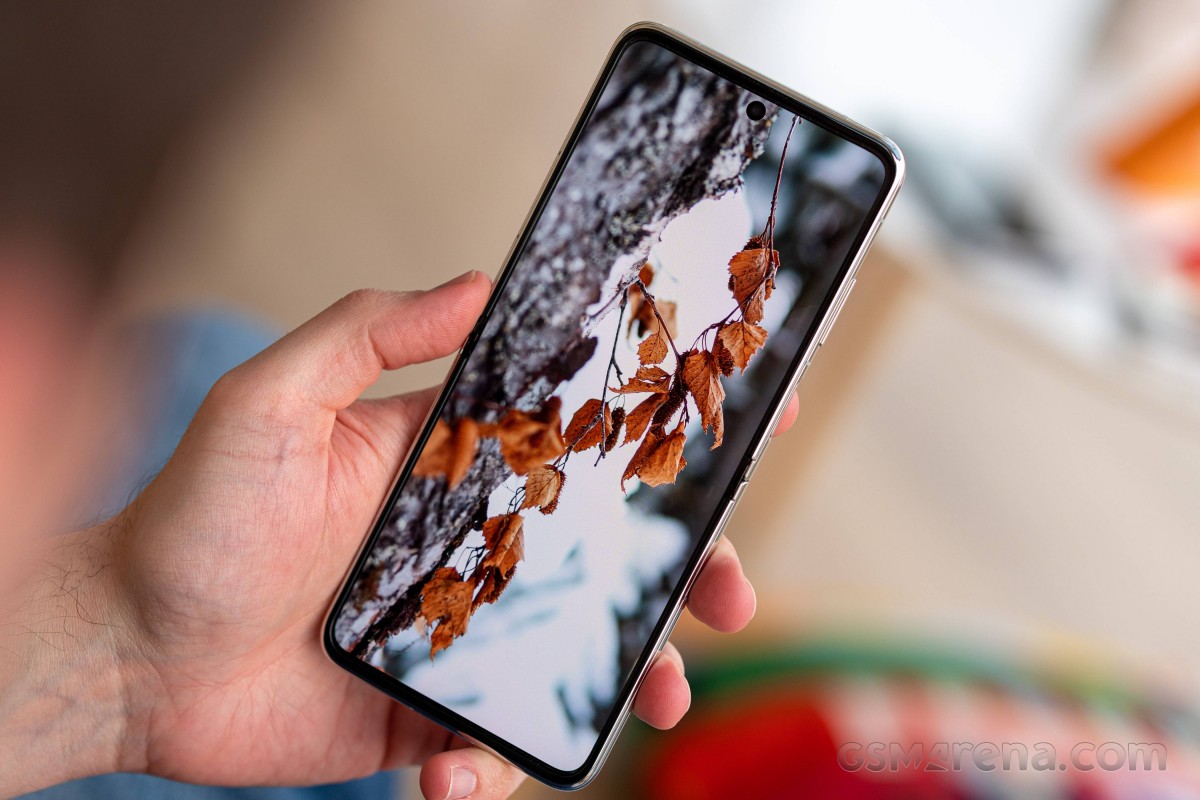 The display has a maximum refresh rate of 120Hz and a touch sampling rate of 300Hz. Huawei points out that it uses a 1440Hz pulse width modulation for dimming (basically, very rapid flickering). PWM is normally not something to brag about, as it can cause fatigue to people who are more sensitive to it, but this one is high-frequency enough that it wouldn't matter - that's what we gather is the rationale behind listing the number in their specs. We have no equipment to measure or test this claim.
We do have the tools to measure max brightness, and the Pocket is good for just over 800nits in bright ambient conditions with the adaptive mode turned on. That's 50nits more than the P50 Pro, but still some 130nits lower than the Galaxy Z Flip3. When operating the slider manually, we got 521nits - a hair over the Flip3, short of the P50 Pro's 609nits.
Display test
100% brightness
Black,cd/m2
White,cd/m2
Contrast ratio
Huawei P50 Pocket
0
521
∞
Huawei P50 Pocket (Max Auto)
0
803
∞
Huawei P50 Pro
0
609
∞
Huawei P50 Pro (Max Auto)
0
754
∞
Samsung Galaxy Z Flip3 5G
0
503
∞
Samsung Galaxy Z Flip3 5G (Max Auto)
0
935
∞
Samsung Galaxy Z Fold3 5G
0
489
∞
Samsung Galaxy Z Fold3 5G (Max Auto)
0
922
∞
Samsung Galaxy S21 Ultra 5G
0
458
∞
Samsung Galaxy S21 Ultra 5G (Max Auto)
0
1023
∞
Apple iPhone 13 Pro
0
856
∞
Apple iPhone 13 Pro (Max Auto)
0
1063
∞
Huawei P40 Pro
0
425
∞
Huawei P40 Pro (Max Auto)
0
531
∞
Huawei P40 Pro+
0
455
∞
Huawei P40 Pro+ (Max Auto)
0
760
∞
Oppo Find N
0
490
∞
Oppo Find N (Max Auto)
0
582
∞
Huawei Mate X2
0
469
∞
Huawei Mate X2 (Max Auto)
0
542
∞
Color handling is done by a two-mode switch in the display menu, with further temperature tweaking possible via a color wheel. The default Normal mode should auto switch between the sRGB and DCI-PI color gamuts depending on content. The average dE2000 was a truly excellent 1.3 for the sRGB color swatches in our testing. Vivid mode gives colors a kick and makes things more saturated - with no claims for color accuracy.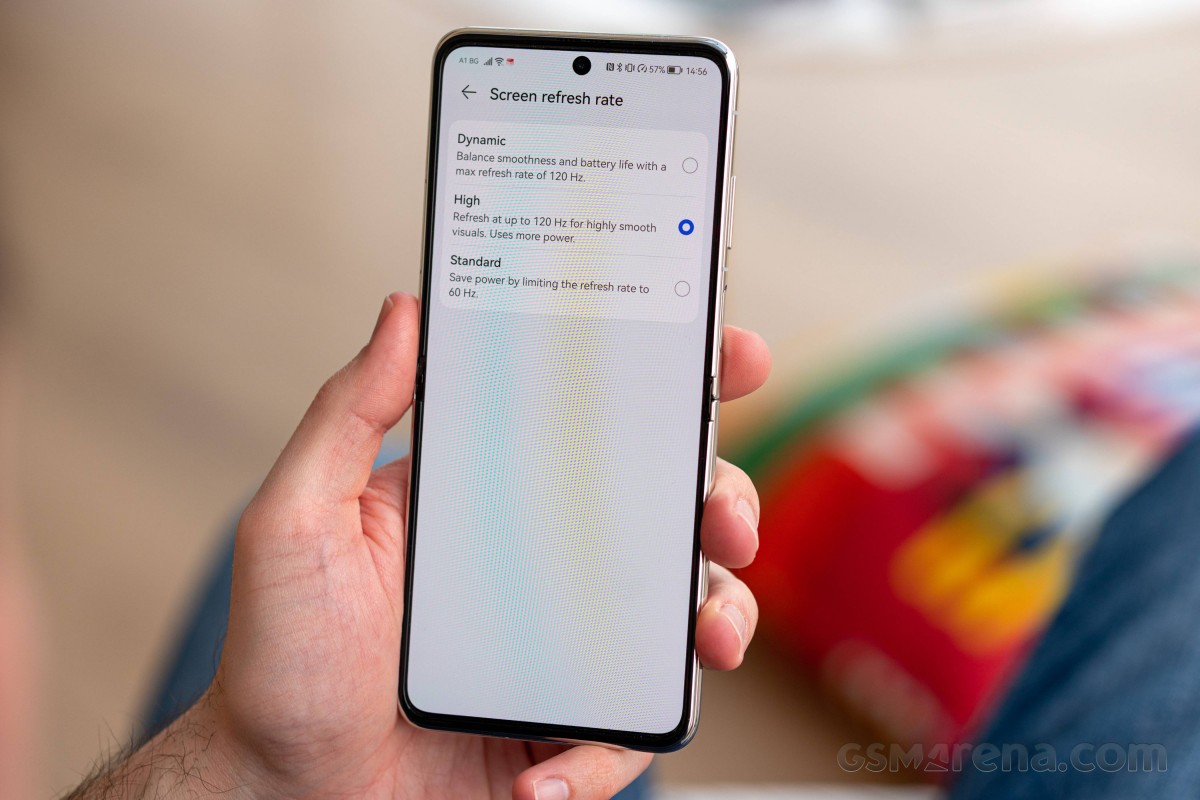 The refresh rate settings let you choose between three modes - Dynamic, High, and Standard. Standard is easy - it locks things at 60Hz. The other two are different types of autoswitching behavior.
Dynamic mode tends to keep things at 90Hz for most things, switching to 120Hz when you're in the settings menu. If there's no activity for a few seconds, it will drop down to 60Hz across the board, but will shoot up to 90 or 120Hz when you touch it.
High is more of an always-on 120Hz, with no inactivity-based down-switching. The phone will maintain 120Hz across the UI and in most apps, including browsers.
Games that support a high frame rate will be given the full 120Hz in both High and Dynamic modes, which is nice.
One unusual behavior we witnessed was a switch down to 60Hz when the phone heated up too much. That's suboptimal, given that gaming, for example, causes heat build-up (quite a lot, actually), but it is also one of the use cases where you specifically want the high refresh rate.
The P50 Pocket does have a Widevine L1 certification and should theoretically support FullHD HDR playback. That does require cooperation on the part of the streaming services, and the Pocket isn't getting it. Sideloaded Netflix and Amazon Prime wouldn't get you FullHD or HDR, sideloaded YouTube doesn't work, and YouTube in a browser maxes out at 720p and no HDR.
Huawei P50 Pocket battery life
The P50 Pocket is powered by a 4,000mAh battery, which doesn't sound like much for a 6.9-inch phone, but it's a good deal more than what the Galaxy Z Flip3 has (3,300mAh). The P50 Pro, meanwhile, offers a small bump on top of the Pocket, to 4,360mAh, itself not a big number amongst its peers.
Despite the Pocket's comparatively large cell, the phone didn't really impress in our experience. We clocked 11:04h in the video playback test (at 60Hz as usual), but also just 9 hours of web browsing over Wi-Fi (that, too, at 60Hz because the HRR logic blacklisted our testing software). The 23 hours of voice call time are fairly decent in this context.
The P50 Pocket's Endurance rating then worked out to 66 hours.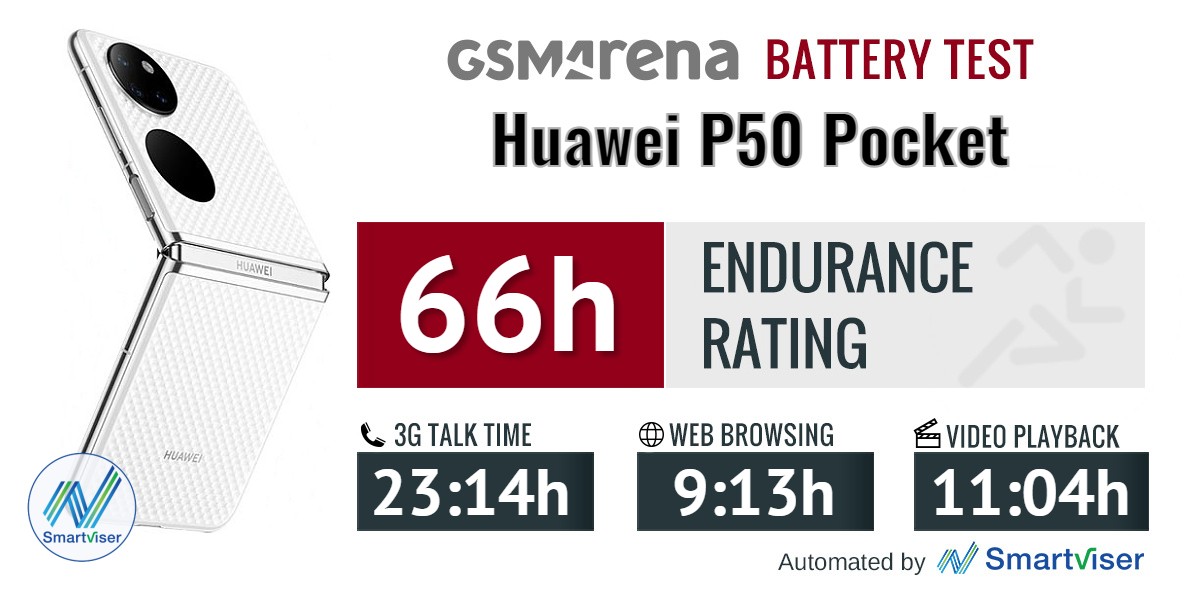 Our battery tests were automated thanks to SmartViser, using its viSerDevice app. The endurance rating denotes how long the battery charge will last you if you use the device for an hour of telephony, web browsing, and video playback daily. More details can be found here.
Compared to the Galaxy Z Flip3, things aren't all that bad actually, the Pocket having a significant advantage in voice calls and only losing by about an hour in the onscreen tests. Mind that the Flip itself doesn't maintain 120Hz in web browsing either.
Video test carried out in 60Hz refresh rate mode. Web browsing test done at the display's highest refresh rate whenever possible. Refer to the respective reviews for specifics. To adjust the endurance rating formula to match your own usage - check out our all-time battery test results chart.
Charging speed
The P50 Pocket ships with a 40W charger that adheres to the company's proprietary SuperCharge standard. Using that adapter, we clocked a 0% to 100% time of 54min, while the first half-hour got us from flat to 70%.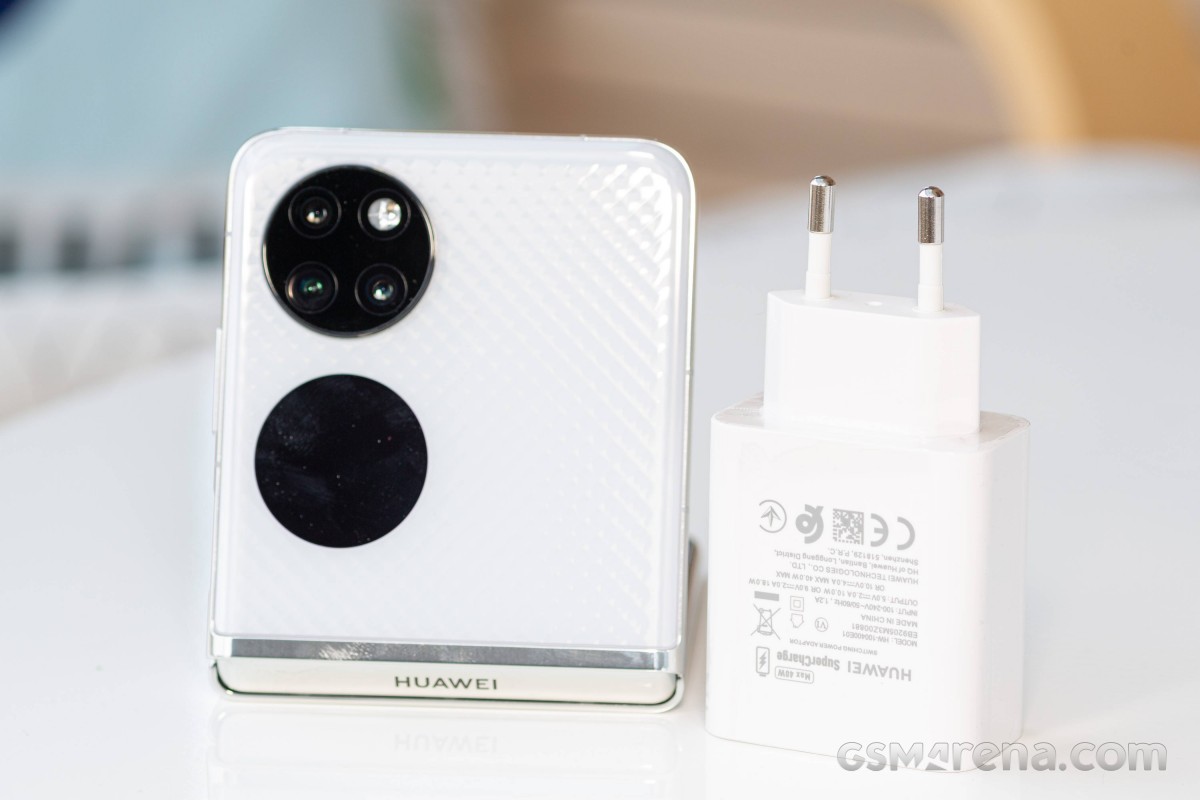 The Pocket's just slightly slower than the Pro despite the seemingly massive difference between the chargers' output capabilities (it's 66W on the Pro) though the Pro does have a bit more capacity it needs to fill. Compared to the Flip, the Pocket is noticeably faster in both metrics, and it also outpaces current iPhones.
30min charging test (from 0%)
Higher is better
Huawei Mate X2
80%
Huawei P50 Pro
73%
Huawei P50 Pocket
70%
Apple iPhone 13 Pro (20W Apple)
60%
Oppo Find N
57%
Apple iPhone 13 Pro Max (65W PD)
55%
Samsung Galaxy Z Flip3 5G
40%
Samsung Galaxy Z Fold3 5G
33%
Time to full charge (from 0%)
Lower is better
Huawei P50 Pro
0:50h
Huawei P50 Pocket
0:54h
Huawei Mate X2
0:58h
Oppo Find N
1:05h
Samsung Galaxy Z Flip3 5G
1:30h
Apple iPhone 13 Pro (20W Apple)
1:38h
Samsung Galaxy Z Fold3 5G
1:46h
Apple iPhone 13 Pro Max (65W PD)
1:54h
There's no wireless charging on the P50 Pocket, while Samsung did manage to fit one of the induction coils in the bottom half of the Z Flip3.
Speaker test
There is a conventional stereo speaker setup on the P50 Pocket in which a 'main' loudspeaker fires out the bottom of the phone, while the earpiece serves as an additional channel. The logic is standard, too - earpiece is left channel when the phone is held in portrait, and the phone switches channels to correctly reflect its position in landscape. The earpiece isn't as loud or full-bodied, and the bottom unit will have noticeably more presence, but the channel separation in the mids and highs is still there.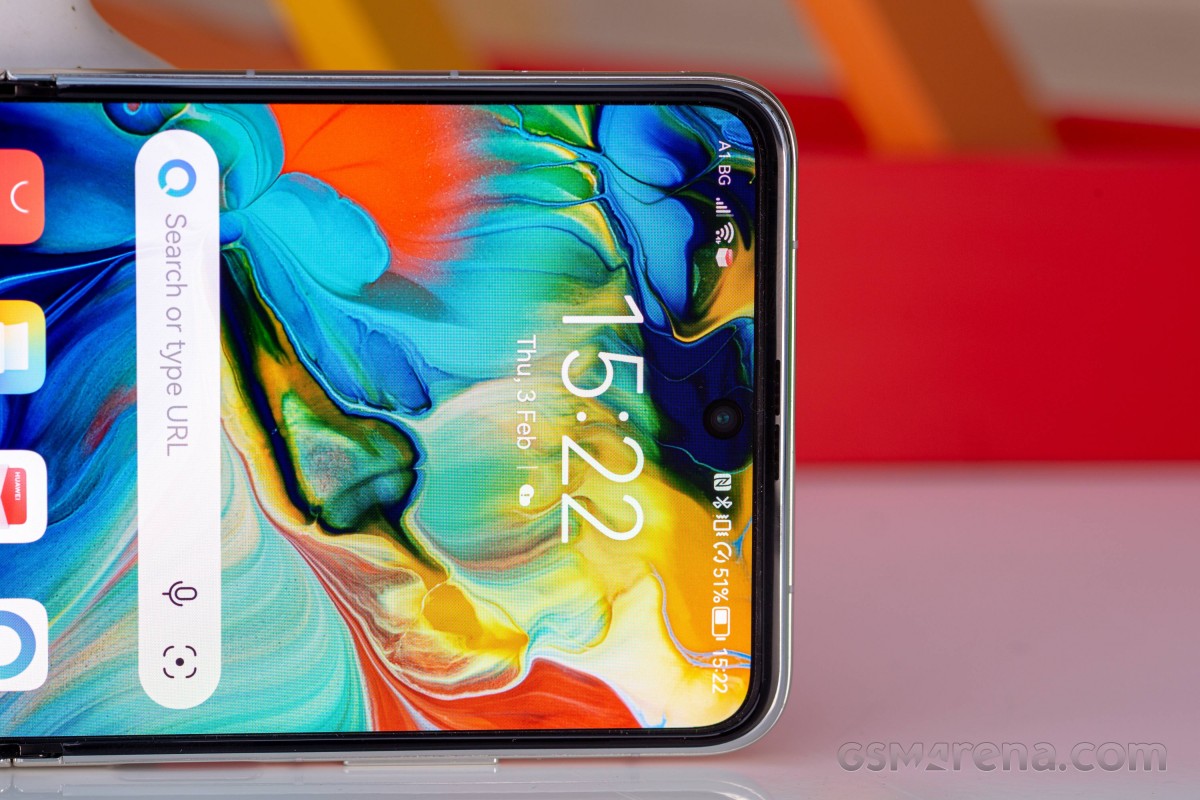 Earpiece is also a speaker
In terms of loudness, the Pocket isn't breaking any records, and it placed in the 'Below Average' category in our test, while the Pro is a couple of notches up into 'Good'. The Pocket is noticeably underpowered next to the Flip too. Overall, not a great showing, but at least you get the stereo separation for less demanding use cases in quieter environments.
Use the Playback controls to listen to the phone sample recordings (best use headphones). We measure the average loudness of the speakers in LUFS. A lower absolute value means a louder sound. A look at the frequency response chart will tell you how far off the ideal "0db" flat line is the reproduction of the bass, treble, and mid frequencies. You can add more phones to compare how they differ. The scores and ratings are not comparable with our older loudspeaker test. Learn more about how we test here.