EMUI 12 with Android 11 lurking underneath
Huawei nova 10 Pro is advertised as running on EMUI 12 in Europe and Harmony OS 2.0 in China. Besides the bloatware, we cannot tell you the difference, but we can show you what our unit has at launch.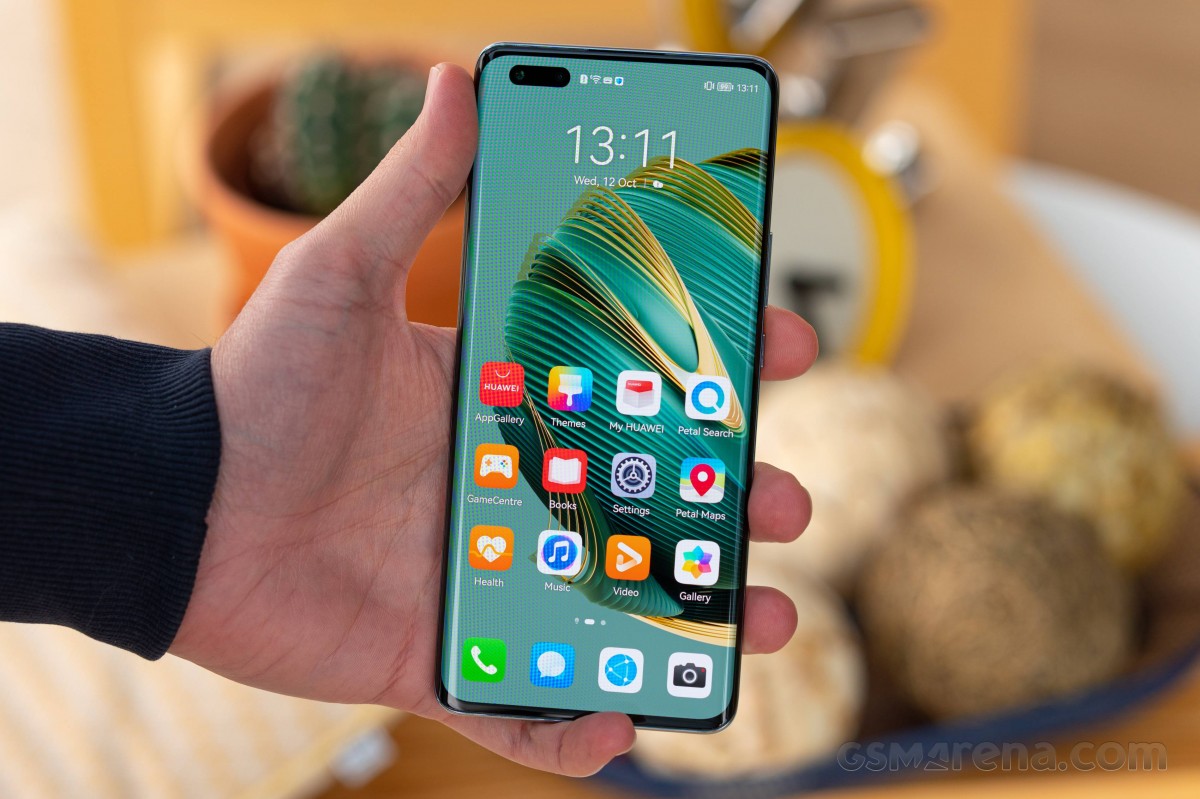 EMUI 12 is based on Android 11 and has no Google Services. Instead, the EMUI 12 relies on Huawei's Petal Search and Petal Maps, Huawei's own services as part of HMS Core, and the AppGallery app store.
This interface looks a lot like EMUIs we've seen through the years, with plenty of customization options, themes, widgets, and whatnot.
Always-on display is available, and you can choose from a ton of different clock skins. And some of the themes have multiple sub-skins, too. Or you can download even more AOD themes if the pre-installed are not your cup of tea. Then you can opt for always-on, scheduled or tap to show behavior. We suggest the tap-to-show method, as everything else will drain your battery noticeably faster.
Like all EMUI-driven devices, you can set up a magazine lockscreen style that changes the picture every time you wake up the screen. Sliding from the bottom will bring quick shortcuts to some commonly used utilities.
The Huawei nova 10 Pro features an optical under-display fingerprint scanner, and it's as fast as these can get nowadays, pretty reliable, too. While both Fingerprint unlock and Face recognition are available, only the first one is truly secure as there is no depth-reading Face ID tech.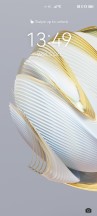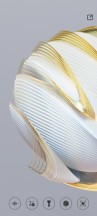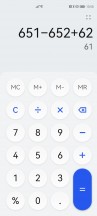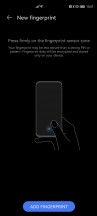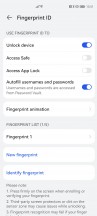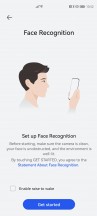 Lockscreen • Tools • Calculator • Fingerprint options • Settings • Face recognition
On the homescreen, you will find all installed and system apps, but there's a toggle in the settings menu that lets you choose between the standard layout or a homescreen with an app drawer. It's a personal preference, and it's good to be able to choose.
EMUI 12 supports large folders, where one occupies four spaces and holds up to 9 apps. You don't need to expand the folder to launch an app - you just tap on its icon. Simple, yet clever.
The leftmost homescreen page, if enabled, is Assistant Today - this is an infotainment place. It houses a newsfeed tailored for you, weather reports, smart suggestions for apps, health info, battery info, AppGallery suggestions, among other things. You can customize this page - there are a lot of information services available by Huawei partners; you can also add game info, scores, and whatnot. This page looks like it's filled with ads at first, we admit that, but you can really make it yours and fill it with interesting stuff.
The Notification Center and Control Center are handled the Apple way - you swipe from the top for both. Imagine an invisible top bar divided into three parts - swiping from the first two invokes the Notification Center while swiping from the last third brings down the Control Center and its quick toggles.
Meanwhile, swiping down anywhere on the homescreen takes you to the system-wide Search page.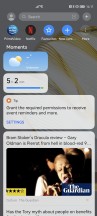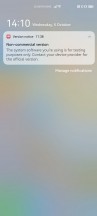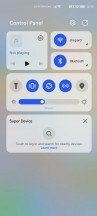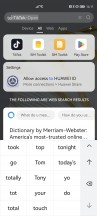 Today • Notifications • Control Center • Search
Huawei's Assistant Celia is available on the Huawei nova 10 Pro, and it supports conversations and voice commands. Other Huawei Assistant features are available, too. They include - AI Lens, AI Touch, Tips, Search, Today. We've already explored Today and Search, Tips is self-explanatory, AI Touch allows for quick image/text search by two-finger tap and hold.
AI Lens search for stuff using the camera and item recognition. This is the fastest way to shop for something you are unfamiliar with - just open AI Lens from the camera or lockscreen and point it to the desired object. You can also identify objects and landmarks with this tool, as well as translate the text with the Lens.
There is also a Theme Store, so you can completely change the look of EMUI 12 whenever you feel it.
Multitasking is a familiar affair, and the task switcher allows for split-screen or pop-up mode. Most of the default apps support pop-up view. Multi-window (a.k.a. split screen) is available as well, but it works only via the Multi-Window Dock (swipe and hold anywhere on the left or right). Then just drag and drop an app icon over your currently opened app, and voila! It sure isn't the best way to do this, but it's there.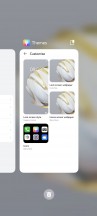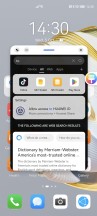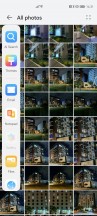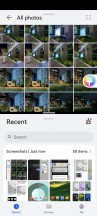 Recent apps • Pop-up view • Split-screen • Split-screen
The nova 10 Pro default OS navigation is an iPhone-like gesture - swipe up for Home, swipe up and stop midway for Task switcher, or swipe from the left or right edge of the screen for Back. You can opt for the classic virtual buttons, of course.
Huawei offers a lot of default apps to get you started. There is Huawei's Gallery, Music, Video, and Health apps. A File Manager is available, as well.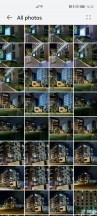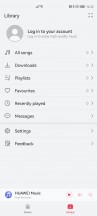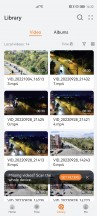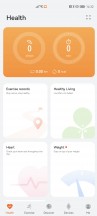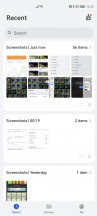 Gallery • Music • Video • Health • File manager
You also get Petal Maps, Petal Search and Huawei Browser.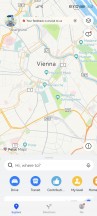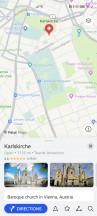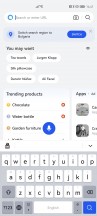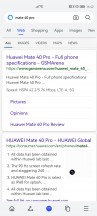 Petal Maps • Petal Maps • Petal Search • Petal Search
EMUI 12 has this interesting feature known as Device+ (HarmonyOS has it as Super Device). It aims to strengthen Huawei's ecosystem further. Device+ shows your nearby Huawei devices - like MediaPad tablets, MediaBook laptops, Vision TVs and Freebuds and allows for much easier interaction between those - it's pretty much like Apple's AirPlay. Device+ offers a unified control panel to manage all connections and send audio and/or pictures to any connected Huawei devices.
Say you are wearing your Freebuds, currently connected to your Huawei smartphone. Within the Device+ control panel, you can immediately shift your Huawei TV audio to your Freebuds - no pairing, no additional tweaking - something that's usually a Bluetooth/Wi-Fi nightmare is done by tapping on a single button. EMUI handles everything.
Multi-screen collaboration is available from Super Device, too. You can easily share your phone/tablet display onto your tablet/laptop screen for easy file editing and exchange, as well as transfer various content, messages or even calls with just drag and drop or a simple click.
Huawei's AppGallery handles the default app installations, but we hate that it shows 3s ads almost every time you open it. We don't find this solution user-friendly - but we guess the focus with this feature has been to help developers promote their apps.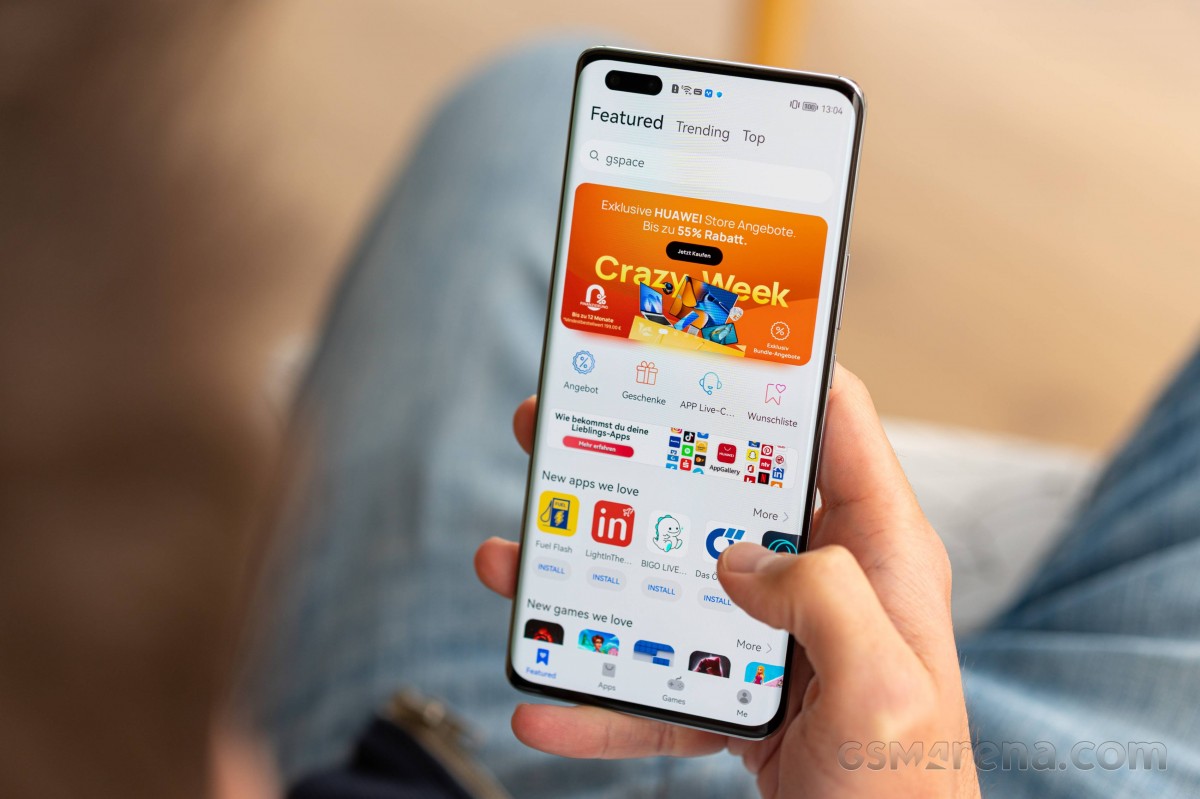 AppGallery has integrated Petal search, showing results from other app repositories, like APK Pure and APK Monk. It can also download the app and install it; no need to install their dedicated apps. This is particularly helpful, though its legality is rather questionable.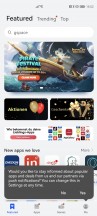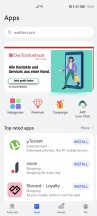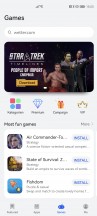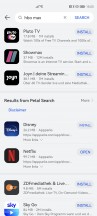 AppGallery with local and 3rd party installs
You can install, of course, more app stores like APKPure and Aptoide, or even Amazon's Appstore. This way, you can download apps like Facebook and Google Chrome (no sync though), and plenty of other games and office apps. You can install pretty much any APK file, but those relying on Google Services won't run.
Performance and benchmarks
The Huawei nova 10 Pro is powered by the Snapdragon 778G by Qualcomm, just like the nova 9. It is a custom 4G version, as Huawei is not allowed to use 5G-enabled chipsets. Even with the 5G disabled, the chip remains among the most powerful chipsets within the midrange class.
The SoC offers an octa-core Kryo 670 CPU in a 1+3+4 configuration, with a Cortex-A78-based prime core (up to 2.5GHz), three more of those limited to 2.4GHz, and a quad-set of A55 derivatives ticking at up to 1.8GHz. The GPU is Adreno 642L.
The nova 10 Pro comes with 8GB LPDDR4X RAM and 256GB UFS storage.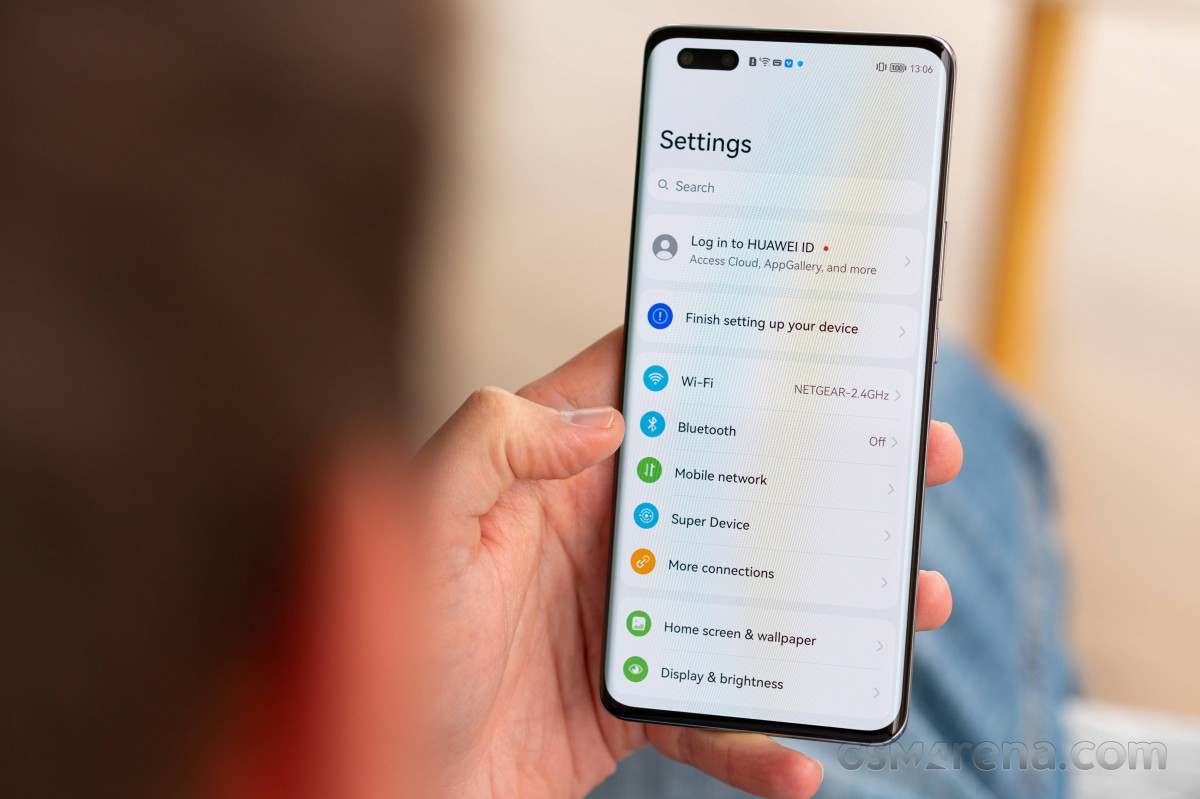 And now, let's runs some tests.
The Snapdragon 778G offers an excellent processor performance, but the nova 10 Pro price tag is not competitive, and for the same amount of cash, or less (the Poco phones), you can get even faster raw performance.
GeekBench 5 (multi-core)
Higher is better
Realme GT Neo3
4079
Xiaomi 12T
3756
Poco X4 GT
3719
Poco F4 GT
3637
Poco F4
3190
Realme GT Neo 3T
3180
Huawei nova 9
2973
Xiaomi 12 Lite
2943
Samsung Galaxy A52s 5G
2801
Huawei nova 10 Pro
2794
Samsung Galaxy A53 5G
1891
GeekBench 5 (single-core)
Higher is better
Poco F4 GT
1244
Realme GT Neo 3T
1023
Poco F4
975
Realme GT Neo3
968
Xiaomi 12T
925
Poco X4 GT
917
Xiaomi 12 Lite
785
Huawei nova 9
784
Huawei nova 10 Pro
783
Samsung Galaxy A52s 5G
771
Samsung Galaxy A53 5G
743
The Huawei nova 10 Pro packs a 1200p display, which will require more GPU power than the widespread 1080p devices, and that's why it's trailing behind other phones. That doesn't mean it's got a poorly implemented or handicapped chipset. But, as we already said, there are simply faster phone at similar or lower price.
GFX Car Chase ES 3.1 (onscreen)
Higher is better
Realme GT Neo3
53
Realme GT Neo 3T
49
Poco F4
49
Poco X4 GT
46
Xiaomi 12 Lite
29
Huawei nova 9
28
Samsung Galaxy A52s 5G
28
Huawei nova 10 Pro
23
Samsung Galaxy A53 5G
19
GFX Manhattan ES 3.1 (onscreen)
Higher is better
Realme GT Neo 3T
85
Poco F4
84
Realme GT Neo3
60
Poco X4 GT
54
Xiaomi 12 Lite
50
Samsung Galaxy A52s 5G
49
Huawei nova 9
48
Huawei nova 10 Pro
40
Samsung Galaxy A53 5G
35
GFX Manhattan ES 3.0 (offscreen 1080p)
Higher is better
Realme GT Neo3
168
Poco X4 GT
146
Realme GT Neo 3T
145
Poco F4
137
Huawei nova 9
78
Xiaomi 12 Lite
78
Huawei nova 10 Pro
77
Samsung Galaxy A52s 5G
77
Samsung Galaxy A53 5G
60
3DMark Wild Life Vulkan 1.1 (offscreen 1440p)
Higher is better
Realme GT Neo3
5428
Poco F4
4357
Poco X4 GT
4301
Realme GT Neo 3T
4255
Huawei nova 9
2503
Samsung Galaxy A52s 5G
2491
Xiaomi 12 Lite
2483
Huawei nova 10 Pro
2481
Samsung Galaxy A53 5G
2292
The compound AnTuTu test just confirms the observations we made so far - the nova 10 Pro is a fast phone, but you can get even more for €700.
AnTuTu 9
Higher is better
Poco F4 GT
952124
Realme GT Neo3
819348
Xiaomi 12T
780204
Poco X4 GT
747871
Realme GT Neo 3T
726007
Poco F4
698586
Xiaomi 12 Lite
528905
Huawei nova 10 Pro
528847
Samsung Galaxy A52s 5G
506432
Huawei nova 9
469798
Samsung Galaxy A53 5G
379313
Okay, the Huawei nova 10 Pro has the hardware to offer smooth performance in any app or game; that's a fact. Its unusual resolution puts a bit more strain on the GPU, but this is easily fixable by choosing the more standard 1080p resolution from the graphics settings, if possible. Overall, we found it to be well equipped for heavy duty.
The stability of the Snapdragon 778G inside the Huawei nova 10 Pro is odd. The 3D Mark GPU stress test returned 85% stability, an excellent mark for such a device.
But the CPU Throttle test shows a drop in the CPU performance down to 40% after 10 mins. Then this heavy throttling continues for another 10 mins until the CPU cools down and goes back up to 100%. Repeat. Instead of slowly decreasing the speed, the phone waits for the CPU to overheat and then reacts, which speaks for a rather incompetent thermal handling.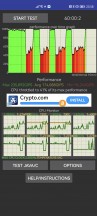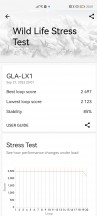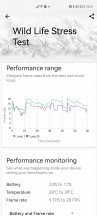 CPU stress test • GPU stress test
Of course, we observed no throttling whatsoever during our time with the nova 10 Pro as no app or game really uses the maximum of the CPU or GPU.
Finally, as far as exterior temperatures are concerned, the nova 10 Pro never got hot under pressure, just warm. The only time we actually felt a hot spot was when Turbo Charging at 100W.