According to a report from DSCC (Digital Supply Chain Consultants), Google has confirmed to multiple supply chain sources that its "Pixel Fold" has been shelved and won't be released to market. Though some outlets are reporting a cancellation, the report doesn't clearly specify whether the Pixel Fold is actually cancelled or delayed indefinitely.
DSCC has confirmed with its supply chain sources that Google has decided not to bring the Pixel Fold to market. Not in 2021 and reportedly not in the first half of 2022. Our sources indicated that Google believed the product wouldn't be as competitive as it needed to be.
The author of the report specifies that Google has reportedly cancelled its orders for the parts.
Bad news for those waiting for the Google Pixel Fold. We hear they have canceled parts orders and decided not to bring it to market as indicated in the latest DSCC Weekly Review. See blog excerpt at https://t.co/EVmWKcgi2c. @DisplaySupply pic.twitter.com/2P5lFW09Pt

— Ross Young (@DSCCRoss) November 15, 2021
It's difficult to say exactly what Google is going to do about the Pixel Fold, particularly since Google hasn't even acknowledged that it is working on a foldable device. Just like the original report about the Pixel Fold happening, and then this report that says it isn't, it's all speculation.
Google perhaps figured it was not the right time to compete in the foldables space during a time where supply chains are still feeling constraints. At the same time, the cost of many components has risen over the last couple of years, making it more of a challenge to compete with Samsung's third-generation flagship foldable: the Galaxy Z Fold3.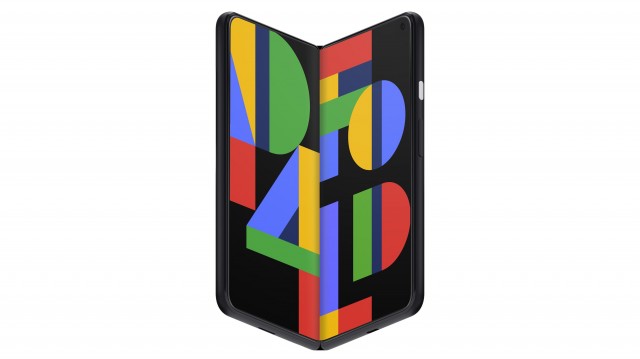 Pixel Fold mock-up (credit: MacRumors)
We were excited when we first heard that Google was developing its own Pixel foldable device. The announcement of Android 12L was a sign that Google was committed to enhancing the Android experience for devices with larger form factors - particularly since Android 12L was specifically announced to better UI changes to tablet and foldable devices.
The foldable Pixel device would have featured the same dual-camera setup as the Google Pixel 5, including dual 8MP selfie cameras - each for the internal and external displays. Meanwhile, the internal screen was expected to be a 7.6-inch LTPO OLED screen made by Samsung.
J
Bring back the flip phones with current tech.
W
Let's face it. You could design an $20 foldable phone using the outside for the display. This shame, of using the inside and suddenly it's worth a lot ore is just fashion. I was designing a watch with an alternative wrap around display ...
?
No no no.. midrange user dont need foldable. Foldable phone is expensive because it's a combination of smartphone and tablet. Thats why foldable phone will never have the same price as midrange phone (under USD 500).
ADVERTISEMENTS