Very good 5.5-inch IPS panel with 720p resolution
The Asus Zenfone Max has a 5.5-inch 720p display. If you're at all familiar with Asus's naming convention, you could have extracted that info from the model name ZC550KL - the 55 in 550 means 5.5 inches, while the zero stands for HD resolution. FullHD resolution would have been 551, but there aren't Max versions with such, only Zenfone 2's and the Zenfone Selfie.
Anyway, the numbers make up for a pixel density of 267ppi, and you can tell pixels are larger than recent trends by looking at our microscope shot. It also reveals a standard RGB pixel arrangement with equal numbers of the three base color subpixels.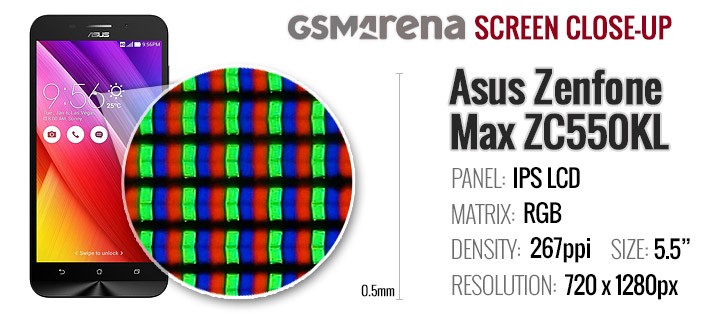 The screen is covered in Gorilla Glass 4 for scratch and shatter resistance.
In terms of maximum brightness, the smartphone does a great job. Its output is dependent on which one of the Battery saver modes is selected, and the maximum available brightness setting is higher in Performance mode, than say, in Normal.
That said, the Auto toggle will produce an equal result in bright sunlight regardless of power mode, also brighter than what you could achieve manually. It can go even brighter than the Moto X Play, which was already an excellent performer.
The screen's contrast remains unaffected by screen modes, and at a very good level around 1100:1. While that's no match for the Moto X Play, which can go as high 1520:1 thanks to its deep blacks, the Max's display outperforms most of the competition in this respect.
Display test
100% brightness
Black, cd/m2
White, cd/m2
Contrast ratio
Asus Zenfone Max normal power plan
0.40
433
1093
Asus Zenfone Max performance power plan
0.49
538
1091
Asus Zenfone Max auto brightness on both plans
0.61
668
1093
Asus Zenfone 2 ZE551ML
0.44
390
879
Asus Zenfone Selfie
0.36
333
928
Xiaomi Redmi Note 3 (MediaTek)
0.42
403
953
Lenovo Vibe K4 Note
0.47
442
940
Samsung Galaxy J7
0
358
∞
Samsung Galaxy J7 outdoor
0
500
∞
Motorola Moto X Play
0.41
620
1520
Huawei Honor 5X
0.44
473
1073
Meizu m3 note
0.52
425
816
Color reproduction is one area Asus gives you plenty of control. Tinkering with the sliders in the Splendid app lets you adjust color temperature, hue and saturation and also gives you the option to filter out the blue tones light, if you consider it to be an issue in the hours prior to bedtime.
Alternatively, you can leave it in the default Balanced mode, where you get a pretty good color reproduction with an average deltaE of 4.2, not properly calibrated, but also more accurate than the flagship LG G5's 5.6, for instance. Even the maximum deviation is 6.8, which is quite constrained given that we often see numbers above 10.
The standard DeltaE 2000 deviation is used to describe the accuracy of the screen's color rendering. We test the screen with a set of over 100 different color and grayscale patterns to determine the accuracy of the color reproduction.
Even when a phone's screen color reproduction is off, you would still have a hard time noticing a color cast without a reference as the human eye is quite quick to adjust and normalize colors.
Also, the display colors are a matter of personal taste and perception so consider this test data only if you are concerned about presenting color-critical content on the mobile screen.
Any deviation in DeltaE 2000 of above 10 is considered a visible error in color reproduction on the display. A DeltaE 2000 deviation between 4 and 10 is considered okay or acceptable color performance. A DeltaE 2000 deviation below 4 is considered good, but professional color calibration requires a deviation between 1 and 2.
Things aren't so great in bright outdoor light, where the Zenfone Max struggles, despite the high maximum brightness - quite possibly due to the reflective screen. Even so, it's markedly better than the Zenfone Selfie and on par with the Zenfone 2 ZE551ML.
Sunlight contrast ratio
Samsung Galaxy S6 edge+
4.615
Samsung Galaxy S7 edge
4.439
Samsung Galaxy S7
4.376
HTC One A9
4.274
Samsung Galaxy A3
4.241
Samsung Galaxy S6 edge
4.124
Samsung Galaxy Note5
4.09
Huawei Nexus 6P
4.019
OnePlus X
3.983
Oppo R7s
3.964
Samsung Galaxy A7 (2016)
3.918
Samsung Galaxy A5
3.895
Samsung Galaxy J7 outdoor
3.879
Samsung Galaxy J2 outdoor
3.873
Samsung Galaxy A8
3.859
Apple iPhone 6
3.838
Microsoft Lumia 950XL
3.837
Samsung Galaxy A9 (2016)
3.817
Motorola Moto X (2014)
3.816
Samsung Galaxy A5 (2016)
3.789
Apple iPhone 6s
3.783
Meizu Pro 5
3.781
Microsoft Lumia 650
3.772
Oppo F1 Plus
3.709
Vivo X5Pro
3.706
Apple iPhone SE
3.681
Samsung Galaxy A7
3.679
Meizu PRO 6
3.659
BlackBerry Priv
3.645
Apple iPhone 6s Plus
3.53
Acer Jade Primo
3.521
Microsoft Lumia 950
3.512
Oppo R7 Plus
3.499
Samsung Galaxy J7
3.422
Meizu MX5
3.416
Oppo R7
3.32
Samsung Galaxy J2
3.235
Motorola Moto X Play
3.222
Huawei P9
3.195
Lenovo Vibe Shot
3.113
Motorola Moto X Force
3.105
LG Nexus 5X
3.092
Huawei Mate S
3.073
Microsoft Lumia 640 XL
3.065
Apple iPhone 6 Plus
3.023
Sony Xperia X
2.989
Samsung Galaxy Note
2.97
Huawei Mate 8
2.949
LG G5
2.905
HTC One S
2.901
Sony Xperia Z5
2.876
Microsoft Lumia 550
2.851
Sony Xperia Z5 compact
2.784
LG V10
2.744
Xiaomi Redmi 3
2.735
Sony Xperia M5
2.69
Vivo V3Max
2.659
Xiaomi Mi 4i
2.641
Xiaomi Mi 4c
2.574
Microsoft Lumia 640
2.563
Oppo F1
2.528
Sony Xperia Z5 Premium
2.525
Sony Xperia M4 Aqua
2.503
Motorola Moto G
2.477
Lenovo Vibe K5 Plus
2.473
Huawei G8
2.471
Sony Xperia Z
2.462
Huawei Honor 7
2.406
ZUK Z1 by Lenovo
2.382
HTC 10
2.378
Samsung Galaxy J5 (2016)
2.378
HTC One E9+
2.305
Alcatel One Touch Hero
2.272
Lenovo Vibe K4 Note
2.254
Sony Xperia C5 Ultra
2.253
Xiaomi Redmi Note 3 (MediaTek)
2.249
Sony Xperia C4 Dual
2.235
Motorola Moto G (2014)
2.233
LG Nexus 5
2.228
Huawei P8
2.196
Xiaomi Redmi Note 2
2.166
OnePlus Two
2.165
HTC One X
2.158
Asus Zenfone 2 ZE551ML
2.149
LG Aka
2.145
Archos 50 Diamond
2.134
Xiaomi Redmi Note
2.119
Acer Liquid X2
2.084
Huawei P8lite
2.078
Asus Zenfone Max
2.068
Moto G 3rd gen max manual
2.026
Sony Xperia E4g
1.972
OnePlus One
1.961
Meizu m2 note
1.892
BlackBerry Leap
1.892
HTC Butterfly
1.873
ZTE Nubia Z9 mini
1.759
Sony Xperia U
1.758
Asus Zenfone Selfie
1.68
Motorola Moto E (2nd Gen)
1.675
ZTE Nubia Z9
1.659
Motorola Moto E
1.545
Sony Xperia M
1.473
Xiaomi Redmi 2
1.311
Sony Xperia C
1.283
Meizu MX
1.221
Sony Xperia E
1.215
Connectivity
The Zenfone Max is a Dual SIM device with the full range of 2G/3G/4G bands supported on both cards. LTE is Cat.4 with theoretical speeds of up to 150Mbps down and 50Mbps up.
There is Wi-Fi 802.11 b/g/n, single-band, no Wi-Fi ac but, on a positive note, there's Wi-Fi Direct and hotspot support.
Bluetooth is in its 4.0 version, there's a GPS receiver with added GLONASS and Beidou support.
An FM radio receiver is provided too, but the Max lacks NFC.
The microUSB port comes with USB host support for attaching your choice of peripherals. You can also use the Max to charge other devices with the bundled USB OTG adapter. There's a standard 3.5mm jack too.
There's also a dedicated microSD card slot for storage expansion, which takes cards of up to 64GB.
Asus Zenfone Max battery life
The Zenfone Max's claim to fame is the battery, a 5,000mAh lithium polymer unit, sealed inside. It's one of the largest cells available in a phablet from a major brand, with most offerings hovering around the 4,000mAh mark. Coupled with the modest Snapdragon 410 chipset, it's a recipe for excellent endurance.
Indeed, that's what the Zenfone Max delivers. Some 20+ hours of web browsing, close to 16 hours of video playback and almost 28 hours of voice calls are all great numbers. That adds up to an endurance rating of 121 hours in our proprietary test - meaning second spot in our all-time chart. The leader is the Gionee Marathon M5, which has a 6,020 milliamp-hour battery and pretty similar specs.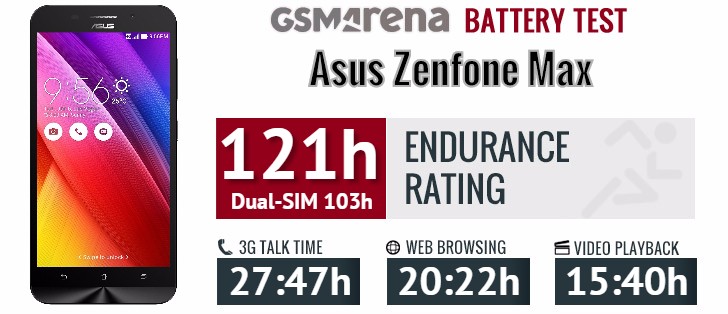 The battery testing procedure is described in detail in case you're interested in the nitty-gritties. You can also check out our complete battery test table, where you can see how all of the smartphones we've tested will compare under your own typical use.