More than meets the eye
Asus Zenfone 3 ZE552KL review: More than meets the eye
Display
The Asus Zenfone 3 ZE552KL sports a 5.5" screen with 1080p resolution. It's a Super IPS+ panel with excellent viewing angles and impressive brightness - Asus promises 600nits! It also promised 100% NTSC color coverage, which would make this a truly impressive display.
Our measurements confirm the 600nits of brightness claim - easily achievable in manual mode, Auto mode offers no additional boost so you are in full control. At full blast, the black levels remain quite reasonable at 0.45nits for 1,300:1 contrast ratio. That's comparable to the iPhone 7 Plus screen and better than the LG V20 screen.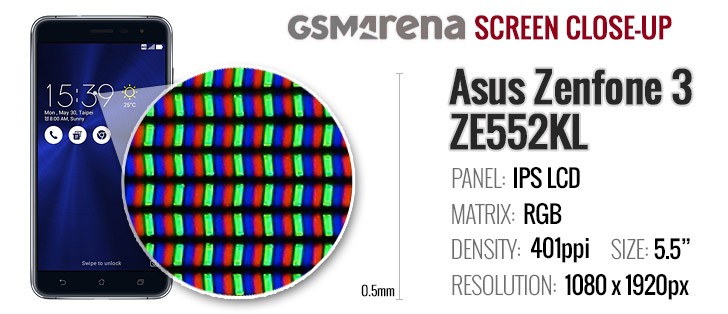 The Zenfone 3 screen has amazing range, it managed to get down to just 4.9nits when we dragged the brightness slider to minimum. There's also a blue light filter toggle in the notification area to further improve late night viewing (checking a 600nit phone at night is painful, trust us. Also blue light can mess up your sleep cycle).
Display test
100% brightness
Black, cd/m2
White, cd/m2
Contrast ratio
Asus Zenfone 3 ZE552KL
0.448
607
1355
Samsung Galaxy C7
0.00
422
∞
Samsung Galaxy C7 (Max auto)
0.00
625
∞
Huawei nova plus
0.31
397
1281
LG V20
0.43
475
1097
LG V20 Max auto
0.59
628
1064
Apple iPhone 7 Plus
0.41
573
1398
Apple iPhone 7 Plus (max auto)
0.50
681
1362
While bright and with high contrast, the high reflectivity of screen keeps its sunlight legibility score relatively low. LCDs of similar brightness do better - sometimes much better. True, they are usually flagships, but a 3+ score is not unexpected when we're talking 600nits. Even dimmer screens can score higher (both LCD and AMOLED).
Sunlight contrast ratio
Samsung Galaxy S6 edge+
4.615
Samsung Galaxy S7 edge
4.439
OnePlus 3
4.424
Samsung Galaxy S7
4.376
HTC One A9
4.274
Samsung Galaxy Note7
4.247
Samsung Galaxy A3
4.241
Google Pixel XL
4.164
ZTE Axon 7
4.154
Samsung Galaxy S6 edge
4.124
Samsung Galaxy Note5
4.09
Huawei Nexus 6P
4.019
Vivo Xplay5 Elite
3.983
OnePlus X
3.983
Oppo R7s
3.964
Apple iPhone 7
3.964
Huawei P9 Plus
3.956
Samsung Galaxy A7 (2016)
3.918
Samsung Galaxy C5
3.911
Samsung Galaxy C7
3.896
Samsung Galaxy A5
3.895
Samsung Galaxy J7 outdoor
3.879
Samsung Galaxy J2 outdoor
3.873
Samsung Galaxy A8
3.859
Samsung Galaxy A9 (2016)
3.817
Motorola Moto X (2014)
3.816
Samsung Galaxy J7 (2016) outdoor mode
3.802
Xiaomi Redmi Pro
3.798
LG V20 Max auto
3.798
Sony Xperia XZ
3.795
Samsung Galaxy A5 (2016)
3.789
Apple iPhone 6s
3.783
Meizu Pro 5
3.781
Microsoft Lumia 650
3.772
Samsung Galaxy J7 (2016)
3.756
Oppo F1 Plus
3.709
Vivo X5Pro
3.706
Sony Xperia X Compact
3.694
Apple iPhone SE
3.681
Samsung Galaxy A7
3.679
Meizu PRO 6
3.659
BlackBerry Priv
3.645
Apple iPhone 7 Plus
3.588
Apple iPhone 6s Plus
3.53
Samsung Galaxy J3 (2016)
3.523
Samsung Galaxy J3 (2016) outdoor mode
3.523
Acer Jade Primo
3.521
Microsoft Lumia 950
3.512
Oppo R7 Plus
3.499
nubia Z11
3.466
Samsung Galaxy J7
3.422
Meizu MX5
3.416
LG V20
3.402
Oppo R7
3.32
Xiaomi Mi 5s
3.276
Samsung Galaxy J2
3.235
Sony Xperia X Performance
3.234
Motorola Moto X Play
3.222
Huawei P9
3.195
Lenovo Vibe Shot
3.113
Motorola Moto X Force
3.105
LG Nexus 5X
3.092
Huawei Mate S
3.073
Microsoft Lumia 640 XL
3.065
Sony Xperia X
2.989
Huawei Mate 8
2.949
Xiaomi Redmi 3S
2.913
Sony Xperia XA Ultra
2.906
LG G5
2.905
HTC One S
2.901
Xiaomi Mi 5s Plus
2.884
Sony Xperia Z5
2.876
Microsoft Lumia 550
2.851
Xiaomi Redmi 3 Pro
2.803
Sony Xperia Z5 compact
2.784
Meizu MX6
2.751
LG V10
2.744
Xiaomi Redmi 3
2.735
Sony Xperia M5
2.69
Huawei P9 Lite
2.679
Vivo V3Max
2.659
Xiaomi Mi 4i
2.641
Sony Xperia XA
2.609
Motorola Moto G4 Plus
2.582
Motorola Moto G4 Plus (max auto)
2.582
Xiaomi Mi 4c
2.574
LeEco Le Max 2
2.567
Microsoft Lumia 640
2.563
Asus Zenfone 3 ZE552KL
2.563
Lenovo Moto G4
2.544
Oppo F1
2.528
Sony Xperia Z5 Premium
2.525
Huawei Honor 7 Lite / Honor 5c
2.506
Sony Xperia M4 Aqua
2.503
Oppo F1s
2.481
Motorola Moto G
2.477
Lenovo Vibe K5 Plus
2.473
Huawei G8
2.471
Huawei nova
2.467
Sony Xperia Z
2.462
Lenovo Vibe K5
2.459
Huawei Honor 7
2.406
Sony Xperia E5
2.386
ZUK Z1 by Lenovo
2.382
HTC 10
2.378
Samsung Galaxy J5 (2016)
2.378
Huawei nova plus
2.329
HTC One E9+
2.305
Alcatel One Touch Hero
2.272
Apple iPhone 4S
2.269
Lenovo Vibe K4 Note
2.254
Sony Xperia C5 Ultra
2.253
Xiaomi Redmi Note 3 (MediaTek)
2.249
Sony Xperia C4 Dual
2.235
Xiaomi Mi Note
2.234
Motorola Moto G (2014)
2.233
LG Nexus 5
2.228
Huawei P8
2.196
Huawei Honor 6
2.169
Xiaomi Redmi Note 2
2.166
OnePlus Two
2.165
HTC One X
2.158
Xiaomi Redmi Note 4
2.145
LG Aka
2.145
Archos 50 Diamond
2.134
Xiaomi Redmi Note
2.119
Xiaomi Mi 4S
2.095
Acer Liquid X2
2.084
Huawei P8lite
2.078
Moto G 3rd gen max manual
2.026
Xiaomi Mi Max
1.996
Sony Xperia E4g
1.972
OnePlus One
1.961
Meizu m3 note
1.923
BlackBerry Leap
1.892
Meizu m2 note
1.892
ZTE Nubia Z9 mini
1.759
Sony Xperia U
1.758
Asus Zenfone Selfie
1.68
Motorola Moto E (2nd Gen)
1.675
ZTE Nubia Z9
1.659
Jolla Jolla
1.605
Motorola Moto E
1.545
Sony Xperia M
1.473
HTC Desire C
1.3
Sony Xperia C
1.283
Meizu MX
1.221
Sony Xperia E
1.215
From the settings you can access the Splendid app, which is used to adjust the screen colors. The default Balance mode is not that accurate with a cold white balance and an average deltaE of 5.5 (max 9.7). Vivid mode pumps up the contrast and saturation for extra punch at the cost of accuracy.
We found that staying on Balance mode and dragging the Color temperature slider all the way to the right offered much better color accuracy - average of 2.8 (very good) and improved maximum of 5.7. Not as good as the leading flagships, but better than the LG V20 and close to the Pixel XL.
You can manually adjust the Hue and Saturation sliders, which can create some psychedelic results, but is not particularly useful otherwise.
The VisualMaster 3.0 technology promises 100% NTSC color coverage. For comparison, sRGB is just 72% NTSC. This is distinct from color accuracy, it's about how many colors can be displayed (similar to Apple's Wide Color). Of course, you'll need the right content to benefit from this and most content out there is limited to sRGB.
Connectivity
The Asus Zenfone 3 ZE552KL is based on the Snapdragon 625 chipset, which delivers Cat. 7 speeds - up to 300Mbps downlink and 50Mbps uplink, thanks to 2-carrier aggregation. Both SIMs can be used for LTE.
The phone has two phone lines, which enjoy VoLTE for higher quality sound. Asus says the Zenfones are more resilient to signal dropouts than, ahem, a certain Cupertino-based competitor. The noise reduction will help VoLTE do its best even in noisy environments.
Local wireless connectivity is shored up with dual-band Wi-Fi up to 802.11ac. Bluetooth is version 4.2, then there's NFC. Positioning is covered by GPS, GLONASS and Beidou.
The Zenfone 3 has a USB Type-C port on the bottom, which is wired only for USB 2.0 speeds.
Battery life test
Update: We completed the battery tests, here are the full results.
The 3,000mAh battery capacity is about average for a 5.5" phone, certainly, there are others with a few hundred milliamp hours more. The phone bets on the super-efficient Snapdragon 625 chipset, which is built on a 14nm fabrication process (most mid-range chipsets are built on a 28nm process, which is not nearly as efficient).
Note that while our retail package came with a regular 5V 2A charger, the phone supports Quick Charge 3.0, which boosts charging speed from 10W to up to 18W. The battery is not removable, so quick top ups can save your bacon.
Both web browsing and video playback took 10 hours to drain the Zenfone's battery. That's better than, say, an LG V20 (3,200mAh), which lasted about 8 hours on both. A Huawei nova plus (3,340mAh) lasts 11:30 and 10:30 hours respectively, so in the same ballpark. The Samsung Galaxy C7 (both it and the nova use Snapdragon 625) went up to about 15 hours for both tests, really stretching its 3,300mAh battery, even with its bigger 5.7" screen.
The talk time is good though not stellar. More importantly, the Endurance rating came out to a good 74 hours - about as good as the Huawei nova plus, though not living up to Galaxy C7's 100 hours. It's better than the LG V20 flagship, though.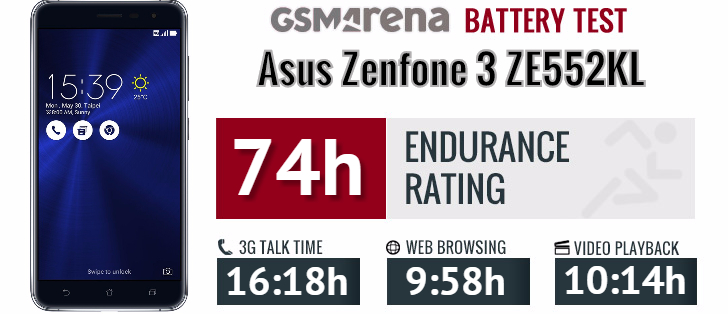 The battery testing procedure is described in detail in case you're interested in the nitty-gritties. You can also check out our complete battery test table, where you can see how all of the smartphones we've tested will compare under your own typical use.