Competition
Availability for the Asus ROG Phone 6D and 6D Ultimate is still not completely ironed out at the time of writing this review. We know these phones won't be coming to every region where the ROG Phone 6 and 6 Pro are available. Notably, they won't be coming to North America. Some other regions, like Europe, will be getting a choice between all four ROG Phone 6 variants.
Asus isn't necessarily positioning the Dimensity variants higher or lower than Qualcomm ones. Instead, these are offered as an alternative so that they reach the widest possible audience.
That Ultimate bundle with the ROG Phone 6D Ultimate (16GB LPDDR5X RAM and 512GB ROM) is priced at €1399 MSRP. Remember, that includes an AeroActive Cooler 6, which is an €89-value. A non-ultimate ROG Phone 6D with the same MediaTek Dimensity 9000+ chipset and 12GB/256GB starts at €949, but it has a ROG Vision matrix RGB logo on the back instead of a display.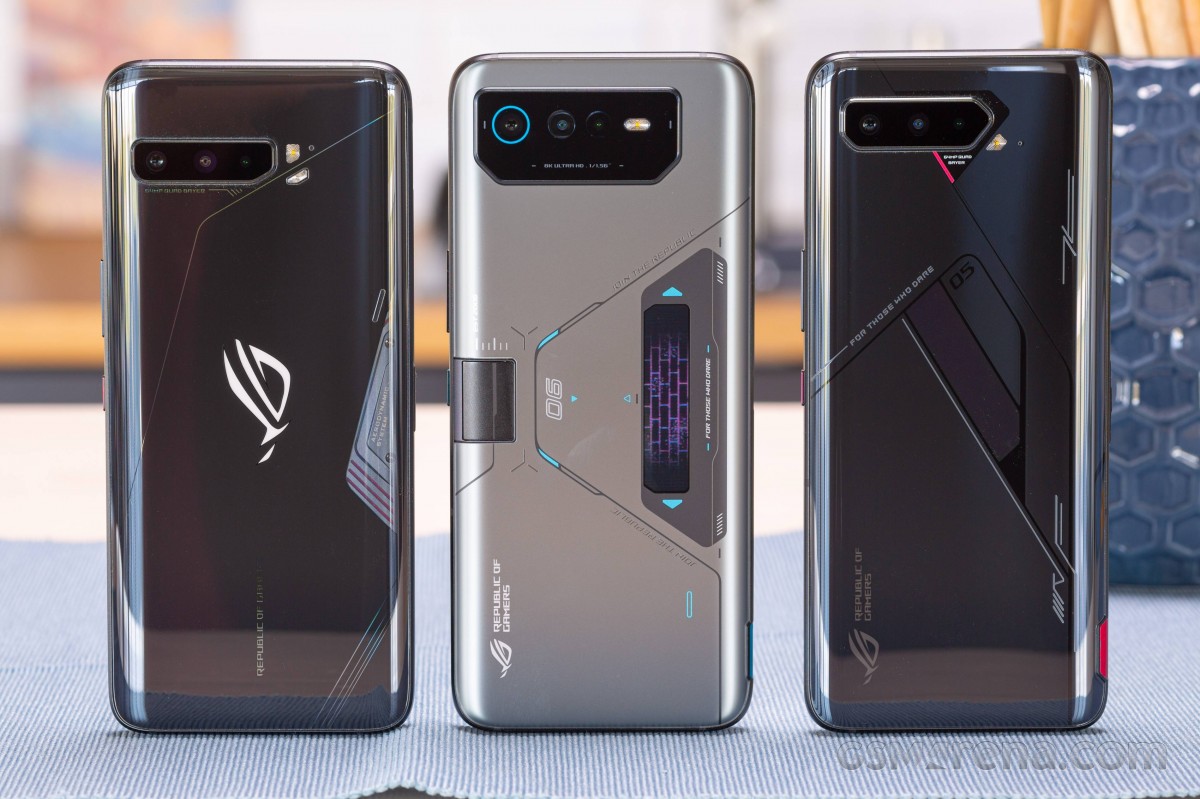 Left to right: ROG Phone 3, ROG Phone 6D Ultimate, ROG Phone 5
In any case, we would be remiss if we didn't mention the ROG Phone 6 and 6 Pro as the most viable alternatives to the 6D and 6D Ultimate. The ROG Phone 6 start at €999 in Europe for the base 12GB/256GB configuration. The ROG Phone 6 Pro is only available in one configuration - the 18GB/512GB white model we reviewed with an MSRP of €1299 (w/ VAT), which puts it at the about the same price level as the 6D Ultimate if you factor in the extra price of the Aeroactive cooler.
If you find yourself considering the ROG Phone 6 Ultimate, we can already assume that (1) you are after a gaming phone and that (2) money is no object. Well, holding on to the second assumption, let's look into other gaming alternatives starting with the Xiaomi Black Shark 5 Pro. Some of its important highlights include a 6.67-inch, 10-bit, 144Hz, HDR10+ OLED display, Snapdragon 8 Gen 1 chipset with up to 16GB of RAM and 512GB of NVMe SSD storage, stereo speakers, a potent 108MP main camera and slide-out magnetic physical triggers for game mapping. It costs a lot less than the ROG Phone 6 Pro, but you could also save a bit more and get most of the same experience with the vanilla Black Shark 5 too.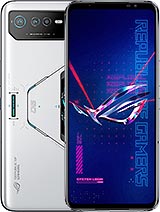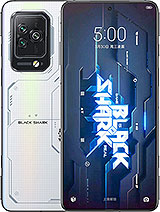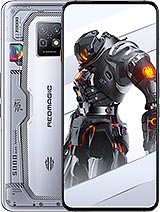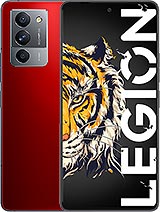 Asus ROG Phone 6 Pro • Xiaomi Black Shark 5 Pro • ZTE nubia Red Magic 7S Pro • Lenovo Legion Y70
Another big name in gaming is ZTE's gaming brand, Nubia. Currently, its headliner is the Red Magic 7S Pro. Some of its highlights include a built-in cooling fan to keep the Snapdragon 8+ Gen 1 at bay. A 6.8-inch, 10-bit, 120Hz AMOLED panel with Gorilla Glass 5 protection. Stereo speakers, a 5,000 mAh battery with 65W charging and up to a whopping 1TB of storage with 18GB of RAM.
Lenovo has a challenger in the ring as well, in the face of the Legion Y70. The Legion line is a bit newer to the market and still lacks the kind of pedigree some of its rivals have, but that shouldn't reflect poorly on the device itself. Despite its lower model number, it is newer and better than its Y90 sibling. It is rocking the latest Snapdragon 8+ Gen 1 chipset and up to 16GB of RAM and 512GB of storage. Also, a 6.67-inch, 144Hz, HDR10+ OLED, stereo speakers, 5,100 mAh battery and 68W fast charging.
Our verdict
Putting a MediaTek chipset inside a ROG Phone is an interesting experiment and a fascinating first for the lineup. One that was bound to happen sooner or later. It definitely proved that the Dimensity 9000+ has the "oomph" required to compete with the Snapdragon 8+ Gen 1 in raw performance. Asus engineers did an amazing job overclocking and squeezing every last bit of performance from the chip. The addition of the Aeroactove Portal has undoubtedly helped them achieve this task.
We had a wonderful time with the ROG Phone 6D Ultimate. It chewed through anything we threw at it and did so in style with all of the usual ROG bells and whistles present.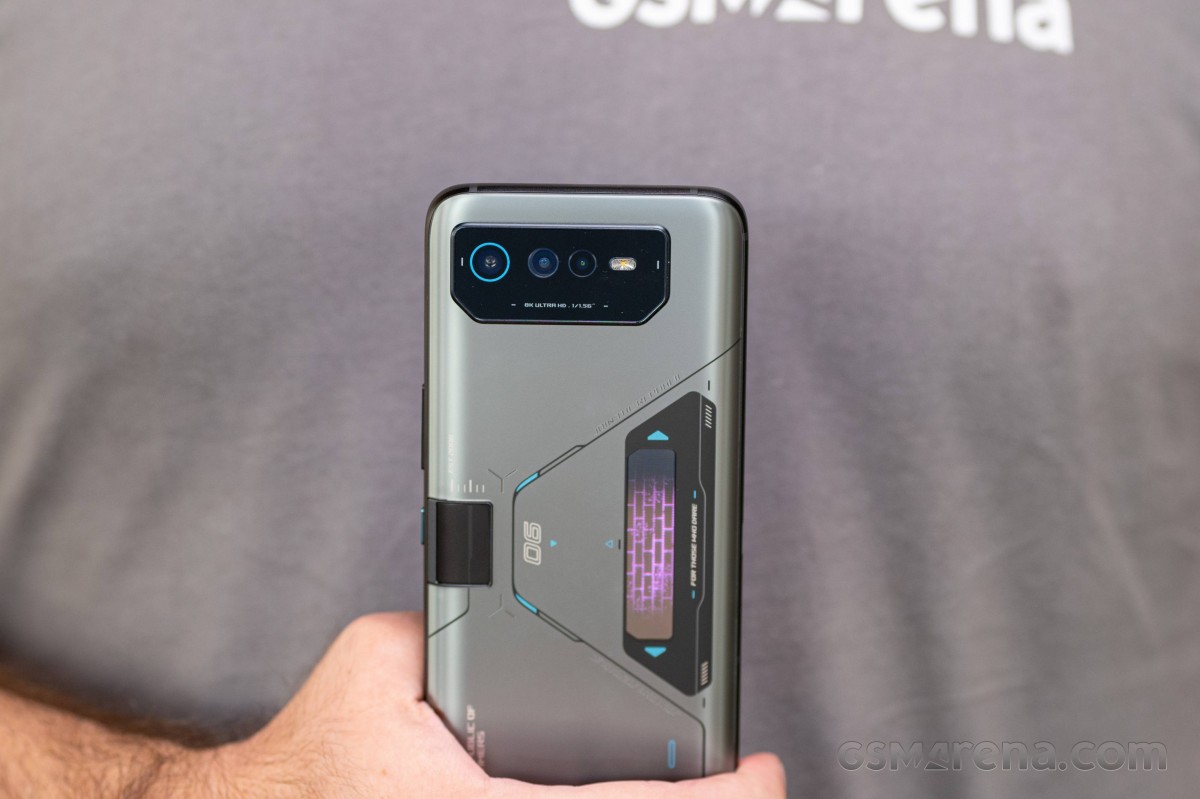 However, we are not sure whether the phone is worthy of the Ultimate moniker. We saw its benchmark scores fall slightly behind the ROG Phone 6 Pro in more graphics tests than one.
It also exhibited slightly more thermal throttling than the ROG Phone 6 Pro with or without the Aeroactive cooler attached.
Then, the battery draw in standby was slightly worse than the ROG Phone 6 Pro. And finally, its camera image quality was also slightly behind the 6 Pro.
And we won't even go into debates around MediaTek vs. Qualcomm drivers, optimization and third-party support for niche gaming purposes like emulators.
In the end, the ROG 6 Ultimate feels like a version that's 99%-as-good as the ROG 6 Pro but certainly not improved in any way.
The bottom line is that the ROG Phone 6D Ultimate would have probably been the top-dog gaming phone in isolation, but it still gets outshined by its sibling - the ROG Phone 6 Pro.
If it has been Asus' strategy to diversify the chip supplier and have an equally good ROG phone made with MediaTek silicon, well, they've succeeded. We don't think anyone would notice the subtle differences between the two phones. It's impressive to think that MediaTek is closing the gap on Qualcomm when it comes to flagship chipset performance.
But the extra overclocking and cooling ingenuity it took on Asus' part also highlighted that the Snapdragon 8+ Gen 1 chipsets remain class-leading. MediaTek won't be breathing on Qualcomm's neck just yet - at least not this year.
With all the extra work that Asus has put into making the ROG Phone 6D Ultimate, we'd say users will be happy with either flagship ROG phone. You might have your preference, but we'd say - go for whichever is more easily available near you or with whichever one is cheaper. They are both really good.
Pros
Toned-down, but still ROG-inspired gamer's design with great build quality.
IPX4 certified body.
AirTigger 6 ultrasonic touch sensors remain industry-leading for their precision and versatility. Motion controls are extended and improved from last gen.
Simplified side port is now just a regular Type-C port - major durability improvement over last gen.
Industry-leading stereo speaker performance, complete with gaming-specific sound tweaks.
One of the best around 10-bit, HDR10+, AMOLED screen, 165Hz refresh rate.
Solid battery life. Rich battery health prolonging options. Fast charging (65W charger bundled).
AeroActive Portal allows the MediaTek Dimensity 9000+ to reach the level of the Snapdragon 8+ Gen 1.
Great Android implementation, an unparalleled number of game tweaks, control-mapping and performance options.
Solid daylight photos, as well as low-light images.
Very good video quality, impressive EIS.
Cons
Available accessory ecosystem is significantly smaller than on older models.
Rather basic camera setup, compared to typical 2022 flagships. 8K video recording is capped at 24fps.
The ROG Phone 6 Pro exhibits less thermal throttling with or without the fan attached and has more consistent graphics benchmarks scores.