Battery life
A 6,000 mAh battery is sort of becoming the expected standard with ROG Phone users. Asus actually set the bar pretty high in yet another area with its ongoing attention to battery endurance and longevity combined.
The ROG Phone 6D Ultimate mostly meets expectations on both ends. Just like the ROG Phone 6/6 Pro and the ROG Phone 5 and 5s, it has a total of 6,000 mAh worth of battery capacity, split into two symmetrical 3,000 mAh cells.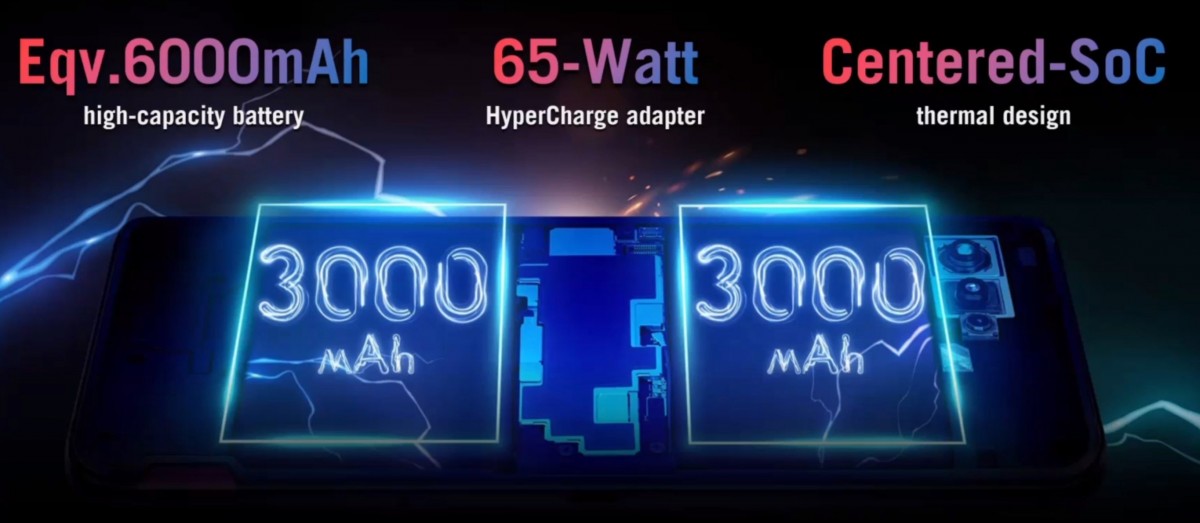 This works pretty well in conjunction with the center-PCB design for the internals and the matching cooling system. Everything is synergistically designed together in this manner.
Asus has another design trick also carried forward from the regular Rog Phone 6 line and last year - MMT battery technology and a double-wired split design. MMT stands for Middle Middle Tab and increases the energy density in a battery by charging it from the middle outwards instead of from the ends, which lowers impedance and temperature.
Lower temperatures allow higher wattage charging to be sustained for longer periods before entering trickle charge (constant voltage). So, technically, what Asus has done here is approaching the problem of tapering-off charging wattages in a different way, through MMT tech, in place of simply a larger single battery. Neat!
The ROG Phone 6D Ultimate scored a solid total endurance rating of 103 hours. That is a respectable figure with solid on-screen performance in both the web and video playback tests and great 3G talk time.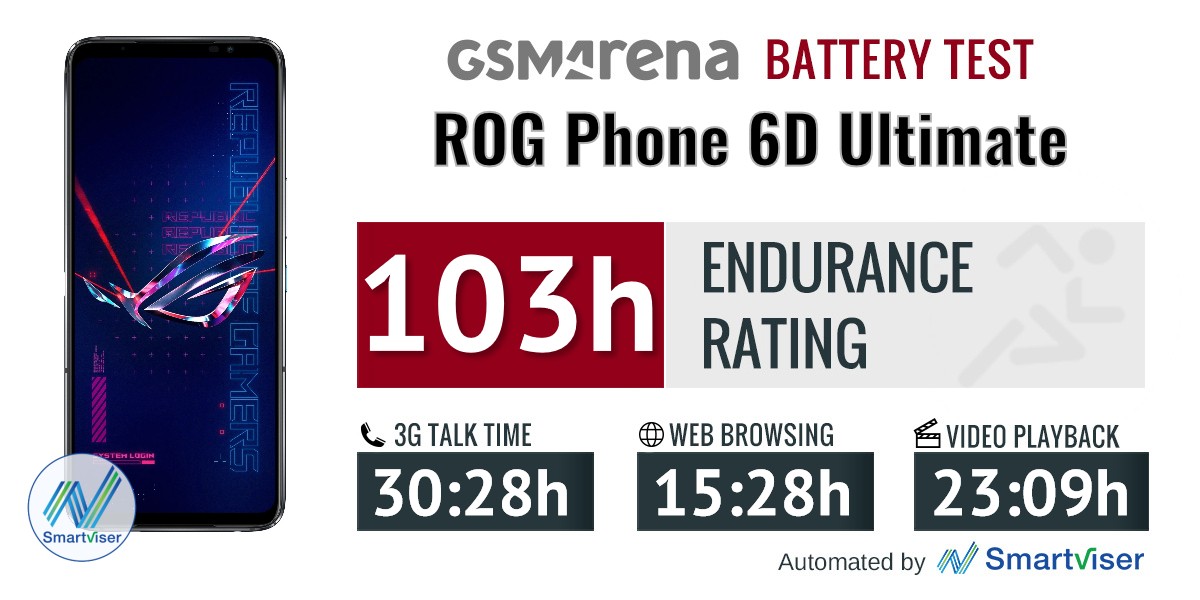 However, the ROG Phone 6D Ultimate did notably worse in terms of battery endurance compared to the ROG Phone 6 Pro and its 119 hours of endurance. That mostly comes down to standby performance which turned out to be notably worse on the Dimensity 9000+ compared to the Snapdragon 8+ Gen 1. We made sure to retest in different scenarios multiple times, and that just remains a fact. So if you are after the ROG Phone 6 with the best possible battery life, you should go for a Snapdragon model.
As a reminder, in accordance with our battery testing protocol, this result was achieved by doing the video playback test at 60Hz, whereas web testing was done at the highest possible 165Hz.
Our battery tests were automated thanks to SmartViser, using its viSerDevice app. The endurance rating denotes how long the battery charge will last you if you use the device for an hour of telephony, web browsing, and video playback daily. More details can be found here.
Video test carried out in 60Hz refresh rate mode. Web browsing test is done at the display's highest refresh rate whenever possible. Refer to the respective reviews for specifics. To adjust the endurance rating formula to match your own usage patterns, check out our all-time battery test results chart, where you can also find all phones we've tested.
Charging speed
65W charging has sort of become an Asus staple over the last couple of years. It is, in part, enabled by the split design and MMT technology of the battery packs. Native charging on the ROG Phone 6/6 Pro and 6D, 6D Ultimate goes by many names - Asus HyperCharge and Direct Charging. We are happy to see that Asus is still using standard USB Power Delivery tech to accomplish its charging - PD 3.0 + PPS, 3.3V - 21V and 3.0A. A pretty elegant system that is not only USB PD compliant but also only needs a standard 3A Type-C to Type-C cable instead of a beefier 5A one.
The ROG Phone 6D Ultimate charges about as fast and even slightly faster in the 30 minute dash than its Snapdragon sibling. Thirty minutes on the charger get it from dead to 78% and a full charge takes just under over 40 minutes. Not slow by any means, but not chart-topping either.
30min charging test (from 0%)
Higher is better
Realme GT2 Explorer Master
100%
ZTE nubia Red Magic 7 Pro
100%
iQOO 9
100%
iQOO 9 Pro
100%
Xiaomi 12 Pro (120W)
100%
Xiaomi Black Shark 5 Pro
100%
Xiaomi Black Shark 4
100%
OnePlus 10T
100%
ZTE nubia Red Magic 7
99%
OnePlus 9 Pro
99%
OnePlus 10 Pro
98%
Realme GT2
97%
nubia Red Magic 7S Pro
97%
Xiaomi Mi 11 Ultra
89%
vivo X70 Pro+
80%
ZTE Axon 40 Ultra
80%
ROG Phone 6D Ultimate
78%
Asus ROG Phone 6 Pro
75%
Xiaomi 12S Ultra
73%
Asus ROG Phone 5s Pro
71%
Asus ROG Phone 5
70%
vivo X70 Pro
64%
Xiaomi 12 Pro (65W PD)
62%
Samsung Galaxy S22 Ultra (25W)
61%
Samsung Galaxy S22 Ultra (45W)
60%
Asus ROG Phone 3
43%
Time to full charge (from 0%)
Lower is better
iQOO 9
0:16h
Xiaomi Black Shark 5 Pro
0:18h
Xiaomi Black Shark 4
0:19h
OnePlus 10T
0:19h
iQOO 9 Pro
0:21h
Xiaomi 12 Pro (120W)
0:21h
Realme GT2 Explorer Master
0:25h
ZTE nubia Red Magic 7 Pro
0:28h
OnePlus 10 Pro
0:32h
OnePlus 9 Pro
0:32h
Xiaomi Mi 11 Ultra
0:37h
ZTE nubia Red Magic 7
0:38h
Realme GT2
0:40h
nubia Red Magic 7S Pro
0:41h
Asus ROG Phone 6 Pro
0:42h
ROG Phone 6D Ultimate
0:44h
ZTE Axon 40 Ultra
0:47h
vivo X70 Pro+
0:48h
Xiaomi 12S Ultra
0:50h
Xiaomi 12 Pro (65W PD)
0:50h
Samsung Galaxy S22 Ultra (45W)
0:59h
vivo X70 Pro
1:00h
Asus ROG Phone 5s Pro
1:03h
Samsung Galaxy S22 Ultra (25W)
1:04h
Asus ROG Phone 5
1:05h
Asus ROG Phone 3
1:50h
Asus still takes industry-leading care of its device's battery health and longevity. You can read more about the myriad of protections and optimizations that are in place in our ROG Phone 6 Pro review.
Familiar 6.78-inch AMOLED display with 165Hz refresh rate
Asus didn't give any indication that anything might be different in the display department going from the ROG Phone 6/6 Pro to the new Phone 6D/6D Ultimate. Even so, we felt obliged to test our unit just in case.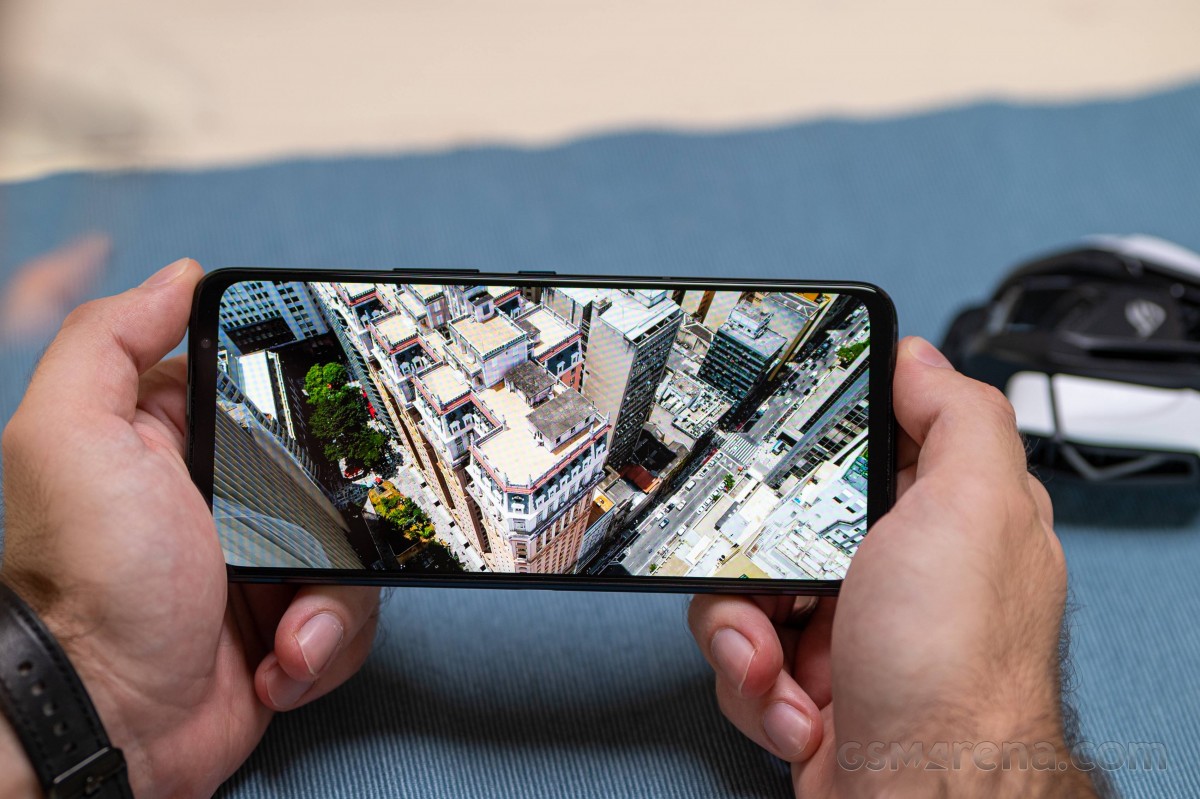 We got identical numbers almost exactly to the tee, which means that all of our observations and conclusions from the ROG Phone 6 Pro review are applicable. Click here to check that section out.
Some of the best stereo speakers around
The ROG Phone line has always excelled in the loudspeaker department. The ROG Phone 6 family is no exception. Just like the display, we were pretty confident that Asus hadn't changed anything from the ROG Phone 6/6 Pro to the 6D/6D Ultimate, but we had to make sure for ourselves.
The speakers are indeed identical, and you can read more about them in the corresponding section of our ROG Phone 6 Pro review.