Emergency handling
All new iPhone 14 models support this new feature called Emergency SOS via satellite.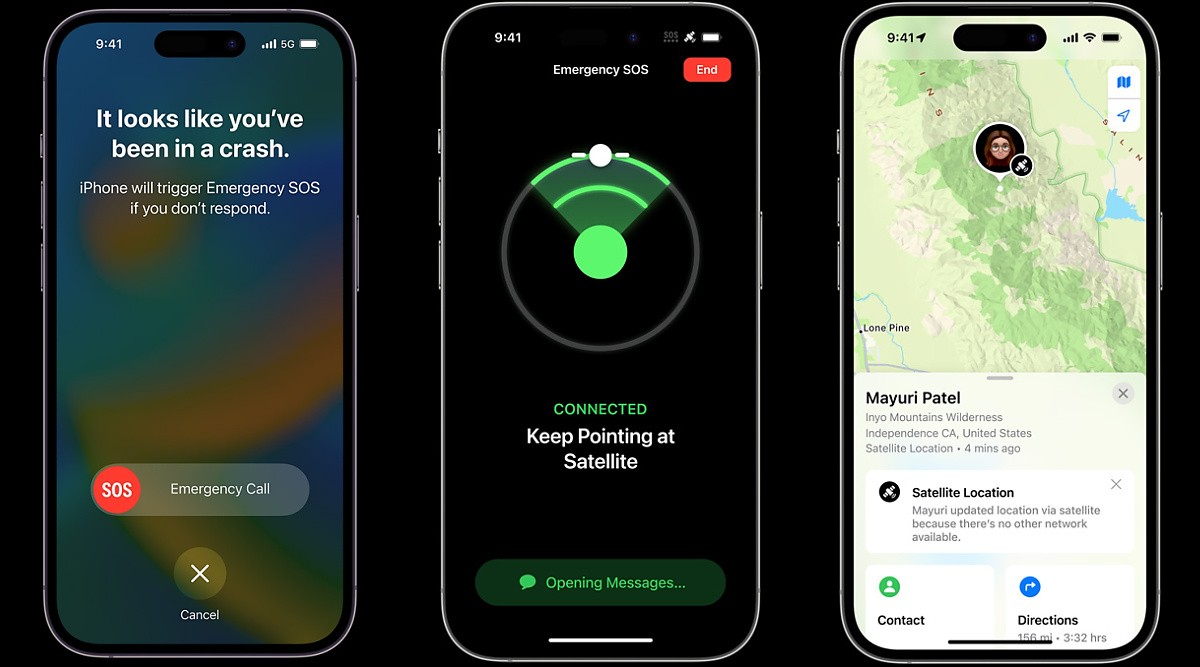 It required designing all-new custom hardware and bespoke software to make sending out a message to a satellite possible without bulky antennas. This service is text-only and will be used mostly for emergencies, but it does support two-way communication, so you will be notified when rescue is on the way. The Find My app will also be able to share your location with friends so that they can keep an eye on you.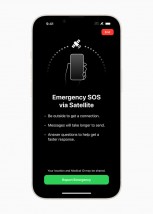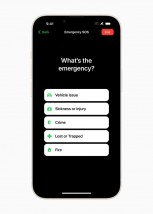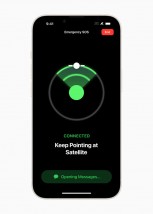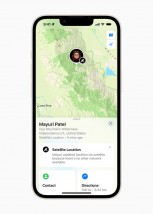 The new satellite messaging service • An emergency questionnaire • Find My reports location over satellite
You can compose custom messages to explain your situation, but when speed is life-saving several specially-prepared questions will let you send out a detailed SOS in just a few taps. In locations with a clear view of the sky, a message can be transmitted in about 15 seconds, but if there are trees overhead, it may take a couple of minutes. The satellite service will launch in November for users in the US and Canada, and iPhone 14 buyers get a free 2-year subscription.
Crash Detection is also available on all iPhone 14 models, thanks to a new accelerometer that can detect up to 256G. If such an emergency occurs, the phone will automatically contact emergency services. This is a setting within the Emergency SOS menu called Call After Serious Crash. You can either turn it on or off; there are no other settings.
Dynamic Island and Always On Display
The iPhone 14 Pro and Pro Max feature two exclusive software tricks as part of iOS 16 - Always-on Display and Dynamic Island.
Let's start with the Always-on Display. It has no options - it's either on or off. It dims your lockscreen to a certain level but keeps it always-on as is - with the wallpaper, widgets, and everything. Even if it is not mentioned, the AOD does go off when the phone is in the pocket, lying on its face, in a backpack, and even when you are not around the phone after a certain time has passed.
Note that the AOD has different brightness according to the ambient light - it can be incredibly dim in dark environments, but it is brighter when you have the phone in broad daylight. And this should affect the battery life in different ways.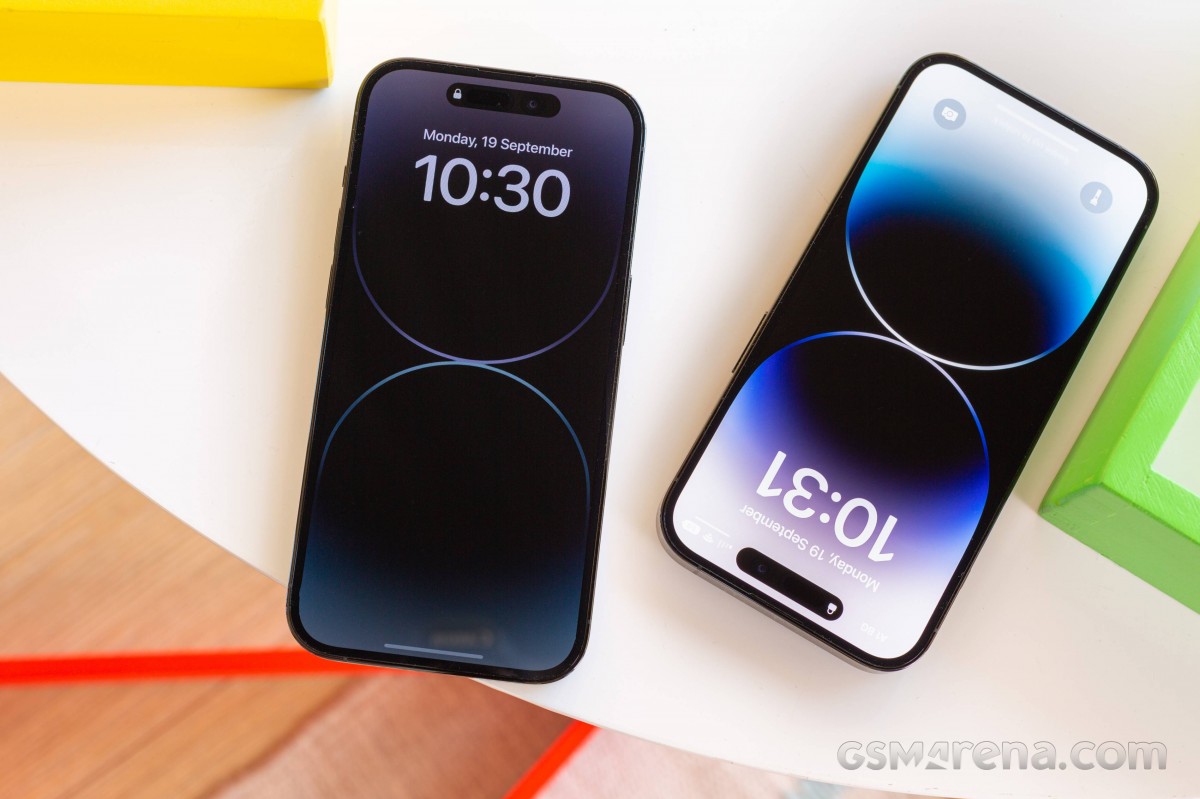 And, as far as battery life is concerned, the best conclusion we could draw after using the iPhone 14 Pro for a week is that using AOD draws an average of 1% per every hour of standby.
The Island is what Apple calls the new i-shaped cutout, and the Dynamic Island is the animations that the maker has developed to make it cool and less of an eyesore.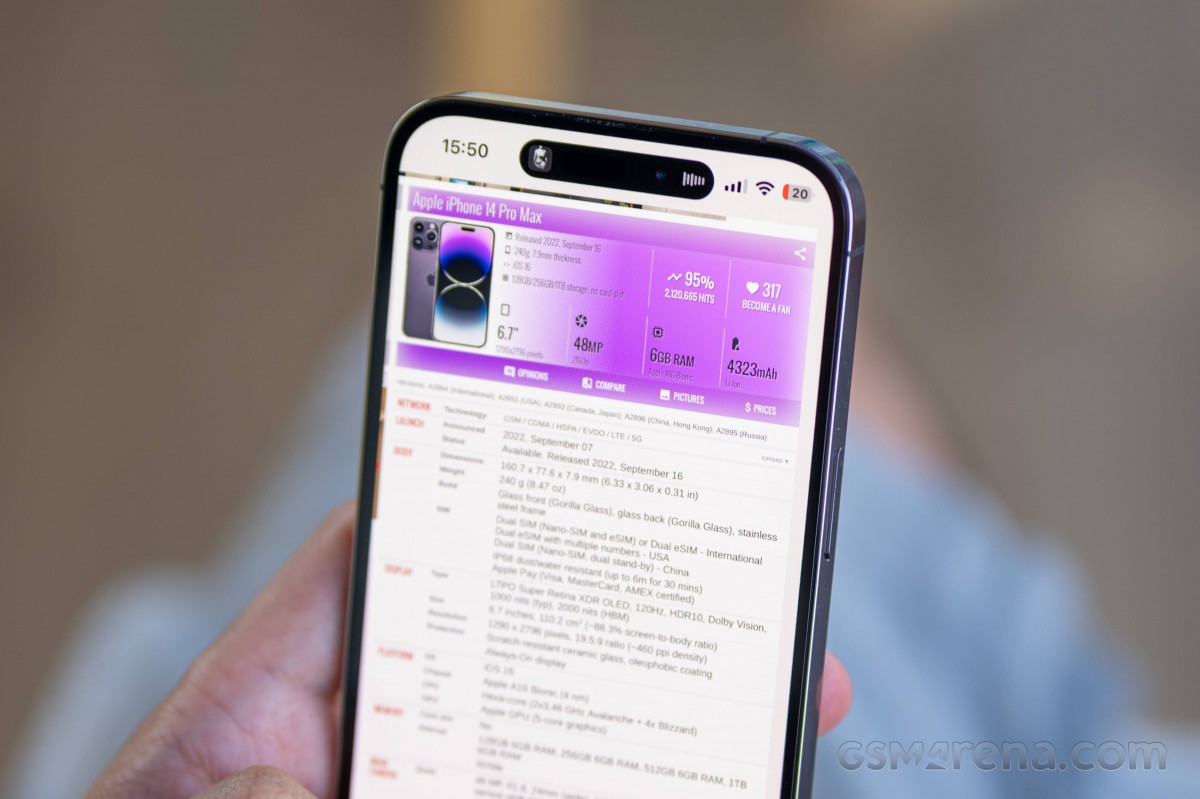 For all intents and purposes, the Dynamic Island is a pill-shaped notch as Apple has blackened the middle part for aesthetic purposes. There you will see the mic and camera indicators and nothing else.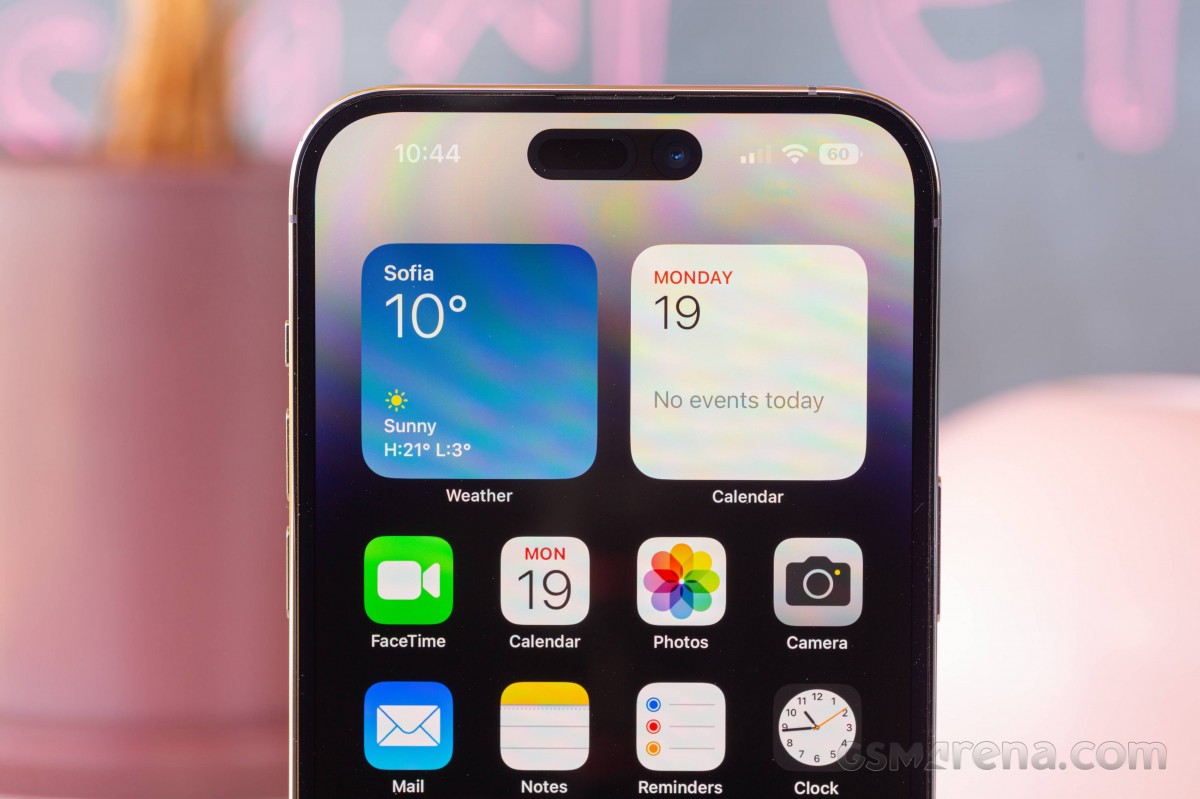 The animations around the island always use a black background. There are three Island modes.
Standard form - inactive island or just accommodating camera/mic indicators.
The active form is a longer pill-shaped notch with info on both left and right side for certain events, alerts, notifications.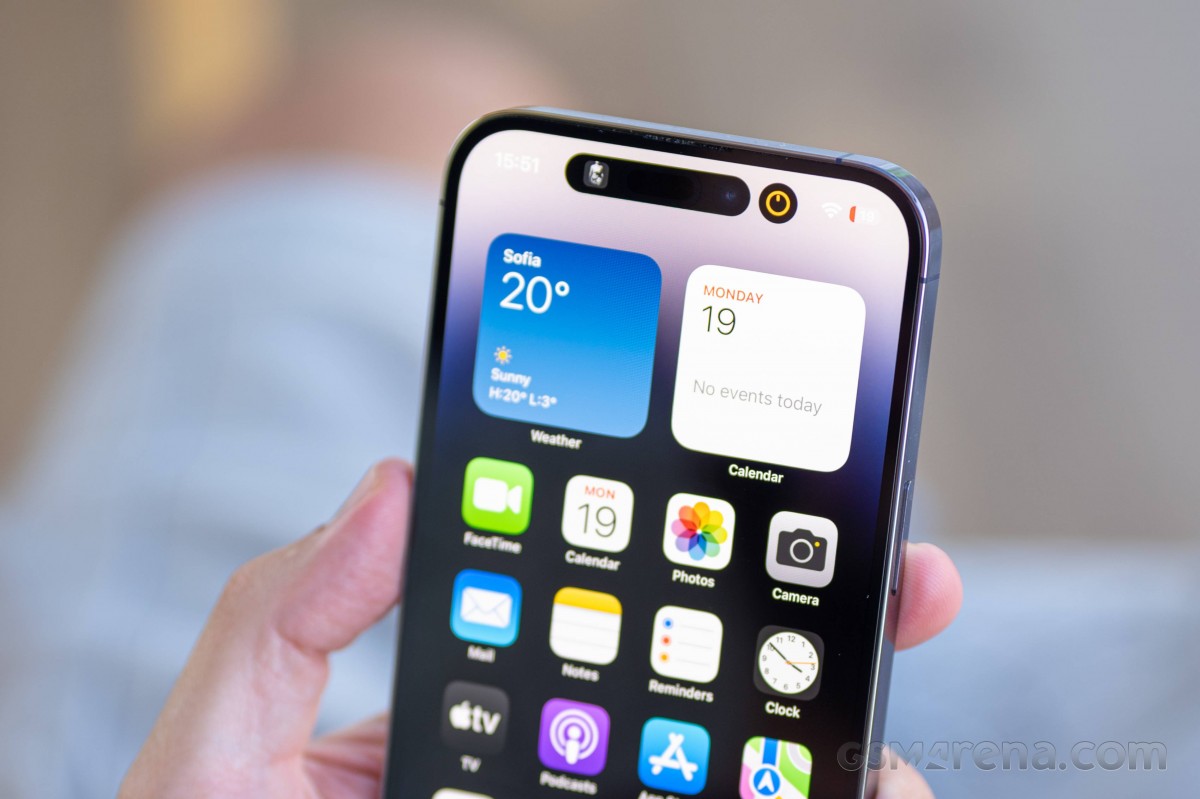 This long pill can also split into an i-shaped one if you launch another compatible app that can be minimized here, like the Timer.
There is also a third form that expands into a pop-up balloon - this can be invoked by a tap and hold on the small animation. A tap will open the respective app instead, though. We think these gestures should have been inversed, or at least configurable, but as usual - Apple knows best.
So, the Dynamic Island incorporates different things - starting with the Face ID animation, charging animation, music info (Music, Spotify, Amazon, YouTube, Soundcloud), call info (Phone, WhatsApp, Skype, Instagram, Google), timers, etc. If you activate a second app that needs to use the Dynamic Island, you get a sweet animation that shortens the island and adds a small icon on the left side.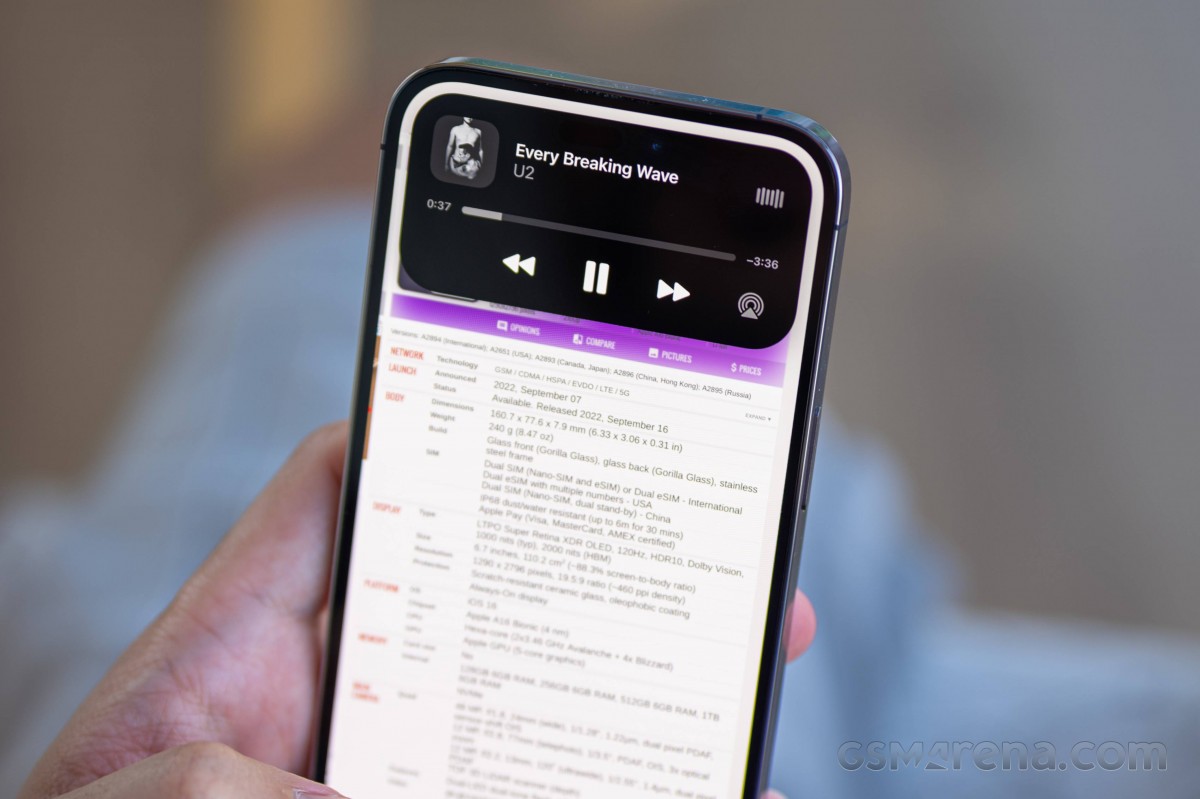 The supported system alerts include calls, AirPods and Watch connections, Battery and Charging, Focus changes, AirDrop, Face ID, AirPlay, NFC events, SIM alerts, Silencer on/off.
The Dynamic Island supports few things at launch, but Apple will open it with the upcoming Live Activities feature. This will allow displaying various real-time notifications like sport scores, voting, etc.
At its premiere, the Dynamic Island is not the disco dance Apple suggested it to be at the event. We do appreciate that it accommodates all those legacy bubbles like Phone, Navigation, Music, Alarms - stuff that usually went within the left horn. And we have to give it to Apple - it does know how to make something as an eyesore as this cutout a feature, something that will spread across various Android launchers by the end of this year.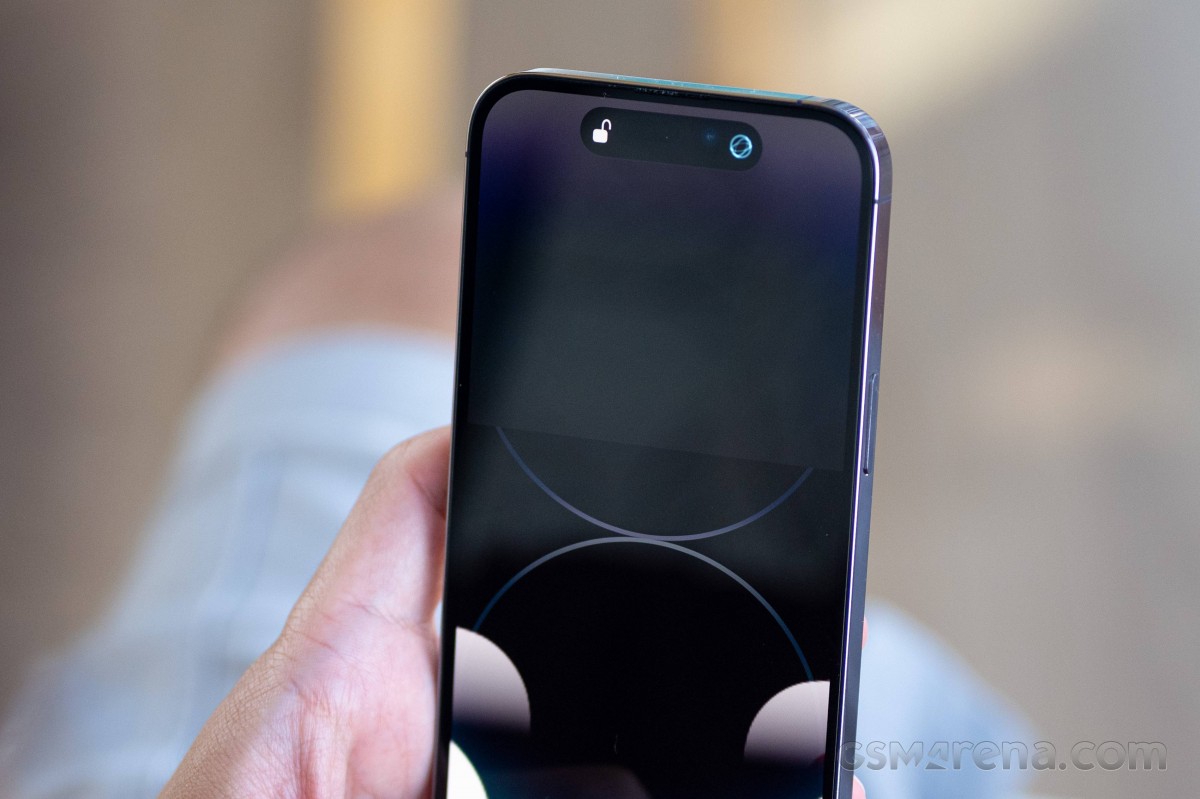 The Dynamic Island is in the early stages right now and needs more work from both Apple and the developer community. But we are sure it will get there because Apple now wants everyone to look at the notch instead of ignoring it.
There are two downsides as we see right now - bright environments reveal the cameras and sensors, as well as the display part in between, and thus break the Island's illusion. And second - it sits a bit lower than the previous notch, which means it does eat even more screen space than the old notch, in a certain way.
Performance and benchmarks
The new Apple A16 Bionic chip is at the heart of the new iPhone 14 Pro devices. It is manufactured by TSMC 4nm process node and contains 16 billion transistors, up from 15 billion within the A15 chip.
It comes with a familiar six-core CPU configuration - there are two performance Everest cores clocked at 3.46GHz and four efficiency Sawtooth cores working at 2.02GHz. The CPU overall is billed to be 40% faster than the competition, while its two high-performing cores require 20% less power than the ones in the A15.
The improved 5-core Apple GPU offers 50% higher memory bandwidth.
The A16 uses includes a 16-core Neural Engine that is capable of 17 trillion operations per second.
The A16 uses Qualcomm's X65 5G modem for cellular connections.
The ISP has seen some improvement, too, with even more advanced computation photography capabilities and up to 4 million operations per each high-res photo taken.
Finally, there is a brand-new Display Engine, a dedicated feature that made possible the Always on Display by tuning the display properties to reduce battery consumption (1Hz refresh rate, brightness, color settings). It also allowed for higher peak brightness up to 2,000 nits. The antialiasing work around the Dynamic Island is also a major task for the Display Engine.
Obviously, any of the tasks mentioned above could have been done by traditional hardware. But having the Engine working independently from the rest, GPU included, allowed for much better resource allocation and saves a lot of battery juice.
The iPhone 14 Pro and Pro Max still use 6GB of RAM, but it has been upgraded to LPDDR5 and now offers 50% higher bandwidth than in A15.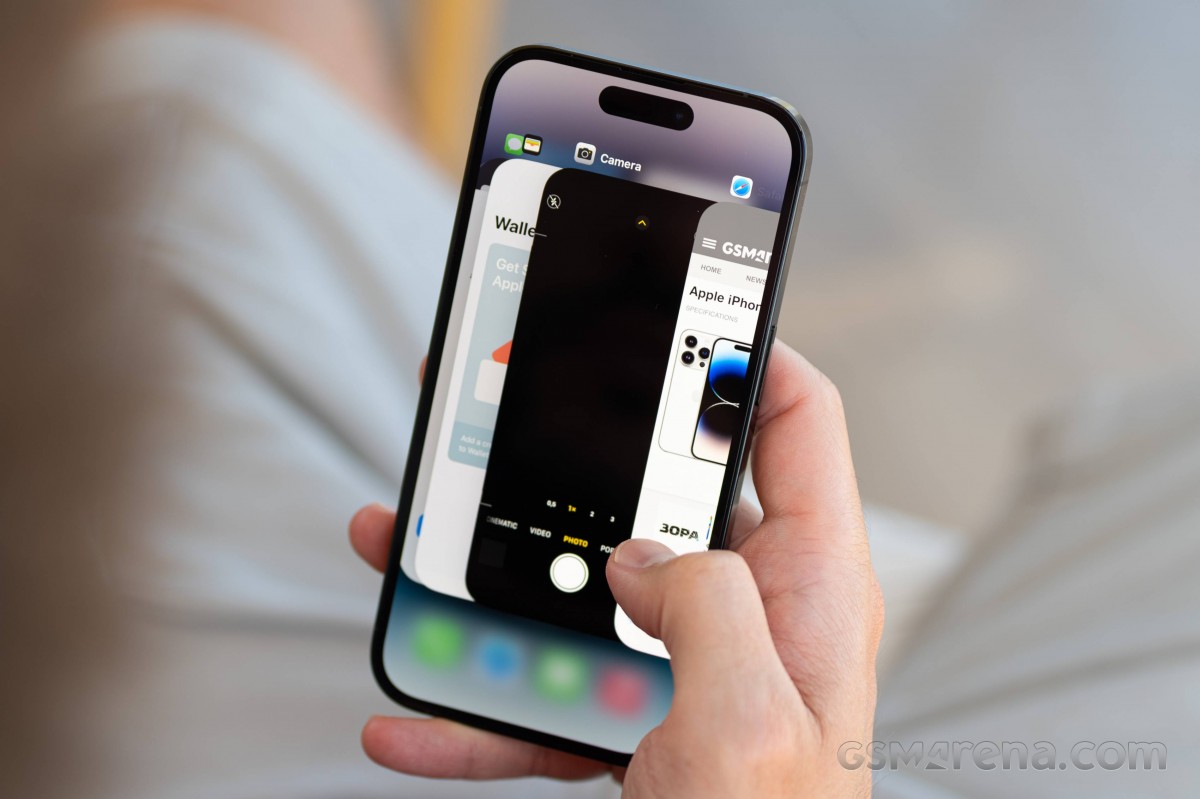 And now, let's see some benchmarks.
As promised, the new processor is more powerful - it offers 7% more raw power in single-core and up to 12% more raw power in multi-core tasks when compared to the A15 chin within the iPhone 14 and iPhone 13 devices. And, obviously, it is the best performing mobile CPU as per Geekbench.
GeekBench 5 (multi-core)
Higher is better
Apple iPhone 14 Pro
5346
Apple iPhone 13 Pro
4705
Apple iPhone SE (2022)
4629
Xiaomi 12S Ultra
4300
Motorola Edge 30 Ultra
4265
Apple iPhone 12 Pro
4056
Samsung Galaxy S22
3682
Samsung Galaxy S22 Ultra (1440p)
3657
Apple iPhone 11 Pro
3466
Sony Xperia 5 IV
3448
GeekBench 5 (single-core)
Higher is better
Apple iPhone 14 Pro
1861
Apple iPhone 13 Pro
1731
Apple iPhone SE (2022)
1729
Apple iPhone 12 Pro
1611
Apple iPhone 11 Pro
1333
Xiaomi 12S Ultra
1324
Motorola Edge 30 Ultra
1276
Sony Xperia 5 IV
1233
Samsung Galaxy S22 Ultra (1440p)
1180
Samsung Galaxy S22
1171
Apple has promised up to 50% more memory bandwidth for the A16 GPU compared to the A15's but other than that, it seems to be identical to what the iPhone 13 models had. And the GPU tests suggest the same thing.
GFX Car Chase ES 3.1 (offscreen 1080p)
Higher is better
Apple iPhone 13 Pro
119
Apple iPhone 14 Pro
112
Xiaomi 12S Ultra
104
Apple iPhone SE (2022)
97
Motorola Edge 30 Ultra
93
Samsung Galaxy S22 Ultra (1440p)
76
Samsung Galaxy S22
74
Sony Xperia 5 IV
70
Apple iPhone 11 Pro
66
Apple iPhone 12 Pro
64
GFX Manhattan ES 3.0 (offscreen 1080p)
Higher is better
Xiaomi 12S Ultra
268
Apple iPhone 13 Pro
252
Apple iPhone 14 Pro
243
Apple iPhone 12 Pro
199
Sony Xperia 5 IV
187
Samsung Galaxy S22 Ultra (1440p)
182
Apple iPhone 11 Pro
178
Motorola Edge 30 Ultra
178
Samsung Galaxy S22
173
Apple iPhone SE (2022)
60
Finally, AnTuTu puts the iPhone 14 Pro on top of the other iPhones. Interestingly, the AnTuTu test is actually the one to give the more thorough look on the iPhone 14 Pro performance in different departments.
The iPhone 14 Pro scored 419,508 for GPU, while the 13 Pro got 337,082, suggesting a 25% increase in the overall performance. The same goes for Memory - the 14 Pro received 162,089 points, while the 13 Pro got 103,532 - and that is exactly 50% faster memory, just as promised. And while we are at it, the CPU score is 242,087 for 14 Pro and 218,430 for 13 Pro - about a 12% improvement.
AnTuTu 9
Higher is better
Apple iPhone 14 Pro
968412
Apple iPhone 13 Pro
794348
Apple iPhone SE (2022)
723486
Obviously, the iPhone 14 Pro has the best chipset available to the iPhones and probably the fastest one in the whole smartphone industry, too.
Last year we got some rather unimpressive stability scores, so this year we were hoping for an improvement. Apple has switched to TSMC's 4nm manufacturing process and made various improvements and changes to both hardware design and software.
So, the iPhone 14 Pro scored 84% for CPU and 75% for GPU stability. These are outstanding numbers for smartphones with passive cooling solutions. And they show improvement since the iPhone 13 Pro, which got 77% for CPU and 67% for GPU.
The iPhone 14 Pro gets quite warm during these stress tests, but it never overheated and never heated up to unpleasant levels around the frame or the back.
Overall, we are happy with both the performance and stability of the Apple A16 Bionic - it is indeed one of the best smartphone chips in 2022.