Retina-searing brightness
iPhones have always had some of the best displays in the business, and the one on the 14 Pro is no exception. Branded Super Retina XDR, the OLED panel here has a 6.1-inch diagonal (6.12" in the fine print) and a 1179 x 2556px resolution in a 19.5:9 aspect ratio, while pixel density works out to 460ppi. HDR10 and Dolby Vision standards are supported, too.
The refresh rate maxes out at 120Hz with adaptive behavior bringing it down to 10Hz for static content. The screen is able to go down to 1Hz for the Always-On display feature - one of the big new additions this year.
Just like last year, web pages may scroll at a smooth 120Hz refresh rate but any moving embedded content will be rendered at 60fps.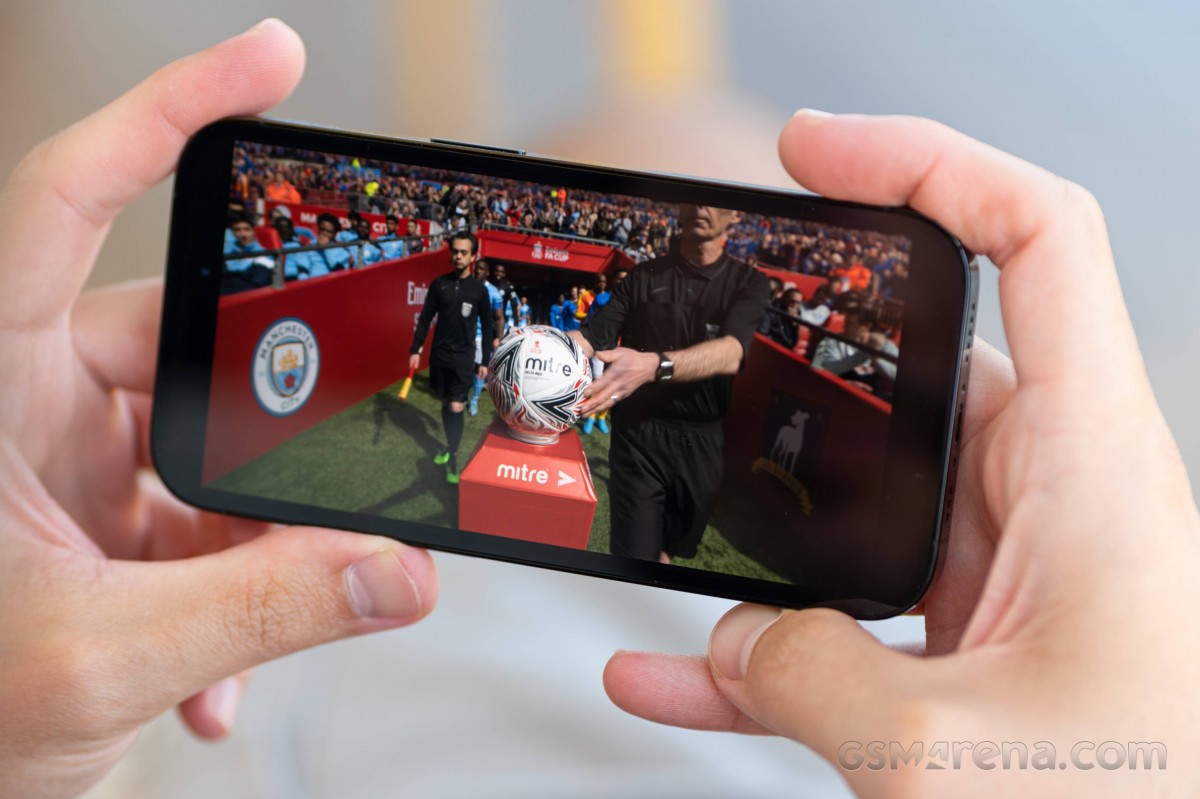 Naturally, the iPhone 14 Pro display supports True Tone adjustments, Wide Color, and it has the Haptic Touch feature provided by a powerful Taptic Engine.
The other major development is brightness. Apple says that the display should be good for 1000nits in regular use with a boost to an unheard of 2000nits in bright outdoor conditions and (somewhat weirdly lower) 1600nits for HDR applications.
While we couldn't quite reach those numbers in our testing, the iPhone 14 Pro still managed a spectacular 1791nits in our standardized routine in very bright ambient conditions and with adaptive brightness enabled in settings. That's more than 500nits higher than the second-brightest we've seen, the Galaxy S22 Ultra, and more than 700nits higher than the smaller S22.
What we got with the brightness slider all the way up, and the adaptive toggle disengaged was 842nits - not quite as remarkable, but still really bright. It's only last year that the Galaxies started letting you go to 800-ish nits manually, while iPhones have usually been laxer in unleashing all of their nits. Starting with the 13 Pros, however, and their new found ability to go above 1000nits, a cap on the manual brightness was indeed warranted, and it's all the more understandable on the way brighter 14 Pros.
The minimum brightness is impressively low at 2 nits.
Anyway, properly impressive stuff.
Display test
100% brightness
Black,cd/m2
White,cd/m2
Contrast ratio
Apple iPhone 14 Pro
0
842
∞
Apple iPhone 14 Pro (Auto)
0
1791
∞
Apple iPhone 14 Pro Max
0
828
∞
Apple iPhone 14 Pro Max (Max Auto)
0
1760
∞
Apple iPhone 13 Pro
0
856
∞
Apple iPhone 13 Pro (Auto)
0
1063
∞
Samsung Galaxy S22
0
465
∞
Samsung Galaxy S22 (Extra brightness)
0
757
∞
Samsung Galaxy S22 (Max Auto)
0
982
∞
Samsung Galaxy S22 Ultra
0
494
∞
Samsung Galaxy S22 Ultra (Extra brightness)
0
829
∞
Samsung Galaxy S22 Ultra (Max Auto)
0
1266
∞
Oppo Find X5 Pro
0
475
∞
Oppo Find X5 Pro (Max Auto)
0
762
∞
OnePlus 10 Pro
0
498
∞
OnePlus 10 Pro (Max Auto)
0
780
∞
Xiaomi 12S Ultra
0
512
∞
Xiaomi 12S Ultra (Max Auto)
0
1065
∞
Xiaomi 12
0
494
∞
Xiaomi 12 (Max Auto)
0
896
∞
Asus Zenfone 9
0
449
∞
Asus Zenfone 9 (Max Auto)
0
831
∞
Similarly praiseworthy is the color accuracy - we measured an average dE2000 of 0.7 for our set of sRGB color swatches. As usual, the iPhone doesn't offer different color presets, instead quietly taking over the process of switching between sRGB for general use and Display P3 (Apple's sort of DCI-P3) for wide-gamut scenarios.
Battery life
The iPhone 14 Pro brings a minor battery capacity upgrade over the previous generation - about 3% - from 3,095mAh up to 3,200mAh.
The iPhone 14 Pro scored an 86h of total endurance rating - on par with the iPhone 13 Pro. It posted similar call, video and standby results, but improved a bit when it comes to web browsing.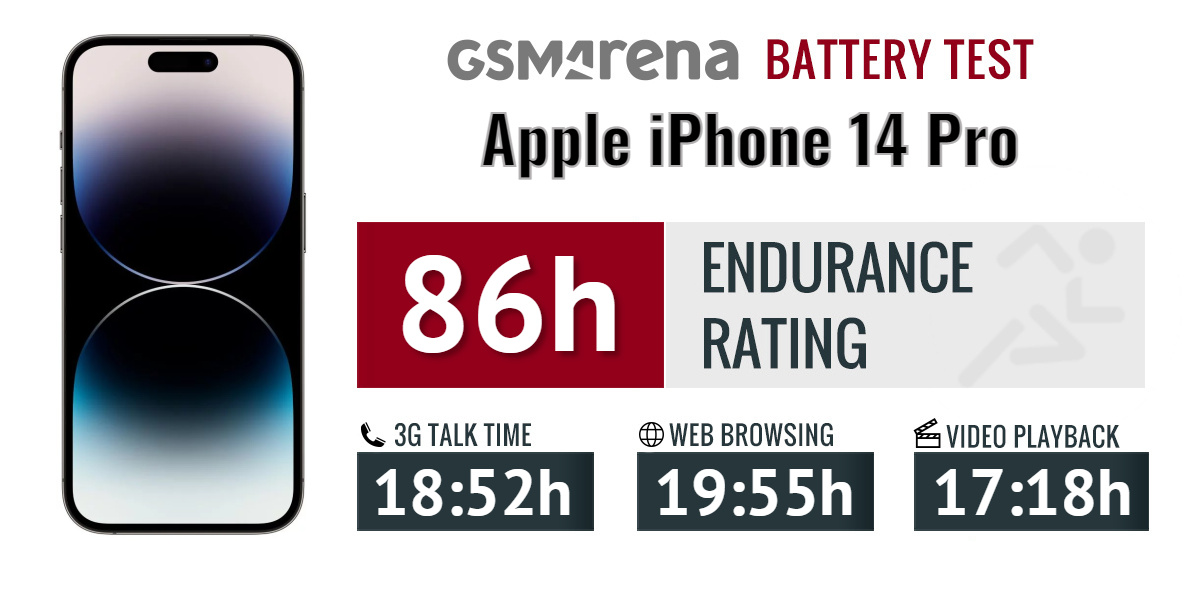 This year Apple also allowed Always-on Display for the first time ever. Theoretically, it's either always on or always off. But there is fine print, of course. The AOD does go off after a while when the phone is in the pocket, lying on its face, in a backpack, and even when you are not around the phone after a certain time has passed. Make sense.
We did two identical standby tests - one with the AOD off, and another one with the AOD being always on. We captured a 9% battery drop in 16 hours for always off and 19% drop for 16 hours for always-on. Note that the AOD has different brightness according to the ambient light - it can be incredibly dim in dark environments, but it is brighter when you have the phone in broad daylight. And this should affect the battery life in different ways, so there is no way to put an exact number on it.
But, as far as general battery life is concerned, the best conclusion we could draw after using the iPhone 14 Pro for a week is that using AOD draws an average of 1% per every hour of standby.
The endurance rating denotes how long the battery charge will last you if you use the device for an hour of telephony, web browsing, and video playback daily. More details can be found here.
Video test carried out in 60Hz refresh rate mode whenever possible. Web browsing test done at the display's highest refresh rate whenever possible. Refer to the respective reviews for specifics. To adjust the endurance rating formula to match your own usage - check out our all-time battery test results chart.
Charging speed
As is the norm, the iPhone 14 Pro comes without a charger in the box. We tested its charging speed with what we expect to be the 'default' option - Apple's own 20W adapter that you can buy separately or comes bundled with iPhone purchases from some carriers here or there.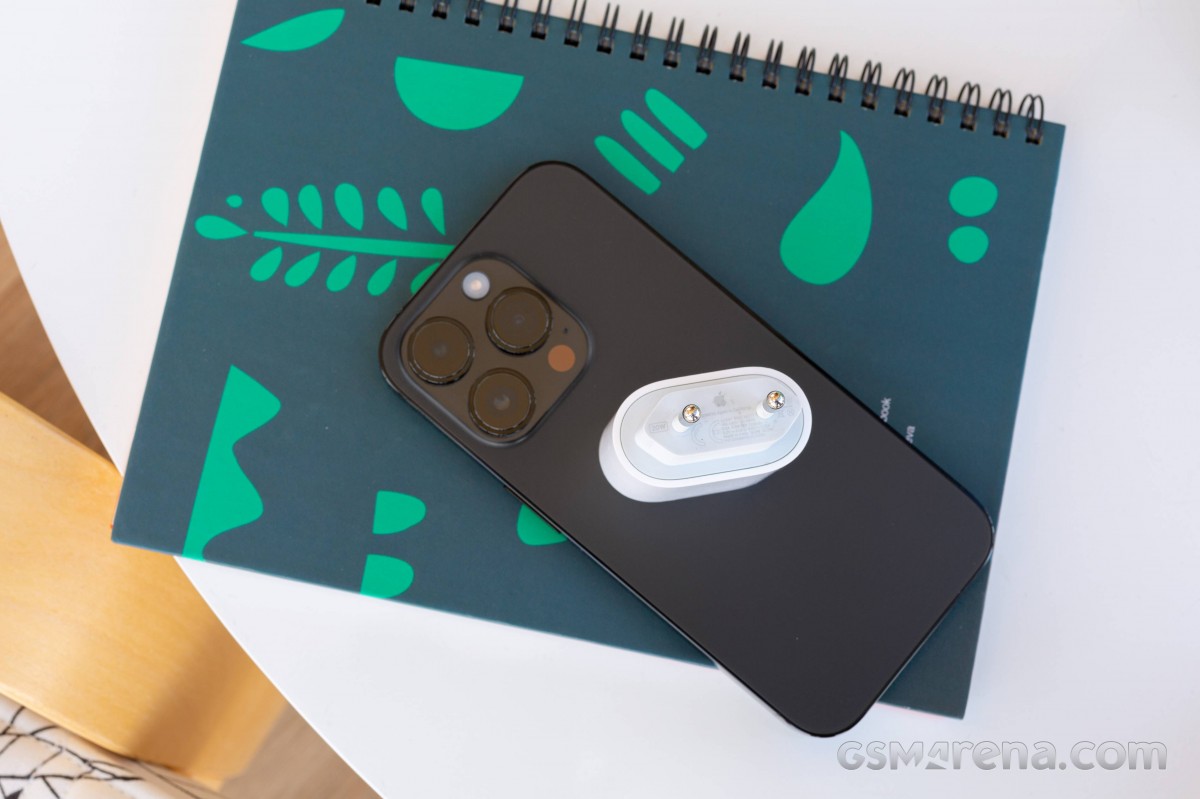 We clocked a full charge from flat to take 1:41h on the 14 Pro, or essentially the same result as on last year's model. The 60% charge at the half-hour mark remains unchanged. The Galaxy S22 isn't markedly quicker the first 30 minutes, but does fill all the way up notably faster (1:03h). As expected, proprietary charging solutions can be significantly faster, but USB PowerDelivery-based ones are in about the iPhone's ballpark - decently fast, nothing close to impressive.
30min charging test (from 0%)
Higher is better
OnePlus 10 Pro
98%
Oppo Find X5 Pro
91%
Xiaomi 12
87%
Samsung Galaxy S22
63%
Apple iPhone 14 Pro
60%
Apple iPhone 13 Pro
60%
Asus Zenfone 9
57%
Apple iPhone 14 Pro Max
48%
Sony Xperia 5 IV
45%
The iPhone 14 Pro reaches 85% charge in just 60 minutes, which means the last 15% take 31 more minutes to complete as the charging speed drastically drops. It's been the same with all the iPhones, something that Apple does to prolong the lifespan of the iPhones' batteries.
Time to full charge (from 0%)
Lower is better
OnePlus 10 Pro
0:32h
Oppo Find X5 Pro
0:40h
Xiaomi 12
0:46h
Samsung Galaxy S22
1:03h
Asus Zenfone 9
1:15h
Apple iPhone 13 Pro
1:38h
Apple iPhone 14 Pro
1:41h
Sony Xperia 5 IV
1:45h
Apple iPhone 14 Pro Max
1:52h
The iPhone 14 Pro supports wireless charging up to 7.5W with Qi-compliant charging pads, though the latest iPhone listing at the WPC (the governing body for wireless charging) is for the iPhone SE (2022) - there are no entries there for numbered iPhone models after the 11. Coincidentally, starting with the 12th generation and including this 14 Pro model, iPhones have MagSafe wireless charging. They can take up to 15W from the magnetically attaching puck that you can buy separately for $39/€49 (you'd still need an adapter to power it, though, and it needs to be powerful enough).
From the software side of things, there's the Optimised Battery Charging toggle in settings, which allows the iPhone to adapt its charging curves to your charging patterns (mostly related to overnight charging and your sleep routine), so it minimizes the time the battery spends at 100%. It will charge quickly (well, iPhone-quickly) up to 80% and will then only finish things off just before it thinks you're going to need the phone.
Speakers
The iPhone 14 Pro comes with a hybrid stereo speakers. This means that the earpiece joins the dedicated bottom speaker to provide a stereo experience. When held in landscape, the phone respects the left-right orientation, and it will switch channels to match the way you're holding it. In portrait, on the other hand, the earpiece is in charge of the right channel.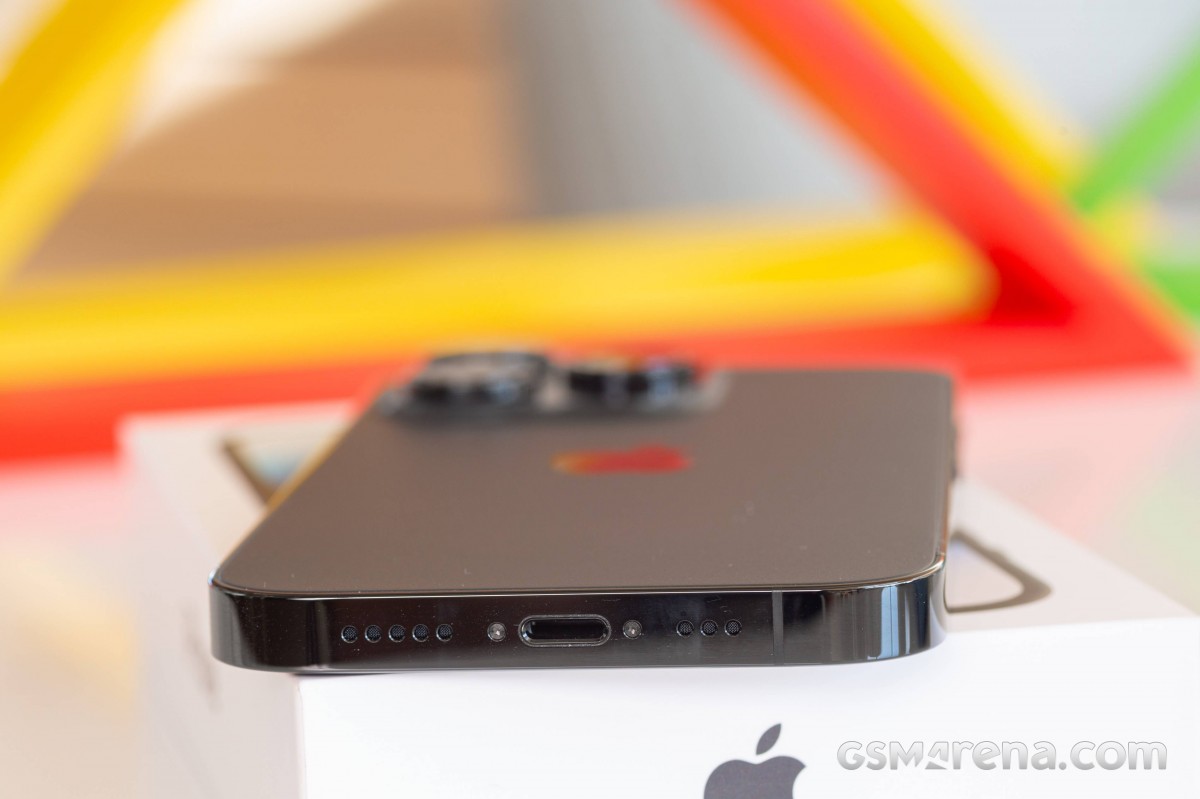 Just like before, some of the lower-end frequencies for the opposite channel are always handled by the bottom speaker as it is a bit more powerful. And even if you only feed one channel, the opposite speaker will still output some sound, albeit at a much lower volume than the 'correct' one.
Other than these peculiarities, the iPhone 14 Pro offers an outstanding balance, and the sound comes out loud and plenty rich and deep.
The phone scored a Good mark for loudness, a hair shy of the traditional Very Good for most recent iPhone models. And the sound quality is deserving of an Excellent mark as it is better than on most Android rivals, with notably deep bass, rich high notes and top-notch vocals.
Use the Playback controls to listen to the phone sample recordings (best use headphones). We measure the average loudness of the speakers in LUFS. A lower absolute value means a louder sound. A look at the frequency response chart will tell you how far off the ideal "0db" flat line is the reproduction of the bass, treble, and mid frequencies. You can add more phones to compare how they differ. The scores and ratings are not comparable with our older loudspeaker test. Learn more about how we test here.