Familiar Super Retina XDR OLED display
The iPhone 14 has the exact same, fairly-compact 6.1-inch display-diagonal as the iPhone 13. In fact, looking at some of the performance characteristics and Apple's branding, the two phones might very well share the exact same panel. Apple markets it as a Super Retina XDR OLED, with a resolution of 1170 x 2532 pixels and an incredibly sharp 460 ppi pixel density.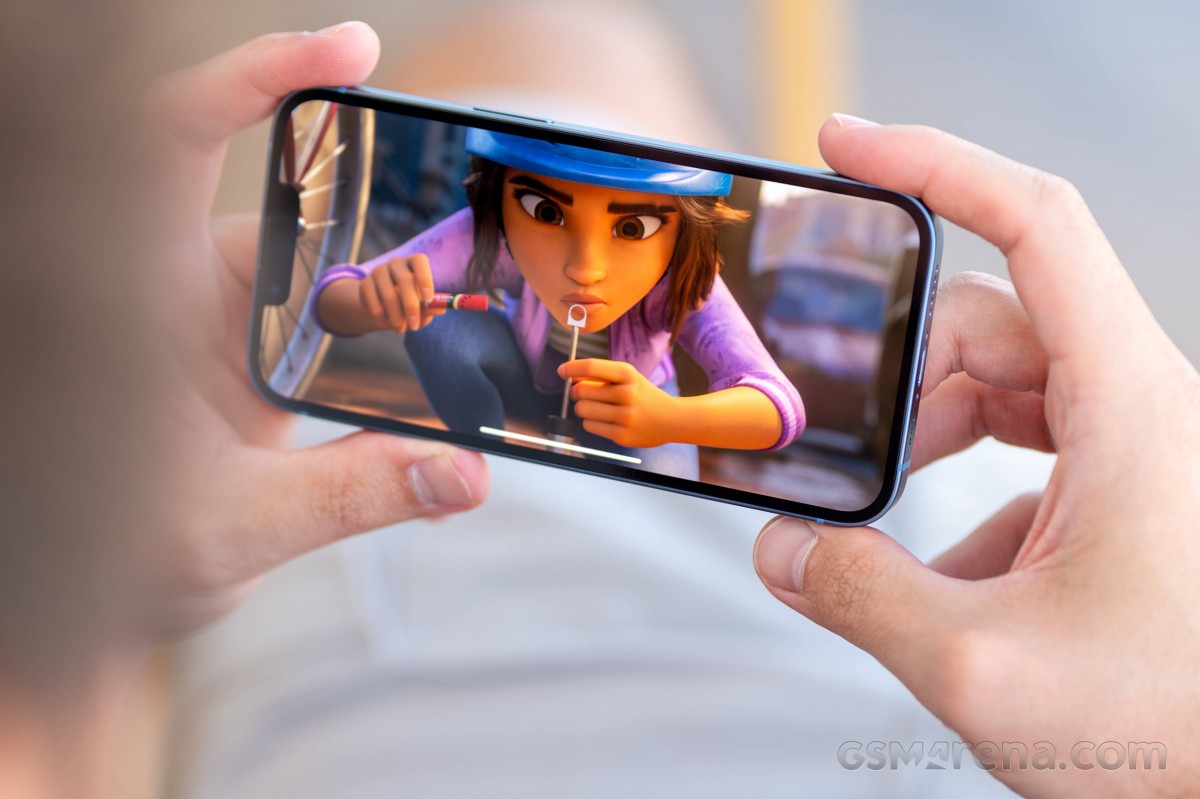 It is a truly gorgeous panel that gets plenty bright. We managed to get 804 nits from it by maxing out the brightness slider. That's very respectable and quite usable outdoors. Apple advertises 1200 nits of peak brightness, which is also technically true, but only achievable while a very small portion of the OLED panel is lit up.
Display test
100% brightness
Black,cd/m2
White,cd/m2
Contrast ratio
Apple iPhone 14 Pro (Max Auto)
0
1791
∞
Apple iPhone 13 Pro (Max Auto)
0
1063
∞
Samsung Galaxy S22 (Max Auto)
0
982
∞
Google Pixel 6a (Max Auto)
0
876
∞
Apple iPhone 13 Pro
0
856
∞
Apple iPhone 14 Pro
0
842
∞
Apple iPhone 13 mini
0
831
∞
Asus Zenfone 9 (Max Auto)
0
831
∞
Apple iPhone 14
0
804
∞
Apple iPhone 13
0
802
∞
Samsung Galaxy S22 (Extra brightness)
0
757
∞
Sony Xperia 10 IV
0
683
∞
Apple iPhone SE (2022)
0.425
605
1424:1
Google Pixel 6a
0
505
∞
Samsung Galaxy S22
0
465
∞
Asus Zenfone 9
0
449
∞
One thing worth noting, though, is the fact that, just like its predecessor, the iPhone 14 lacks any max auto brightness mode to let it shine beyond what is achievable with the slider. That functionality is still reserved for the Pro models. Also worth noting is that the display's minimum brightness is quite low, making it perfect for nighttime usage.
In terms of color accuracy, the iPhone 14 targets the sRGB color space in most apps, including the one we use for testing purposes. The panel is incredibly color accurate. Definitely good enough for color-sensitive work.
The iPhone 14's display is also certified for both HDR10 and Dolby Vision. The phone has all of the necessary DRM certifications, as you would expect, allowing third-party services like Netflix or YouTube to offer HDR streams.
Apple does its HDR video playback in a very flexible way since it's not necessary for the content to be displayed full-screen for HDR to work. It can just work on the portion of the display that has the video playing, which is a bit of a surreal experience the first time you encounter it.
Overall, the iPhone 14 has a gorgeous and very well-performing panel, just like the iPhone 13 before it. We just wish Apple had started to trickle down some features like its 120Hz refresh rate to the vanilla iPhone since most competing smartphones in this price range already have high refresh rates while the iPhone 14 is still stuck at 60Hz.
Battery life
The iPhone 14 has a 3279 mAh battery pack. Ever so slightly larger than the 3240 mAh inside the iPhone 13. Given that the two use the same A15 Bionic chipset and have the same display, we expect a similar battery score.
Indeed, the iPhone 14 has about the same endurance as its predecessor but does manage to improve its on-screen test scores slightly, but still by a noticeable amount. Enough to push the overall endurance score up to 90 hours.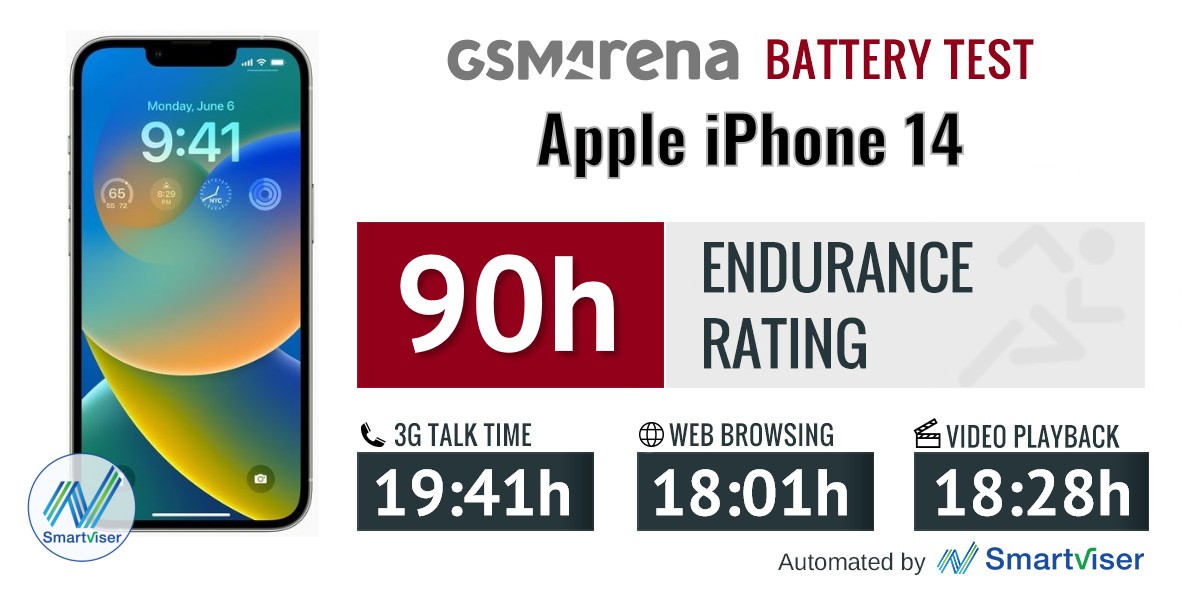 This is a small, yet impressive uptick particularly since it seems to all be achieved with software efficiency upgrades. Well, that and the new and more energy-efficient 6nm Qualcomm 5G modem made by TSMC.
Our battery tests were automated thanks to SmartViser, using its viSerDevice app. The endurance rating denotes how long the battery charge will last you if you use the device for an hour of telephony, web browsing, and video playback daily. More details can be found here.
Video test carried out in 60Hz refresh rate mode. Web browsing test done at the display's highest refresh rate whenever possible. Refer to the respective reviews for specifics. To adjust the endurance rating formula to match your own usage patterns check out our all-time battery test results chart where you can also find all phones we've tested.
Charging speed
Apple doesn't really publish the maximum charging wattage for their phones. Going by last year's iPhone 13, though, the iPhone 14 should reach a maximum of around 23W during its charging cycle. We thus paired it with one of Apple's 25W chargers, bought separately, of course.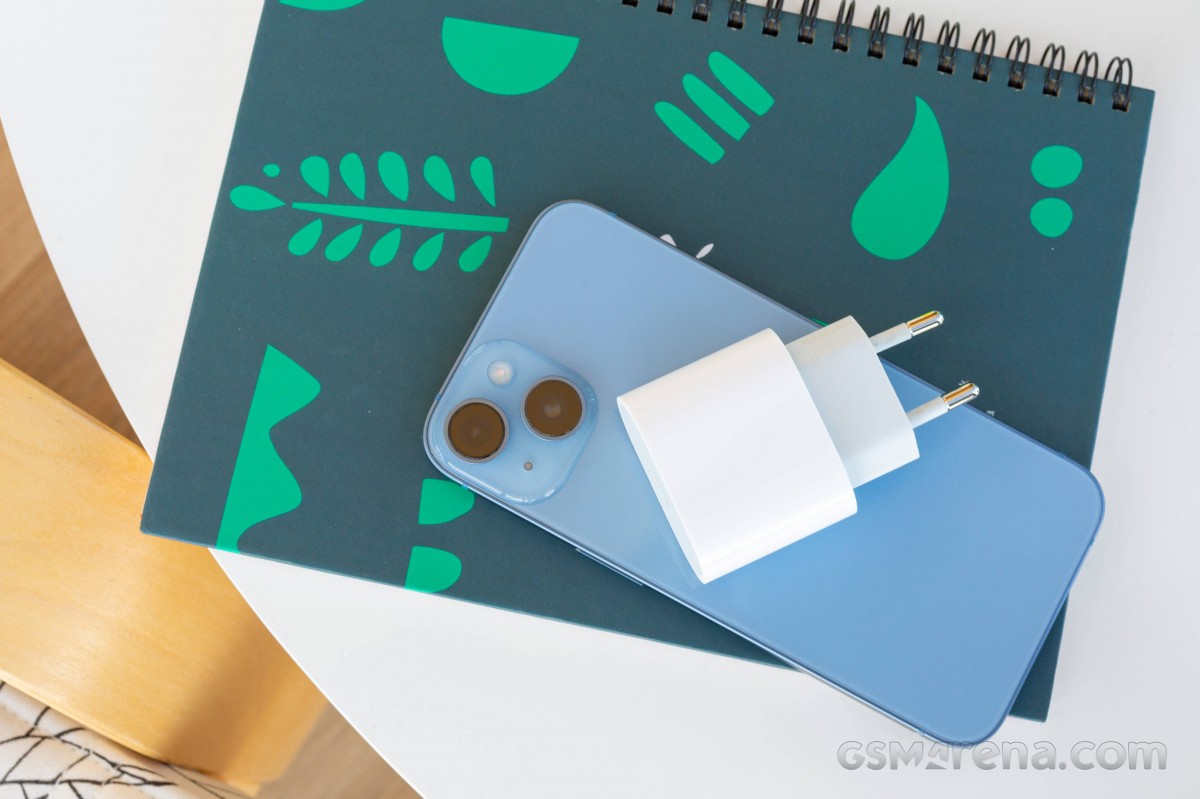 Interestingly enough, charging turned out to be another area in which the iPhone 14 offers a small yet measurable improvement over the iPhone 13. It's an iterative one for sure, but still very much present and great to see.
30min charging test (from 0%)
Higher is better
Samsung Galaxy S22
63%
Apple iPhone SE (2022)
61%
Apple iPhone 13 mini
61%
Apple iPhone 14
60%
Apple iPhone 14 Pro
60%
Asus Zenfone 9
57%
Apple iPhone 13
54%
Apple iPhone 14 Pro Max
48%
Google Pixel 6a
42%
Sony Xperia 10 IV (65W PD)
26%
Time to full charge (from 0%)
Lower is better
Samsung Galaxy S22
1:03h
Asus Zenfone 9
1:15h
Apple iPhone SE (2022)
1:18h
Apple iPhone 13 mini
1:24h
Apple iPhone 14
1:31h
Apple iPhone 14 Pro
1:41h
Apple iPhone 13
1:46h
Google Pixel 6a
1:51h
Apple iPhone 14 Pro Max
1:52h
Sony Xperia 10 IV (65W PD)
2:35h
Thirty minutes on the charger got the iPhone 14 from dead all the way up to 60% charge, and a full top-off took just over an hour and a half.
Apple claims it uses standard USB Power Delivery for its charging, with the fairly-old PD 2.0 protocol. Hence, it shouldn't be hard to find a good third-party charger for the iPhone 14. One that might just be cheaper than Apple's or offer more flexibility.
Speakers
The iPhone 13 carried forward the powerful speaker setup form the iPhone 12, and now the iPhone 14 is doing the same once again. The first speaker is inside the notch and acts as an earpiece when necessary, while the other is at the bottom, next to the Lightning port.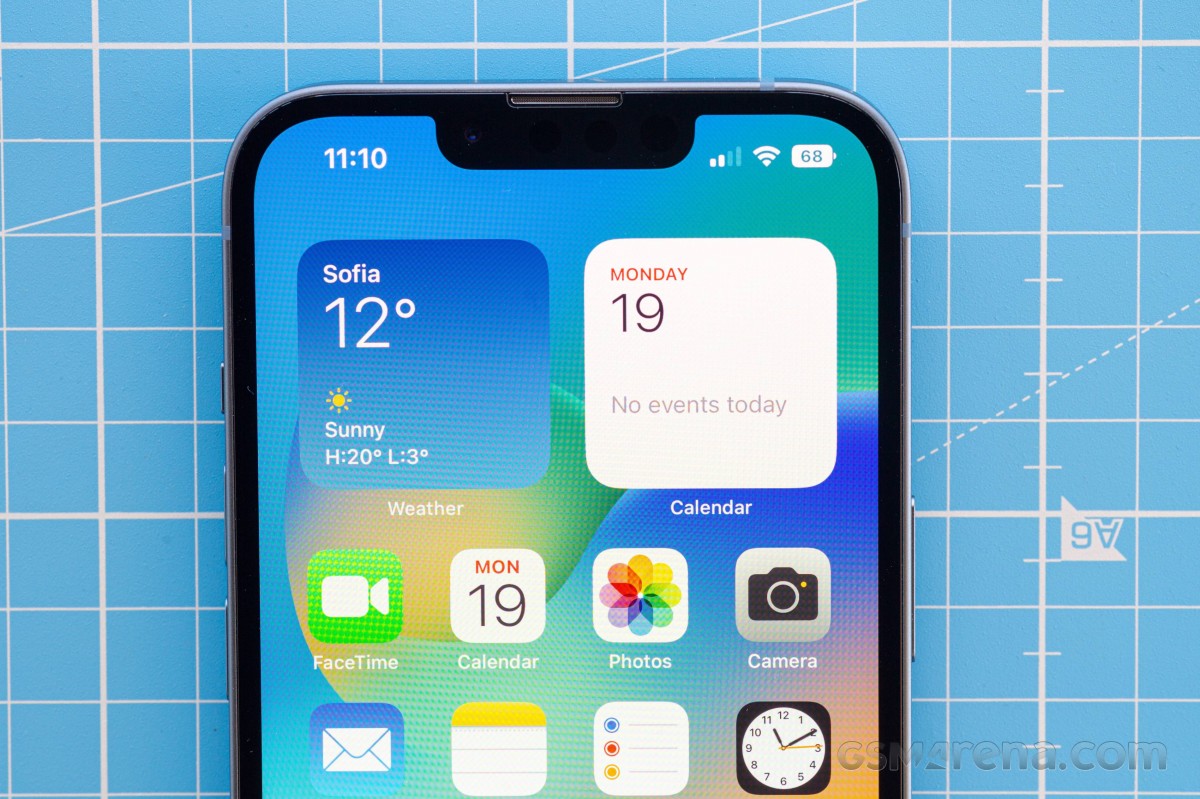 The speakers support spatial audio and Dolby Atmos; we know we've said this before, but the output sounds exactly as promised - less directional and more spatial than other phones.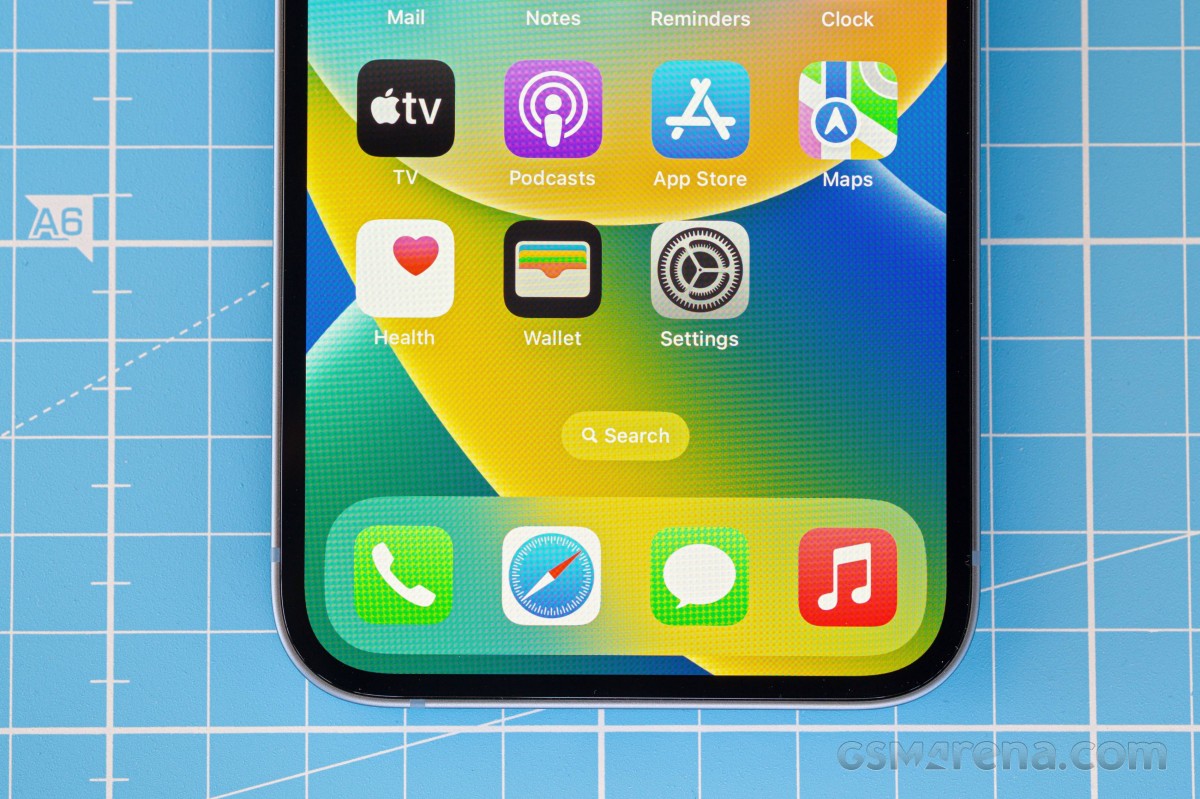 Apple is nothing if not consistent. Once again, this set of speakers managed a Very Good mark for loudness in our proprietary testing, just like last year and the year before that.
The audio quality is expectedly amazing - there is nice bass, the mid-tones are lovely, and the high-notes are superb as well. Indeed, the iPhone 14 has some of the best stereo speakers a smartphone of its size can offer right now.
Use the Playback controls to listen to the phone sample recordings (best use headphones). We measure the average loudness of the speakers in LUFS. A lower absolute value means a louder sound. A look at the frequency response chart will tell you how far off the ideal "0db" flat line is the reproduction of the bass, treble, and mid frequencies. You can add more phones to compare how they differ. The scores and ratings are not comparable with our older loudspeaker test. Learn more about how we test here.