ProMotion for the iPhone 13 Pros
For the iPhone 13 Pros' displays, Apple finally adopted a high refresh rate, a feature that debuted on Android some 4 years ago and is now found across the price spectrum there. The 13 Pro's panel has a 120Hz maximum refresh rate and can vary it between 12 different values going all the way down to 10Hz depending on content and user interaction.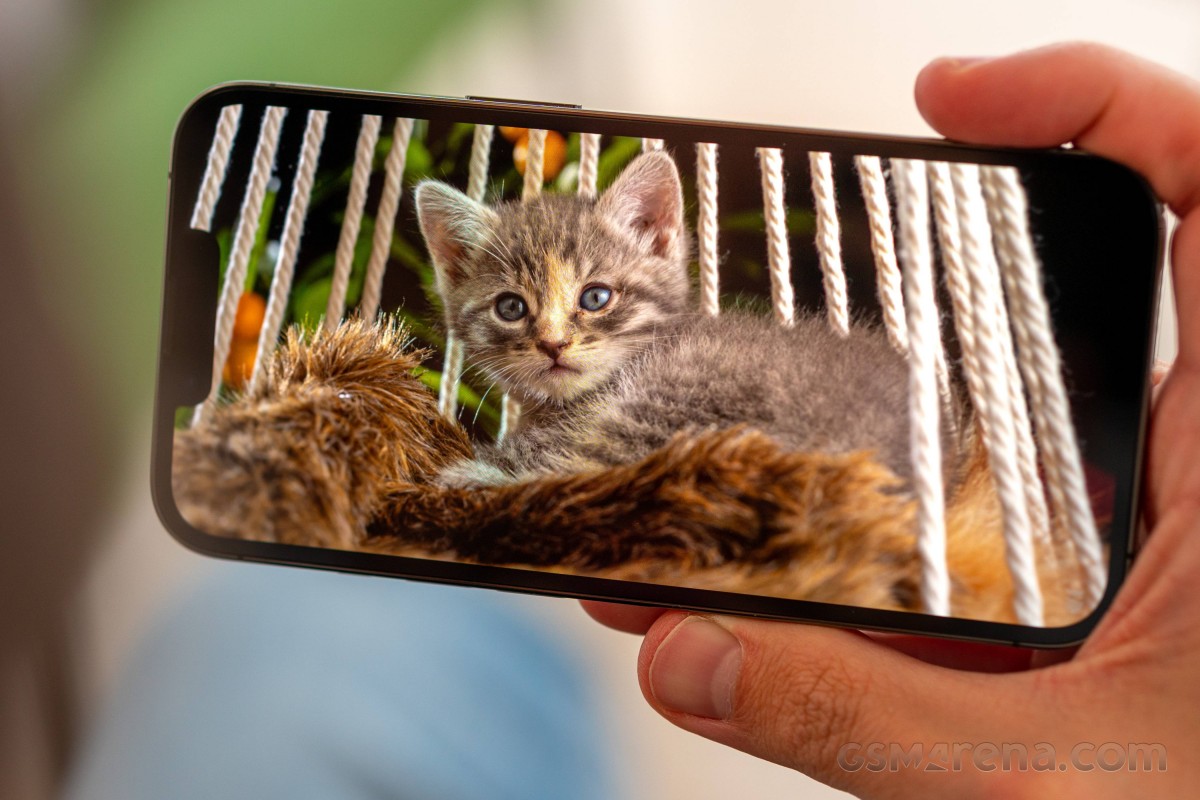 That's the ProMotion bit, one of few upgrades to the display, albeit a major one. It's otherwise still a 6.1-inch OLED with a 1170x2532px resolution in a 19.5:9 aspect and a pixel density of 460ppi. Carried over from last year, we're also seeing HDR10 and DolbyVision labels. All of that makes up Apple's Super Retina XDR branding - a high-resolution display with HDR capability.
The other new development this year is an increase in maximum brightness by 25% - Apple now promises 1000nits. They're not lying either - we measured 1063nits coming out of our white test swatch when the phone was exposed to high ambient light and was in Auto brightness mode. If you turn off the Auto, you'd be looking at an 856-nit maximum, another great result.
A change of behavior we observed on the 13 Pro (and the 13 Pro Max before it) is that there's a difference between the maximum brightness you can get manually and the one that the phone can reach on its own. That's fairly common practice on most phones, but iPhones up until now would let you crank it all the way up to max on your own. We reckon Apple simply doesn't want you to get all the 1000+ nits all the time - to avoid burn-in and excessive battery drain. Not that the 856nits are remotely insufficient.
Display test
100% brightness
Black,cd/m2
White,cd/m2
Contrast ratio
Apple iPhone 13 Pro
0
856
∞
Apple iPhone 13 Pro (Max Auto)
0
1063
∞
Apple iPhone 13 Pro Max
0
852
∞
Apple iPhone 13 Pro Max (Max Auto)
0
1050
∞
Apple iPhone 13
0
802
∞
Apple iPhone 13 mini
0
831
∞
Apple iPhone 12 Pro
0
802
∞
Samsung Galaxy S21 5G
0
416
∞
Samsung Galaxy S21 5G (Max Auto)
0
856
∞
Oppo Find X3 Pro
0
493
∞
Oppo Find X3 Pro (Max Auto)
0
774
∞
Xiaomi Mi 11
0
498
∞
Xiaomi Mi 11 (Max Auto)
0
926
∞
OnePlus 9 Pro
0
525
∞
OnePlus 9 Pro (Max Auto)
0.038
871
22921:1
Verifying the adaptive behavior of the ProMotion display isn't trivial - it's not like we can go into developer options and enable the refresh rate counter. We can say that to our spoiled eyes, the iPhone 13 Pro is visibly smoother than non-ProMotion ones. Some people may not be able to pick up the difference, others don't see it until they've had it and it's been taken away from them, but the point is that a high refresh rate is nice to have as it generally boosts the user experience.
iPhone displays are able to cover the P3 color space, and they switch automatically when they encounter such content. However, it's not something we can test because our testing software can't trigger the auto switch.
When it comes to sRGB, on the other hand, the 13 Pro is simply spectacular in its accuracy. We measured an average dE2000 of 0.7 for our standard set of swatches, and that's essentially a difference between target and result that you cannot see with your eyes. More importantly, that's the case whether you're at 200nits or at 850nits - the consistency is remarkable. Even the auto-brightness boost couldn't spoil the color accuracy all that much - average dE2000 was 1.5.
Apple iPhone 13 Pro battery life
The iPhone 13 Pro has seen a slight battery capacity bump over the previous generation - precisely 10%. It's not quite the 18% increase that the Pro Max got, and with the vanilla 13 getting a 15% bigger battery, the 13 Pro ends up having a smaller capacity than the 13 - 3,095mAh vs. 3,240mAh.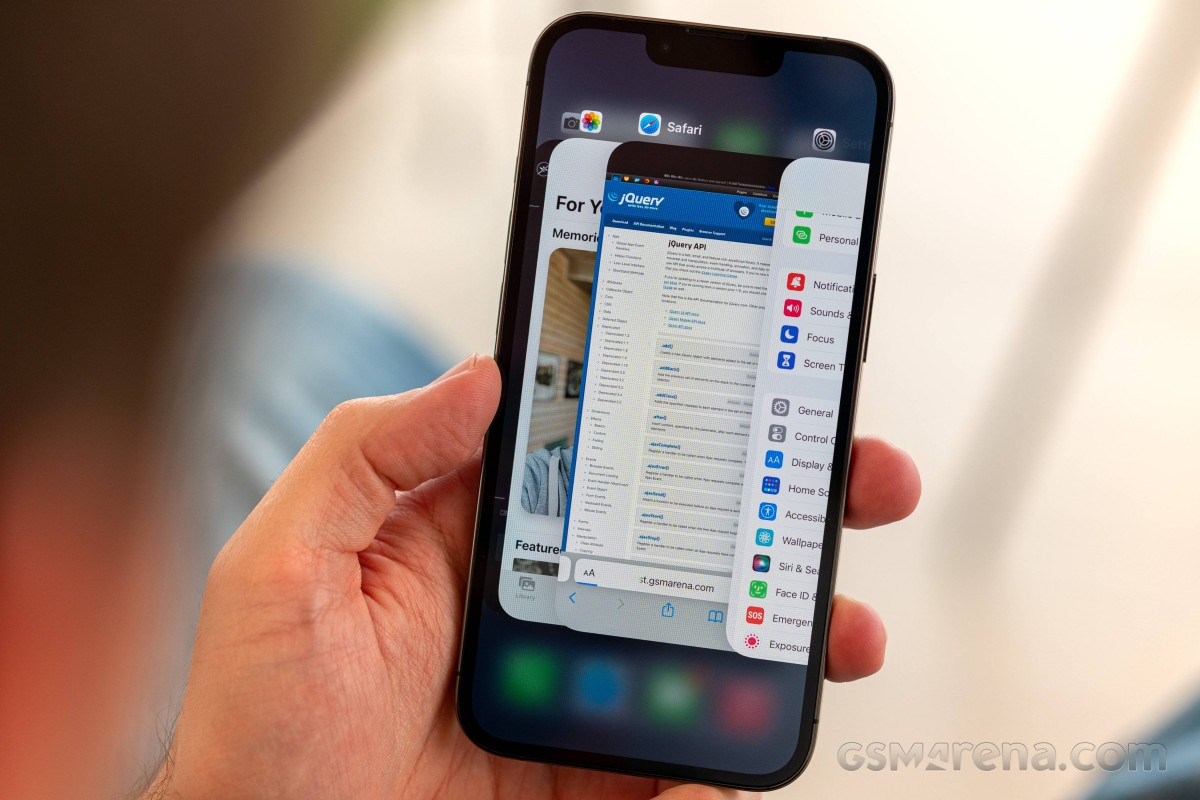 It shows, sort of. The 13 Pro posted middling numbers for both voice calls and standby - both disciplines where iPhones have typically suffered, in our experience. The Pro Max did do unusually okay, but it has a significantly larger battery, and the smaller Pro can't simply throw more mAhs at these tasks. So the 13 Pro isn't as good as the 13 when it comes to the phone part of longevity, more or less proportionally to the difference in capacity between the two.
Things take a turn for the positive in the screen-on tests, where the adaptive refresh rate helps overcome the 13 Pro capacity disadvantage and puts it ahead of the 13. With nearly 17 hours of Wi-Fi web browsing and more than 18 hours of video playback, the Pro is as good or better than the non-Pro, despite the handicap. It's still no Max, but it's plenty good enough.
In the end, the iPhone 13 Pro's Endurance rating works out to 85h - not great if you glance at that number alone. But battery life isn't terrible either if you look at the individual tests, specifically the screen-on ones - the more important ones, maybe? A comparison against rivals makes the iPhone easily stand out. Then again, it also stands out in a less appealing way if you value the first number the most.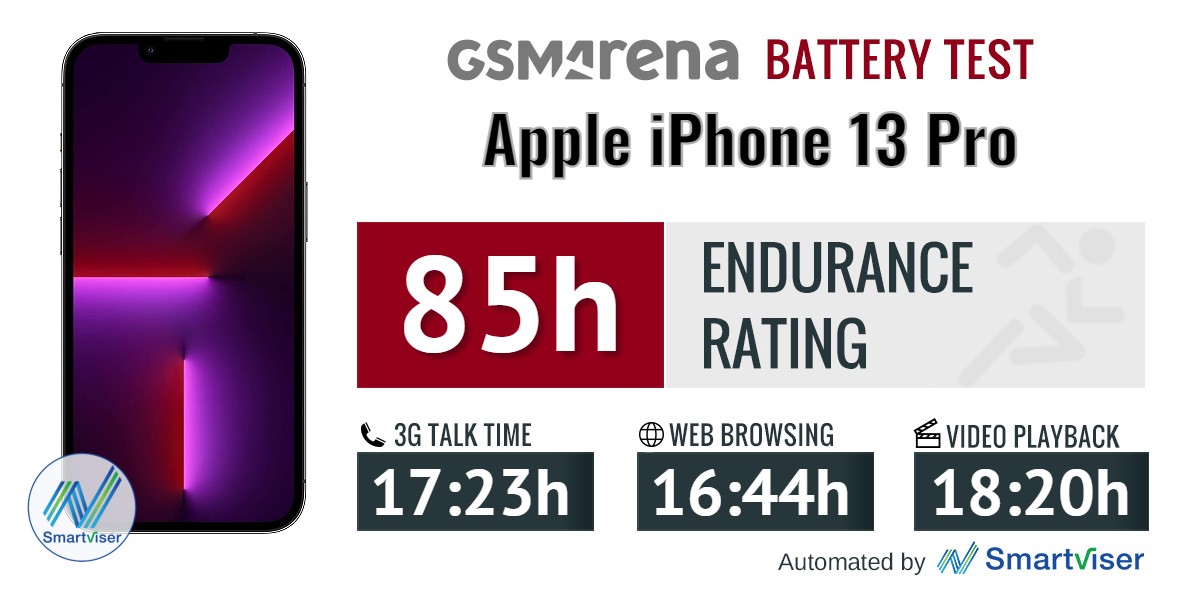 Our battery tests were automated thanks to SmartViser, using its viSerDevice app. The endurance rating denotes how long the battery charge will last you if you use the device for an hour of telephony, web browsing, and video playback daily. More details can be found here.
Video test carried out in 60Hz refresh rate mode. Web browsing test done at the display's highest refresh rate whenever possible. Refer to the respective reviews for specifics. To adjust the endurance rating formula to match your own usage - check out our all-time battery test results chart.
Charging speed
Apple's official specs are vague about the maximum charging power the iPhone 13 phones can achieve with USB-PD powered adapters, but the tests show the iPhone 13 Pro's fast charging maxes out at 23W. You'll need to provide your own charging solution for the iPhone 13 Pro as the phone ships with no adapter. We've seen carriers bundle the Apple 20W USB PoweDelivery brick, and it's the most obvious choice to buy if you don't have another way to power your 13 Pro.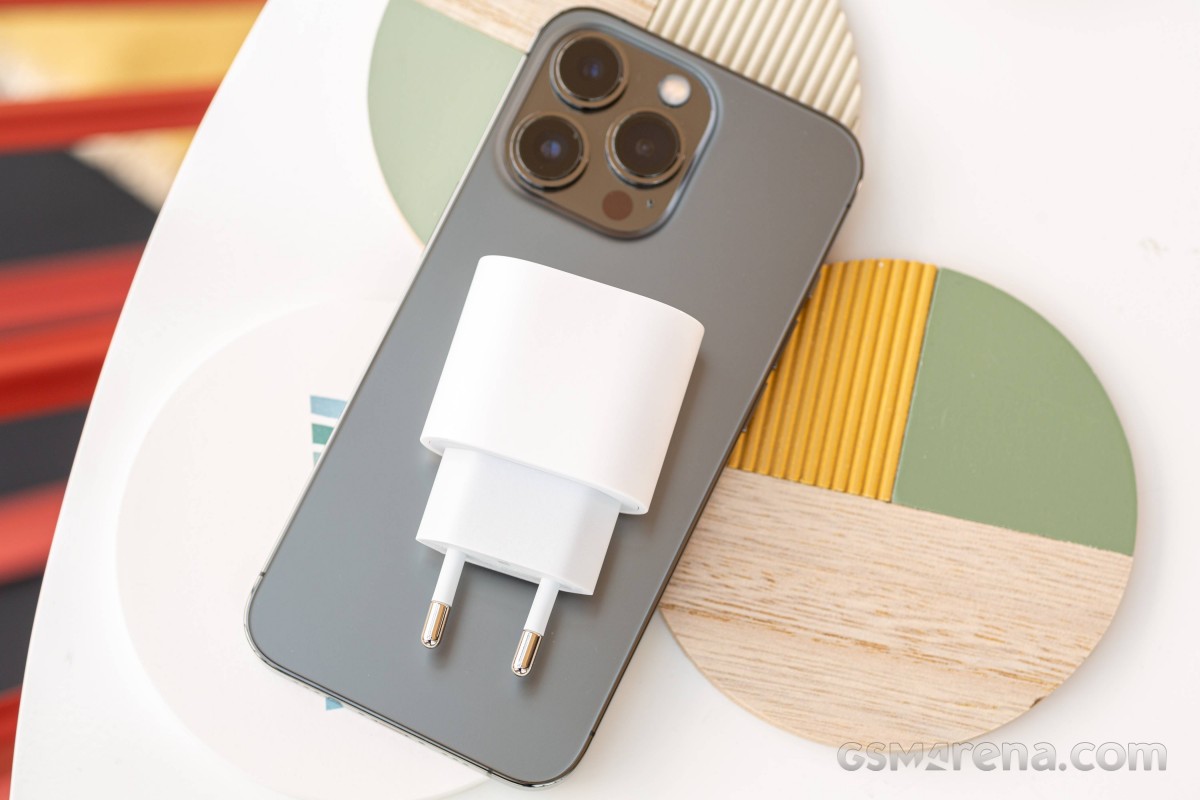 We tested using this one and got a pretty decent 60% result in half an hour, starting from flat. Getting to 100% took a total of 1:38h - slightly less than the Pro Max, but altogether in line with the rest of this year's iPhones.
30min charging test (from 0%)
Higher is better
Oppo Find X3 Pro
100%
OnePlus 9 Pro
99%
Xiaomi Mi 11
83%
Apple iPhone 13 Pro
60%
Asus Zenfone 8
60%
Apple iPhone 12 Pro
59%
Samsung Galaxy S21 5G (25W PD)
55%
Apple iPhone 13
54%
Sony Xperia 1 III
50%
Apple iPhone 13 Pro Max
42%
Time to full charge (from 0%)
Lower is better
Oppo Find X3 Pro
0:28h
OnePlus 9 Pro
0:32h
Xiaomi Mi 11
0:50h
Samsung Galaxy S21 5G (25W PD)
1:13h
Asus Zenfone 8
1:28h
Apple iPhone 12 Pro
1:30h
Apple iPhone 13 Pro
1:38h
Apple iPhone 13 Pro Max
1:46h
Apple iPhone 13
1:46h
Sony Xperia 1 III
1:50h
The 13 Pro supports marginally higher wattage than what this 'default' adapter can provide - around 23W. It's a largely inconsequential difference, so it's hardly worth investing in a more powerful adapter specifically for charging this iPhone. But if you do happen to have a beefier unit, you'll potentially be able to gain a tiny bit of extra speed.
The iPhone 13 Pro also supports wireless charging at up to 15W if you're using the proprietary MagSafe puck or up to 7.5W with third-party peripherals.
Speaker test
The iPhone 13 Pro's speaker setup is the usual one you'd find on iPhones - the earpiece joins the dedicated bottom speaker to provide a stereo experience. When held in landscape, the phone respects the left-right orientation, and it will switch channels to match the way you're holding it. In portrait, on the other hand, the earpiece is in charge of the right channel.
That's somewhat of an oversimplification, however, because some of the lower-end frequencies for the opposite channel are always handled by the bottom speaker. Plus, even if you only feed one channel, the opposite speaker will still output some sound, albeit at a much lower volume than the 'correct' one.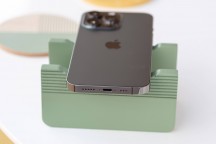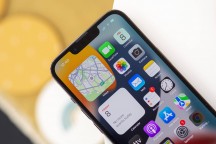 Bottom speaker • Earpiece/Top speaker
The 13 Pro earned a 'Very Good' rating for loudness in our testing, in line with other iPhones of the same and the previous generation. Its output is similar to that of the iPhone 13 but not quite up to the Max' standard in the lower end of the frequency range. That doesn't mean, however, that the iPhone 13 Pro isn't superior to all of its potential direct rivals - it still is.
Use the Playback controls to listen to the phone sample recordings (best use headphones). We measure the average loudness of the speakers in LUFS. A lower absolute value means a louder sound. A look at the frequency response chart will tell you how far off the ideal "0db" flat line is the reproduction of the bass, treble, and mid frequencies. You can add more phones to compare how they differ. The scores and ratings are not comparable with our older loudspeaker test. Learn more about how we test here.