Display
"Bezel-less" is not exactly the buzzword it was a few years back. Infinity displays and ultra-wide aspect ratios seem to have taken over. Still, Nubia's optical tricks are impressive enough, even if a little outdated. As already mentioned, however, there is a downside to bending light to extend out an otherwise flat LCD panel. You can spot distortions along the edges quite easily, especially when viewing the phone at an angle.
Still, if you don't focus too much on the image quality in that particular border area, the overall style benefits still outweigh the inherent deficiencies. In other words, we quite like what we see. Just like its predecessor, the Z17 uses a 5.5-inch, FullHD panel. Nothing too fancy, but still plenty sharp, with a pixel density or around 403ppi.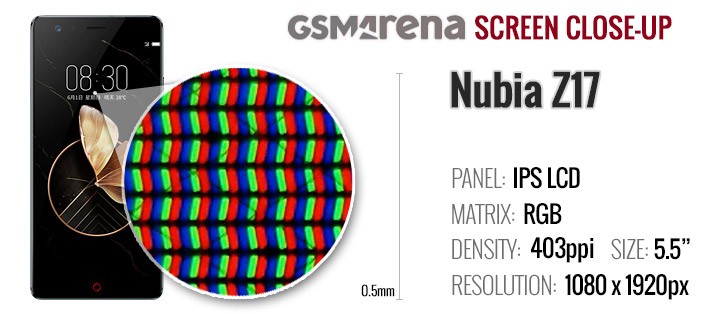 The panel is a rather basic IPS LCD unit, but one with surprisingly wide viewing angles.
The maximum brightness is average and tops off at around 388 nits. There is a Max Auto boost that needs to be enabled in the settings first. However, it is not particularly useful, as it only managed to push the display up to 392nits in our tests.
Display test
100% brightness
Black, cd/m2
White, cd/m2
Contrast ratio
ZTE Nubia Z17
0.267
388
1451
ZTE Nubia Z17 (Max Auto)
0.268
392
1461
OnePlus 5
0
435
∞
Xiaomi Mi 6
0.462
603
1305
Samsung Galaxy S7
0.00
391
∞
Samsung Galaxy S7 max auto
0.00
563
∞
Sony Xperia XZ
0.37
502
1349
Sony Xperia XZ (max auto)
0.46
608
1336
Xiaomi Mi Note 2
0.005
341
68200
Xiaomi Mi 5s Plus
0.44
637
1448
LG G6
0.228
468
2053
LG G6 max auto
0.277
564
2036
HTC 10
0.29
428
1543
HTC U Ultra
0.539
428
794
HTC U Ultra (max auto)
0.564
507
899
Huawei Mate 9
0.41
665
1622
ZTE Axon 7
0.00
352
∞
LG V20
0.43
475
1097
LG V20 Max auto
0.59
628
1064
Sony Xperia XZ Premium
0.463
573
1238
Still, thanks to the low black luminance, the Nubia Z17 scores a respectable contrast level. Sunlight legibility is serviceable, although not really impressive.
Sunlight contrast ratio
Samsung Galaxy S8
4.768
Samsung Galaxy S8+
4.658
Samsung Galaxy S6 edge+
4.615
Oppo R11
4.454
Samsung Galaxy S7 edge
4.439
OnePlus 3
4.424
Samsung Galaxy S7
4.376
HTC One A9
4.274
Samsung Galaxy Note7
4.247
Samsung Galaxy A3
4.241
OnePlus 3T
4.232
Google Pixel XL
4.164
ZTE Axon 7
4.154
Samsung Galaxy S6 edge
4.124
Samsung Galaxy A7 (2017)
4.124
Samsung Galaxy Note5
4.09
Huawei Nexus 6P
4.019
OnePlus X
3.983
Vivo Xplay5 Elite
3.983
Oppo R7s
3.964
Apple iPhone 7
3.964
Huawei P9 Plus
3.956
Meizu Pro 6 Plus
3.935
Lenovo Moto Z
3.931
Samsung Galaxy A7 (2016)
3.918
OnePlus 5
3.914
Samsung Galaxy C5
3.911
Samsung Galaxy C7
3.896
Samsung Galaxy A5
3.895
Samsung Galaxy J7 outdoor
3.879
Samsung Galaxy J2 outdoor
3.873
Samsung Galaxy A8
3.859
Sony Xperia XZs
3.818
Samsung Galaxy A9 (2016)
3.817
Motorola Moto X (2014)
3.816
Samsung Galaxy A5 (2017)
3.804
Samsung Galaxy J7 (2016) outdoor mode
3.802
Xiaomi Redmi Pro
3.798
LG V20 Max auto
3.798
Sony Xperia XZ
3.795
Samsung Galaxy A5 (2016)
3.789
Apple iPhone 6s
3.783
Meizu Pro 5
3.781
Microsoft Lumia 650
3.772
Xiaomi Mi 6
3.767
Samsung Galaxy J7 (2016)
3.756
Oppo F1 Plus
3.709
Vivo X5Pro
3.706
Samsung Galaxy A3 (2017)
3.688
Apple iPhone SE
3.681
Huawei Mate 9
3.68
Samsung Galaxy A7
3.679
Meizu PRO 6
3.659
BlackBerry Priv
3.645
Sony Xperia XA1 Ultra
3.597
Apple iPhone 7 Plus
3.588
LG G6
3.556
Apple iPhone 6s Plus
3.53
Motorola Moto Z Play
3.526
Samsung Galaxy J3 (2016)
3.523
Samsung Galaxy J3 (2016) outdoor mode
3.523
Acer Jade Primo
3.521
Microsoft Lumia 950
3.512
Oppo R7 Plus
3.499
nubia Z11
3.466
Huawei P10 Plus
3.456
HTC U Ultra
3.453
Samsung Galaxy J7
3.422
Meizu MX5
3.416
LG V20
3.402
Huawei P10
3.379
Oppo R9s
3.352
Honor 8 Pro
3.341
Oppo R7
3.32
Lenovo P2
3.316
Honor 9
3.289
Xiaomi Mi 5s
3.276
Nokia 6 (Chinese version)
3.244
Samsung Galaxy J2
3.235
Sony Xperia X Performance
3.234
Xiaomi Mi Note 2
3.228
Motorola Moto X Play
3.222
Oppo F3 Plus
3.218
Huawei Mate 9 Pro
3.206
Huawei P9
3.195
ZTE Nubia Z17
3.159
Lenovo Vibe Shot
3.113
Motorola Moto X Force
3.105
LG Nexus 5X
3.092
HTC U11
3.089
Huawei Mate S
3.073
Microsoft Lumia 640 XL
3.065
Sony Xperia XA1
3.012
Sony Xperia L1
2.994
Sony Xperia X
2.989
Huawei P10 Lite
2.974
Samsung Galaxy Note
2.97
Huawei Mate 8
2.949
Xiaomi Redmi 4
2.92
Xiaomi Redmi 3S
2.913
Sony Xperia XA Ultra
2.906
LG G5
2.905
HTC One S
2.901
Xiaomi Redmi 3s Prime
2.893
Xiaomi Mi 5s Plus
2.884
Sony Xperia XZ Premium (sRGB)
2.877
Sony Xperia XZ Premium
2.877
Sony Xperia Z5
2.876
Nokia 3
2.871
Microsoft Lumia 550
2.851
Lenovo Moto M
2.813
Xiaomi Redmi 3 Pro
2.803
Sony Xperia Z5 compact
2.784
Meizu MX6
2.751
LG V10
2.744
Xiaomi Redmi 3
2.735
Xiaomi Redmi Note 4 (S625)
2.714
Meizu M5
2.71
Sony Xperia M5
2.69
Huawei P9 Lite
2.679
Xiaomi Redmi 4 Prime
2.679
Vivo V3Max
2.659
Xiaomi Mi Mix
2.658
Xiaomi Mi 4i
2.641
Xiaomi Redmi 4a
2.635
Sony Xperia XA
2.609
Motorola Moto G4 Plus
2.582
Motorola Moto G4 Plus (max auto)
2.582
Meizu M5s
2.58
Xiaomi Mi 4c
2.574
LeEco Le Max 2
2.567
Microsoft Lumia 640
2.563
Asus Zenfone 3 ZE552KL
2.563
Lenovo Moto G4
2.544
Lenovo K6 Note
2.544
Oppo F1
2.528
Sony Xperia Z5 Premium
2.525
Huawei Honor 7 Lite / Honor 5c
2.506
Sony Xperia M4 Aqua
2.503
Oppo F1s
2.481
Motorola Moto G
2.477
Lenovo Vibe K5 Plus
2.473
Huawei G8
2.471
Huawei nova
2.467
Sony Xperia Z
2.462
Lenovo Vibe K5
2.459
Meizu m3 max
2.447
HTC 10 evo
2.407
Huawei Honor 7
2.406
Sony Xperia E5
2.386
ZUK Z1 by Lenovo
2.382
HTC 10
2.378
Samsung Galaxy J5 (2016)
2.378
Oppo F3
2.376
vivo V5 Plus
2.371
Meizu m1 note
2.362
Huawei nova plus
2.329
HTC One E9+
2.305
Alcatel One Touch Hero
2.272
Lenovo Vibe K4 Note
2.254
Sony Xperia C5 Ultra
2.253
Xiaomi Redmi Note 3 (MediaTek)
2.249
Sony Xperia C4 Dual
2.235
Xiaomi Mi Note
2.234
Motorola Moto G (2014)
2.233
Huawei P8
2.196
Meizu M5 Note
2.189
Huawei Honor 6
2.169
Xiaomi Redmi Note 2
2.166
OnePlus Two
2.165
HTC One X
2.158
LG Aka
2.145
Xiaomi Redmi Note 4 (X20)
2.145
Archos 50 Diamond
2.134
Xiaomi Redmi Note
2.119
Xiaomi Mi 4S
2.095
Acer Liquid X2
2.084
Huawei P8lite
2.078
vivo V5
2.059
Moto G 3rd gen max manual
2.026
Xiaomi Mi Max
1.996
Sony Xperia E4g
1.972
OnePlus One
1.961
Meizu m3 note
1.923
BlackBerry Leap
1.892
Meizu m2 note
1.892
HTC Butterfly
1.873
ZTE Nubia Z9 mini
1.759
Sony Xperia U
1.758
Asus Zenfone Selfie
1.68
Motorola Moto E (2nd Gen)
1.675
ZTE Nubia Z9
1.659
Jolla Jolla
1.605
Motorola Moto E
1.545
Sony Xperia M
1.473
Sony Xperia L
1.351
Xiaomi Redmi 2
1.311
HTC Desire C
1.3
Meizu MX
1.221
Sony Xperia E
1.215
Color accuracy is not really the Z17's strong suit. This is rather surprising since it offers quite a few color correction options. On the default "Colorful" setting, we measured an average deltaE of 6.5 and a maximum of 13.1. Lowering the brightness down to 200 nits only made things worse. Overall, the panel just looks really cold, with a clear blue tint to whites. Individually, most of the other colors aren't all that bad.
For the most color-accurate settings possible, we ended up using the "Natural" color mode and sliding the gamma correction as far as it goes into the Warm setting (makes sense). This resulted in an average deltaE of 5.1 and a maximum of 11.1 - still far from what we would consider color-accurate. Of course, for many users out there, this may not be a strong point of consideration.
Connectivity
The Nubia Z17 ticks the most boxes when it comes to connectivity. It is a Dual-SIM device taking two nano SIMs. Worldwide band coverage across 2G, 3G and 4G is pretty decent - definitely better than the Xiaomi Mi 6, although nowhere near the OnePlus 5. The LTE is Cat. 12/13 for theoretical speeds of up to 600Mbps of download and 150Mbps of upload - there's no gigabit LTE on the Nubia Z17, even though the chipset is heavily advertised to support it. We don't really think it's that much of an issue.
Wi-Fi b/g/n over 2.4GHz and a/n/ac over 5GHz is supported. Bluetooth is still of the older 4.1 variety, so don't expect anything fancy along the lines of the OnePlus 5's aptX HD. NFC support is another check mark on the spec sheet. Positioning uses GPS, GLONASS and BeiDou satellites. There is no FM radio, but the Nubia Z17 does have an IR blaster.
The only interface you get is USB Type-C. We already mentioned that it supports analog audio output, via the provided adapter. It also has OTG.
Battery
The Nubia Z17 is equipped with a 3,200mAh battery - only a bit smaller than that of its OnePlus rival, and nearly identical in capacity to the Sony Xperia XZ Premium's unit. Since all of these smartphones are based on the Snapdragon 835 chipset, there is a certain degree of consistency to be expected in terms of battery life.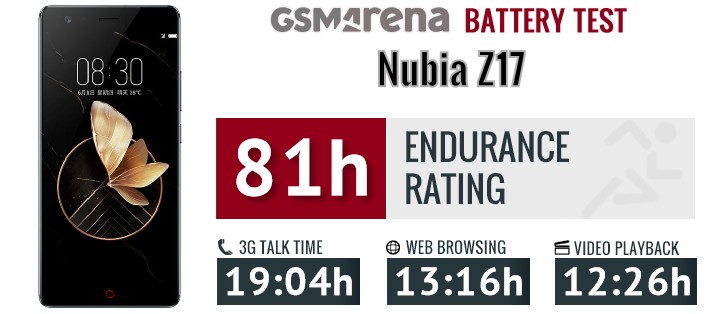 For the most part, this appears to be true. The Z17 managed to score an impressive 81 hours of endurance in our testing routine. A quick comparison with the OnePlus 5 reveals that both devices behave equally well in terms of 3G call time. 19h is definitely not bad, especially considering the poor past experiences we've had with units intended for the Chinese market and networks.
Video playback is quite easy on the battery as well. 12:26 is a definitely a solid accomplishment on an LCD panel. Naturally, the OnePlus 5 squeezed a few hours more out of its efficient Optic AMOLED display. But it's the browser that pleasantly surprised us. Since our Z17 unit didn't have Google Play Services or Chrome pre-installed, we opted to conduct the test with the default browser. Initially, we were quite suspicious of it, as it seemed to be prone to some off traffic re-routing and the default ad blocker managed to kill the JavaScript on our test suite. Still, once we turned the latter off, the browser did very well, netting over 13 hours of endurance.
Our endurance rating denotes how long a single battery charge will last you if you use the Nubia Z17 for an hour each of telephony, web browsing, and video playback daily. We've established this usage pattern so our battery results are comparable across devices in the most common day-to-day tasks. The battery testing procedure is described in detail in case you're interested in the nitty-gritties. You can also check out our complete battery test table, where you can see how all of the smartphones we've tested will compare under your own typical use.