Display
The display is the most important differentiating feature of the ZTE Nubia Z9. "Bezeless" might not be quite the buzzword it was last year, but Nubia's optical tricks still look quite impressive. As already mentioned, however, there is a downside to bending light to extend out an otherwise flat LCD panel. You can spot distortions along the edges quite easily, especially when viewing the phone at an angle.
Still, if you don't focus too much on the image quality in that particular border area, the overall style benefits still outweigh the inherent deficiencies. In other words, we quite like what we see.
The panel is an IPS LCD with impressive wide viewing angles. Its diagonal measures 5.5", which is an improvement over the 5.2-inch Z9. The resolution, however, is still set at 1080p. We won't get into the whole pixel race. What we will say, however, is that there are still advantages to sticking to FullHD and these numbers crank out to a density of 403ppi - perfectly sharp for our taste.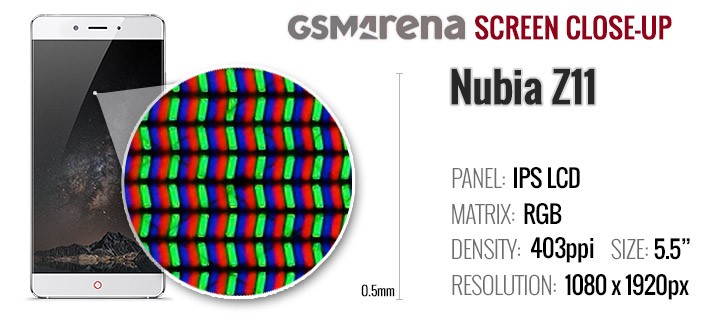 Another interesting thing to note about Nubia's light-bending front panel is that it is quite thick. This posed a serious problem for the Z9, as it likely hurt the maximum brightness and sunlight legibility of its display. The Z9 only managed 258nits at full blast - definitely not a pleasant experience on a bright day.
Therefore, we are glad to report that Nubia appears to have made major strides in the brightness department. Its aRC 2.0 tech, in combination with the new panel, combine to produce a significantly more powerful maximum brightness of 513 nits. It might not be chart-topping, but it sure is better than average. Even with slightly brighter blacks than we would have liked at 0.43 nits, the Z11 managed a contrast ratio of 1196:1.
Display test
100% brightness
Black, cd/m2
White, cd/m2
Contrast ratio
nubia Z11
0.43
513
1196
ZTE Nubia Z9
0.49
440
898
Xiaomi Mi 5
0.51
628
1227
Xiaomi Redmi Note 3 (MediaTek)
0.42
403
953
Xiaomi Redmi Note 4
0.38
439
1158
Xiaomi Redmi Pro
0.00
408
∞
Meizu m3 note
0.52
425
816
Huawei Honor 8
0.34
374
1101
Huawei Mate 8
0.346
471
1361
Huawei Honor 7 Lite / Honor 5c
0.58
416
717
Meizu PRO 6
0.01
360
40000
LG Nexus 5X
0.30
455
1542
Samsung Galaxy S7 edge
0.00
392
∞
OnePlus 3
0.00
433
∞
Lenovo Moto Z Droid
0.00
371
∞
ZTE Axon 7
0.00
352
∞
Huawei P9
0.46
500
1094
Oppo F1 Plus
0.00
351
∞
LG G5
0.17
306
1855
LG G5 max auto
0.20
378
1881
HTC 10
0.29
428
1543
Samsung Galaxy C5
0.00
424
∞
Samsung Galaxy C7
0.00
422
∞
Samsung Galaxy J7 (2016)
0.00
353
∞
Samsung Galaxy A7 (2016)
0.00
425
∞
Naturally, sunlight legibility shows major improvement as well. The Nubia Z11 dwarfs its predecessor with a formidable 3.466 score. Thus, it remains perfectly usable even under direct sunlight.
Sunlight contrast ratio
Samsung Galaxy S6 edge+
4.615
Samsung Galaxy S7 edge
4.439
OnePlus 3
4.424
Samsung Galaxy S7
4.376
HTC One A9
4.274
Samsung Galaxy Note7
4.247
Samsung Galaxy A3
4.241
Samsung Galaxy S6 edge
4.124
Samsung Galaxy Note5
4.09
Huawei Nexus 6P
4.019
OnePlus X
3.983
Vivo Xplay5 Elite
3.983
Oppo R7s
3.964
Apple iPhone 7
3.964
Huawei P9 Plus
3.956
Samsung Galaxy A7 (2016)
3.918
Samsung Galaxy C5
3.911
Samsung Galaxy C7
3.896
Samsung Galaxy A5
3.895
Samsung Galaxy J7 outdoor
3.879
Samsung Galaxy J2 outdoor
3.873
Samsung Galaxy A8
3.859
Samsung Galaxy A9 (2016)
3.817
Motorola Moto X (2014)
3.816
Samsung Galaxy J7 (2016) outdoor mode
3.802
Xiaomi Redmi Pro
3.798
LG V20 Max auto
3.798
Sony Xperia XZ
3.795
Samsung Galaxy A5 (2016)
3.789
Apple iPhone 6s
3.783
Meizu Pro 5
3.781
Microsoft Lumia 650
3.772
Samsung Galaxy J7 (2016)
3.756
Oppo F1 Plus
3.709
Vivo X5Pro
3.706
Sony Xperia X Compact
3.694
Apple iPhone SE
3.681
Samsung Galaxy A7
3.679
Meizu PRO 6
3.659
BlackBerry Priv
3.645
Apple iPhone 7 Plus
3.588
Apple iPhone 6s Plus
3.53
Samsung Galaxy J3 (2016)
3.523
Samsung Galaxy J3 (2016) outdoor mode
3.523
Acer Jade Primo
3.521
Microsoft Lumia 950
3.512
Oppo R7 Plus
3.499
nubia Z11
3.466
Samsung Galaxy J7
3.422
Meizu MX5
3.416
LG V20
3.402
Oppo R7
3.32
Xiaomi Mi 5
3.24
Samsung Galaxy J2
3.235
Sony Xperia X Performance
3.234
Motorola Moto X Play
3.222
Huawei P9
3.195
Lenovo Vibe Shot
3.113
Motorola Moto X Force
3.105
LG Nexus 5X
3.092
Huawei Mate S
3.073
Microsoft Lumia 640 XL
3.065
Apple iPhone 6 Plus
3.023
Sony Xperia X
2.989
Samsung Galaxy Note
2.97
Huawei Mate 8
2.949
Xiaomi Redmi 3S
2.913
Sony Xperia XA Ultra
2.906
LG G5
2.905
HTC One S
2.901
Sony Xperia Z5
2.876
Microsoft Lumia 550
2.851
Xiaomi Redmi 3 Pro
2.803
Sony Xperia Z5 compact
2.784
LG V10
2.744
Xiaomi Redmi 3
2.735
Sony Xperia M5
2.69
Huawei P9 Lite
2.679
Vivo V3Max
2.659
Xiaomi Mi 4i
2.641
Sony Xperia XA
2.609
Xiaomi Mi 4c
2.574
LeEco Le Max 2
2.567
Microsoft Lumia 640
2.563
Lenovo Moto G4
2.544
Oppo F1
2.528
Sony Xperia Z5 Premium
2.525
Huawei Honor 7 Lite / Honor 5c
2.506
Sony Xperia M4 Aqua
2.503
Oppo F1s
2.481
Motorola Moto G
2.477
Lenovo Vibe K5 Plus
2.473
Huawei G8
2.471
Huawei nova
2.467
Sony Xperia Z
2.462
Lenovo Vibe K5
2.459
Huawei Honor 7
2.406
Sony Xperia E5
2.386
ZUK Z1 by Lenovo
2.382
HTC 10
2.378
Samsung Galaxy J5 (2016)
2.378
Huawei nova plus
2.329
HTC One E9+
2.305
Alcatel One Touch Hero
2.272
Apple iPhone 4S
2.269
Lenovo Vibe K4 Note
2.254
Sony Xperia C5 Ultra
2.253
Xiaomi Redmi Note 3 (MediaTek)
2.249
Sony Xperia C4 Dual
2.235
Xiaomi Mi Note
2.234
Motorola Moto G (2014)
2.233
LG Nexus 5
2.228
Huawei P8
2.196
Xiaomi Redmi Note 2
2.166
OnePlus Two
2.165
HTC One X
2.158
LG Aka
2.145
Xiaomi Redmi Note 4
2.145
Archos 50 Diamond
2.134
Xiaomi Redmi Note
2.119
Acer Liquid X2
2.084
Huawei P8lite
2.078
Moto G 3rd gen max manual
2.026
Xiaomi Mi Max
1.996
Sony Xperia E4g
1.972
OnePlus One
1.961
Meizu m3 note
1.923
BlackBerry Leap
1.892
Meizu m2 note
1.892
HTC Butterfly
1.873
ZTE Nubia Z9 mini
1.759
Sony Xperia U
1.758
Asus Zenfone Selfie
1.68
Motorola Moto E (2nd Gen)
1.675
ZTE Nubia Z9
1.659
Jolla Jolla
1.605
Motorola Moto E
1.545
Sony Xperia M
1.473
HTC Desire C
1.3
Sony Xperia C
1.283
Meizu MX
1.221
Sony Xperia E
1.215
Color accuracy is impressive as well. Even the default factory color mode seems to be tuned pretty well. Most colors we tested have a deviation of 4 (deltaE 2000) at average with 5.8 being the highest occurrence. The latter seems to be mostly due to the overall blue-ish white balance. Leaving the screen set to Natural Soft and dragging the white balance slider about halfway to Warm improves the average to an overall average of 3.6 deltaE.
Connectivity
The Nubia Z11 is equipped with a total of two nano SIM slots. It's a hybrid slot so one of the card positions is to be used with either a SIM card or a Micro SD card, so you do have to choose.
As far as network connectivity goes, the Qualcomm Snapdragon 820 typically shines in this department with its powerful X12 LTE modem. However, Nubia hasn't disclosed exactly what speed it has utilized on said modem. What we do know, however, is that the Z11 has 4G LTE on both SIM slots and VoLTE support.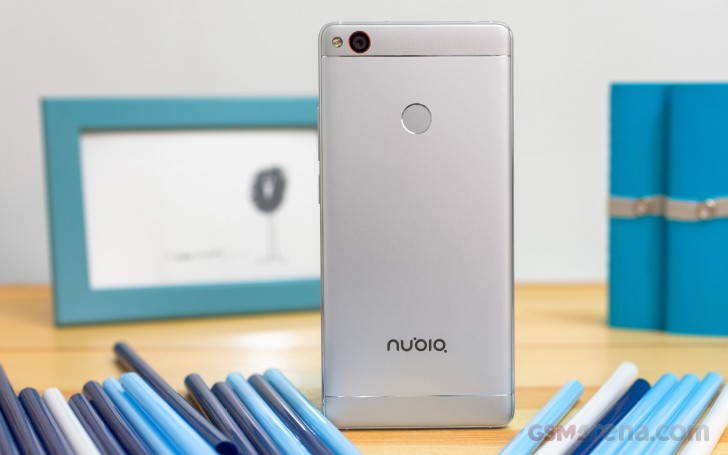 Other Internet connectivity options include Wi-Fi a/b/g/n/ac with dual-band support. Interestingly enough, the Nubia Z11 is one of the few devices we have seen that can enable or disable the second antenna. By doing this you would supposedly gain some battery life at the expense of the maximum connection speed.
GPS and GLONASS is also present, of course.
Local connectivity includes Bluetooth 4.1, with LE support. NFC is also on board. The old microUSB connector has been replaced with a Type-C 1.0 reversible one with OTG support. Overall, Nubia has made sure the Z11 is pretty up to date in this department. The only thing we didn't find, which will probably be missed is an FM radio.
Nubia Z11 battery life test
The Nubia Z11 packs a 3000 mAh sealed-in battery. This might not be all that big of an improvement over the Z9 and its 2900 mAh, however, the Snapdragon 820 is undoubtedly more efficient than its Snapdragon 810 predecessor.
The Z11 did quite alright in our battery life test, scoring a respectable 76 hours endurance rating. Throw in the second SIM and that number drops down to 70 hours. This is actually pretty close to what the Z9 managed on a similarly-sized battery a year ago, plus a 10% or so improvement.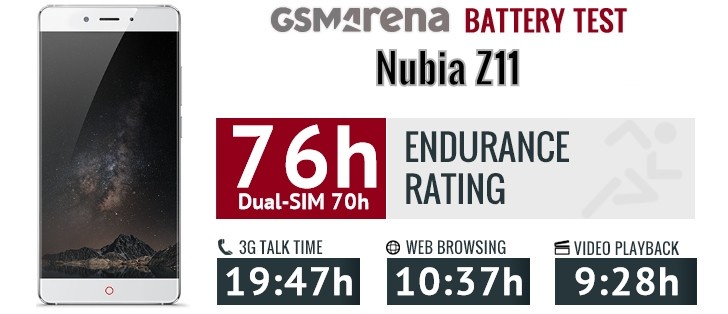 Another great benefit from using Qualcomm's high-end SoC is access to Quick Charge 3.0. Nubia claims this allows the Z11 to charge four times faster than on a conventional charger, but that, of course, is a vague statistic at best.
But there is something even more troubling we found while testing our unit. Nubia's marketing material speak boldly of NeoPower 2.0. This smart battery saving solution is said to feature 10 usage scenarios and a lot of optimization to make your battery last longer. However, our review unit lacks these capabilities and there is no UI similar to what NeoPower 2.0 is supposed to look like. All we did find was a few basic power saving toggles. We guess the feature is either regional or it will be added via a software update further down the road.
Come to think of it, there is also no Nubia store, no IR blaster app and no Game app, so something is definitely amiss but we're not quite sure what might be to blame as this review unit was provided by Nubia themselves. Follow along in the next section for a more in-depth look at the software.
The battery testing procedure is described in detail in case you're interested in the nitty-gritties. You can also check out our complete battery test table, where you can see how all of the smartphones we've tested will compare to each other under your own choice of usage pattern.