The fastest display on the market
As it currently stands, the Red Magic 6 and the 6 Pro have the fastest displays on the market. The Asus ROG Phone 5 caps at a refresh rate of 144Hz, while this one goes all the way up to 165Hz. We all know that those numbers matter for hardcore gamers, but can they be really utilized with the current Android gaming standards? We try to answer this in the following paragraphs as well as on Page 5 of the review. Now off to some interesting details about the screen.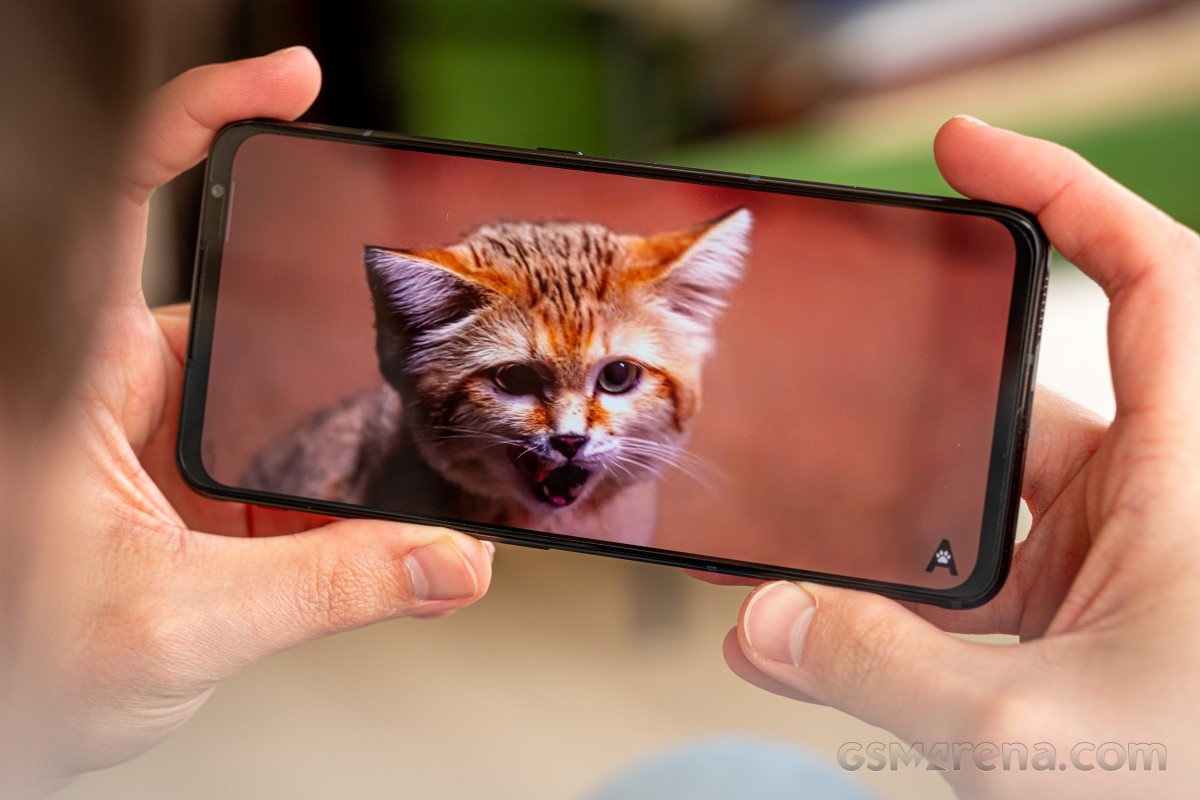 Coming from the previous version of the phone, this one has a slightly taller aspect ratio at 20:9 achieved with a fairly standard 1080 x 2400px resolution. All those pixels fit in a 6.8-inch diagonal (sensibly more than the 6.65" from last year). But that's not the only upgrade.
Nubia promises higher peak brightness and 1 billion colors (read true 10-bit color depth) and 100% DCI-P3 color gamut coverage. The control over brightness is said to be pretty granular with 4,096 levels.
And last but not least, the display offers a 500Hz touch sampling rate with one finger and 360Hz upon multi-touch. That's pretty fast indeed, and more experienced gamers in fast-paced games will appreciate it.
Now, when it comes to real0life testing, we couldn't achieve the advertised 630 nits of brightness. In manual mode, the display reached only 444 nits, and we weren't able to trigger the Max Auto mode.
Display test
100% brightness
Black,cd/m2
White,cd/m2
Contrast ratio
nubia Red Magic 5G (Max Auto)
0
685
∞
nubia Red Magic 5S
0
459
∞
nubia Red Magic 5S (Max Auto)
0
459
∞
nubia Red Magic 6
0
444
∞
Asus ROG Phone 5
0
492
∞
Asus ROG Phone 5 (Max Auto)
0
806
∞
OnePlus 9
0
450
∞
OnePlus 9 (Max Auto)
0
821
∞
Xiaomi Mi 11
0
498
∞
Xiaomi Mi 11 (Max Auto)
0
926
∞
Refresh rate management is a mixed bag. It's been improved in this version of the software, yet it needs more work. Unlike before, the Redmagic UI offers some form of smart, adaptive refresh rate. Using 165Hz all the time will surely drain more power, so we found that in most cases, the device will default to 90Hz. There's also the option to go for 120Hz, but it would yield the same results.
Navigating through menus and even sitting on the home screen, the refresh rate stands at a solid 165Hz. In most apps, the refresh rate goes down to 90Hz, even in the phone's gallery, system apps and when playing videos through the default video player. Speaking of video players, the refresh rate in the YouTube app is 90Hz and goes down to 60Hz while playing videos. The Netflix app, on the other hand, seems to behave differently. We got 90Hz in the menus and 120Hz when watching on full-screen. The strangest of them all was Chrome as it didn't go above 60Hz no matter what setting we tried.
It's nice that nubia has tried to introduce a smarter way to control its HRR display, but the implementation is rather sub-par. We hope that full-screen videos will go down to 60Hz while the rest of the apps, such as Google Chrome, would benefit from the smooth, 165Hz display. An Auto mode that takes full control over the refresh rate might clear up some confusion, and anyone wanting to use that buttery-smooth 165Hz can do so without restraints.
Battery life
The overall endurance score hasn't changed much over the last generation, mainly due to its poor standby performance. However, at 165Hz mode, the device managed to squeeze out considerably more runtime in our screen-on tests - web browsing and video playback. Perhaps the extra 500 mAh (now 5,000 mAh) has something to do about it. However, it's important to note that the software implementation of the HRR screen is a big contributing factor.
While the Red Magic 5G and 5S both didn't have smart refresh rate adjustment and everything was running at 144Hz, the Red Magic 6 has some sort of automatic adjustment. In our tests, the display automatically went down to 90Hz on both tests - the web browsing and video playback. In case you are not into HRR outside of gaming, expect some pretty good battery endurance at 60Hz.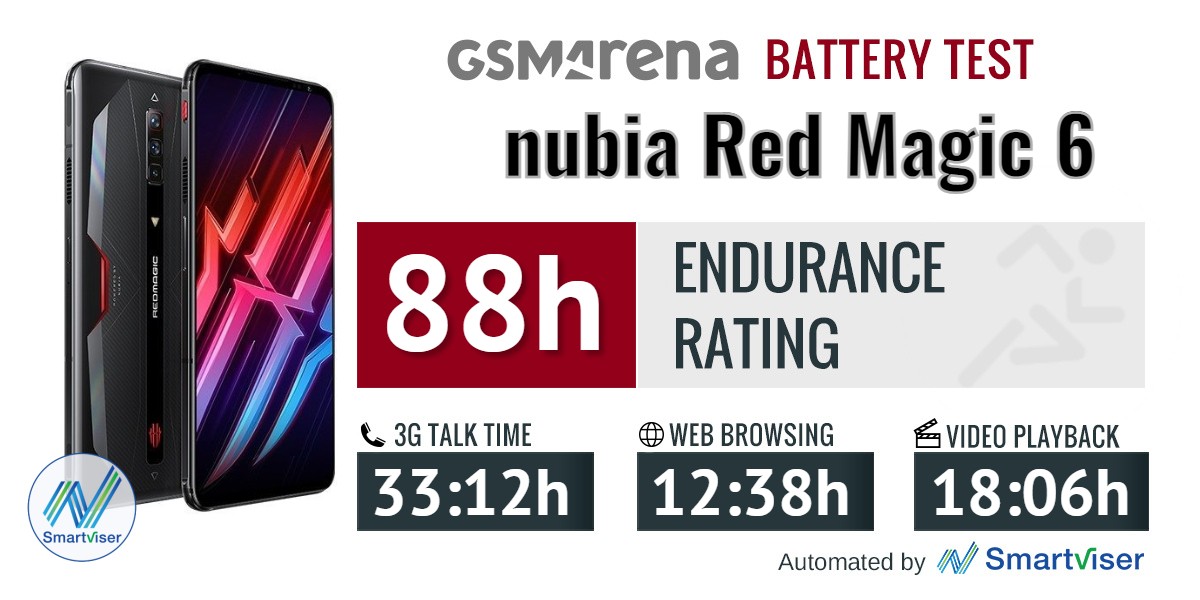 Our battery tests were automated thanks to SmartViser, using its viSerDevice app. The endurance rating denotes how long the battery charge will last you if you use the device for an hour of telephony, web browsing, and video playback daily. More details can be found here.
All test results shown are achieved under the highest screen refresh rate mode. You can adjust the endurance rating formula manually so it matches better your own usage in our all-time battery test results chart where you can also find all phones we've tested.
Charging speed
We got the 30W charger inside the box, which works over the Power Delivery standard and in case you plan to get the 66W version, that's still based on the Power Delivery standard too. Unfortunately, we couldn't test the 66W charger, yet the 30W seems to be sufficiently fast.
It's not the fastest one around, but it gets the job done and doesn't fall too much behind the competition. It's a big step up from the bundled 18W charger from last year, that's for sure.
Then again, it's hard to compare the Red Magic 6 to the ROG Phone 5, for example, as the latter has a bigger 6,000 mAh battery and a speedier 65W charging.
30min charging test (from 0%)
OnePlus 9
100%
nubia Red Magic 5S (55W)
87%
Asus ROG Phone 5
70%
nubia Red Magic 6
63%
nubia Red Magic 5S (18W bundled)
33%
Time to full charge (from 0%)
OnePlus 9
0:29h
nubia Red Magic 5S (55W)
0:39h
nubia Red Magic 6
1:01h
Asus ROG Phone 5
1:05h
Speakers
The handset is equipped with a set of stereo speakers - one that's placed on the bottom and one that doubles as an earpiece. The sound strength coming out of both speakers seems well-balanced. And when we talk about strength, oh boy, you can blast those speakers. They are one of the most powerful sets of speakers we've seen on a phone.
Unfortunately, that doesn't go well with quality. Turning up the volume too much results in distorted highs. Just two or three taps on the volume down key would ensure better-sounding music considerably while still preserving the bass. The latter is good enough to contribute to the overall fullness of the sound.
Use the Playback controls to listen to the phone sample recordings (best use headphones). We measure the average loudness of the speakers in LUFS. A lower absolute value means a louder sound. A look at the frequency response chart will tell you how far off the ideal "0db" flat line is the reproduction of the bass, treble, and mid frequencies. You can add more phones to compare how they differ. The scores and ratings are not comparable with our older loudspeaker test. Learn more about how we test here.