Display
The Note 10 Pro's AMOLED screen was a massive upgrade over the previous generation. And since it was such a big jump ahead, it appears it didn't need to be upgraded for the Note 11 Pro. So, the Note 11 Pro 5G features the same 6.67-inch Samsung-made AMOLED screen of extended 1080p resolution and 120Hz refresh rate.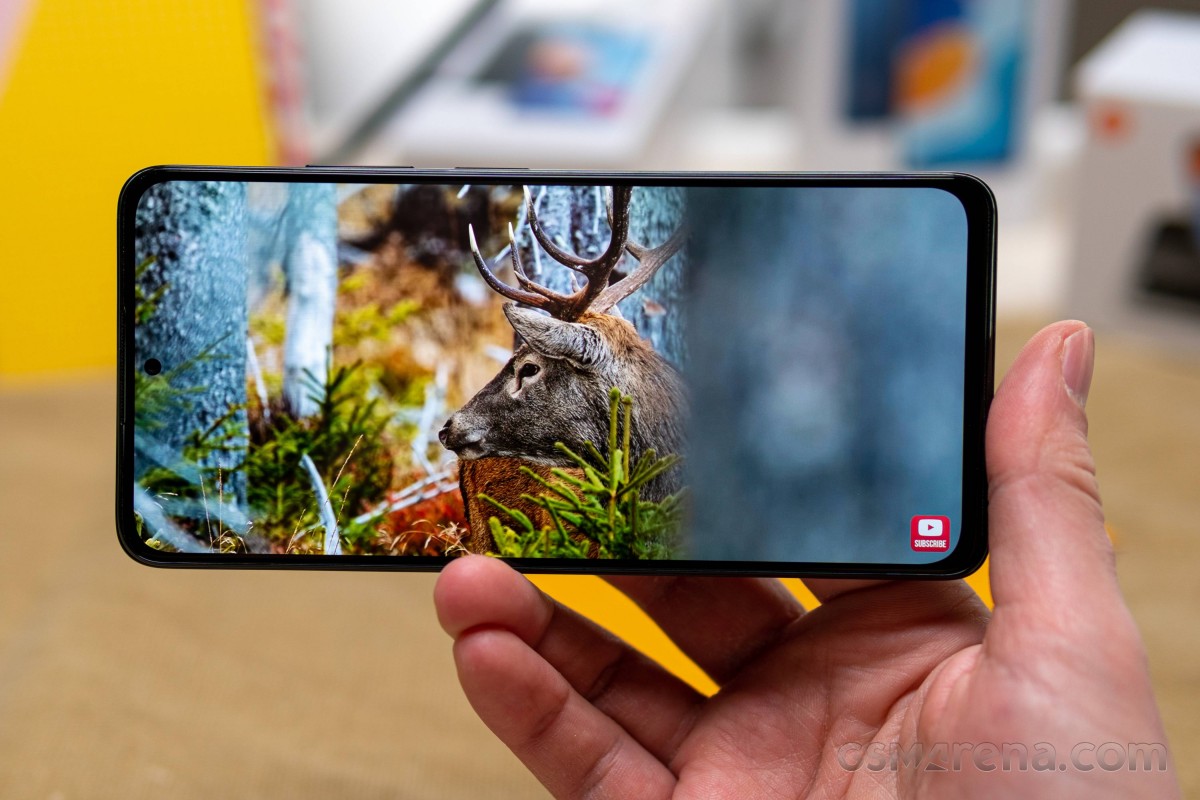 The panel's actual resolution is 1,080 x 2,400px of 395ppi. The cutout for the selfie camera is incredibly tiny, and a match to the one on the previous model. The Gorilla Glass 5 on top of everything is also unchanged from last year.
The Redmi 11 Pro 5G display supports 120Hz refresh rate and DCI-P3 colors.
Some hardware reading apps also list the screen as HDR10-capable, but Xiaomi is not advertising it as such, so you should not expect any HDR screen capabilities.
So, let's start with our display test. Xiaomi advertises the display as capable of 700nits with sunlight boost and up to 1200nits of peak brightness.
Our measurements show the display has a typical brightness of 470 nits and high maximum brightness (sunlight boost) of 746 nits. These numbers are in line with what Xiaomi has promised, as well as with the Note 10 Pro display.
The minimum brightness we captured at point white was 2.3 nits - meaning it's an excellent one.
Display test
100% brightness
Black,cd/m2
White,cd/m2
Contrast ratio
Xiaomi Redmi Note 11 Pro 5G
0
470
∞
Xiaomi Redmi Note 11 Pro 5G (Max Auto)
0
746
∞
Xiaomi Redmi Note 11 Pro
0
470
∞
Xiaomi Redmi Note 11 Pro (Max Auto)
0
746
∞
Xiaomi Redmi Note 10 Pro
0
457
∞
Xiaomi Redmi Note 10 Pro (Max Auto)
0
725
∞
Samsung Galaxy A32
0
393
∞
Samsung Galaxy A32 (Max Auto)
0
814
∞
Samsung Galaxy A32 5G
0.286
426
1490:1
Samsung Galaxy A32 5G (Max Auto)
0.338
497
1470:1
Realme 9 Pro+
0
433
∞
Realme 9 Pro+ (Max Auito)
0
613
∞
Realme 9 Pro
0.288
461
1601:1
Realme 9 Pro (Max Auto)
0.385
567
1473:1
Realme 8 Pro
0
454
∞
Realme 8 Pro (Max Auto)
0
627
∞
Samsung Galaxy A52s 5G
0
383
∞
Samsung Galaxy A52s 5G (Max Auto)
0
800
∞
OnePlus Nord 2 5G
0
438
∞
OnePlus Nord 2 5G (Max Auto)
0
633
∞
Poco X3 GT
0.301
429
1425:1
Poco X3 GT (Max Auto)
0.38
537
1413:1
Color accuracy
The Redmi Note 11 Pro 5G supports DCI-P3 wide color gamut. The phone's settings offer three different color models - Vivid (default, DCI-P3), Saturated (DCI-P3 with saturation boost), and Standard (sRGB). You can tweak the color temperature for each mode.
The default Vivid option is tuned to reproduce DCI-P3 faithfully, and we found it to be fairly accurate, excluding the slightly bluish-white and gray hues. Standard, on the other hand, has an outstanding accuracy to sRGB, including the white and gray colors.
Refresh rate
The screen supports 60Hz (Standard) and 120Hz (Maximum) refresh rates; both are static options. If you choose 120Hz, as most of the users will do, 60Hz is used only for video playback and across apps that cannot support higher than 60Hz screens. For everything else, the screen works at 120Hz.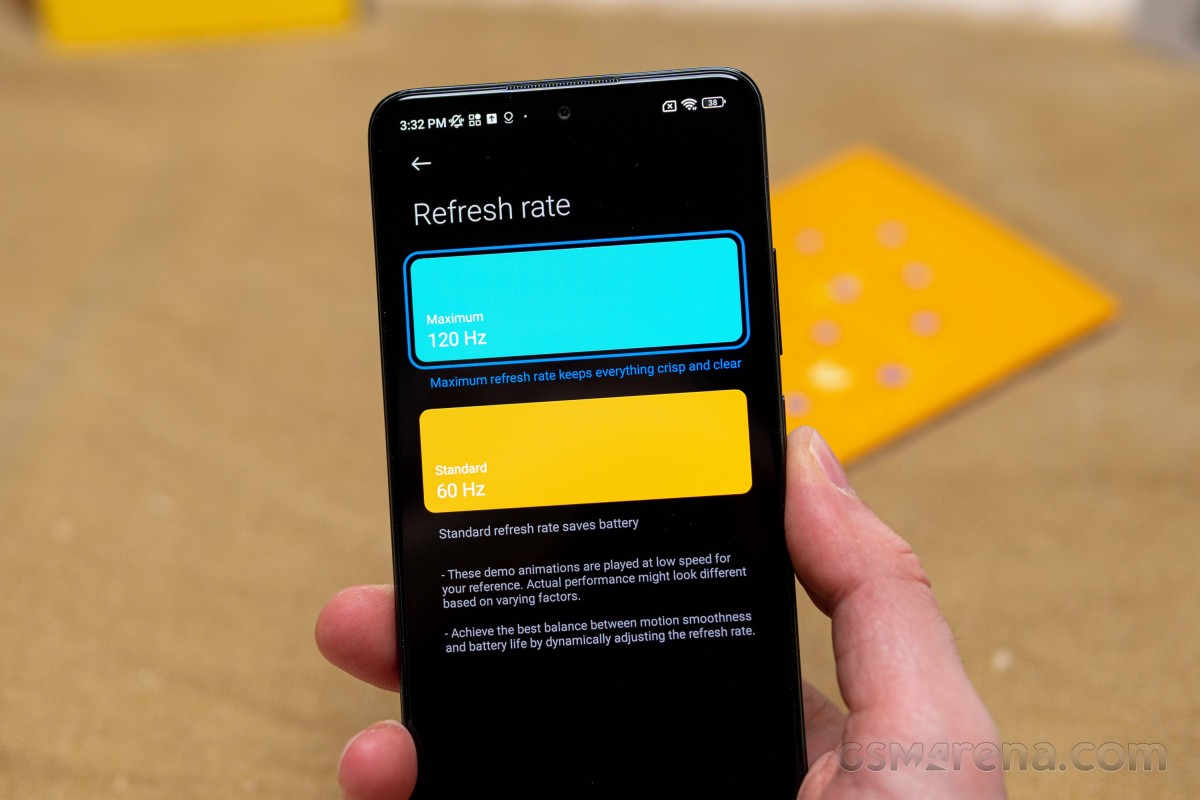 High refresh rate gaming is possible on the Redmi Note 11 Pro 5G, but its GPU is probably too weak to make it happen in most games.
Streaming
The Redmi Note 11 Pro 5G comes with basic Widevine L3 DRM. Xiaomi usually updates the DRM level soon after launch where necessary. For example, the rest of the Redmi Note 11 phones all come with the highest Widevine L1 DRM. It's safe to assume this one will get it eventually, too. It won't bring HDR10 support, but it will enable Full HD streaming.
Battery life
The Xiaomi Redmi Note 11 Pro 5G is powered by a 5,000mAh battery, one that supports up to 67W fast charging. This model runs on the new Snapdragon 695 5G chipset that was built on an efficient 6nm manufacturing process and we expect the phone to ace our battery test with this hardware.
And it sure did! The Redmi Note 11 Pro 5G scored an excellent endurance rating of 115 hours, matching the Redmi Note 10 Pro. It did great across all test scenarios - calls, web browsing, video playback, and even standby.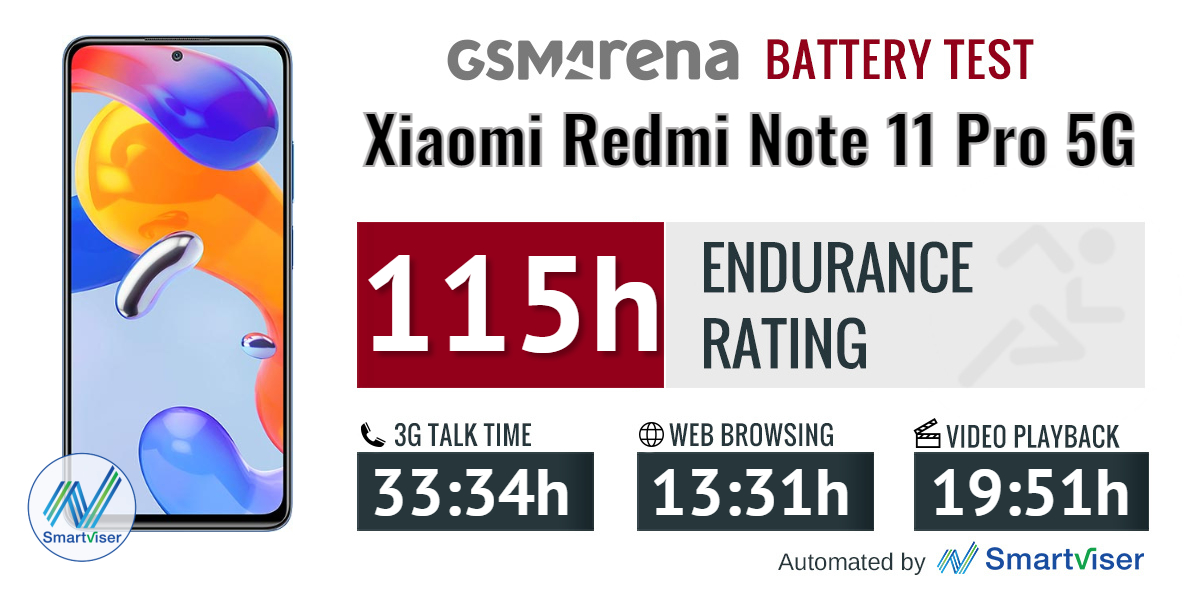 The Realme 9 Pro has the same chipset and battery capacity, but it posted a higher endurance rating. That is because it has a different LCD screen, which appears to be more energy-efficient than the AMOLED on the Note 11 Pro 5G as it has a matching battery life in 3G calls and standby, but it did better on the on-screen tests.
All test results shown are achieved under the highest screen refresh rate mode. You can adjust the endurance rating formula manually so it matches better your own usage in our all-time battery test results chart where you can also find all phones we've tested.
Charging speed
One of the most notable upgrades the Redmi Note 11 Pro 5G brings since the Note 10 Pro is the 67W Mi Fast Charging. The previous model supports up to 33W. Naturally, the phone ships with this power adapter and a 6A-rated charging cable.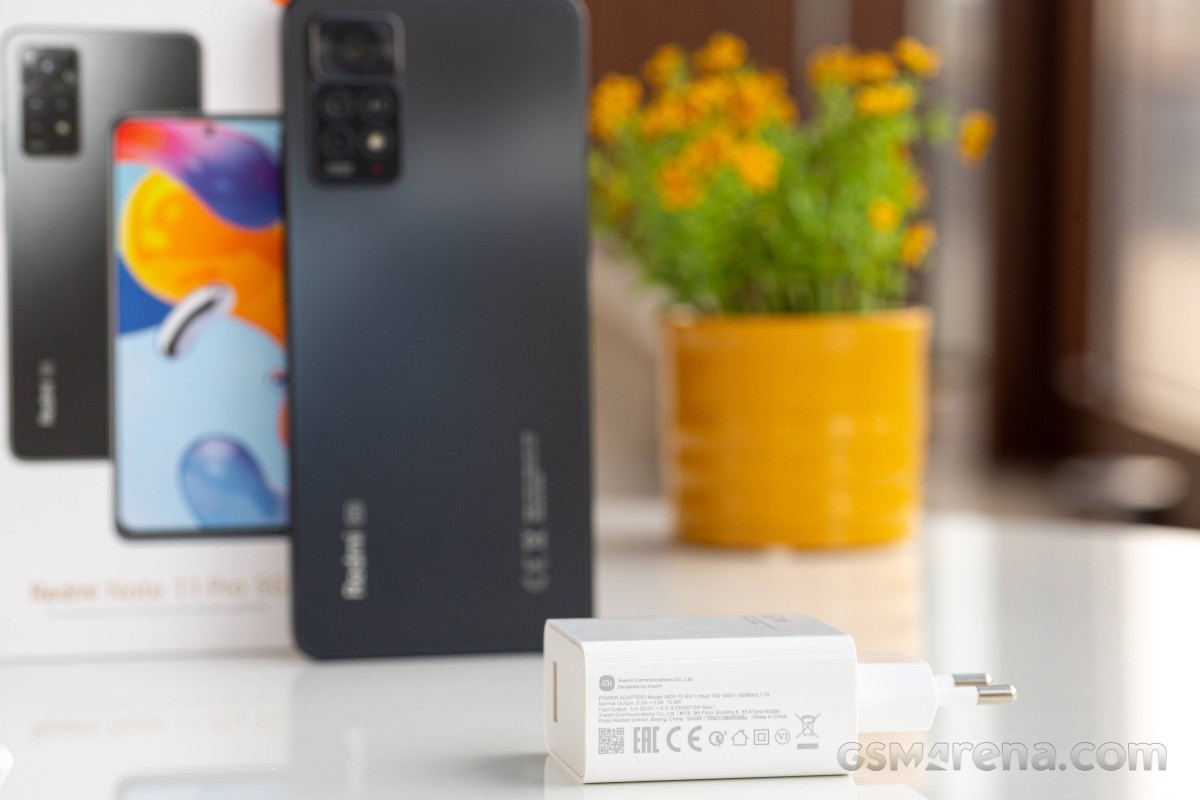 So, according to Xiaomi, the said charger should refill 50% of the battery in 15 minutes, while a full charge should take about 42 minutes. And we've put that to the test, of course.
The 67W charger took the battery from 0% to 46% in 15 mins. A total of 30 minutes on that charger gives you 74% - and that's plenty fast for a budget mid-ranger.
30min charging test (from 0%)
Higher is better
Realme 9 Pro+
77%
Poco X3 GT
75%
Xiaomi Redmi Note 11 Pro 5G
74%
Samsung Galaxy A52s 5G
53%
Motorola Edge 20 Pro
53%
Realme 9 Pro
52%
Xiaomi Redmi Note 10 Pro
50%
Samsung Galaxy A32 5G
23%
Finally, a full charge took 45 minutes sharp, which is quite close to what Xiaomi has promised.
Time to full charge (from 0%)
Lower is better
Xiaomi Redmi Note 11 Pro 5G
0:45h
Poco X3 GT
0:48h
Realme 9 Pro+
0:49h
Realme 9 Pro
1:14h
Motorola Edge 20 Pro
1:17h
Xiaomi Redmi Note 10 Pro
1:21h
Samsung Galaxy A52s 5G
1:28h
Samsung Galaxy A32 5G
2:24h
Overall, the Xiaomi Redmi Note 11 Pro 5G offers one of the fastest charging solutions within its price bracket and it's a feature that will surely tip the scales in its favor for many shoppers.
Speakers
The Xiaomi Redmi Note 11 Pro 5G offers a proper stereo speaker setup. There are two symmetrically placed speakers on its top and bottom sides, each behind dotted grilles. The top one has a second outlet just above the screen as it also doubles as an earpiece.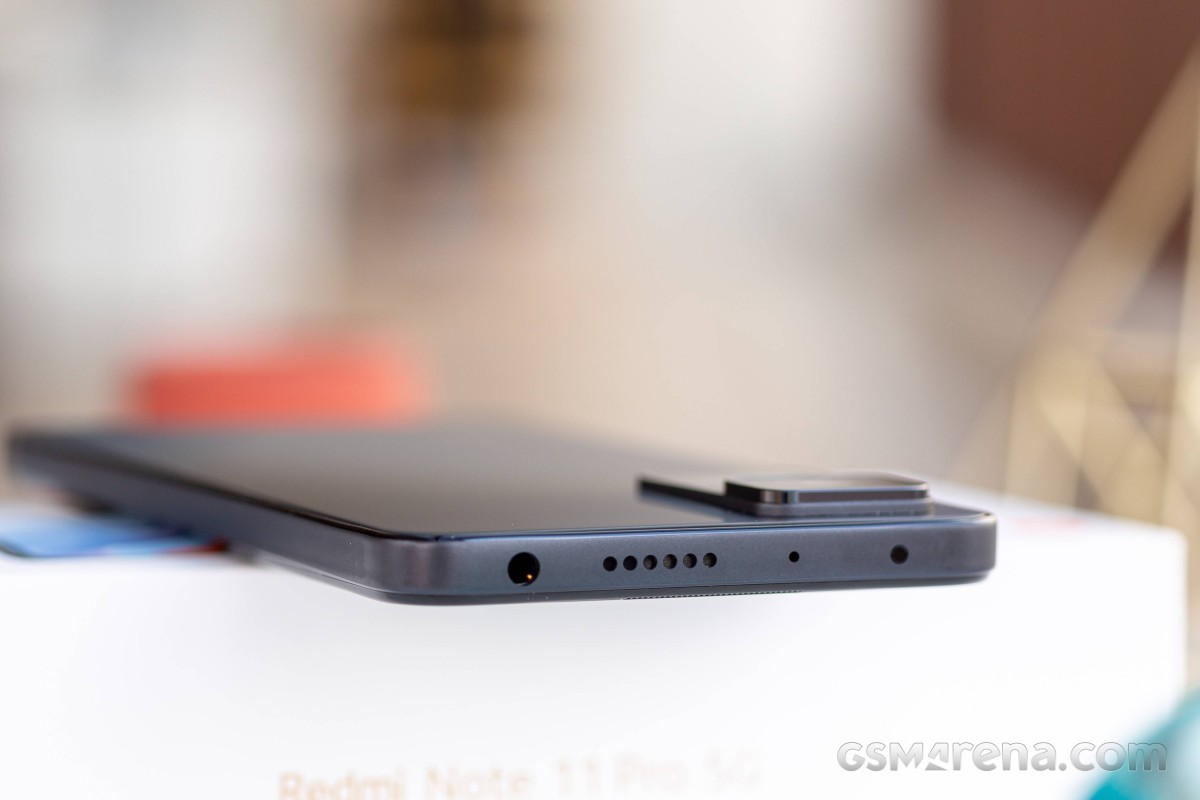 The sound is balanced, and it feels like both speakers are equally powerful and equally capable as far as frequencies are concerned.
The phone scored a Very Good mark on our loudness test, just as the Note 10 Pro. The sound quality has been improved since the last generation though - not only we can hear rich mid and high tones, but there is a noticeable thump. And that's why we'd give it an Excellent mark for audio quality.
There is an automatic Dolby Atmos enhancement across various media apps like Gallery, Mi Video, YouTube, and whatnot, so you can expect an even better sound experience within those.
Use the Playback controls to listen to the phone sample recordings (best use headphones). We measure the average loudness of the speakers in LUFS. A lower absolute value means a louder sound. A look at the frequency response chart will tell you how far off the ideal "0db" flat line is the reproduction of the bass, treble, and mid frequencies. You can add more phones to compare how they differ. The scores and ratings are not comparable with our older loudspeaker test. Learn more about how we test here.