MIUI10 and Pie
The Xiaomi Mi 9T boots the latest MIUI 10 ROM based on Android 9 Pie. While lightweight and intuitive, MIUI is no vanilla Android, so it will take a couple of hours for the purists to get the handle of it.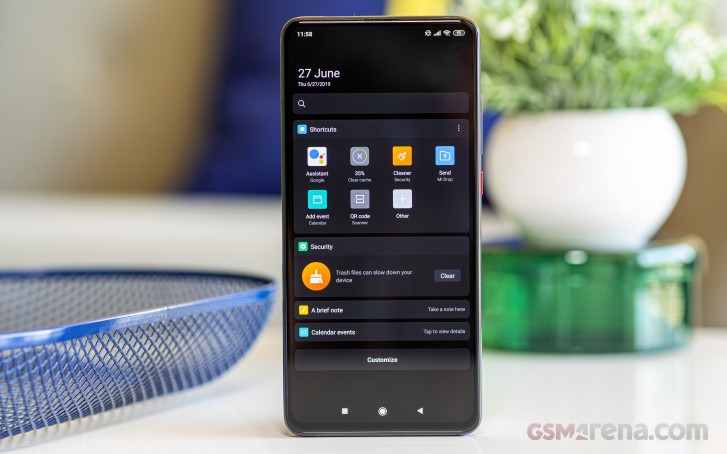 The Mi 9T supports Always-on display and you can schedule it or leave it on/off all the time. There are various themes you can choose from and make it yours.
You can unlock the screen via the improved under-display fingerprint scanner. The reader is very easy to set up and works surprisingly fast. The accuracy is superb, too, and overall it's great for your daily unlocking.
You can also set up face unlock in addition to it - it's equally fast as the Mi 9T wakes up the moment you pick it up. Note that the face unlock option may not be available in all regions.
Xiaomi Mi 9T has a Dark mode - it will switch all system colors from white to black and this way you can save some battery juice by making the best use of the power-efficient AMOLED screen. Note that not all apps support the dark mode, but the majority do.
The Mi 9T also comes with various live wallpapers including the cool 24-hour wallpaper - it changes depending on the time of day and is quite nice, indeed.
There is no app drawer in MIUI so all your apps are just sitting there on your homescreen, but you can still add them to folders. Of course, you can always install a third-party launcher if you really miss the app drawer.
Here are the default home screens on Mi 9T. There's a weather widget in the upper right corner across from a large clock widget. There is a Quick Card pane, the leftmost one. It contains different cards with relevant information - recent apps, step counter, notes, calendar events, the weather, and favorites, among others. You can configure what shows up here, or you can disable this altogether.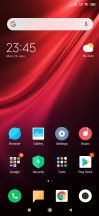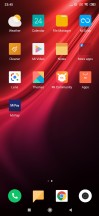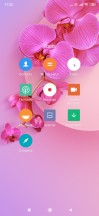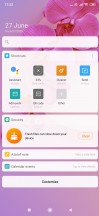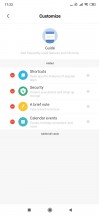 Lockscreen • Homescreen • Homescreen • Tools • • Quick Card • Settings
The task switcher felt a bit awkward at first, but we've grown to like it. It shows all of your recent apps in two columns. Tap and hold on a card for the split-screen shortcut, or just swipe it left or right to close it.
Themes are supported on the Xiaomi Mi 9T, but the app appears only when the phone is set to a supported region, say India.
MIUI also offers a Security app. It can scan your phone for malware, manage your blacklist, manage or restrict your data usage, configure battery behavior, and free up some RAM. It can also manage the permissions of your installed apps and allows you to define the battery behavior of selected apps and applies restrictions only to the apps you choose.
MIUI also offers proprietary Gallery, Music, and Video player. In some regions, the music and video app include paid streaming options. FM radio app is available, too.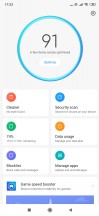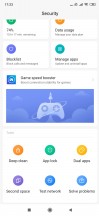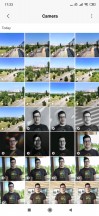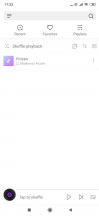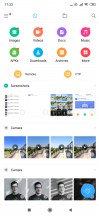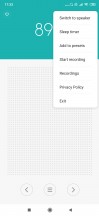 Security app • Security app • Gallery • Music • File Manager • FM radio
In some markets, the pre-installed applications by Xiaomi will show ads, which is how Xiaomi's is compensating for the relatively low prices of its devices. We're reviewing a global version of the Mi 9T and we didn't see any ads at all.
Performance and benchmarks
The Xiaomi Mi 9T employs the Snapdragon 730 chip - the most powerful upper midrange SoC from Qualcomm. It's built on an 8nm production process and features an octa-core CPU in a 2x2.2 GHz Kryo 470 Gold (Cortex-A76 based) & 6x1.8 GHz Kryo 470 Silver (Cortex-A55 based) configuration plus an Adreno 618 GPU. There's a single memory tier of 6GB of RAM.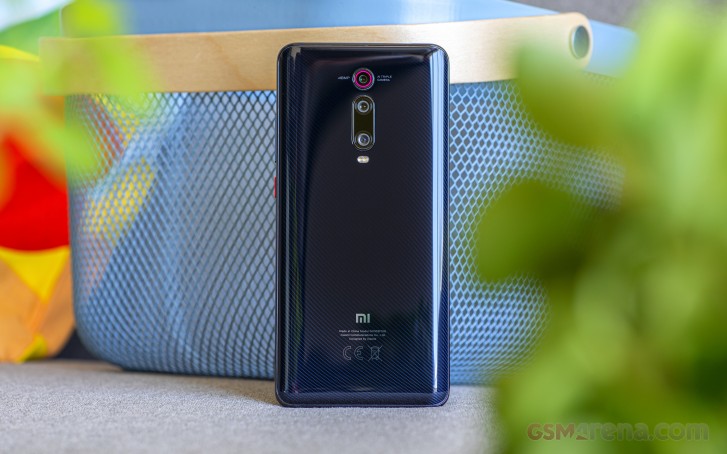 The Snapdragon 730 may have just two high-performance A76-derived cores, but those were enough to put it ahead of the competition which uses the older generation cores. The single-core score is amazing, as is the multi-core performance and both can only be bested by the flagship S855 chip. The Snapdragon 730 offers enough processing superiority over the Mi 9 SE's S710 (A75-based) to make a difference.
GeekBench 4.1 (single-core)
Higher is better
Xiaomi Mi 9
3503
Xiaomi Mi 9T
2537
Samsung Galaxy A80
2516
Xiaomi Redmi Note 7 Pro
2404
Samsung Galaxy A70
2391
Xiaomi Mi 9 SE
1905
Samsung Galaxy A50
1715
Xiaomi Redmi Note 7
1650
Huawei P30 Lite (perf. mode)
1576
Oppo F11 Pro
1560
Huawei P30 Lite
1534
Realme X
1475
GeekBench 4.1 (multi-core)
Higher is better
Xiaomi Mi 9
11181
Samsung Galaxy A80
6934
Xiaomi Mi 9T
6863
Xiaomi Redmi Note 7 Pro
6620
Samsung Galaxy A70
6584
Oppo F11 Pro
6020
Xiaomi Mi 9 SE
6017
Realme X
5915
Huawei P30 Lite (perf. mode)
5549
Huawei P30 Lite
5523
Xiaomi Redmi Note 7
5411
Samsung Galaxy A50
5396
The Adreno 618 GPU sounds beyond promising on paper and should be more than adequate to handle all 1080p content. Indeed, it can only be bested by the flagship Adreno 640 inside the S855 SoC, which was kind of an overkill beneath the 1080p's screen of the Mi 9.
GFX 3.1 Manhattan (onscreen)
Higher is better
Xiaomi Mi 9
56
Samsung Galaxy A80
26
Xiaomi Mi 9T
24
Xiaomi Mi 9 SE
24
Xiaomi Redmi Note 7 Pro
15
Samsung Galaxy A50
13
Samsung Galaxy A70
13
Huawei P30 Lite
13
Huawei P30 Lite (perf. mode)
13
Xiaomi Redmi Note 7
13
Oppo F11 Pro
12
GFX 3.1 Car scene (onscreen)
Higher is better
Xiaomi Mi 9
35
Xiaomi Mi 9 SE
14
Samsung Galaxy A80
14
Xiaomi Mi 9T
13
Samsung Galaxy A50
8
Xiaomi Redmi Note 7 Pro
7.9
Xiaomi Redmi Note 7
7.7
Oppo F11 Pro
7.4
Samsung Galaxy A70
7
Huawei P30 Lite
7
Huawei P30 Lite (perf. mode)
6.9
Finally, there is no real difference between the Adreno 616 inside the Mi 9 SE's S710 and the Adreno 618 within the Mi 9T.
3DMark SSE 3.1 Unlimited
Higher is better
Xiaomi Mi 9
5816
Samsung Galaxy A80
2543
Xiaomi Mi 9T
2329
Xiaomi Mi 9 SE
2218
Xiaomi Redmi Note 7
1409
Samsung Galaxy A50
1353
Oppo F11 Pro
1275
Xiaomi Redmi Note 7 Pro
1220
Samsung Galaxy A70
1112
Huawei P30 Lite (perf. mode)
988
Huawei P30 Lite
985
Some say AnTuTu never lies, and the compound test indeed put the Mi 9T on top of every other competitor. The only one that could beat it is the Mi 9.
AnTuTu 7
Higher is better
Xiaomi Mi 9
372006
Xiaomi Mi 9T
211915
Samsung Galaxy A80
207502
Xiaomi Redmi Note 7 Pro
180754
Xiaomi Mi 9 SE
180057
Samsung Galaxy A70
167750
Oppo F11 Pro
150218
Samsung Galaxy A50
144574
Huawei P30 Lite (perf. mode)
141600
Xiaomi Redmi Note 7
139075
Huawei P30 Lite
129887
The Snapdragon 730 is bridging the gap between the mid-range and the flagship classes, very successfully at that. It has one of the most powerful processors to date, and the GPU will handle whatever game you threw at it for the next couple of years to come.
Sure, the Mi 9 has the Snapdragon 855 with twice as much graphics power, but it mostly goes underutilized as it is not needed on its 1080p display. So, for most, if not all, intents and purposes you won't feel a difference between the Mi 9 and Mi 9T as far as flagship gaming is concerned.
Finally, the Mi 9T's Snapdragon 730 stays cool enough under peak performance and we didn't notice any throttling.