The first 12-bit AMOLED screen on a smartphone
The Xiaomi 12X packs a 6.28-inch AMOLED screen of 1080p resolution. It is the first-ever panel with a native 12-bit color and it can display over 68 billion colors. This is the same screen you will also find on the Xiaomi 12, meaning the achievement is shared.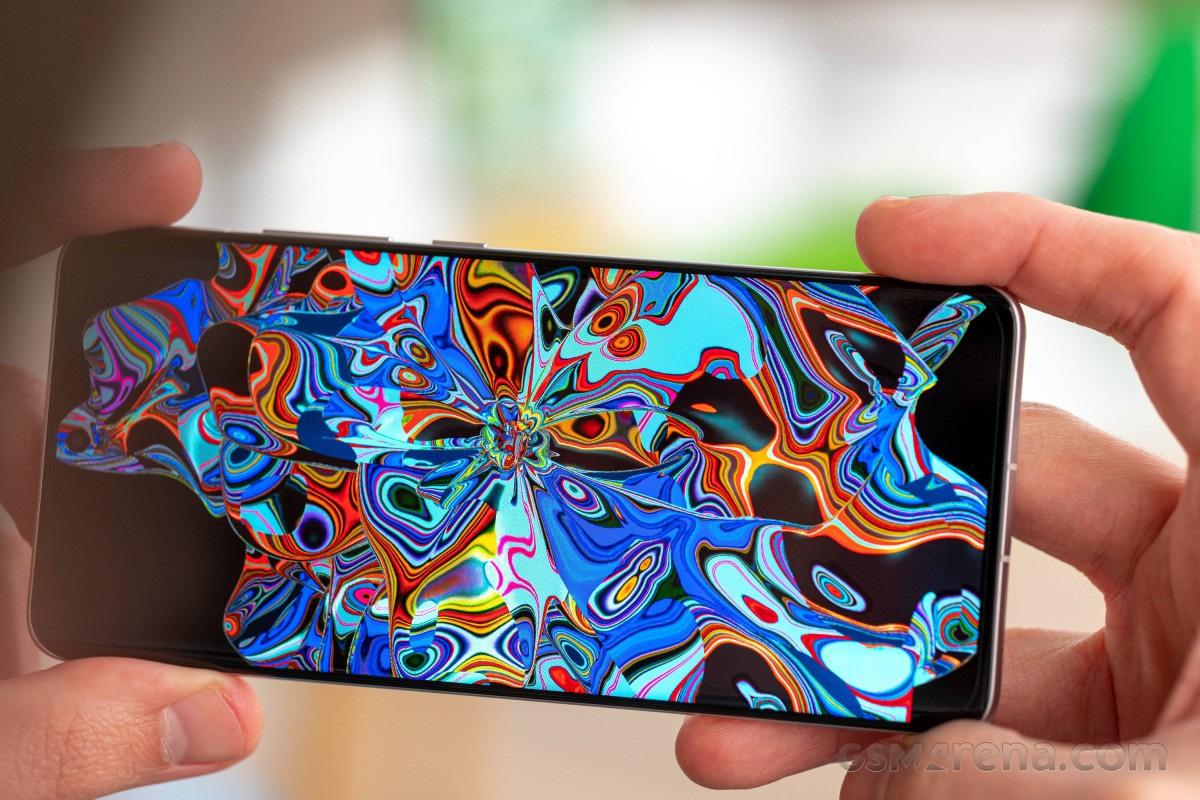 So, the OLED panel of the Xiaomi 12X has an actual resolution of 1,080 x 2,400 px or 419ppi. It supports 120Hz dynamic refresh rate, up to 480Hz touch sampling, and is HDR10+ and Dolby Vision certified. Dolby Vision is the only HDR standard that covers 12-bit colors, which means the Xiaomi 12X and the Xiaomi 12 are the only phones that can potentially show Dolby Vision content in its full glory.
The screen is protected by a slightly curved piece of Gorilla Glass Victus, and you get an additional protector that was applied in the factory.
We've completed our display test, of course, and the measurements are excellent across the board. The typical brightness we captured when working manually was 504 nits, but when the sunlight boost kicks in the Auto Brightness mode, the brightness became 925 nits! Xiaomi is promising up to 1100 nits of brightness, and they are easily achievable when using smaller color patterns than ours 75%.
The minimal brightness we measured at point white was a mere 1.8nit, an excellent one!
Display test
100% brightness
Black,cd/m2
White,cd/m2
Contrast ratio
Xiaomi 12X
0
504
∞
Xiaomi 12X (Max Auto)
0
925
∞
Xiaomi 12
0
494
∞
Xiaomi 12 (Max Auto)
0
896
∞
Xiaomi 12 Pro
0
506
∞
Xiaomi 12 Pro (Max Auto)
0
1050
∞
Xiaomi Mi 11
0
498
∞
Xiaomi Mi 11 (Max Auto)
0
926
∞
Xiaomi Mi 11T Pro
0
516
∞
Xiaomi Mi 11T Pro (Max Auto)
0
837
∞
Samsung Galaxy S22
0
465
∞
Samsung Galaxy S22 (Extra brightness)
0
757
∞
Samsung Galaxy S22 (Max Auto)
0
982
∞
Poco F3
0
511
∞
Poco F3 (Max Auto)
0
716
∞
Realme GT2 Pro
0
482
∞
Realme GT2 Pro (Max Auto)
0
778
∞
Sony Xperia 5 III
0
327
∞
Sony Xperia 5 III (Max Auto, Creator mode)
0
590
∞
Asus Zenfone 8
0
440
∞
Asus Zenfone 8 (Max Auto)
0
800
∞
Apple iPhone 13 mini
0
831
∞
Color accuracy
The Xiaomi 12X fully supports the DCI-P3 wide color gamut. The phone's settings offer three different color models and additional Advanced Settings. The three options are Vivid (default, DCI-P3), Saturated (DCI-P3 with saturation boost), and Standard (sRGB). You can tweak the color temperature for each mode.
The default Vivid option is tuned to reproduce DCI-P3 faithfully, and we found it to be fairly accurate, excluding the slightly bluish-white and gray hues. Standard, on the other hand, has an outstanding accuracy to sRGB, including the white and gray colors.
There are Advanced Settings, where you can choose between Original (identify and calibrate colors on the go), P3 (same accuracy to P3 as Auto - pretty good), and sRGB (perfect accuracy to sRGB). But these Advanced Settings also allow for color, saturation, contrast and gamma correction in each mode.
Refresh rate
The screen supports Auto and Custom refresh rates. The Auto is the default dynamic option that switches between 60Hz, 90Hz and 120hz on the go. If you select Custom, you will choose between 60Hz and 120Hz refresh rates. The 60Hz one is static, of course, while 120Hz offers the same dynamic switching as Auto.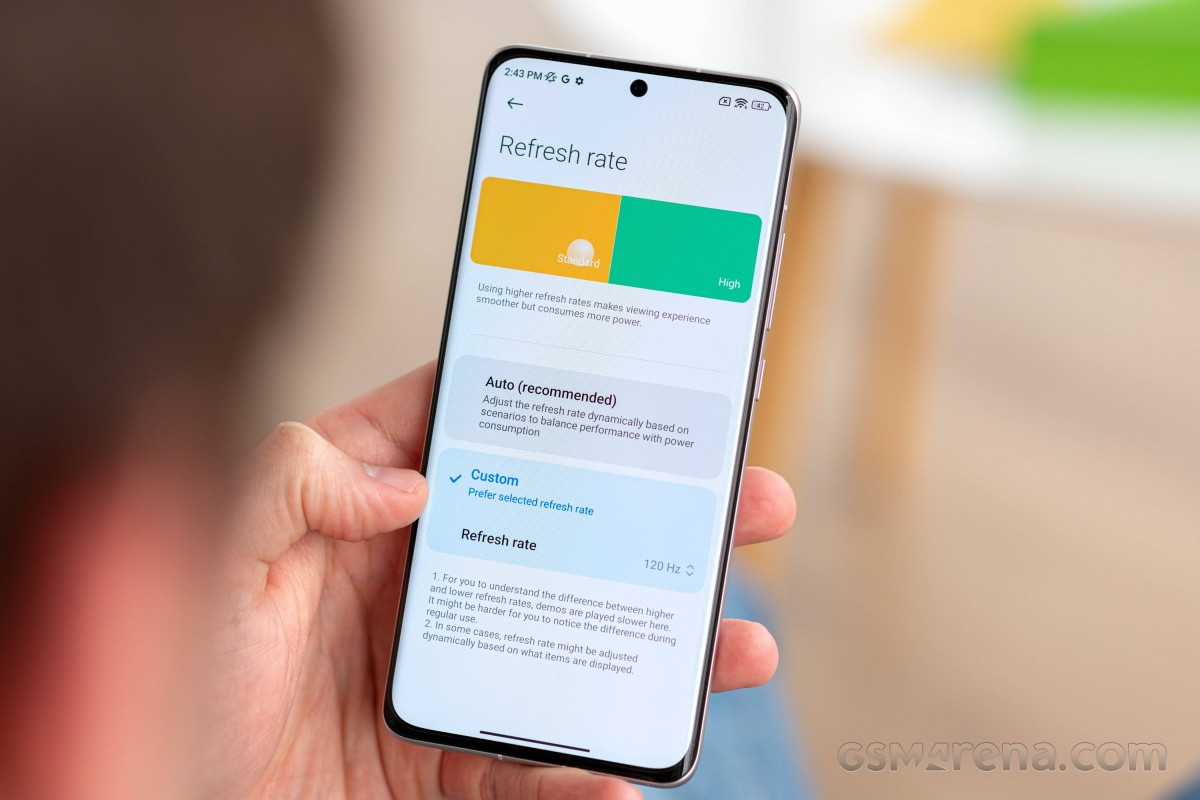 Whether you've selected Auto or 120Hz, 120Hz is used across compatible apps and games, as well as the entire Android/MIUI interface. The screen reverts to 60Hz after a few seconds of inactivity. 60Hz is also used across all video apps and video playback and streaming. We did not find a use case for 90Hz, but tests showed the screen does support it when an app forces it.
Streaming
The Xiaomi 12X supports Widevine L1 DRM, and it is recognized across all popular streaming apps like Netflix and Prime Video as both HDR10 and Dolby Vision capable. Dolby Vision content is served readily, and we enjoyed an outstanding streaming experience with the highest possible quality.
Battery life
If you have followed our Xiaomi 12 reviews closely, you probably know already that battery life isn't the strongest side of the new flagship lineup. Well, we are happy to report this observation does not apply to the Xiaomi 12X.
The 12X model, while sporting the same 6.26-inch high-end OLED screen and the same 4,500mAh battery as the Xiaomi 12, it runs on the more everything-efficient Snapdragon 870 5G chipset. And that's why the Xiaomi 12X aced our battery life test by scoring a total endurance rating of 105 hours.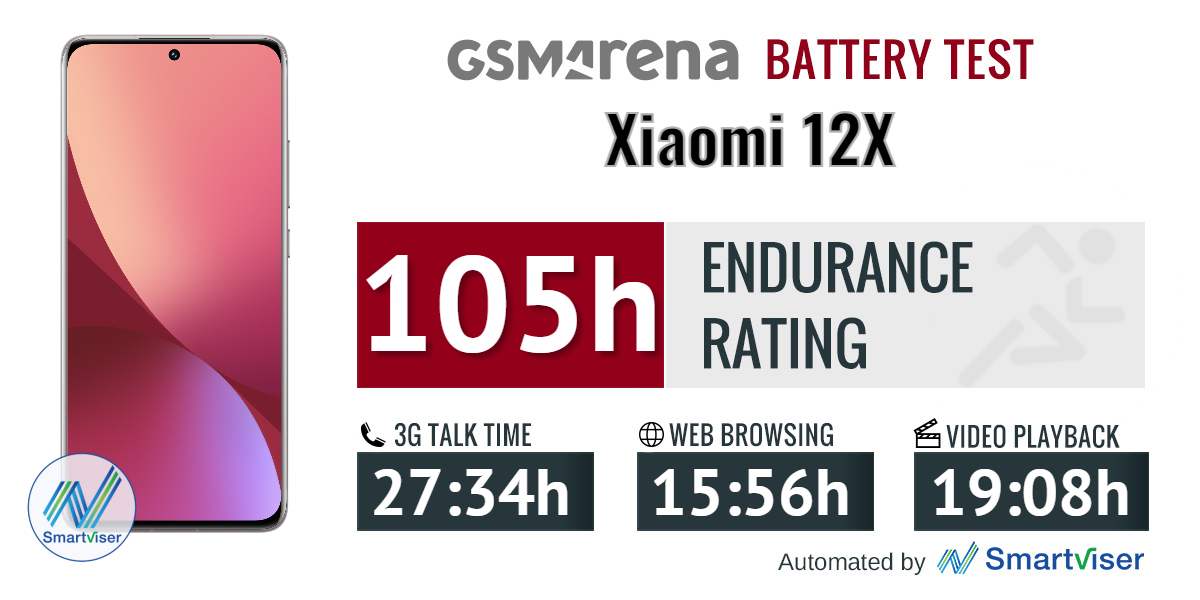 The 12X did better than the Xiaomi 12 and 12 Pro across all tests, including standby. In fact, it did a marvelous job on the onscreen tests and matched the Poco F3 in both.
Video test carried out in 60Hz refresh rate mode. Web browsing test done at the display's highest refresh rate whenever possible. Refer to the respective reviews for specifics. To adjust the endurance rating formula to match your own usage patterns check out our all-time battery test results chart where you can also find all phones we've tested.
Charging speed
The Xiaomi 12X, just like the most recent Xiaomi 12 and Redmi Note 11 Pro models, supports 67W fast wired charging. The phone ships bundled with the required 67W charger and 6A-rated cable.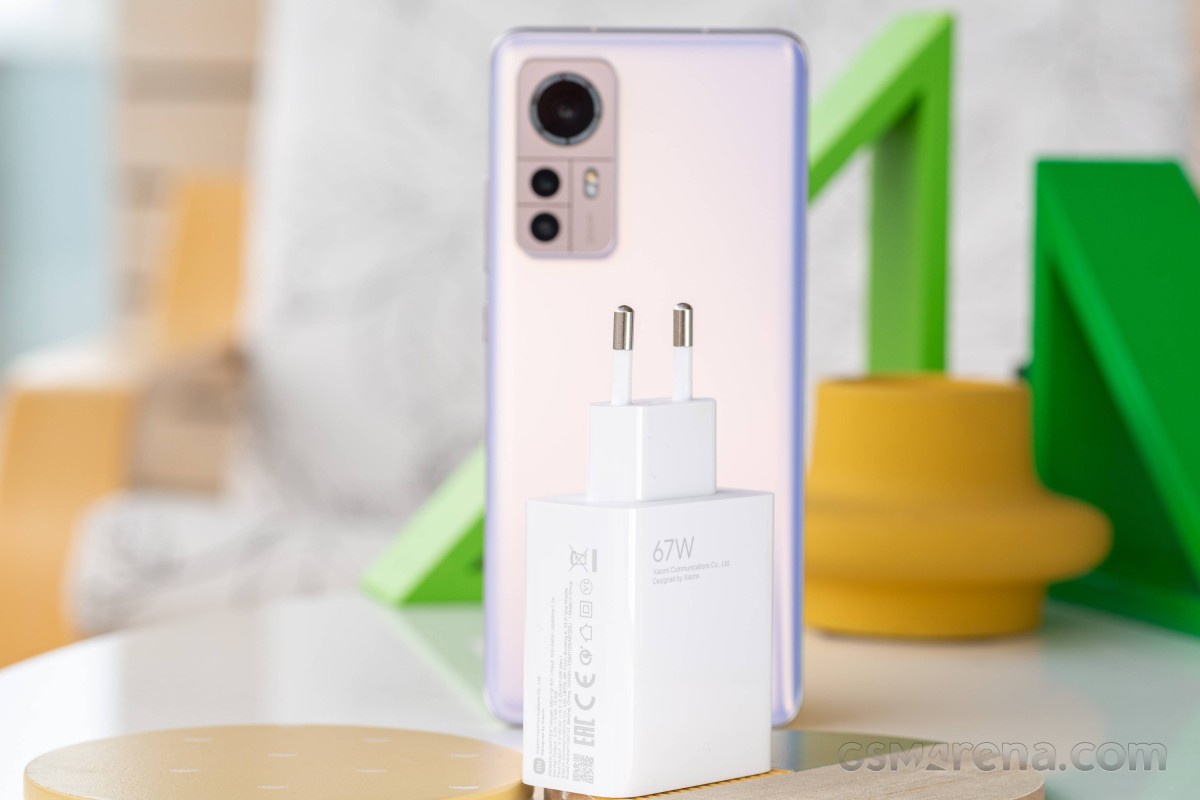 The 67W charger took the battery from 0% to 45% in 15 minutes and up to 78% in 30 minutes. And this, of course, is incredibly fast.
30min charging test (from 0%)
Higher is better
Xiaomi 12 Pro (120W)
100%
Realme GT2 Pro
91%
Xiaomi Mi 11 Ultra
89%
Xiaomi 12
87%
Xiaomi Mi 11
83%
Xiaomi 12X
78%
Poco F3
67%
Samsung Galaxy S22+ (45W)
64%
Samsung Galaxy S22+ (25W)
62%
Apple iPhone 13 mini
61%
Asus Zenfone 8
60%
Sony Xperia 5 III
49%
A full charge requires 48 minutes on the charger. That's nowhere near close to the 120W charging of the Xiaomi 12 Pro, but it's still an excellent result.
Time to full charge (from 0%)
Lower is better
Xiaomi 12 Pro (120W)
0:21h
Xiaomi Mi 11 Ultra
0:37h
Realme GT2 Pro
0:40h
Xiaomi 12
0:46h
Xiaomi 12X
0:48h
Xiaomi Mi 11
0:50h
Poco F3
0:56h
Samsung Galaxy S22+ (45W)
1:01h
Samsung Galaxy S22+ (25W)
1:02h
Apple iPhone 13 mini
1:24h
Asus Zenfone 8
1:28h
Sony Xperia 5 III
1:50h
Unlike the Xiaomi 12, the Xiaomi 12X does not support wireless charging. There is no option for reverse wired or wireless charging either.
Speaker quality
The Xiaomi 12X has two standalone speakers on its top and bottom sides, symmetrically placed under equally large grilles. The top speaker has another front-facing outlet as it also serves the purpose of an earpiece. When you are in a call, the directional sound is coming from the thin front hole, while for everything else, you can hear it from all three outings - top, front, bottom.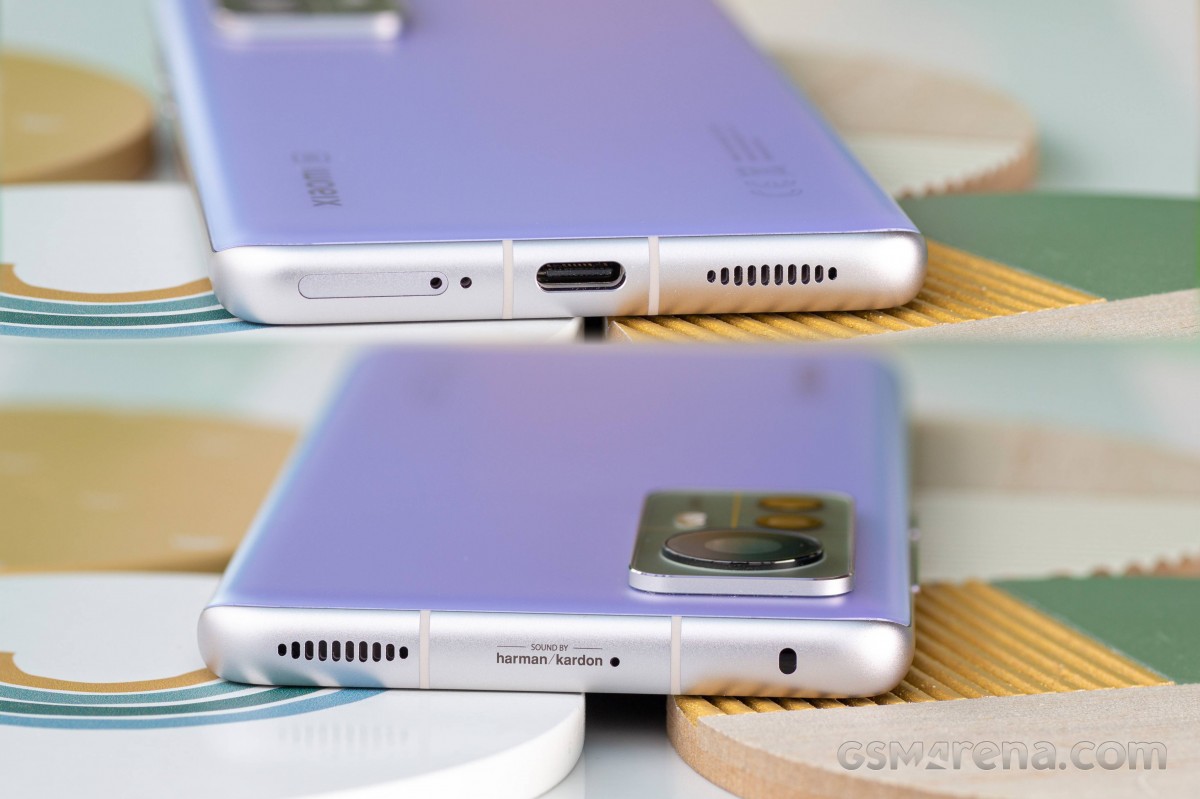 The speakers are incredibly balanced and sound excellent. The setup is tuned by Harman/Kardon, and you can even see the logo next to the top speaker. Oh, and there is Dolby Atmos support, which makes the audio sound deeper and somewhat richer.
So, the speakers scored a Very Good mark on our loudness test, matching the ones on the Xiaomi 12X. The sound quality is very good, as well. We can hear rich sound with good presentation across all frequencies - from bass, through voice and mid-tones, up to the crispy high notes.
Use the Playback controls to listen to the phone sample recordings (best use headphones). We measure the average loudness of the speakers in LUFS. A lower absolute value means a louder sound. A look at the frequency response chart will tell you how far off the ideal "0db" flat line is the reproduction of the bass, treble, and mid frequencies. You can add more phones to compare how they differ. The scores and ratings are not comparable with our older loudspeaker test. Learn more about how we test here.