Large Dolby Vision display
One of the most interesting features of the Xiaomi 11T Pro is its upgraded 6.67-inch AMOLED screen. It uses a flat panel with extended 1080p resolution, 10-bit color for more than 1 billion colors, and adaptive 120Hz refresh rate support. So far - it looks like the ones we've seen on plenty of Xiaomi phones.
The screen has a tiny punch-hole for the selfie camera and is covered with a Gorilla Glass Victus sheet.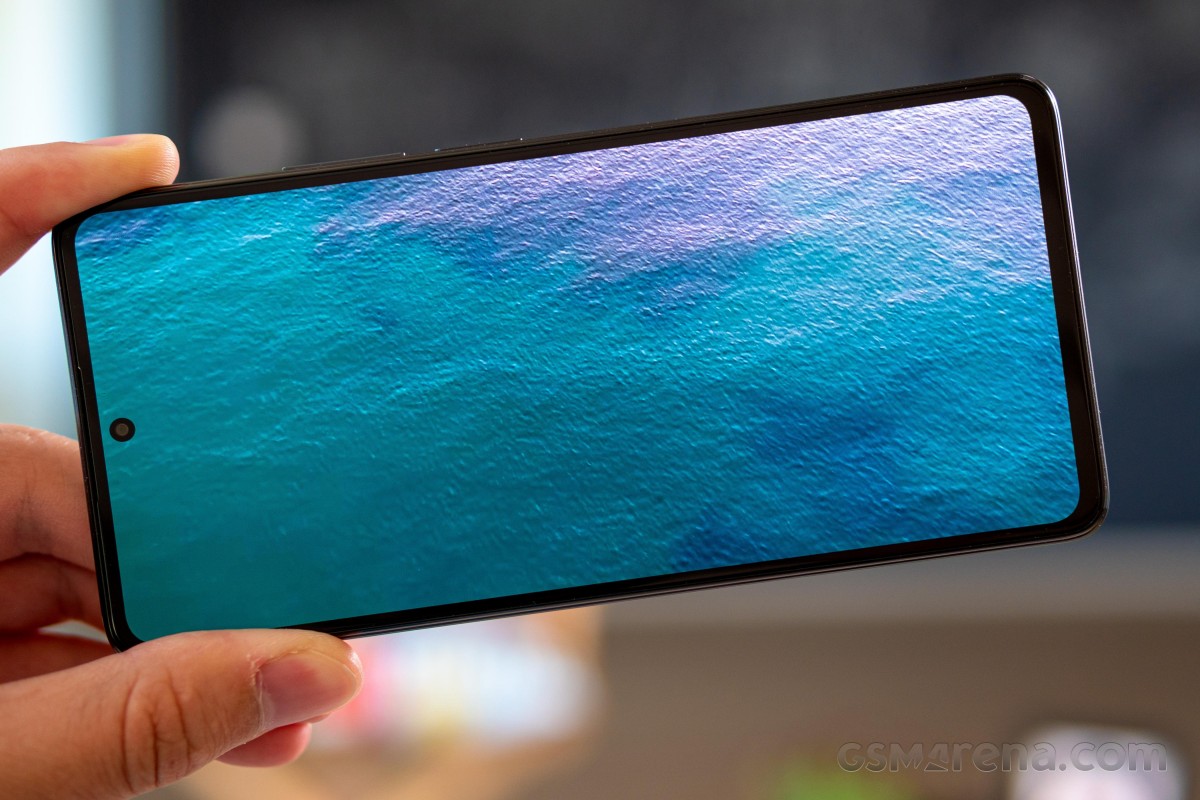 Finally, the touch sensors are working with an impressive 480Hz sampling rate, something many games will appreciate.
But there is more! In addition to HDR10 and HDR10+ support, the screen on the Xiaomi 11T Pro also supports Dolby Vision. That's something that was reserved only for the most expensive Xiaomi phones such as Mix 4 and 11 Ultra.
The 11T Pro offers Widevine L1 DRM, and all popular apps recognize its screen for what it is - a Full HD HDR10+/Dolby Vision-capable. Netflix and the likes stream in maximum quality, YouTube, too. We were happy that all certifications were sorted before the phone's launch, and you will be able to enjoy Dolby Vision content hassle-free.
Finally, let's mention how the refresh rate works. The screen supports 60Hz (static) and 120Hz (adaptive) refresh rates. The High 120Hz option works dynamically - in our experience, it can switch automatically between 60Hz, 90Hz and 120Hz depending on the content you are currently displaying.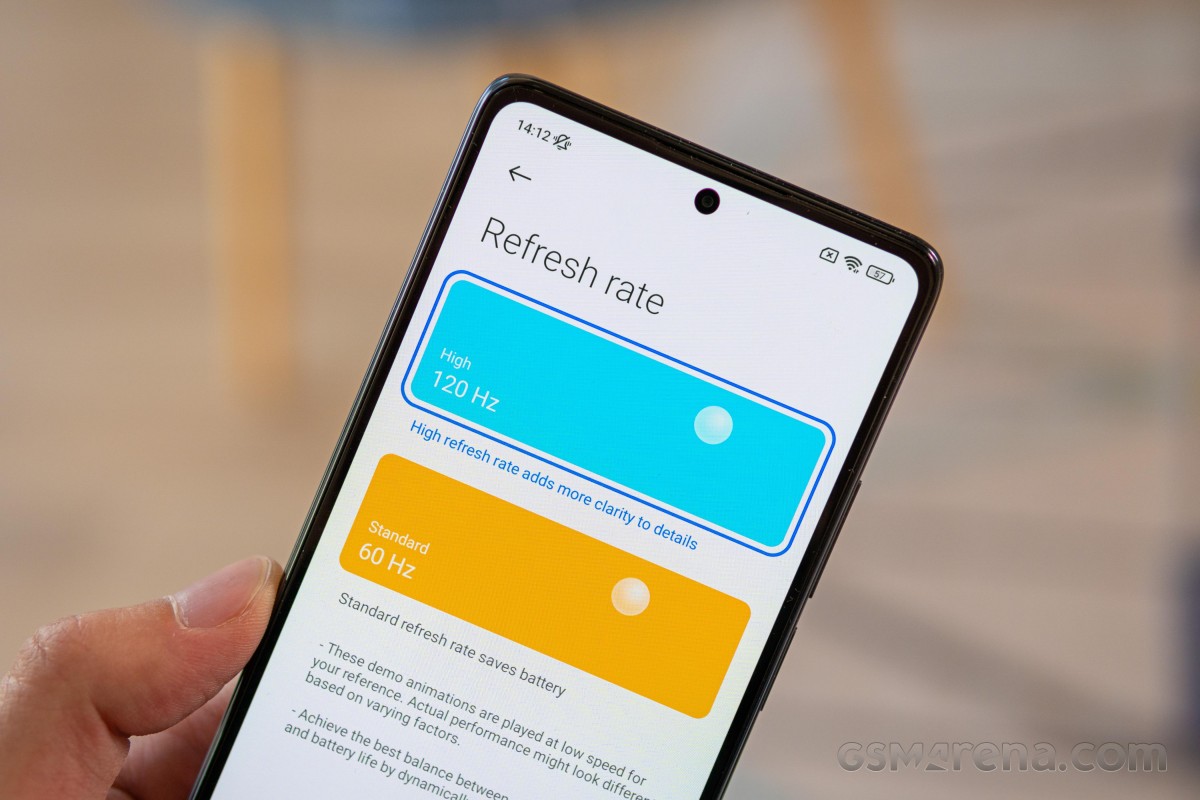 If you opt for the High 120Hz refresh rate, Xiaomi 11T Pro screen will always show at 120Hz throughout the UI and all system apps, but it will revert to 60Hz when the picture is static for battery-saving reasons - that's a typical behavior across most of the HRR phones out there. The screen is working at 120Hz for supported apps and games (like Dead Trigger 2), and 60Hz in Netflix, YouTube, Prime Video, the default Mi Video player, and some games.
Our display measurements show that the screen's maximum manual brightness is 516 nits - in line with most recent OLED panels. When set it to Auto Brightness or using Sunlight Boost for Manual Brightness, the screen will go as bright as 837 nits when faced with bright light. That's north of what Xiaomi has promised.
We measured the minimum brightness at point white, and it is just 2.4 nits, which is excellent.
Display test
100% brightness
Black,cd/m2
White,cd/m2
Contrast ratio
Xiaomi Mi 11T Pro
0
516
∞
Xiaomi Mi 11T Pro (Max Auto)
0
837
∞
Xiaomi Mi 11i
0
514
∞
Xiaomi Mi 11i (Max Auto)
0
939
∞
Xiaomi Mi 11
0
498
∞
Xiaomi Mi 11 (Max Auto)
0
926
∞
Samsung Galaxy S21 5G
0
416
∞
Samsung Galaxy S21 5G (Max Auto)
0
856
∞
Realme GT 5G
0
443
∞
Realme GT 5G (Max Auto)
0
650
∞
Realme GT Explorer Master
0
504
∞
Realme GT Explorer Master (Max Auto)
0
805
∞
Xiaomi Mi 10T Pro
0.432
512
1185:1
Xiaomi Mi 10T Pro (Max Auto)
0.541
630
1165:1
Asus Zenfone 8
0
440
∞
Asus Zenfone 8 (Max Auto)
0
800
∞
The Xiaomi 11T Pro offers three predefined Color presets - Vivid (previously known as Auto), Saturated, and Standard - each representing a specific color space. You can also enable Adaptive Colors - the same thing Apple calls True Tone - it adjusts the whitepoint depending on the ambient light.
The Vivid (Auto) option is tuned to reproduce DCI-P3 faithfully, and we found it to be indeed fairly accurate, sans the slightly bluish white and gray hues. Saturated makes for punchier colors on top of Auto. Standard should be accurate to sRGB, and indeed it is - we've captured an average deltaE of 1.3.
There are Advanced Settings, where you can choose between Original (identify and calibrate colors on the go), P3 (same accuracy to P3 as Auto - pretty good), and sRGB (perfect accuracy to sRGB).
The Advanced Settings also feature color, saturation, contrast and gamma sliders.
Last, we want to mention a bunch of available display enhancements. The Xiaomi 11T Pro offers AI Image Engine that can offer upscaling video resolution; SDR-to-HDR video upscaling; MEMC - motion interpolation from low frame rate footage to high frame rate, and finally, AI Image Enhancement for the photos in the gallery.
All these video enhancements draw additional power, and they won't do miracles. If your video is of bad quality, it will remain bad but may get a bit punchier. In our experience, these tweaks are rarely worth the extra processing power, but feel free to play with them and decide for yourself.
Battery life
The Xiaomi 11T Pro is powered by a large 5,000mAh battery - that's an upgrade over the Mi 11i's 4,520mAh and Mi 11's 4,600mAh cells.
The Xiaomi 11T Pro did well on our battery life test. It can do calls for almost a day, it can last more than 12 hours on 120Hz web browsing or north of 14 hours when watching videos (all video apps run at 60Hz). The standby performance is not that impressive, though, hence the sub-100h rating.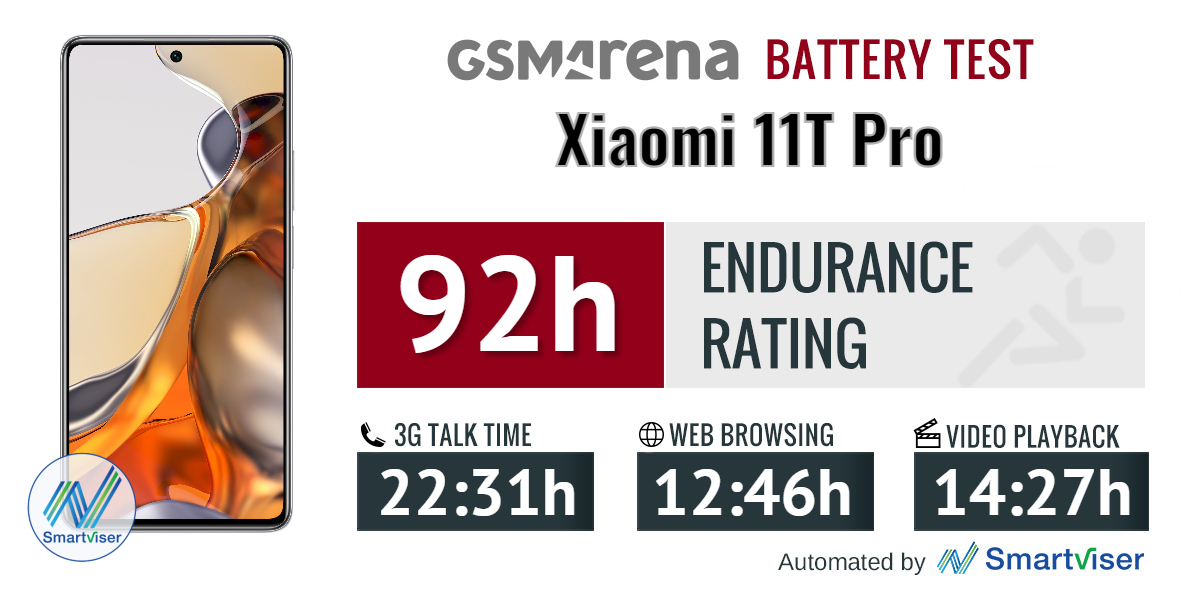 Our battery tests were automated thanks to SmartViser, using its viSerDevice app. The endurance rating denotes how long the battery charge will last you if you use the device for an hour of telephony, web browsing, and video playback daily. More details can be found here.
Video test carried out in 60Hz refresh rate mode. Web browsing test done at the display's highest refresh rate whenever possible. Refer to the respective reviews for specifics. To adjust the endurance rating formula to match your own usage - check out our all-time battery test results chart.
Charging speed
One of the most intriguing features of the Xiaomi 11T Pro is the 120W fast charging support. Xiaomi calls this HyperCharge, and the phone ships with a 120W power brick and a 6A-rated USB-C cable.
The 5,000mAh battery is split into two separate cells, and they recharge separately. This way, there is no chance for overheating; in fact - the charger is noticeably warmer than the phone.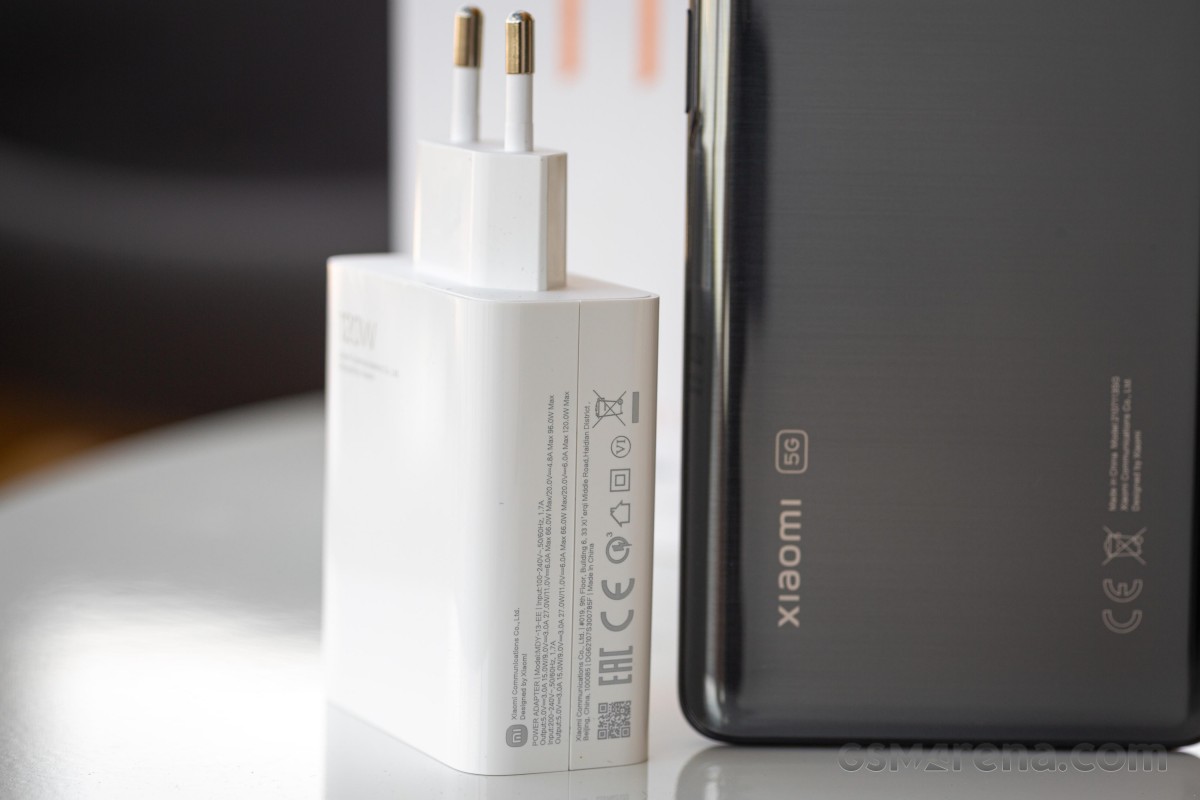 Xiaomi promises that a full charge takes only 17 minutes. Well, in our two separate tests, the 11T Pro and its supplied charger achieved a full charge in 21 minutes and 20mins and 30 seconds. It's not 17 minutes, but it is still incredibly fast for a 5000mAh battery.
Time to full charge (from 0%)
Lower is better
Xiaomi 11T Pro
0:21h
Realme GT Explorer Master
0:33h
Realme GT 5G (65W)
0:39h
Xiaomi Mi 11
0:50h
Xiaomi Mi 11i
0:52h
Xiaomi Mi 10T Pro
0:58h
Xiaomi Mi 11 Lite 5G
1:04h
Samsung Galaxy S21 5G (25W PD)
1:13h
Xiaomi Redmi Note 10 Pro
1:21h
Asus Zenfone 8
1:28h
Since we cannot give you a better idea with our traditional charts, we made this charging table for you. In just 5 minutes, the battery is already at 40%. Impressive!
Xiaomi 120W HyperCharge (5,000 mAh)
0 min
1%
5 min
40%
10 min
63%
15 min
85%
17 min
92%
20 min
99%
21 min
100%
Speakers
The Xiaomi 11T Pro offers two standalone speakers on its top and bottom sides behind two dedicated grilles. The top speaker also doubles as an earpiece, and that's why sound is coming from both the earpiece and the top grilles.
The two speakers seem loud enough with nicely balanced output. They are tuned by harman/kardon and support Dolby Atmos. The Xiaomi 11T Pro scored a Good mark on our loudness test, a hair shy of Very Good.
Dolby Atmos is turned on by default. It doesn't change the loudness, but it does help for a much better sound with more bass and mid-tones. Without Dolby Atmos, the audio is shallow, lacking in bass and mids. As you can hear, the speakers on the Xiaomi 11T Pro sound rich with noticeable bass and well-presented mid- and high-tones. So, yes, you should keep Dolby Atmos on, as it was intended.
Use the Playback controls to listen to the phone sample recordings (best use headphones). We measure the average loudness of the speakers in LUFS. A lower absolute value means a louder sound. A look at the frequency response chart will tell you how far off the ideal "0db" flat line is the reproduction of the bass, treble, and mid frequencies. You can add more phones to compare how they differ. The scores and ratings are not comparable with our older loudspeaker test. Learn more about how we test here.