Impressive 120Hz AMOLED
The vivo X60 Pro features a 6.56" FullHD display that has all kinds of good things going for it. It's an AMOLED, so you get the inky blacks, and it also supports 120Hz refresh rate and 240Hz touch sampling rate, so it's also plenty smooth.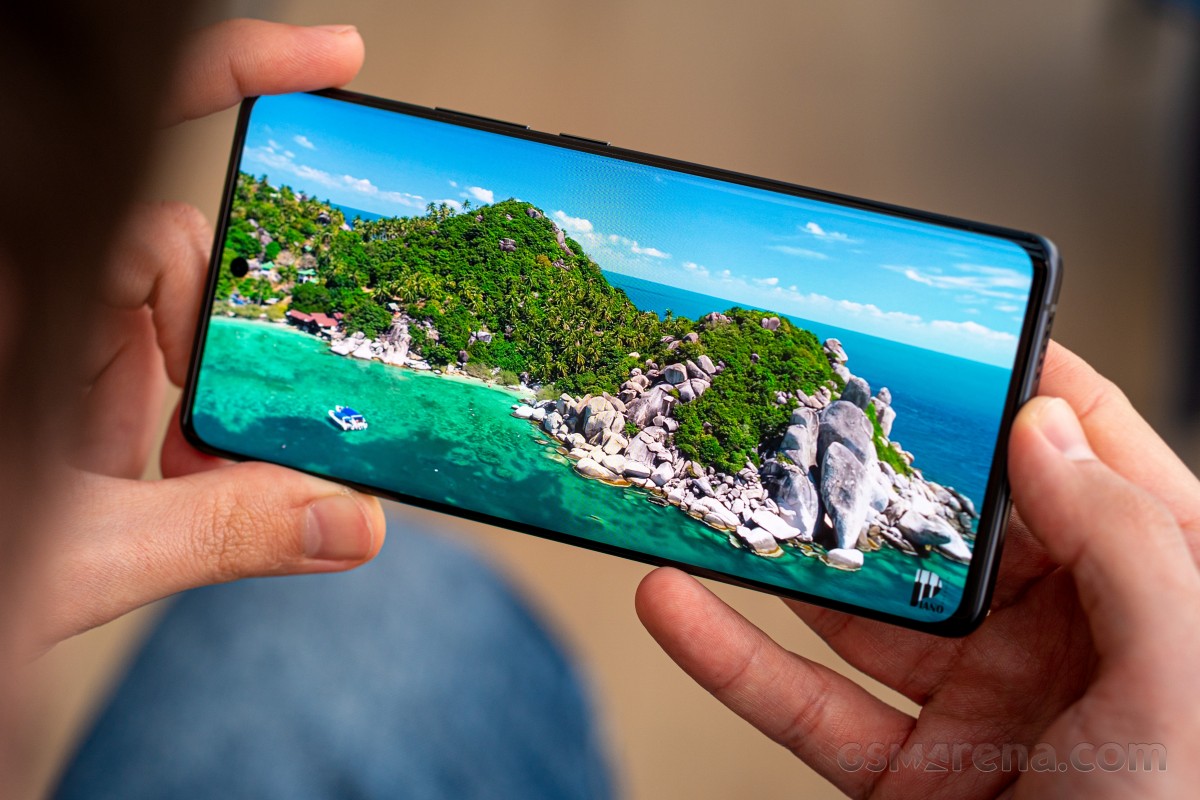 It's bright too - we measured 818nits under bright ambient conditions with the adaptive brightness enabled. In full manual operation, the number is 472nits, pretty high itself.
Display test
100% brightness
Black,cd/m2
White,cd/m2
Contrast ratio
vivo X60 Pro
0
472
∞
vivo X60 Pro (Max Auto)
0
818
∞
Samsung Galaxy S20+
0
379
∞
Samsung Galaxy S20+ (Max Auto)
0
797
∞
vivo X50 Pro
0
489
∞
vivo X50 Pro (Max Auto)
0
503
∞
vivo X50 Pro+
0
499
∞
vivo X50 Pro+ (Max Auto)
0
733
∞
Samsung Galaxy S20 FE
0
404
∞
Samsung Galaxy S20 FE (Max Auto)
0
823
∞
Oppo Reno4 Z 5G
0.31
398
1284:1
Samsung Galaxy S21 5G
0
416
∞
Samsung Galaxy S21 5G (Max Auto)
0
856
∞
Xiaomi Mi 11
0
498
∞
Xiaomi Mi 11 (Max Auto)
0
926
∞
Xiaomi Redmi Note 10 Pro
0
457
∞
Xiaomi Redmi Note 10 Pro (Max Auto)
0
725
∞
OnePlus 9
0
450
∞
OnePlus 9 (Max Auto)
0
821
∞
Samsung Galaxy A52
0
386
∞
Samsung Galaxy A52 (Max Auto)
0
794
∞
Realme 8 Pro
0
454
∞
Realme 8 Pro (Max Auto)
0
627
∞
Poco F3
0
511
∞
Poco F3 (Max Auto)
0
716
∞
Motorola Moto G100
0.349
498
1427:1
Motorola Moto G100 (Max Auto)
0.434
613
1412:1
And then, it's color accurate. Its Professional preset has already excellent sRGB reproduction, which gets essentially perfect with a small nudge of the color temperature slider to the right to negate the slightest of blue shifts. The out-of-the-box Standard preset has a strong blue cast, but that too is easily handled with a more drastic slider intervention, resulting in a very faithful reproduction of DCI-P3 content.
HDR10+ capability is also on the list of things the vivo X60 Pro's display can do, and we got HDR streams in both YouTube and Netflix, though Amazon Prime Video wasn't as cooperative.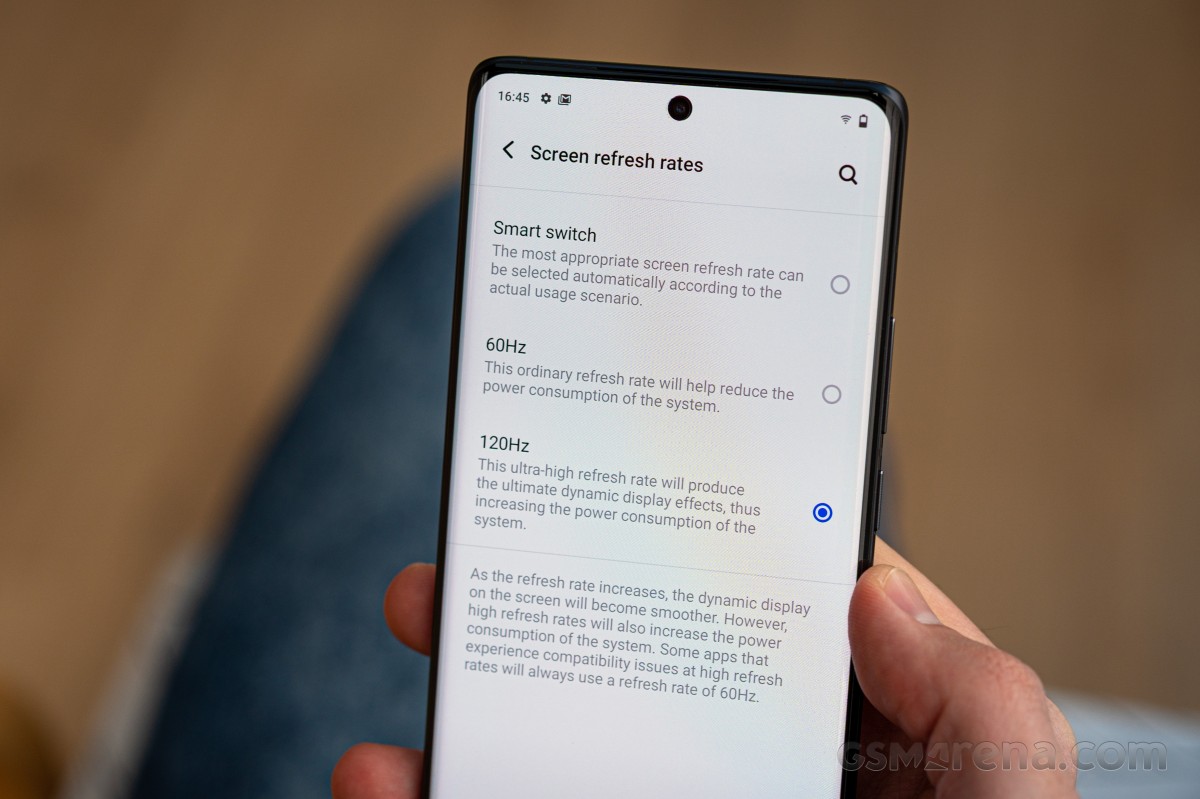 The X60 Pro handles refresh rate in a relatively conventional way - you get 60Hz, 120Hz and auto (Smart Switch) modes, with the auto being a simple 120-60 switch as opposed to the granular steps of recent flagship efforts.
In 120Hz mode, you'd be getting the full 120Hz pretty much constantly - the UI, browsers, social apps, the lot. The camera viewfinder and certain apps (Google Maps, for one) will still force a switch to 60Hz, however, as will all video playback apps when you go into fullscreen mode - when browsing the video app for content or playing in windowed mode, it'll still be in 120Hz.
The Smart Switch mode maintains 120Hz for UI only when you're touching the display, otherwise it drops to 60Hz, and that's the behavior in social apps. Oddly, in browsers, it will default to 60Hz as soon as you open the browser, with no spike to 120Hz when swiping around.
The 60Hz mode is, well, 60Hz for everything all the time.
vivo X60 Pro battery life
There's a 4,200mAh battery inside the vivo X60 Pro, a fairly small capacity in a day when 5,000mAh seems to be the default number, and competitors start at 4,500mAh. In fact, the X60 Pro's capacity is a downgrade compared to the predecessor's 4,315mAh. While that's nominally an insignificant 3% difference, 1) batteries should be growing, not shrinking, and 2) the new model comes with a more powerful and more power-hungry high-end chipset (SD870 vs. SD765).
All that should serve as a preamble to the somewhat unimpressive battery endurance we measured on the X60 Pro. That is to say, outside of video playback, as when dedicated to video playback - a single charge is good for 20 hours straight. For fullscreen video playback, it switches to a 60Hz refresh rate regardless of app, so that's the only result we have, and it's a mighty great one.
Not so in web browsing. We got half the video playback result - 10 hours with the phone locked at 120Hz. Switching to 60Hz, we got an extra hour (11:07h). Since the Smart Switch mode for display refresh rate will switch to 60Hz when you're browsing, you can expect to land in between 10 and 11 hours. It's not a huge window, in any case.
Voice call longevity was on the lower side of average at 21:24h, and the standby draw was pretty high as well. Ultimately, the vivo X60 Pro's Endurance rating stands at 77h.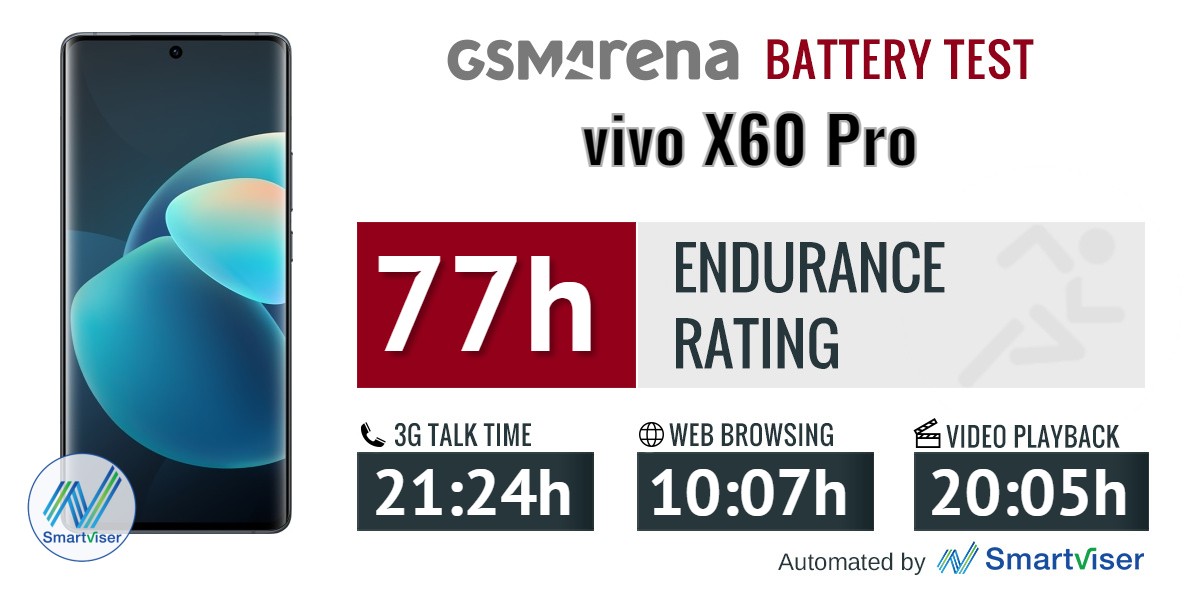 Our battery tests were automated thanks to SmartViser, using its viSerDevice app. The endurance rating denotes how long the battery charge will last you if you use the device for an hour of telephony, web browsing, and video playback daily. More details can be found here.
All test results shown are achieved under the highest screen refresh rate mode. You can adjust the endurance rating formula manually so it matches better your own usage in our all-time battery test results chart where you can also find all phones we've tested.
Charging speed
The vivo X60 Pro ships with a proprietary 33W charger branded FlashCharge 2.0 - compare to the 55W Super FlashCharge 2.0 unit of the Pro+. Using this bundled adapter, we clocked 56 minutes from flat to full, with 69% showing in the battery indicator at the half-hour mark.
The charging speed is very good, but there are faster options available. Plus, the X60 Pro has one of the smallest batteries around. Having said that, there's a tangible generational improvement, which we do appreciate.
30min charging test (from 0%)
OnePlus 9
100%
Oppo Find X3 Pro
100%
Oppo Reno4 Pro 5G
97%
Realme 8 Pro
88%
Xiaomi Mi 11
83%
vivo X60 Pro
69%
Poco F3
67%
Galaxy S20+
62%
vivo X50 Pro+
60%
Galaxy S20 FE (25W)
57%
Asus Zenfone 7 Pro
56%
vivo X50 Pro
55%
Galaxy S21+ 5G
54%
Xiaomi Redmi Note 10 Pro
50%
Motorola Moto G100
37%
Galaxy S20 FE (15W bundled)
37%
Time to full charge (from 0%)
Oppo Find X3 Pro
0:28h
OnePlus 9
0:29h
Oppo Reno4 Pro 5G
0:32h
Realme 8 Pro
0:38h
Xiaomi Mi 11
0:50h
vivo X60 Pro
0:56h
Poco F3
0:56h
Galaxy S20+
0:57h
Galaxy S20 FE (25W)
1:10h
vivo X60 Pro
1:10h
vivo X50 Pro+
1:11h
Galaxy S21+ 5G
1:12h
Xiaomi Redmi Note 10 Pro
1:21h
Asus Zenfone 7 Pro
1:32h
Galaxy S20 FE (15W bundled)
1:35h
Motorola Moto G100
1:54h
Speaker test
Much like all other vivos (but one), the X60 Pro relies on a single speaker to do its sound output - a bottom-firing one. Stereo speakers are fairly common at this asking price, so the X60 Pro is somewhat at a disadvantage here.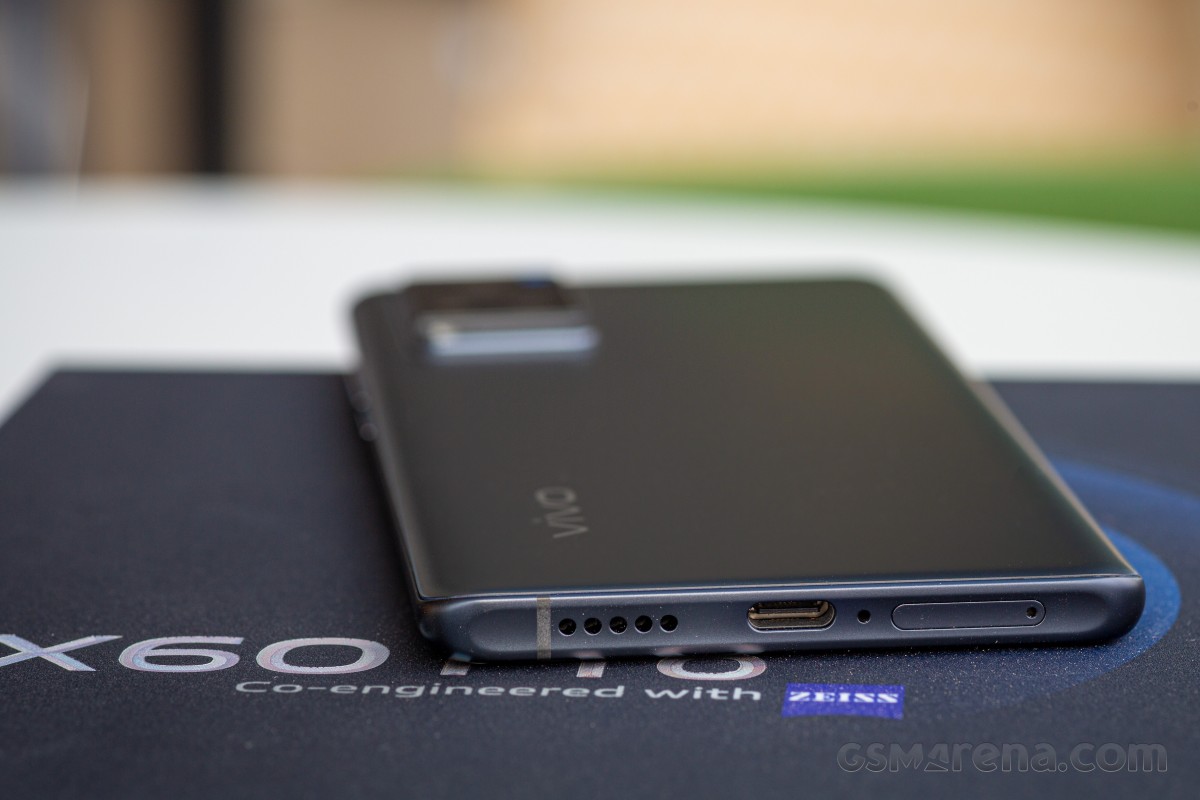 It's not bad in terms of loudness - quite the opposite. The X60 Pro ranked in the 'Very Good' category in terms of sheer volume in our test, about on par with potential competitors. Its sound quality can hardly be described that way, however, with clunky mids and nearly non-existent bass and treble.
Use the Playback controls to listen to the phone sample recordings (best use headphones). We measure the average loudness of the speakers in LUFS. A lower absolute value means a louder sound. A look at the frequency response chart will tell you how far off the ideal "0db" flat line is the reproduction of the bass, treble, and mid frequencies. You can add more phones to compare how they differ. The scores and ratings are not comparable with our older loudspeaker test. Learn more about how we test here.