Display
The vivo V27 Pro employs a 6.78-inch AMOLED with an extended 1080p resolution, 120Hz refresh rate, and HDR10+ support. The panel has a small perforation and is protected by a slightly curved glass.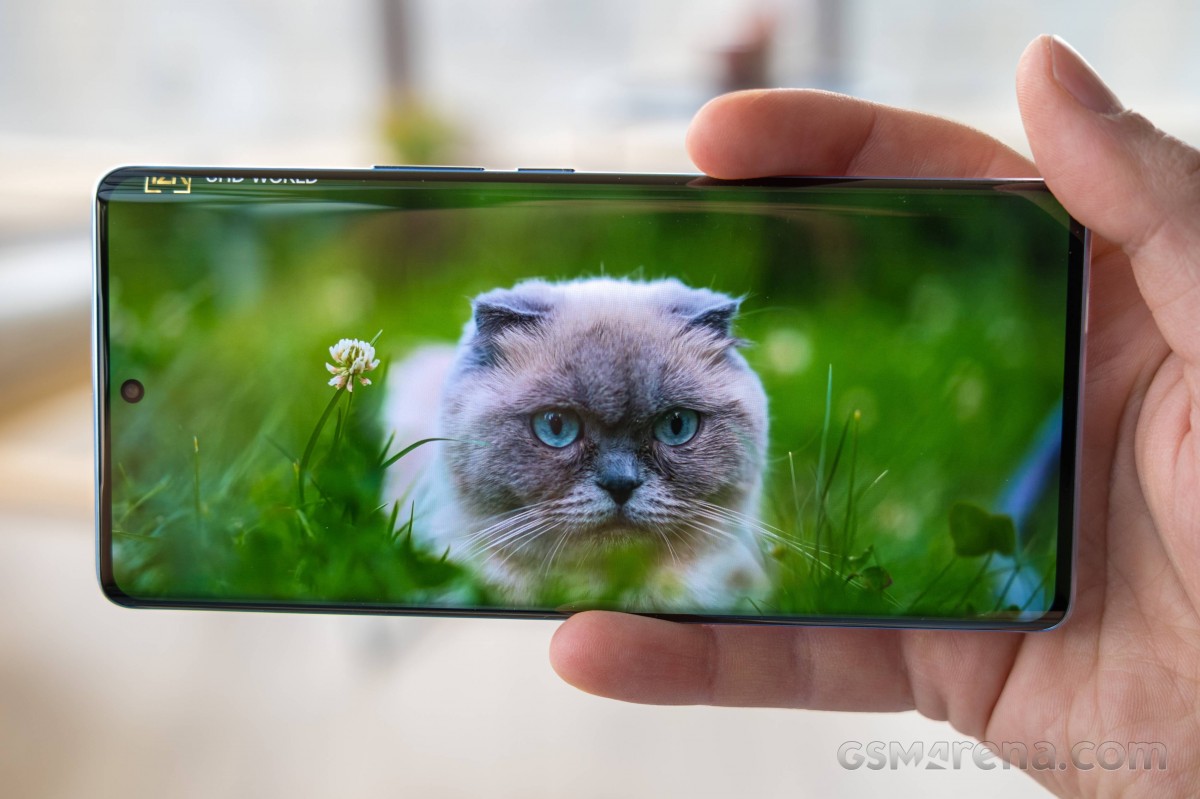 The exact resolution of the panel is 1,080 x 2,400 pixels or 388ppi, the color depth is 8-bit for over 16million colors and there is wide-color support.
The maker hasn't shared any official brightness numbers. We've completed our display test and the maximum brightness we measured when using manual adjustments was about 480 nits. That is in line with the V25 Pro and V23 Pro displays.
The screen can be brighter, of course, when the Auto Brightness is on and faced with a bright light. This way we measured 978 nits (tested again on April 19, 2023), which is an excellent improvement.
The minimum brightness at point white was 2 nits.
Display test
100% brightness
Black,cd/m2
White,cd/m2
Contrast ratio
vivo V27 Pro
0
479
∞
vivo V27 Pro (Max Auto)
0
978
∞
vivo V25 Pro
0
500
∞
vivo V25 Pro (Max Auto)
0
805
∞
vivo V23 Pro
0
463
∞
vivo V23 Pro (Max Auto)
0
798
∞
OnePlus Nord 2T
0
449
∞
OnePlus Nord 2T (Max Auto)
0
636
∞
Xiaomi 13 Lite
0
512
∞
Xiaomi 13 Lite (Max Auto)
0
938
∞
Google Pixel 6a
0
505
∞
Google Pixel 6a (Max Auto)
0
876
∞
Poco F4
0
530
∞
Poco F4 (Max Auto)
0
1003
∞
Poco X4 GT
0.395
470
1190:1
Poco X4 GT (Max Auto)
0.496
600
1210:1
Samsung Galaxy A53 5G
0
427
∞
Samsung Galaxy A53 5G (Max Auto)
0
830
∞
Realme 10 Pro+
0
484
∞
Realme 10 Pro+ (Max Auto)
0
809
∞
Color accuracy
There are three color options in Display Settings - Standard (default), Pro, and Bright. You can further tweak the color temperature in each of these modes.
The Standard and Bright correspond to DCI-P3 color gamut, while Pro should be sRGB accurate.
The default Standard mode offers very good color accuracy except for the slightly bluish white and gray hues. The same also applies to the Bright mode, but some of the base color also exhibit a slight saturation boost. If you fancy better accuracy, you can do that by choosing about 50% warmer position from the color temperature slider.
Finally, the Pro mode offers outstanding accuracy to sRGB targets.
Refresh rate
The vivo V27 Pro screen offers 120Hz refresh rate. Hardware scanning apps detect support for three fixed steps - 60Hz, 90Hz, and 120Hz - but we couldn't make the screen use 90Hz option no matter what we tried.
The vivo V27 Pro offers three refresh rate modes, similar to what we've seen on most of the modern phones - 60Hz, 120Hz, and Smart Switch.
The 60Hz option is straightforward - the phone always uses 60Hz refresh rate and all apps are capped at 60fps.
The Smart Switch and 120Hz modes work in a similar way - they use the maximum 120Hz across the user interface and some supported apps, and switch to 60Hz for static picture, video playback (but not video UI) and incompatible apps like Google Maps and Camera app. Both modes allow for HFR gaming, too, if supported.
The Smart Switch setting is a bit more restrictive - it analyzes the app, and then decides if it's worth using 120Hz or not. We found that web browsers, video streaming apps like Netflix, office apps, among others are limited to 60Hz. In fact, half of the apps we tried were limited to 60Hz.
HDR and streaming
The vivo V27 Pro comes with an HDR10+ certified display and Widevine L1 DRM support. It is recognized as HDR10-capable by YouTube, but Netflix serves 1080p SD content and detects no HDR support.
Visual enhancements
There is one display enhancement option for the vivo V27 Pro screen, and it's called Visual Enhancement. It optimizes the colors and contrast in compatible video streaming apps for a "more vivid picture". Once enabled in settings, you can select the apps where you want this to work - such as YouTube and Netflix.
Battery life
The vivo V27 Pro is powered by a 4,600 mAh battery, which is slightly lower capacity than V25 Pro's 4,800 cell despite the larger body. There is support for 66W fast wired charging.
We've completed our battery life test and the times are quite impressive. The vivo V27 Pro scored an outstanding endurance rating of 121 hours. It did great on all tests - calls, web browsing, and video playback.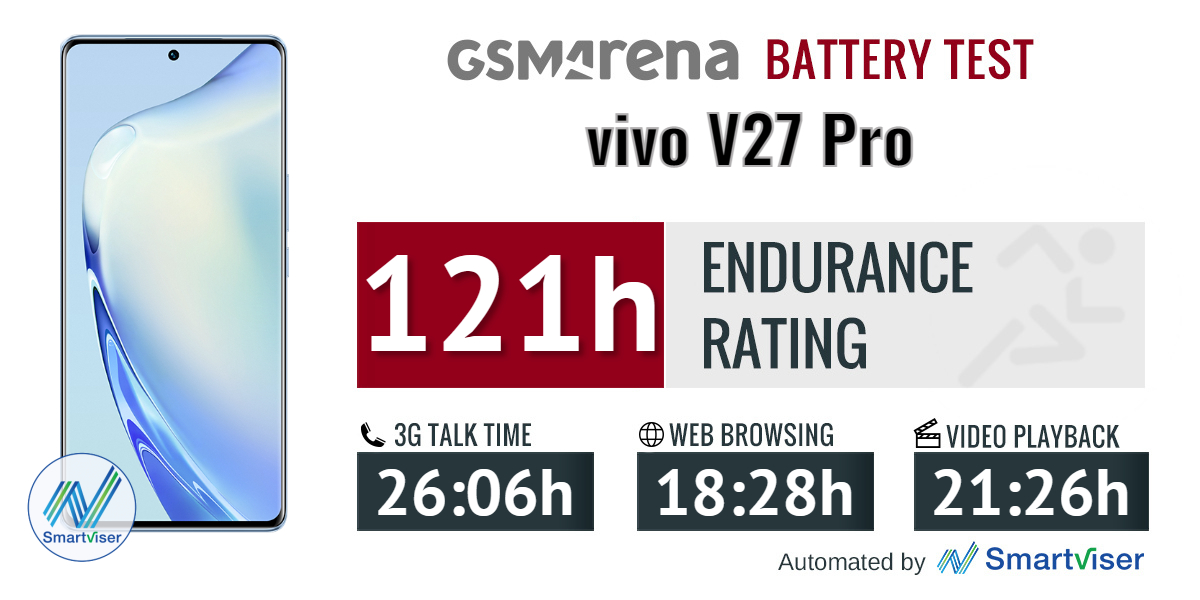 Our battery tests were automated thanks to SmartViser, using its viSerDevice app. The endurance rating denotes how long the battery charge will last you if you use the device for an hour of telephony, web browsing, and video playback daily. More details can be found here.
The V27 Pro also demonstrated a greatly improved standby performance over the V25 Pro and V23 Pro - about 360h, up from about 260h on the previous models.
Video test carried out in 60Hz refresh rate mode. Web browsing test is done at the display's highest refresh rate whenever possible. Refer to the respective reviews for specifics. To adjust the endurance rating formula to match your own usage patterns, check out our all-time battery test results chart, where you can also find all phones we've tested.
Charging speed
The vivo V27 Pro supports 66W FlashCharge, but it ships with an even more capable 80W FlashCharger with an 8A-rated USB cable - the same you would get with a flagship like the vivo X90 Pro.
Despite the more powerful power adapter, the vivo V27 Pro won't use more than 66W, as expected.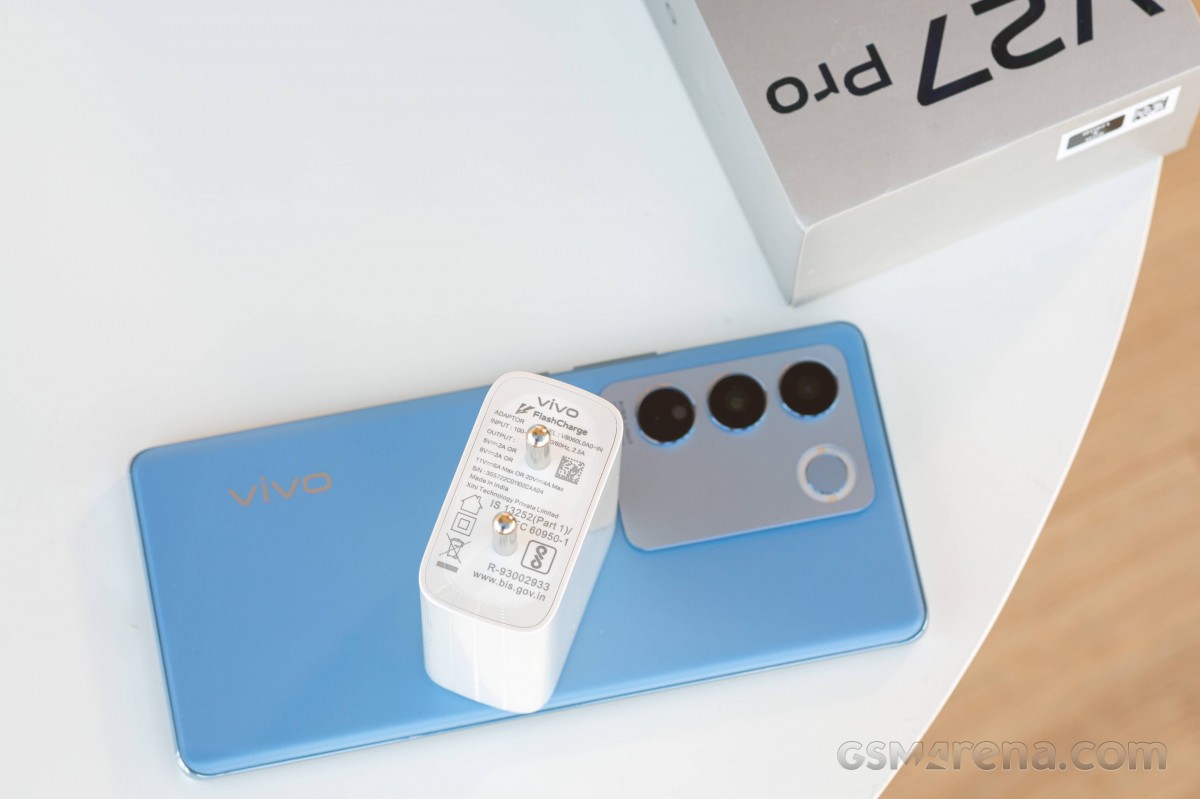 The supplied adapter replenished 42% of the vivo V27 Pro battery in just 15 minutes. Another 15 minutes on that charger and we were up to 71% of charge.
15min/30min charging test (from 0%)
Higher is better
Sort by
Name
15 min time
30 min time
vivo X90 Pro

100%

79%

Poco F4

92%

60%

Realme 10 Pro+

86%

53%

Xiaomi 13 Lite

83%

46%

vivo V27 Pro

71%

42%

vivo V25 Pro

57%

33%

Samsung Galaxy S23

57%

30%

Realme 10 Pro

54%

29%

vivo V25

53%

28%
* Tap/hover over the device names for more info
% charge in 15 minutes % charge in 30 minutes
A full charge took 51 minutes, an excellent time, especially for a non-flagship smartphone.
Time to full charge (from 0%)
Lower is better
| | |
| --- | --- |
| vivo X90 Pro | 0:24h |
| Poco F4 | 0:38h |
| Realme 10 Pro+ | 0:41h |
| Xiaomi 13 Lite | 0:42h |
| vivo V27 Pro | 0:51h |
| vivo V25 Pro | 1:07h |
| vivo V25 | 1:11h |
| Realme 10 Pro | 1:12h |
| Samsung Galaxy S23 | 1:16h |
* Tap/hover over the device names for more info
There is no wireless charging support on the vivo V27 Pro.
Speaker loudness and quality
The vivo V27 Pro has one speaker and it's placed at the bottom of the phone.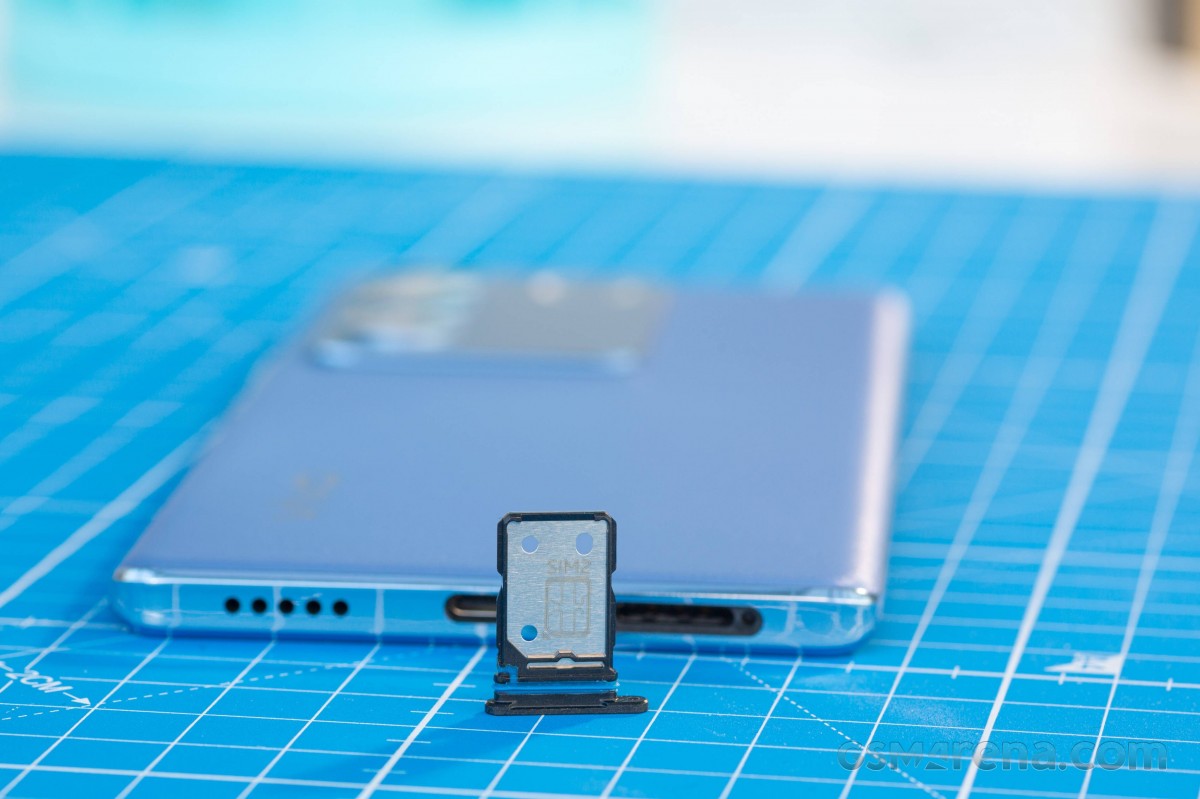 The V27 Pro scored an Average mark on our loudness test. And we would describe the sound quality is average, too - the vocals are good, but the bass and high frequencies are rather poor.
Use the Playback controls to listen to the phone sample recordings (best use headphones). We measure the average loudness of the speakers in LUFS. A lower absolute value means a louder sound. A look at the frequency response chart will tell you how far off the ideal "0db" flat line is the reproduction of the bass, treble, and mid frequencies. You can add more phones to compare how they differ. The scores and ratings are not comparable with our older loudspeaker test. Learn more about how we test here.