Display
As already mentioned, Sony has opted for a more traditional panel on the Z5. FullHD might be a letdown for some, but, then again, there's the Z5 Premium to fill that niche and add some. In reality, 1080 x 1920 pixels are perfectly adequate, especially on a 5.2-inch screen and with 428 ppi, the phone is definitely not suffering from any shortage of pixels.
Other than that, the panel itself is of the typical for Sony IPS LCD variety, but that is not necessarily a bad thing, especially considering the improved tech, reportedly put inside - things such as Mobile BRAVIA Engine 2, Triluminos technology and X-Reality engine for mobile come to mind (and being able to quote those on the top of our heads can't be a healthy thing for sure).
All this amounts to nice and sharp images on the Z5 and the 1080p resolution also brings the added bonus of less stain on the GPU and consequently, less heat and a longer battery life, at least in theory, that is.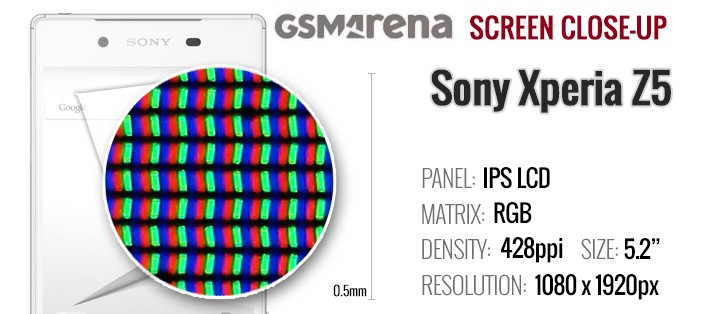 The Sony Xperia Z5 screen has an above average maximum brightness (583nits) and it can go even slightly higher in bright sunlight when in Auto mode (603nits). Unfortunately, these levels are a far cry from the ones achieved by the Xperia Z5 Compact and most importantly, the Xperia Z3+.
On a more positive note though, the blacks on this year's Sony flagship are deeper than on any of the predecessors. The reason for that most probably being the newly added Contrast filter between the backlight and LCD panel.
Unfortunately, these weren't enough to produce anything more than average contrast ratio (986:1), especially when compared to the Xperia Z3+ (1158).
Display test
50% brightness
100% brightness
Black, cd/m2
White, cd/m2
Contrast ratio
Black, cd/m2
White, cd/m2
Contrast ratio
Sony Xperia Z5 compact
0.10
106
1060
0.65
680
1053
Sony Xperia Z5
0.10
90
900
0.59
583
986
Sony Xperia Z3+
-
-
-
0.68
789
1158
Apple iPhone 6
0.17
207
1230
0.61
740
1213
Apple iPhone 6 Plus
0.17
208
1197
0.52
705
1361
Samsung Galaxy S6
0
208
∞
0
363
∞
Samsung Galaxy S6 max auto
-
-
∞
0
619
∞
Samsung Galaxy S6 edge
0
208
∞
0
313
∞
Samsung Galaxy S6 edge max auto
-
-
∞
0
601
∞
LG G4
0.09
108
1240
0.43
532
1238
Samsung Galaxy Note 4
0.00
291
∞
0.00
399
∞
Motorola Nexus 6
0.00
149
∞
0.00
372
∞
HTC One M9
0.15
175
1180
0.44
534
1221
OnePlus Two
0.16
180
1139
0.30
399
1334
Asus Zenfone 2 ZE551ML
0.13
107
796
0.44
390
879
Huawei Honor 7
0.07
89
1372
0.32
450
1398
Sony Xperia M5
0.08
110
1392
0.63
527
839
Meizu MX5
0.00
117
∞
0
346.00
∞
ZTE Nubia Z9
0.29
258
893
0.49
440
898
In terms of sunlight legibility, the Z5 is pretty comparable to its little brother. Both get decent scores, but there is still a lot of room for improvement left.
Sunlight contrast ratio
Nokia 808 PureView
4.698
Samsung Galaxy S6 edge+
4.615
Samsung Galaxy E7
4.485
Samsung Galaxy A3
4.241
Samsung Galaxy S6
4.124
Samsung Galaxy S6 edge
4.124
Samsung Galaxy Note5
4.09
Samsung Galaxy Note 4
4.033
Apple iPhone 5
3.997
Samsung Galaxy Note 3
3.997
Samsung Galaxy A5
3.895
Samsung Galaxy J7 outdoor
3.879
Samsung Galaxy A8
3.859
Apple iPhone 6
3.838
Motorola Moto X (2014)
3.816
Samsung Galaxy Note Edge
3.799
Apple iPhone 6s
3.783
Vivo X5Pro
3.706
Samsung Galaxy A7
3.679
Oppo R5
3.678
Samsung Galaxy K zoom
3.675
Nokia Lumia 930
3.567
Apple iPhone 5s
3.565
Samsung Galaxy S5
3.549
Nokia Lumia 735
3.547
Motorola Nexus 6
3.543
Apple iPhone 6s Plus
3.53
Alcatel Idol X+
3.527
Apple iPhone 5c
3.512
Samsung Galaxy Alpha
3.509
Oppo R7 Plus
3.499
Samsung Galaxy Note 3 Neo
3.487
vivo X5Max
3.472
LG G Flex2
3.465
YotaPhone 2
3.453
Samsung Galaxy J7
3.422
Motorola RAZR MAXX
3.42
Samsung I9300 Galaxy S III
3.419
Meizu MX5
3.416
Samsung Galaxy S5 Active
3.406
Nokia Lumia 925
3.402
Gionee Elife S5.5
3.386
Samsung I9505 Galaxy S4
3.352
Oppo R7
3.32
Samsung Omnia W
3.301
Motorola Moto X Play
3.222
Samsung Galaxy S5 mini
3.174
Samsung I9000 Galaxy S
3.155
Samsung Ativ S
3.129
Samsung I9190 Galaxy S4 mini
3.127
Samsung Galaxy S4 zoom
3.118
Nokia N9
3.069
Microsoft Lumia 640 XL
3.065
Apple iPhone 6 Plus
3.023
Samsung Galaxy Note
2.97
Samsung Galaxy Premier
2.958
Sony Xperia Z1
2.95
HTC One S
2.901
Lenovo S90 Sisley
2.892
Sony Xperia Z5
2.876
Samsung I8730 Galaxy Express
2.861
BlackBerry Q10
2.856
Samsung I9100 Galaxy S II
2.832
Sony Xperia Z3+
2.824
HTC Desire Eye
2.815
Gionee Elife S5.1
2.812
Samsung Galaxy S II Plus
2.801
BlackBerry Z30
2.79
Sony Xperia Z5 compact
2.784
Meizu MX4 Pro
2.765
Sony Xperia M5
2.69
Sony Xperia ZR
2.672
Huawei Ascend P1
2.655
Xiaomi Mi 4i
2.641
Sony Xperia Z3
2.618
Sony Xperia Z3 Compact
2.616
Sony Xperia T3
2.609
BlackBerry Passport
2.595
Microsoft Lumia 640
2.563
Nokia Lumia 900
2.562
Motorola Moto G 4G
2.546
HTC One Max
2.537
Nokia Lumia 720
2.512
HTC One
2.504
Sony Xperia M4 Aqua
2.503
Motorola Moto G
2.477
vivo Xshot
2.465
Sony Xperia Z
2.462
Xiaomi Mi 4
2.424
Samsung Galaxy S III mini
2.422
Lenovo Vibe Z2 Pro
2.416
LG G Flex
2.407
Huawei Honor 7
2.406
ZUK Z1 by Lenovo
2.382
HTC Desire 820
2.372
HTC One (M8)
2.371
Motorola RAZR i
2.366
Meizu MX4
2.366
Meizu m1 note
2.362
Sony Xperia ZL
2.352
HTC One M9
2.334
LG G4
2.317
Samsung Galaxy Note II
2.307
HTC One E9+
2.305
HTC One (M8) for Windows
2.291
Oppo R1x
2.281
Oppo Find 7a
2.279
Alcatel One Touch Hero
2.272
Apple iPhone 4S
2.269
HTC Desire 600 dual sim
2.262
Sony Xperia C5 Ultra
2.253
Nokia Asha 311
2.25
Sony Xperia C4 Dual
2.235
Xiaomi Mi Note
2.234
Motorola Moto G (2014)
2.233
LG Nexus 5
2.228
Huawei P8
2.196
Nokia Lumia 820
2.193
HTC One (E8)
2.185
Oppo N3
2.181
Nokia Lumia 920
2.17
Huawei Honor 6
2.169
Xiaomi Redmi Note 2
2.166
OnePlus Two
2.165
HTC One X
2.158
Asus Zenfone 2 ZE551ML
2.149
LG Aka
2.145
Nokia N8
2.144
Nokia Lumia 620
2.142
Archos 50 Diamond
2.134
Nokia 515
2.134
HTC Desire 500
2.129
Sony Xperia C3 Dual
2.12
Xiaomi Redmi Note
2.119
Sony Xperia acro S
2.119
Nokia Lumia 1020
2.103
Oppo Find 5
2.088
Huawei P8lite
2.078
Sony Xperia SL
2.078
Nokia Lumia 630
2.056
BlackBerry Z10
2.051
Moto G 3rd gen max manual
2.026
Huawei Ascend Mate7
2.024
Samsung I9295 Galaxy S4 Active
2.022
Apple iPhone 4
2.016
HTC One mini
2.003
Xiaomi Mi 3
2.001
Huawei Ascend P7
1.992
LG G2
1.976
Sony Xperia E4g
1.972
OnePlus One
1.961
Oppo R819
1.957
Sony Ericsson Xperia ray
1.955
Lenovo Vibe X2
1.952
Sony Xperia Z2
1.944
Sony Xperia E3
1.943
Nokia Lumia 1320
1.941
HTC One mini 2
1.94
Samsung Galaxy Camera
1.938
Samsung Galaxy Grand Prime
1.935
Sony Xperia J
1.932
Acer CloudMobile S500
1.931
ZTE Blade S6
1.927
LG Nexus 4
1.926
LG G Pro 2
1.922
Samsung Galaxy Mega 6.3
1.913
Nokia Asha 308
1.911
HTC Butterfly 2
1.905
Sony Xperia T
1.894
Meizu m2 note
1.892
BlackBerry Leap
1.892
Nokia Lumia 830
1.887
HTC Desire X
1.878
HTC Windows Phone 8X
1.873
HTC Butterfly
1.873
HTC Butterfly S
1.867
Huawei Ascend P6
1.865
Huawei Ascend Mate
1.845
LG G2 mini
1.838
LG G3
1.82
Nokia Lumia 1520
1.813
HTC Desire 616 dual sim
1.797
Sony Xperia V
1.792
HTC Desire 816
1.783
Sony Xperia Z1 Compact
1.772
HTC Desire 700 dual sim
1.769
ZTE Nubia Z9 mini
1.759
Sony Xperia U
1.758
Meizu MX3
1.754
LG Optimus G
1.753
Sony Xperia T2 Ultra
1.74
Sony Xperia Z3 Tablet Compact
1.735
Acer Liquid Jade S
1.734
Sony Xperia SP
1.733
Oppo Find 7
1.691
LG Optimus 4X HD
1.691
HTC One V
1.685
BlackBerry Q5
1.682
LG Optimus Vu
1.68
Motorola Moto E (2nd Gen)
1.675
Xiaomi Mi Pad 7.9
1.672
LG Optimus GJ
1.666
ZTE Nubia Z9
1.659
LG Optimus 3D Max
1.658
HTC Desire V
1.646
Samsung Galaxy Xcover 2
1.632
Samsung Galaxy Ace 3
1.622
Microsoft Lumia 532
1.615
Jolla Jolla
1.605
Microsoft Lumia 435
1.598
Sony Xperia Z Ultra
1.578
Sony Xperia go
1.577
Samsung Galaxy Ace 2 I8160
1.566
Samsung Galaxy Core
1.563
LG Optimus G Pro
1.552
Motorola Moto E
1.545
LG Optimus 3D
1.542
Nokia Asha 302
1.537
Samsung Galaxy Core Prime
1.507
BlackBerry Curve 9320
1.488
Sony Xperia M
1.473
Oppo N1
1.47
Sony Xperia E4
1.467
Meizu MX 4-core
1.462
Nokia Lumia 610
1.432
Samsung Galaxy S Duos
1.4
Sony Xperia M2
1.393
Samsung Galaxy Grand Neo
1.393
Microsoft Lumia 535
1.393
Samsung Galaxy Grand 2
1.38
Sony Xperia E1
1.372
Nokia Lumia 625
1.371
Gigabyte GSmart G1355
1.361
Sony Xperia L
1.351
Xiaomi Redmi 1S
1.35
Samsung Galaxy Mega 5.8
1.35
HTC Desire 510
1.34
Sony Xperia M2 Aqua
1.331
Sony Xperia miro
1.324
Samsung I9082 Galaxy Grand
1.321
Samsung I8530 Galaxy Beam
1.315
Xiaomi Redmi 2
1.311
HTC Desire C
1.3
Nokia X
1.291
Sony Xperia C
1.283
Nokia Asha 503
1.281
Nokia Asha 501
1.27
LG Optimus L7
1.269
Nokia Lumia 510
1.268
Samsung Galaxy Fame
1.245
LG Optimus L9
1.227
Meizu MX
1.221
Samsung Galaxy Young
1.22
Sony Xperia E
1.215
Nokia XL
1.204
Sony Xperia E dual
1.203
Asus Memo Pad 7 ME176C
1.198
Samsung Galaxy Pocket
1.18
Nokia Asha 305
1.178
Nokia Asha 306
1.175
Sony Xperia neo L
1.169
Sony Xperia tipo
1.166
Nokia Lumia 520
1.161
Samsung S6802 Galaxy Ace Duos
1.148
Samsung Galaxy mini 2
1.114
Much like on the Xperia Z5 compact, color rendering without image enhancements is off to a higher extent than we're used to see lately (Avg deltaE 6.6 for the primary colors plus black and white), but it's the white to blame as it has a relatively high purplish tint (deltaE 15.2). Still, you would certainly have a hard time noticing a color cast without a reference.
Color accuracy of course takes an extra hit when you turn on the screen image enhancements such as the X Reality for mobile mode (Avg deltaE 8.3) but the representation of the whites remains unchanged in this mode. The maximum brightness however is reduced in this mode down to about 550 nits. Interestingly, from there on the Super Vivid mode doesn't make things any worse and it's not as wild as the name suggests.
As usual, display colors are a matter of personal taste and perception so if you don't need calibrated color output, you will probably be quite happy with the default settings of the Xperia Z5 display.
You can fine tune the display color rendering to an extent as Sony gives you fine grain sliders for adjusting the Red, Green and Blue channel, but the UI is far from user friendly and unlikely to produce any serious results without a reference point sitting side by side with the display. Even worse, as soon as you start fiddling with those sliders, the maximum brightness will take a hit.
Sony Xperia Z5 battery life
The Sony Xperia Z5 is powered by a 2900 mAh battery, sealed-in, as expected. That is quite a bit less less than the Z5 Premium at 3430 mAh, but still better than the 2700 mAh pack of the Z5 Compact. As for the Z3+, it has just a bit more juice at 2930 mAh, but that still makes the pair quite comparable and will help up see if Sony has, indeed, improved the power efficiency of its flagship offer.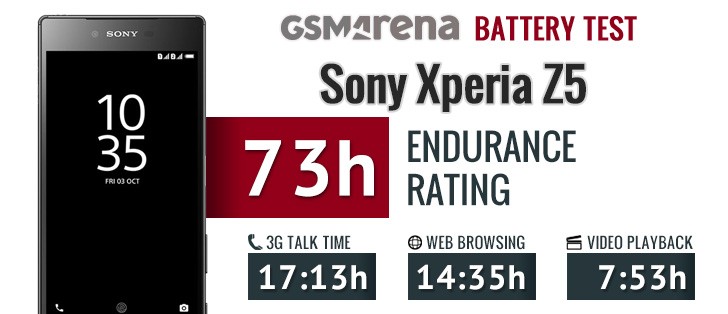 Overall, with an endurance rating of 73 hours, the Xperia Z5 definitely did alright in our tests, but still not quite the 86 hours the Z5 Compact managed to clock in. Granted, the scores are pretty close, but we expected almost identical results, considering the identical hardware, but, apparently the display size played a huge role. Our test reveal that the Z5 did slightly better than its smaller sibling in terms of web browsing, but failed to impress with only about 8 hours of video playback, only 17 hours of call endurance and quite a draining standby mode.
On a more positive note, however, the Z3+ managed to last only 65 hours under the same test conditions, despite having a slightly bigger battery than the Z5. This is a definite improvement on Sony's end.
An endurance rating of 73 hours means that the Z5 should be more than happy to facilitate two days of average use, or at least our understanding of it - one hour of browsing, video playback and calls a day, respectively and the rest - standby.
Such usage pattern is of course entirely artificial, but we've established it so our battery results are comparable across devices. And if it doesn't quite fit your bill, you can easily hop on to our battery life chart and adjust the pattern to your liking for an even more comprehensive comparison.
Update, 09 Aug 2016: Since we reviewed the Xperia Z5 back in 2015, two major circumstances changed and as a result today we're announcing a re-test of the phone's battery performance.
Regarding the reasons, which led to this, first Sony has updated the Xperia Z5 to Android 6.0.1 Marshmallow.
Secondly, and more importantly, we standardized the display brightness for our battery tests to 200nits as opposed to the 50% setting on the brightness slider, which we used before. The change didn't affect the relevance of most of the phones we've tested because the median brightness of all tested phones was 200nits anyway. The thing is that the Xperia Z5 was one of the outliers and with a brightness of only 90nits midway on the brightness scale, it had an unfair advantage over the rest of the 2015 flagships.
Freshly updated to Android 6.0.1 Marshmallow and with a screen brightness firmly set to 200nits, the Xperia Z5 pulled off an Endurance rating of only 48 hours.
With the two-fold increase in brightness the phone's battery life in the web browsing (7:42h) and video playback (4:05h) tests got slashed in half compared to before and the optimizations by the latest Android version didn't help much.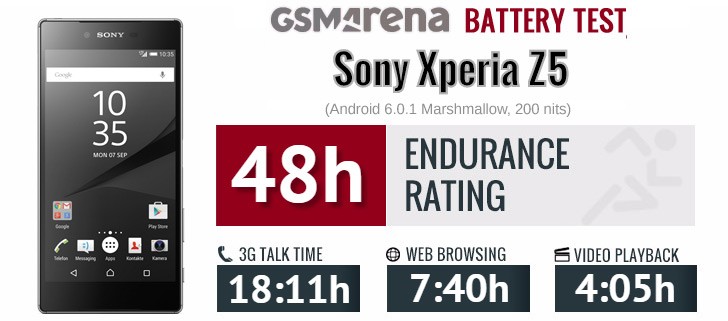 The Snapdragon 800 chipset was notorious for overheating and we did notice that during video playback the phone would get very hot so this is still very much an issue. Cooling it down as much as we can didn't help its case much.
So there you have it - an up-to-date re-test of one of the key 2015 flagships.
Don't miss the other updated pages throughout this review. We've re-tested the phone's benchmark performance under Android Marshmallow and we've also reshot our test charts and posters in the camera section. End of update
Connectivity
Sony is offering the Z5 in both a single SIM and dual SIM variant, just like the Z5 Premium. The handset offers quad-band GSM/GPRS/EDGE/HSDPA support. LTE is enabled and Sony has multiple regional models to make sure the Xperia Z5 will work with the most widespread 4G networks. It is worth noting that the E6653 variant offers Cat.6 LTE with speeds of up to 300Mbps, while the E6603 one still has Cat.4 with a theoretical maximum of 150Mbps. This, however, makes little difference in real world conditions and shouldn't really be a consideration.
Local connectivity features dual-band Wi-Fi b/g/n/ac and Wi-Fi Direct. There is also support for Bluetooth 4.1 with A2DP. Satellite navigation is also a given, with additional A-GPS and GLONASS or Beidou (market dependent) support.
The Xperia Z5 also has an FM radio with RDS.
The phone doesn't offer an IR port, but it does come with NFC.
There is a microUSB 2.0 port for charging and data connections and now, thanks to special coating, it no longer needs to be covered by a flap. Media transfer mode is supported for accessing the phone's built-in memory and microSD card over the USB cable.
USB host functionality is present, but requires a little more work than simply plugging in a device. There is a special menu under Xperia Connectivity in the setting that allows you to "discover" a plugged USB device. It still works as expected, but it requires some extra legwork. This is most likely related to the aforementioned coverless USB that might be vulnerable to shortages under water.
Being part of the premium "Z" line has a few other benefits, like MHL 3 TV-out support. You can also output your phone's screen wirelessly via the Miracast protocol or Sony's Xperia Connectivity Throw option.
The app also lets you share your media over DLNA by creating a media server, as well as connect to a PlayStation DUALSHOCK 3 (or 4) wireless controller.
Last, but not least, the Z5 offers advanced active noise cancelling when paired with a supported handset like the Sony MDR-NC750.