The bigger, the better
Sony Xperia T2 Ultra review: The bigger, the better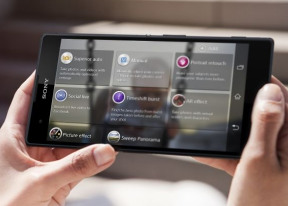 Display
The Sony Xperia T2 Ultra flaunts a 6.0" IPS Triluminos display of 720p resolution, which works out to 245ppi. While this is nowhere near the 400+ pixel density of current flagships, we should not forget that it's a completely different price range we're talking about.


Sony Xperia T2 Ultra 6" IPS display
The Xperia T2 Ultra display is enhanced by the Sony's Mobile BRAVIA Engine 2 and not the latest X-Reality engine. It aims to improve sharpness, reduce noise, while boosting contrast and saturation, and it does a pretty good job of it.
The pixel arrangement is standard RGB with an equal amount of green, red and blue pixels in a line. Below you can see it magnified using our trusty microscope.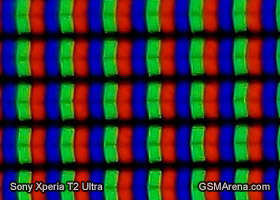 The Sony Xperia T2 Ultra uses a standard RGB matrix
The contrast and brightness of the screen are very nice, color reproduction is great too, all adding up to an excellent image quality screen. The viewing angles, thanks to the IPS matrix, are very good too with little color washing.
Unfortunately the screen, even with turned the Auto Brightness setting off, continues to changes the brightness level according to the ambient light and the picture thus we can't do our tests at 50%.
Display test
50% brightness
100% brightness
Black, cd/m2
White, cd/m2
Contrast ratio
Black, cd/m2
White, cd/m2
Contrast ratio
Sony Xperia Т2 Ultra
-
-
-
0.49
634
1287
Sony Xperia Z Ultra
-
-
-
0.47
467
1001
Oppo Find 7a
0.33
280
842
0.68
580
852
Sony Xperia Z
-
-
-
0.70
492
705
Huawei Ascend Mate
0.23
222
982
0.67
711
1053
Samsung Galaxy Mega 6.3
0.12
160
1364
0.32
440
1379
Samsung Galaxy S5
0
274
∞
0
529
∞
Samsung Galaxy S4
0
201
∞
0
404
∞
HTC One (M8)
0.20
245
1219
0.46
577
1256
LG G2
0.10
149
1522
0.45
667
1495
HTC Butterfly S
0.15
165
1117
0.43
451
1044
Oppo Find 5
0.17
176
1123
0.51
565
1107
Apple iPhone 5
0.13
200
1490
0.48
640
1320
Unfortunately, the sunlight legibility is rather mediocre. If you are using the phablet outside and it is sunny, you'll have a hard time.
Sunlight contrast ratio
Nokia 808 PureView
4.698
Apple iPhone 5
3.997
Samsung Galaxy Note 3
3.997
Samsung Galaxy S5
3.549
Samsung I9300 Galaxy S III
3.419
Nokia Lumia 925
3.402
Samsung I9505 Galaxy S4
3.352
Samsung Omnia W
3.301
Samsung Galaxy S
3.155
Samsung Galaxy S4 mini
3.127
Samsung Galaxy S4 zoom
3.118
Nokia N9
3.069
Samsung Galaxy Note
2.970
Sony Xperia Z1
2.950
HTC One S
2.901
BlackBerry Q10
2.856
Samsung Galaxy S II
2.832
Samsung Galaxy S II Plus
2.801
BlackBerry Z30
2.790
Huawei Ascend P1
2.655
Sony Xperia ZR
2.672
Nokia Lumia 900
2.562
HTC One Max
2.537
Nokia Lumia 720
2.512
HTC One
2.504
Sony Xperia Z
2.462
Samsung Galaxy S III mini
2.422
HTC One (M8)
2.371
Motorola RAZR i
2.366
Samsung Galaxy Note II
2.307
Oppo Find 7a
2.279
Apple iPhone 4S
2.269
HTC Desire 600 dual sim
2.262
LG Nexus 5
2.228
HTC One X
2.158
Nokia N8
2.144
Oppo Find 5
2.088
BlackBerry Z10
2.051
Apple iPhone 4
2.016
HTC One mini
2.003
LG G2
1.976
Sony Ericsson Xperia ray
1.955
Samsung Galaxy Camera
1.938
LG G Pro 2
1.922
HTC Butterfly
1.873
Huawei Ascend P6
1.865
Sony Xperia V
1.792
Sony Xperia U
1.758
Meizu MX3
1.754
Sony Xperia T2 Ultra
1.740
LG Optimus 4X HD
1.691
HTC One V
1.685
BlackBerry Q5
1.682
LG Optimus Vu
1.680
LG Optimus GJ
1.666
HTC Desire V
1.646
Samsung Galaxy Ace 3
1.622
Sony Xperia Z Ultra
1.578
Samsung Galaxy Core
1.563
LG Optimus G Pro
1.552
LG Optimus 3D
1.542
Samsung Galaxy Core LTE
1.542
Nokia Asha 302
1.537
Sony Xperia M
1.473
Nokia Lumia 610
1.432
Samsung Galaxy Grand Neo
1.393
Gigabyte GSmart G1355
1.361
Samsung Galaxy Grand
1.321
HTC Desire C
1.300
Nokia Asha 501
1.270
LG Optimus L7
1.269
LG Optimus L9
1.227
Meizu MX
1.221
Sony Xperia E dual
1.203
Samsung Galaxy Pocket
1.180
Sony Xperia tipo
1.166
Samsung Galaxy mini 2
1.114
Controls
The Sony Xperia T2 Ultra has pretty much the same controls as the Xperia Z Ultra. There's, typical of Sony, some more space than necessary above and below the 6" display. That's particularly true for the bottom, considering the main controls are on the screen itself. Above the screen, the 1.1MP front camera and the usual sensors are placed around an etched out earpiece that easily gathers dust.



A peek above and below the Sony Xperia T2 Ultra display
This mouthpiece is the only thing of note below the screen. Just like the earpiece, it's carved out of the sheet of glass and can fill with dust over time.
The sides of the Xperia T2 Ultra are quite busy. The unprotected microUSB port and the microSD card slot covered by a plastic lid are on the left.
The right side features the 3.5mm audio jack, the sealed microSIM compartment, the signature power/lock key, plus the thin volume rocker and a camera key. A hat tip to Sony for bringing the camera control back!
By the way, there is a pull-out tag with the regulator-mandated certifications just below the microSIM bed. This is a very clever way to have those mandatory inscriptions without engraving them into the casing.
The Xperia T2 Ultra has no controls and ports at the top and bottom.



The top and bottom are completely bare
The Sony Xperia T2 Ultra glossy back has the 13MP camera lens coupled with a single LED flash. The prominent speaker grille is near the bottom.




The camera and the loudspeaker at the back
Battery life test
A 3000mAh battery is officially quoted at up to 24 hours of 3G talk-time or 1046 hours of 3G stand-by. Those numbers sound impressive, better than the Xperia Z Ultra's official ratings, but we are more interested in finding out how long the smartphone lasts when the screen is turned on and the quad-core chipset is not idle.
The Xperia T2 Ultra managed to output amazing battery life, much better than the Xperia Z Ultra. Note that we tested the device without using the STAMINA mode, or any battery enhancement whatsoever. The score of 96 hours means the T2 Ultra will last four days on a full charge with an hour each of calling, browsing and watching video daily.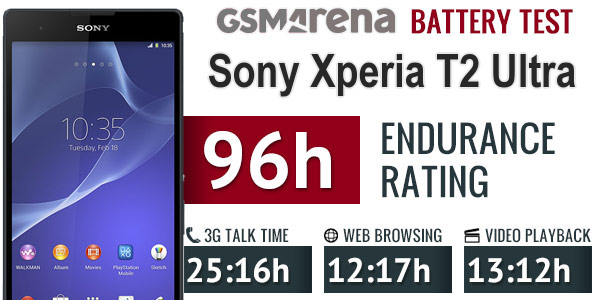 Disclaimer: Have in mind that the excellent web browsing and video playback times scores have probably benefited from the phones's constantly active auto brightness setting even when we explicitly turned that off. We usually set the screen brightness at 50% for all phones, but there is no way of preventing the Xperia T2 Ultra from toning it down as it pleases.
For a more detailed breakdown of the Sony Xperia T2 Ultra battery performance check out our blogpost.
Our proprietary score also includes a standby battery draw test, which is not featured in our battery test scorecard but is calculated in the total endurance rating.
Our battery testing procedure is described in detail in case you want to learn more about it.