Smaller but better
Sony Xperia E4g review: Smaller but better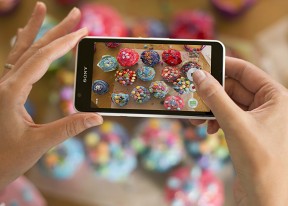 Display
The Sony Xperia E4g is equipped with a pretty plain IPS LCD panel with a resolution of 540 x 960 pixels on a 4.7-inch diagonal, a tad smaller than the Xperia E4 and slightly bigger than the E3. The resulting 234ppi is nothing special but probably just right for the price range.
It's not the resolution though that we're worried about. The thing that really ruins the experience is the plastic screen coating, which is very reflective.
While taking the microscopic photo, we had a very hard time focusing to get all three colors right. The distortion is most probably the reason why the display appears slightly blurry. Granted, the display isn't nearly as reflective at the one on the Xperia E4, so, although images are still far from crisp, the E4g does offer a better viewing experience.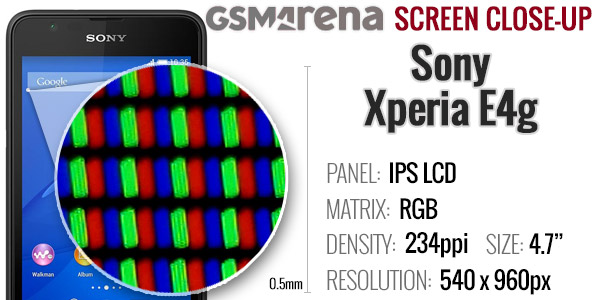 Screen colors are otherwise good enough.
The only bright side to it (pun intended) are the side viewing angles, which are quite ok despite the questionable front glass.
The display did fairly well in our brightness and contrast tests. It still scored, rather on the low side, but brightness has been improved greatly over the Xperia E4 and so is contrast. The difference in picture quality is definitely noticeable, especially when looking at both devices side by side.
Display test
50% brightness
100% brightness
Black, cd/m2
White, cd/m2
Contrast ratio
Black, cd/m2
White, cd/m2
Contrast ratio
Sony Xperia E4
0.28
205
737
0.55
430
787
Sony Xperia E3
-
-
-
0.69
608
887
Sony Xperia E4g
0.27
256
948
0.61
587
969
Motorola Moto G (2014)
0.24
253
1039
0.43
413
968
Motorola Moto G
0.35
315
906
0.57
550
967
Microsoft Lumia 535
0.26
312
1188
0.45
458
1118
Samsung Galaxy Core Prime
0.17
181
1115
0.41
462
1063
Xiaomi Redmi 1S
0.08
158
1437
0.45
615
1370
Sony Xperia M2
0.33
325
989
0.64
643
1000
Sunlight legibility is also improved with the Xperia E4g. The phone no longer falls short of its predecessor in this department and definitely puts the E4 to shame. All in all, even though, Sony has sacrificed a little screen real estate with the Xperia E4g, the display itself is generally better in every way and, as such, can be considered an upgrade as well.
Sunlight contrast ratio
Nokia 808 PureView
4.698
Samsung Galaxy A3
4.241
Samsung Galaxy S6
4.124
Samsung Galaxy Note 4
4.033
Apple iPhone 5
3.997
Samsung Galaxy Note 3
3.997
Samsung Galaxy A5
3.895
Apple iPhone 6
3.838
Motorola Moto X (2014)
3.816
Samsung Galaxy Note Edge
3.799
Samsung Galaxy A7
3.679
Oppo R5
3.678
Samsung Galaxy K zoom
3.675
Nokia Lumia 930
3.567
Apple iPhone 5s
3.565
Samsung Galaxy S5
3.549
Nokia Lumia 735
3.547
Motorola Nexus 6
3.543
Alcatel Idol X+
3.527
Apple iPhone 5c
3.512
Samsung Galaxy Alpha
3.509
Samsung Galaxy Note 3 Neo
3.487
LG G Flex2
3.465
YotaPhone 2
3.453
Motorola RAZR MAXX
3.42
Samsung I9300 Galaxy S III
3.419
Samsung Galaxy S5 Active
3.406
Nokia Lumia 925
3.402
Gionee Elife S5.5
3.386
Samsung I9505 Galaxy S4
3.352
Samsung Omnia W
3.301
Samsung Galaxy S5 mini
3.174
Samsung I9000 Galaxy S
3.155
Samsung Ativ S
3.129
Samsung I9190 Galaxy S4 mini
3.127
Samsung Galaxy S4 zoom
3.118
Nokia N9
3.069
Apple iPhone 6 Plus
3.023
Samsung Galaxy Note
2.97
Samsung Galaxy Premier
2.958
Sony Xperia Z1
2.95
HTC One S
2.901
Lenovo S90 Sisley
2.892
Samsung I8730 Galaxy Express
2.861
BlackBerry Q10
2.856
Samsung I9100 Galaxy S II
2.832
HTC Desire Eye
2.815
Gionee Elife S5.1
2.812
Samsung Galaxy S II Plus
2.801
BlackBerry Z30
2.79
Meizu MX4 Pro
2.765
Sony Xperia ZR
2.672
Huawei Ascend P1
2.655
Sony Xperia Z3
2.618
Sony Xperia Z3 Compact
2.616
Sony Xperia T3
2.609
BlackBerry Passport
2.595
Nokia Lumia 900
2.562
Motorola Moto G 4G
2.546
HTC One Max
2.537
Nokia Lumia 720
2.512
HTC One
2.504
Motorola Moto G
2.477
vivo Xshot
2.465
Sony Xperia Z
2.462
Xiaomi Mi 4
2.424
Samsung Galaxy S III mini
2.422
Lenovo Vibe Z2 Pro
2.416
LG G Flex
2.407
HTC Desire 820
2.372
HTC One (M8)
2.371
Motorola RAZR i
2.366
Meizu MX4
2.366
Meizu m1 note
2.362
Sony Xperia ZL
2.352
HTC One M9
2.334
HTC One (M8) for Windows
2.291
Oppo Find 7a
2.279
Alcatel One Touch Hero
2.272
Apple iPhone 4S
2.269
HTC Desire 600 dual sim
2.262
Nokia Asha 311
2.25
Xiaomi Mi Note
2.234
Motorola Moto G (2014)
2.233
LG Nexus 5
2.228
Nokia Lumia 820
2.193
HTC One (E8)
2.185
Oppo N3
2.181
Nokia Lumia 920
2.17
Huawei Honor 6
2.169
HTC One X
2.158
Asus Zenfone 2 ZE551ML
2.149
LG Aka
2.145
Nokia N8
2.144
Nokia Lumia 620
2.142
Nokia 515
2.134
Archos 50 Diamond
2.134
HTC Desire 500
2.129
Sony Xperia C3 Dual
2.12
Sony Xperia acro S
2.119
Xiaomi Redmi Note
2.119
Nokia Lumia 1020
2.103
Oppo Find 5
2.088
Sony Xperia SL
2.078
Nokia Lumia 630
2.056
BlackBerry Z10
2.051
Huawei Ascend Mate7
2.024
Samsung I9295 Galaxy S4 Active
2.022
Apple iPhone 4
2.016
HTC One mini
2.003
Xiaomi Mi 3
2.001
Huawei Ascend P7
1.992
LG G2
1.976
Sony Xperia E4g
1.972
OnePlus One
1.961
Oppo R819
1.957
Sony Ericsson Xperia ray
1.955
Lenovo Vibe X2
1.952
Sony Xperia Z2
1.944
Sony Xperia E3
1.943
Nokia Lumia 1320
1.941
HTC One mini 2
1.94
Samsung Galaxy Camera
1.938
Samsung Galaxy Grand Prime
1.935
Sony Xperia J
1.932
Acer CloudMobile S500
1.931
ZTE Blade S6
1.927
LG Nexus 4
1.926
LG G Pro 2
1.922
Samsung Galaxy Mega 6.3
1.913
Nokia Asha 308
1.911
HTC Butterfly 2
1.905
Sony Xperia T
1.894
Nokia Lumia 830
1.887
HTC Desire X
1.878
HTC Windows Phone 8X
1.873
HTC Butterfly
1.873
HTC Butterfly S
1.867
Huawei Ascend P6
1.865
Huawei Ascend Mate
1.845
LG G2 mini
1.838
LG G3
1.82
Nokia Lumia 1520
1.813
HTC Desire 616 dual sim
1.797
Sony Xperia V
1.792
HTC Desire 816
1.783
Sony Xperia Z1 Compact
1.772
HTC Desire 700 dual sim
1.769
Sony Xperia U
1.758
Meizu MX3
1.754
LG Optimus G
1.753
Sony Xperia T2 Ultra
1.74
Sony Xperia Z3 Tablet Compact
1.735
Acer Liquid Jade S
1.734
Sony Xperia SP
1.733
Oppo Find 7
1.691
LG Optimus 4X HD
1.691
HTC One V
1.685
BlackBerry Q5
1.682
LG Optimus Vu
1.68
Xiaomi Mi Pad 7.9
1.672
LG Optimus GJ
1.666
LG Optimus 3D Max
1.658
HTC Desire V
1.646
Samsung Galaxy Xcover 2
1.632
Samsung Galaxy Ace 3
1.622
Jolla Jolla
1.605
Sony Xperia Z Ultra
1.578
Sony Xperia go
1.577
Samsung Galaxy Ace 2 I8160
1.566
Samsung Galaxy Core
1.563
LG Optimus G Pro
1.552
Motorola Moto E
1.545
LG Optimus 3D
1.542
Nokia Asha 302
1.537
Samsung Galaxy Core Prime
1.507
BlackBerry Curve 9320
1.488
Sony Xperia M
1.473
Oppo N1
1.47
Sony Xperia E4
1.467
Meizu MX 4-core
1.462
Nokia Lumia 610
1.432
Samsung Galaxy S Duos
1.4
Samsung Galaxy Grand Neo
1.393
Sony Xperia M2
1.393
Microsoft Lumia 535
1.393
Samsung Galaxy Grand 2
1.38
Sony Xperia E1
1.372
Nokia Lumia 625
1.371
Gigabyte GSmart G1355
1.361
Sony Xperia L
1.351
Xiaomi Redmi 1S
1.35
Samsung Galaxy Mega 5.8
1.35
HTC Desire 510
1.34
Sony Xperia M2 Aqua
1.331
Sony Xperia miro
1.324
Samsung I9082 Galaxy Grand
1.321
Samsung I8530 Galaxy Beam
1.315
Xiaomi Redmi 2
1.311
HTC Desire C
1.3
Nokia X
1.291
Sony Xperia C
1.283
Nokia Asha 503
1.281
Nokia Asha 501
1.27
LG Optimus L7
1.269
Nokia Lumia 510
1.268
Samsung Galaxy Fame
1.245
LG Optimus L9
1.227
Meizu MX
1.221
Samsung Galaxy Young
1.22
Sony Xperia E
1.215
Nokia XL
1.204
Sony Xperia E dual
1.203
Asus Memo Pad 7 ME176C
1.198
Samsung Galaxy Pocket
1.18
Nokia Asha 305
1.178
Nokia Asha 306
1.175
Sony Xperia neo L
1.169
Sony Xperia tipo
1.166
Nokia Lumia 520
1.161
Samsung S6802 Galaxy Ace Duos
1.148
Samsung Galaxy mini 2
1.114
Battery
Sony has put a 2,300mAh battery inside the Xperia E4g, just like the Xperia E4. We ran our battery test with the battery-saving STAMINA mode off. The handset scored surprisingly low with a total endurance rating of 47 hours, which means you can count on squeezing out 2 days of battery life, at best.
Compared to 88 hours on the Xperia E4, this score looks alarmingly low. At first, we thought maybe we had done something wrong with the test, but, sadly a rerun of the whole procedure, gave equally disappointing results.
It seems that the faster MediaTek MT6732 is really taking its toll on battery performance, or, perhaps the problem lays with the different screen even though it's smaller. All we know for sure is that both the Xperia E4 and the E4g scored identical endurance rating during a voice call, so the modem is not a likely suspect for the diminished battery life.
It could very well be a software optimization issue or even a faulty review unit, but the results were pretty consistent. Just bear in mind that your own mileage may vary and you should only take these numbers to compare the different phones we test.
The battery is not user-removable, even though the general design of the phone suggests otherwise.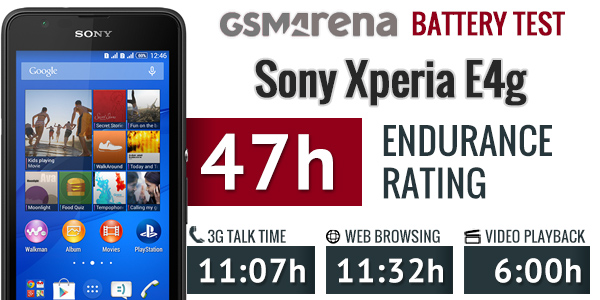 The Power Saver - now part of the settings menu - helps you extend your battery life by toggling things like Wi-Fi, GPS, Bluetooth screen brightness, auto sync and background data on and off automatically, as soon as the battery charge falls below a certain user-defined threshold. You can also choose to automatically turn Wi-Fi off if there is no known Wi-Fi network in range or switch off mobile data when the screen is off, and more.
Our proprietary score also includes a standby battery draw test, which is not featured in our battery test scorecard but is calculated in the total endurance rating.
Our battery testing procedure is described in detail in case you want to learn more about it.
Connectivity
The Sony Xperia E4g comes in single and dual SIM flavors, just like its sibling. Both models offer quad-band GSM/GPRS/EDGE support and dual or tri-band 3G connectivity with HSDPA. LTE support is also present, so, the device no longer falls short of the Xperia E3 in this respect.
Local connectivity features dial-band Wi-Fi b/g/n, yet another improvement over the Xperia E4 and Wi-Fi Direct. There is also support for Bluetooth 4.1 with A2DP and apt-X. Satellite navigation is no longer limited to GPS and thanks to the MediaTek MT6732, now has GLONASS support as well. The Xperia E4g also has an FM radio with RDS. It doesn't offer an IR port, but does come with NFC, in the E2003 variation only.
There is a microUSB 2.0 port for charging and data connections. Media transfer mode is supported for accessing the phone's built-in memory and microSD card over the USB cable. Sadly, there is no USB host functionality.
The microUSB port doesn't have any TV-out functionality, but if you own a compatible HDTV, you can output your phone's screen wirelessly via the Miracast protocol or Sony's Xperia Connectivity Throw option.
The app also lets you share your media over DLNA by creating a media server, as well as connect to a PlayStation DUALSHOCK 3 (or 4) wireless controller.