4K 120Hz HDR OLED
The Sony Xperia 1 IV employs the same premium OLED panel Sony has put on the Xperia 1 III and the Xperia Pro-I. It's a 6.5-inch OLED of 3,840 x 1,644 px, or 4K in 21:9 aspect ratio in mainstream wording. This makes for an incredibly sharp 643ppi density. And it has no cutout whatsoever!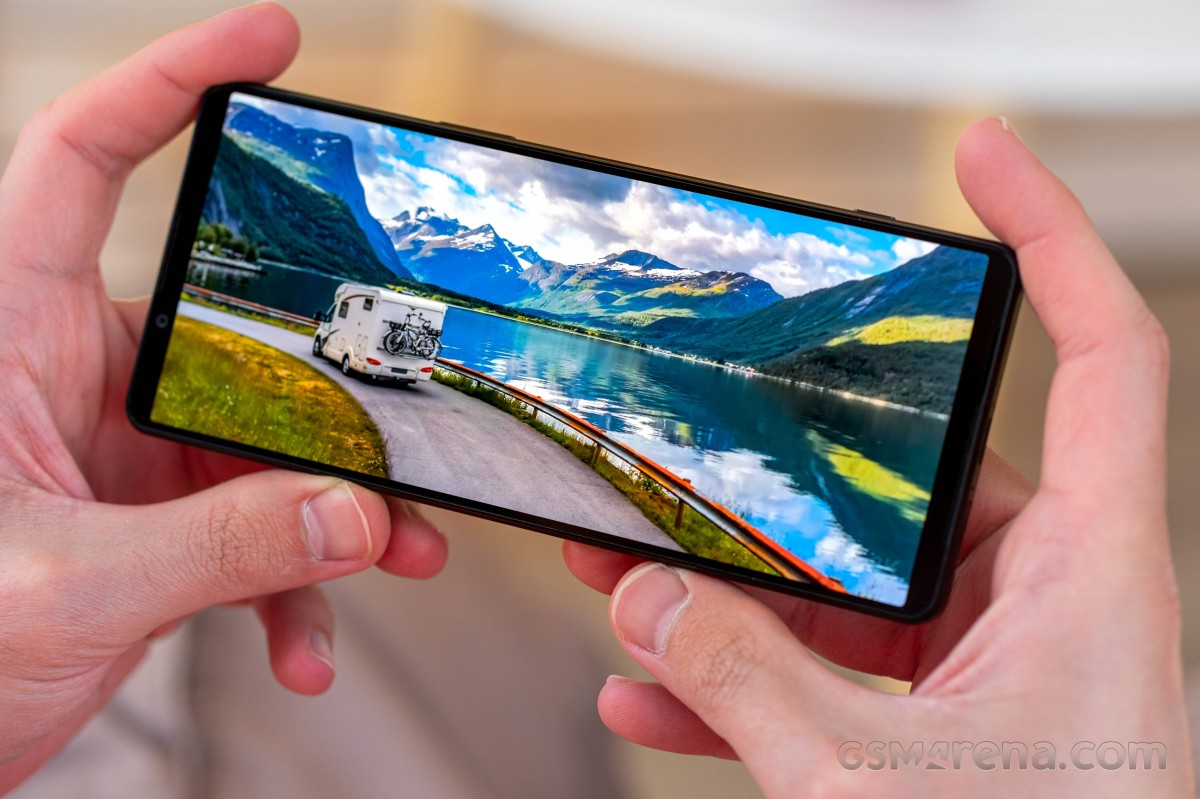 As you can imagine, the 4K resolution isn't always active as it would create issues on both hardware (battery drain) and software (incompatible apps) levels. The Xperia 1 IV, just like the previous 4K Sony phones, is supposedly rendering at extended Full HD resolution (2,560 x 1,096 px). The full 4K resolution is used primarily in multimedia apps like Photos and video playback.
Of course, the OLED panel is HDR10 certified, and it supports native 10-bit pixel colors meaning it can show more than 1 billion colors. The screen also supports a 120Hz refresh rate, but it's not as dynamic as on some competitors. If HRR is enabled, the phone uses 120Hz most of the time, games included (the Game Enhancer gives a bit more control) and reverts back to 60Hz only for video playback or incompatible apps (the camera apps, Google Maps, etc.).
There is one major improvement over the Xperia 1 III and Xperia Pro-I 4K OLEDs, though - it can be 50% brighter when needed. There is also a new real-time HDR video drive, which can uplift SDR content to HDR, though it will probably use more battery than usual.
Let's start with our traditional display measurements.
Previous 4K Xperia panel had maximum brightness of 350 nits in manual mode, but they could go as bright as 570 nits with the sunlight auto brightness boost, or about 650 nits when using Creator mode.
This Xperia 4K panel is different. It can go to as high as 600 nits bright, whether you are using Standard or Creator mode, auto or manual brightness. This means there is no limit on the brightness as it was on the previous model.
So, we've captured 600 nits of maximum brightness when using either Standard or Creator modes with their default White Balance settings.
By using the Medium (neutral) white balance position of the slider, we recorded the maximum possible brightness of 680 nits. Cool is where we usually got 600 nits, while the Warm setting nets 620 nits of maximum brightness.
The minimum brightness at point white was just 1.9 nit.
Display test
100% brightness
Black,cd/m2
White,cd/m2
Contrast ratio
Sony Xperia 1 IV
0
602
∞
Sony Xperia 1 IV (Medium WB)
0
668
∞
Sony Xperia 1 IV (Warm WB)
0
620
∞
Sony Xperia 1 IV (Max Auto, Creator Warm WB)
0
600
∞
Sony Xperia 1 IV (Max Auto, Creator Medium WB)
0
650
∞
Sony Xperia 1 III
0
354
∞
Sony Xperia 1 III (Max Auto, Creator mode)
0
620
∞
Sony Xperia Pro-I
0
406
∞
Sony Xperia Pro-I (Max Auto, Creator mode)
0
644
∞
Samsung Galaxy S22 Ultra
0
494
∞
Samsung Galaxy S22 Ultra (Extra brightness)
0
829
∞
Samsung Galaxy S22 Ultra (Max Auto)
0
1266
∞
Xiaomi 12 Pro
0
506
∞
Xiaomi 12 Pro (Max Auto)
0
1050
∞
Oppo Find X5 Pro
0
475
∞
Oppo Find X5 Pro (Max Auto)
0
762
∞
Apple iPhone 13 Pro Max
0
852
∞
Apple iPhone 13 Pro Max (Max Auto)
0
1050
∞
Google Pixel 6 Pro
0
497
∞
Google Pixel 6 Pro (Max Auto)
0
860
∞
Color accuracy
The Xperia 1 IV offers the same color settings as on the 1 III and all other high-end Xperias in recent years. The setting for 'Image quality' lets you pick between Creator and Standard modes, while further tweaking is possible in the 'White balance' section - options include Warm/Medium/Cool presets, as well as RGB sliders for extra granular tweaking.
Creator mode can adjust the display's colors according to the content the phone is being served - so it should auto switch between sRGB and DCI-P3 as needed. Its quirk is that it doesn't do it for our testing software, though, so we couldn't get representative readings for DCI-P3 content. You should be alright using with any application where color is important.
When it comes to sRGB, however, we got very accurate results with the White point set to D65.
Meanwhile, Standard mode (the out-of-the-box setting), delivers a punchier output that doesn't necessarily aim for accuracy. It is still fairly accurate, though the white and gray hues are bluish, and the blue colors are punchier.
There's an option for auto Creator mode engagement in Standard mode, so that phone can switch accordingly when presented with compatible content.
Refresh rate
There are no changes in how the Xperia 1 IV handles refresh rate. You enable the 120Hz mode with a toggle in the display settings, and most of the time, you get 120Hz. The usual exceptions like Google Maps, video playback, and the camera viewfinder apply, of course.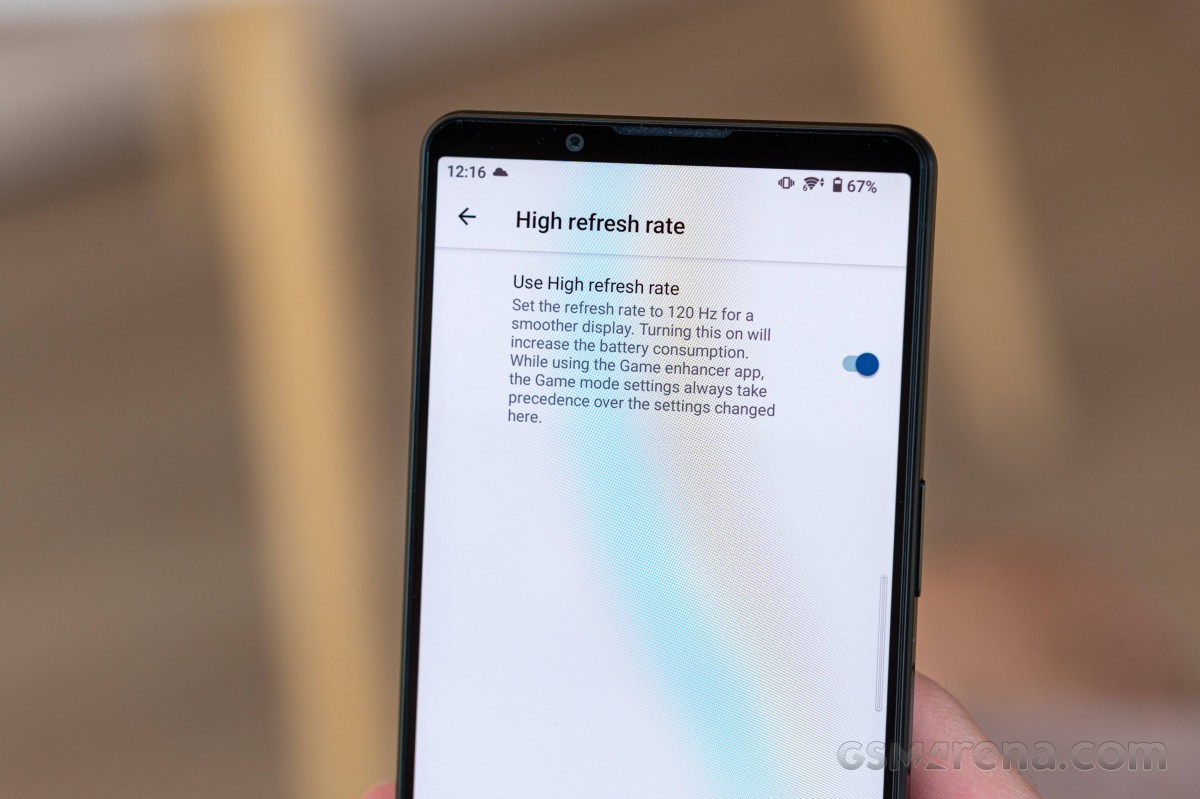 With most makers shifting to more and more adaptive refresh rates, Sony's way of doing HRR is behind the curve, but it is the only one offering a 4K display, so there is that.
Games have their own particular way of handling the refresh rate. From the Game Enhancer utility settings, you can switch the refresh rate for the display to 120Hz for titles that can go above 60fps - it's at 60Hz by default. You can also force it to 120Hz regardless of whether you know for a fact that the game itself supports a higher frame rate - just to be sure. That's done on a per-game basis and is buried several levels in the Game Enhancer, so it's not the most intuitive implementation.
While using Game Enhancer, you may notice there is a 240Hz option, too. Sony calls this blur reduction, and it uses frame interpolation to reduce blur when using 120Hz mode.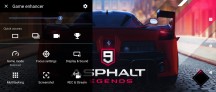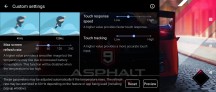 Game Enhancer refresh rate settings
And before we wrap up the HRR part, we want to acknowledge the 60Hz drops we noticed here and there. The 120Hz mode is automatically disabled when the phone reaches a certain temperature, and it happened to us quite a few times while using the phone in a room with an ambient temp of 23C. The moment the Xperia 1 IV became warm, the 120Hz was automatically disabled and enabled after 2-3-4-5 mins break. This happened more often than we would have liked, unfortunately.
HDR
The Sony Xperia 1 IV OLED screen supports HDR10 and is recognized as such by all popular streaming services. YouTube, Netflix, Prime Video support HDR10 streaming right out of the box. Dolby Vision is not supported, unfortunately.
Despite having a 4K display, Netflix will not stream in 4K, but the whitelisting for that will probably come by the time the phone is released. On the other hand, Amazon Prime Video and YouTube do stream 4K content straight away and recognize the screen as 4K-capable.
Finally, there is this option in Image Quality Settings called Video Image Enhancement (X1 for Mobile). This is enabled by default, and it improves the quality of videos via Sony's proprietary X1 engine. It also supports a real-time HDR drive, which analyzes HDR videos frame by frame and applies proper tone curve.
Haptic feedback
We just want to dedicate a few words to the screen's haptic feedback - it's one of the best we've used, with lovely haptics you can feel at the exact spot where you've tapped.
Dynamic Vibration is supported, too, which syncs with your audio/video, but we've never been fans of the feature.
Battery life
The Sony Xperia 1 IV is powered by a 5,000 mAh battery - that's 10% larger than the one inside the Xperia 1 III and Xperia Pro-I. We are glad to see a battery capacity increase here, and considering the underwhelming battery performance of the previous model, we are very happy with this upgrade.
Well, there is even better news. The Xperia 1 IV scored a total endurance rating of 100 hours, improving on both the 1 III and Pro-I.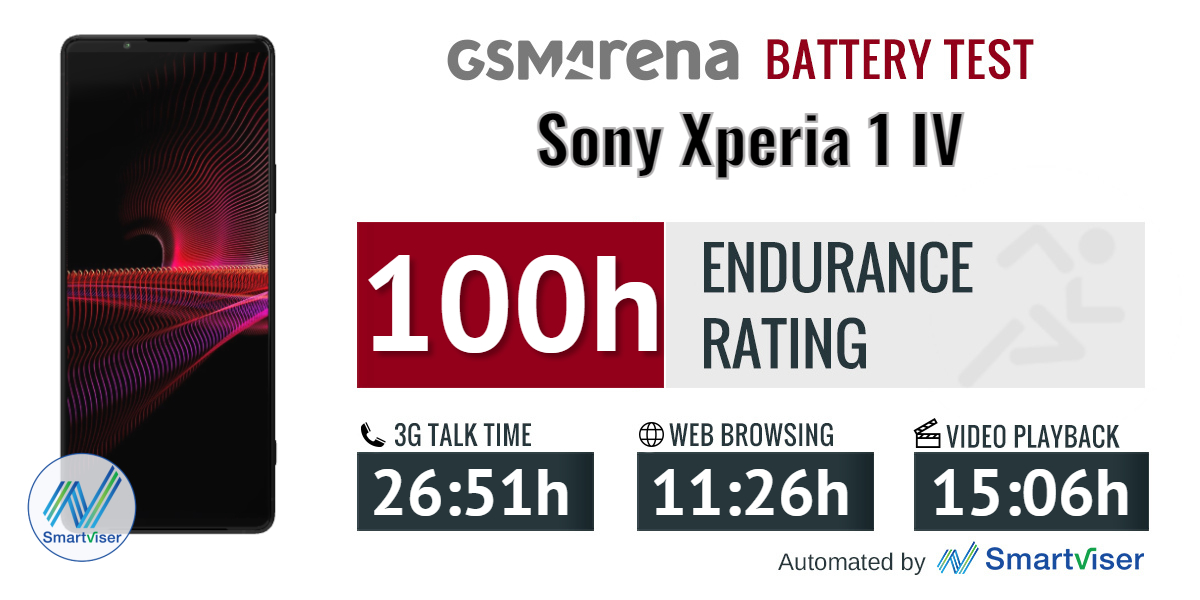 Our battery tests were automated thanks to SmartViser, using its viSerDevice app. The endurance rating denotes how long the battery charge will last you if you use the device for an hour of telephony, web browsing, and video playback daily. More details can be found here.
The Xperia 1 IV clocked neatly 27 hours on 3G calls and did much better on the on-screen test by putting up 11 and a half hours of web browsing and 15 hours of video playback on a single charge each. We are also happy to report the standby endurance has been improved as well. Overall, an excellent job from Sony across all scenarios - especially for a Snapdragon 8 Gen 1.
Video test carried out in 60Hz refresh rate mode. Web browsing test done at the display's highest refresh rate whenever possible. Refer to the respective reviews for specifics. To adjust the endurance rating formula to match your own usage - check out our all-time battery test results chart.
Charging speed
The Sony Xperia 1 IV supports up to 30W fast wired charging via USB Power Delivery, and Sony advertises it as capable of recharging 50% in half an hour. The Xperia 1 IV also supports wireless charging up to 15W.
Unfortunately, the Xperia 1 IV arrives without a charger because Sony is taking cues from other manufacturers and shipping its high-end device without a charger in a much smaller box. They claim it's for the greater benefit of keeping the planet cleaner. Just like with other manufacturers, we still have a grudge with a move like that that mainly puffs up the company's bottom line rather than having an actual ecological benefit. Most consumers who can afford an expensive phone like that will get a charger anyway, just to ensure they get the best from their high-end device.
If you are going to get a charger, too, Sony will happily offer you its own 30W XQZ-UC1 PD charger. You can also get any third-party charger that supports at least 30W USB Power Delivery. The Xperia 1 IV ships without a calbe, so you will need to get one, too.
We've tested the Xperia 1 IV with a run-of-the-mill USB-PD charger, and a 30-minute charge gave us 47% of charge, just as advertised. That's in line with the Xperia 1 III and Xperia Pro-I considering both have 10% smaller batteries. It's not as impressive as 60W or higher capable devices, but it's adequate enough and in line with other expensive phones like the iPhone 13 Pro Max and the Galaxy S21 Ultra.
30min charging test (from 0%)
Higher is better
Xiaomi 12 Pro (120W)
100%
OnePlus 10 Pro
98%
Oppo Find X5 Pro
91%
Samsung Galaxy S22 Ultra (65W PD, no PPS)
65%
Xiaomi 12 Pro (65W PD)
62%
Samsung Galaxy S22 Ultra (25W)
61%
Samsung Galaxy S22 Ultra (45W)
60%
Sony Xperia 1 III
50%
Google Pixel 6 Pro
48%
Sony Xperia 1 IV
47%
Apple iPhone 13 Pro Max (20W Apple)
42%
A full charge took 1 hour and 42 minutes, once again - not that impressive, but similar to what other high-end flagships offer. Supposedly, high-tier makers are not inclined to offer higher than 30W charging as they don't want to shorten the battery lifespan.
Time to full charge (from 0%)
Lower is better
Xiaomi 12 Pro (120W)
0:21h
OnePlus 10 Pro
0:32h
Oppo Find X5 Pro
0:40h
Xiaomi 12 Pro (65W PD)
0:50h
Samsung Galaxy S22 Ultra (45W)
0:59h
Samsung Galaxy S22 Ultra (65W PD, no PPS)
1:02h
Samsung Galaxy S22 Ultra (25W)
1:04h
Sony Xperia 1 IV
1:42h
Apple iPhone 13 Pro Max (20W Apple)
1:46h
Sony Xperia 1 III
1:50h
Google Pixel 6 Pro
1:52h
Speaker quality
Sony is one of the few makers to offer full-blown stereo speakers placed symmetrically below and above the display. With both being front-firing and of equal size, it is safe to say the audio balance is perfect.
Sony promises 10% loudness increase and up to 50% more bass compared to their previous flagship phone.
And we are happy to confirm both - the speakers on the Xperia 1 IV scored a Good mark on our loudness test - up from Average on the Xperia Pro-I and on par with the Xperia 1 III.
Listening to the text itself reveals a noticeable boost in the bass, and the audio indeed sounds deeper and, well, richer.
You can enable the Dynamic Vibration anytime you are listening to music or play videos - once you hit some of the volume keys, you will notice a slider for Dynamic Vibration next to the volume one - it's quite easy to use, but, unfortunately, the feature's novelty quickly wears off.
Use the Playback controls to listen to the phone sample recordings (best use headphones). We measure the average loudness of the speakers in LUFS. A lower absolute value means a louder sound. A look at the frequency response chart will tell you how far off the ideal "0db" flat line is the reproduction of the bass, treble, and mid frequencies. You can add more phones to compare how they differ. The scores and ratings are not comparable with our older loudspeaker test. Learn more about how we test here.