Sony is a headphone company. Sometimes that is easy to forget because Sony is also a camera company, a TV company, a gaming company and a bunch of other things. It's the maker of the premier active noise-canceling headphones and earbuds in the WH-1000XM4 and the WF-1000XM4, among other excellent audio products.
But today we're looking in the opposite direction of active noise cancellation, and into audio transparency, and specifically at Sony's new innovative LinkBuds - the first earbuds truly designed to let the outside world in.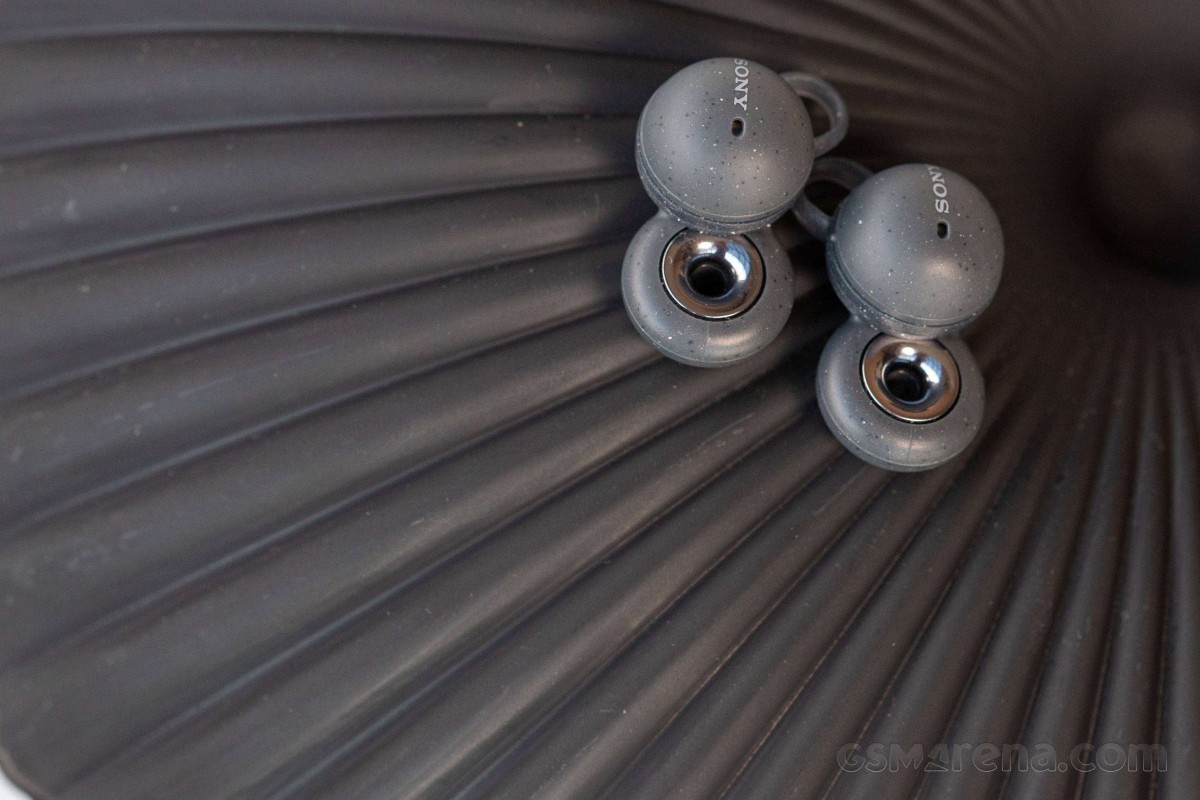 The LinkBuds immediately stand out thanks to their unique design. Sony calls it an open ring design and it allows the driver of each bud to have a hole to let outside noise in. Normally the driver aims to close out the ear canal and create as much isolation as possible. But LinkBuds specifically have an open diaphragm to allow for audio transparency.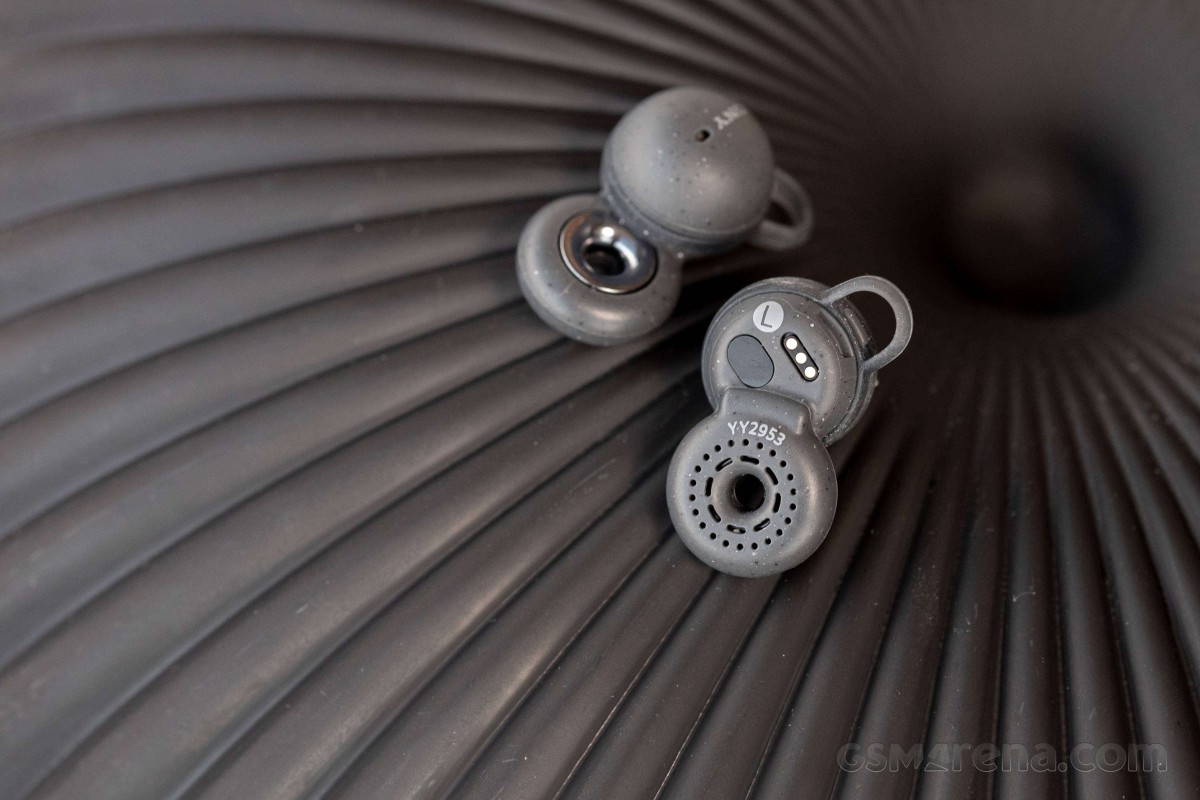 Sony wants you to never need to take the LinkBuds out of your ears, whether you're outside or in, walking on the street, or typing away at a desk. And to achieve this, it made the LinkBuds as small as possible. The diaphragm's protective surface is integrated into the bud's housing.
The buds are designed to fit the shape of the ear, Sony says it's relied on its extensive ear shape data that stretches all the way back to 1982 when it gave us the world's first in-ear headphones.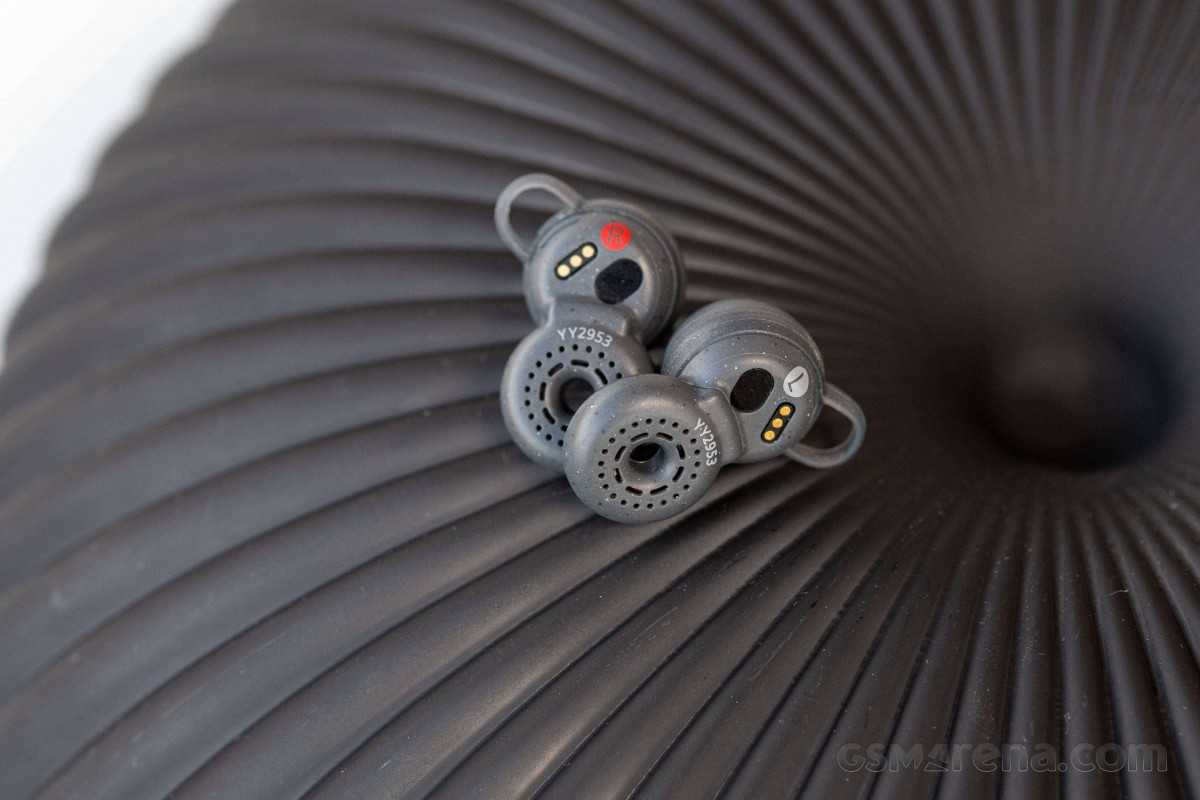 Each individual LinkBud weighs just 4g, while, for example the Galaxy Buds2 are 6g a piece. Having a reduction of around 30% in your ear is noticeable.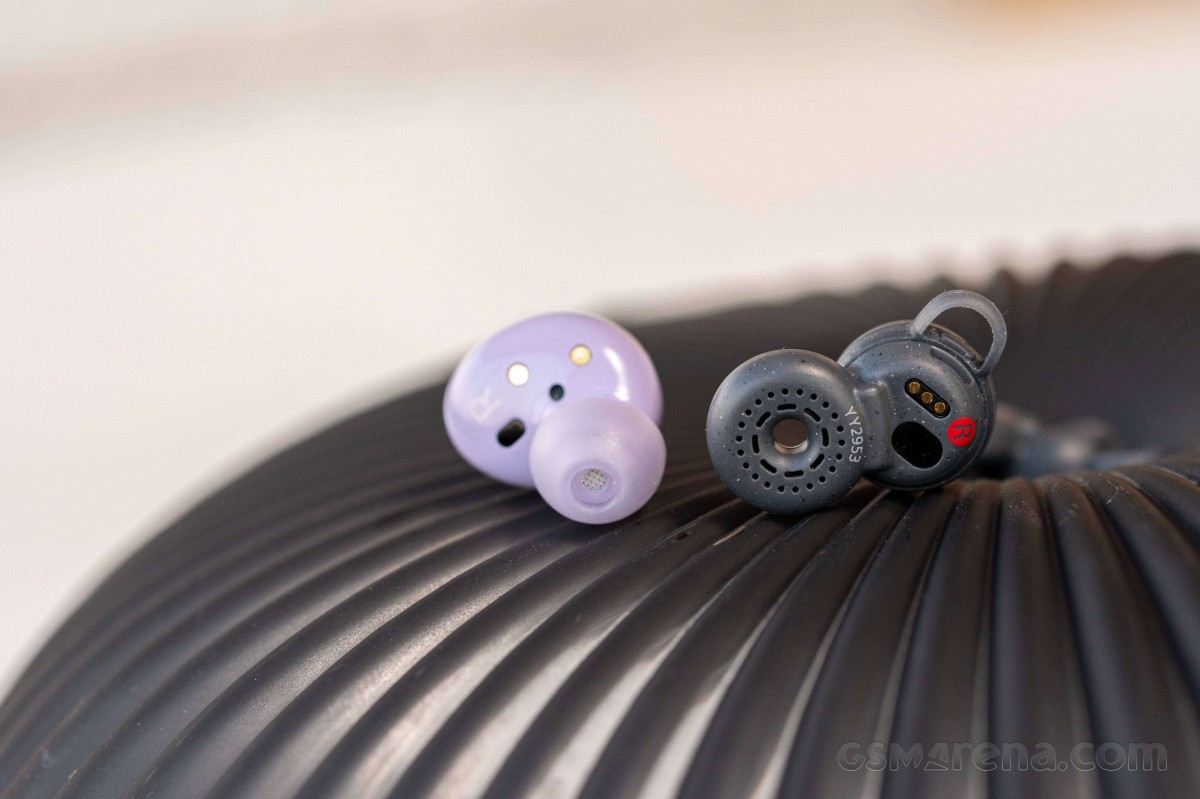 Wearing the LinkBuds for prolonged spells of time is a mixed bag. In the beginning, they feel very light and with no audio playing, it starts to feel like you have nothing impeding your access to the world. But after a while, the driver, which is slightly wider to allow for that open-center, began to dig in this reviewer's ear. So I couldn't wear the LinkBuds for longer than 30 minutes at a time, without needing a bit of rest.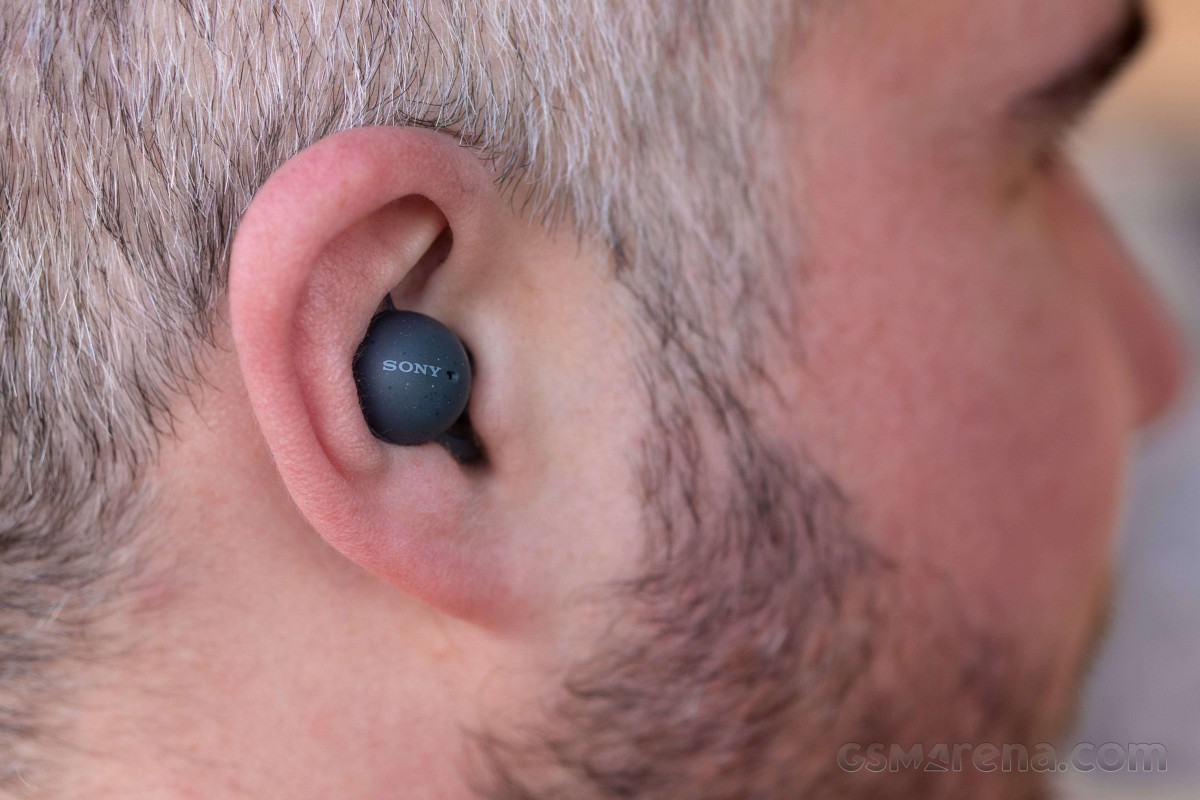 Fit is person-specific obviously and if you have a slightly wider ear canal opening you are unlikely to have the issue with the LinkBuds. But compared to conventional in-ear designs, like the Galaxy Buds2, the LinkBuds have a wider driver, which could mean more people will be affected.
The wingtips of the LinkBuds are essential for keeping them in place when you're on the go. Sony supplies four sizes, aptly named S, M, L, XL. You'll always find the right fit for your ears.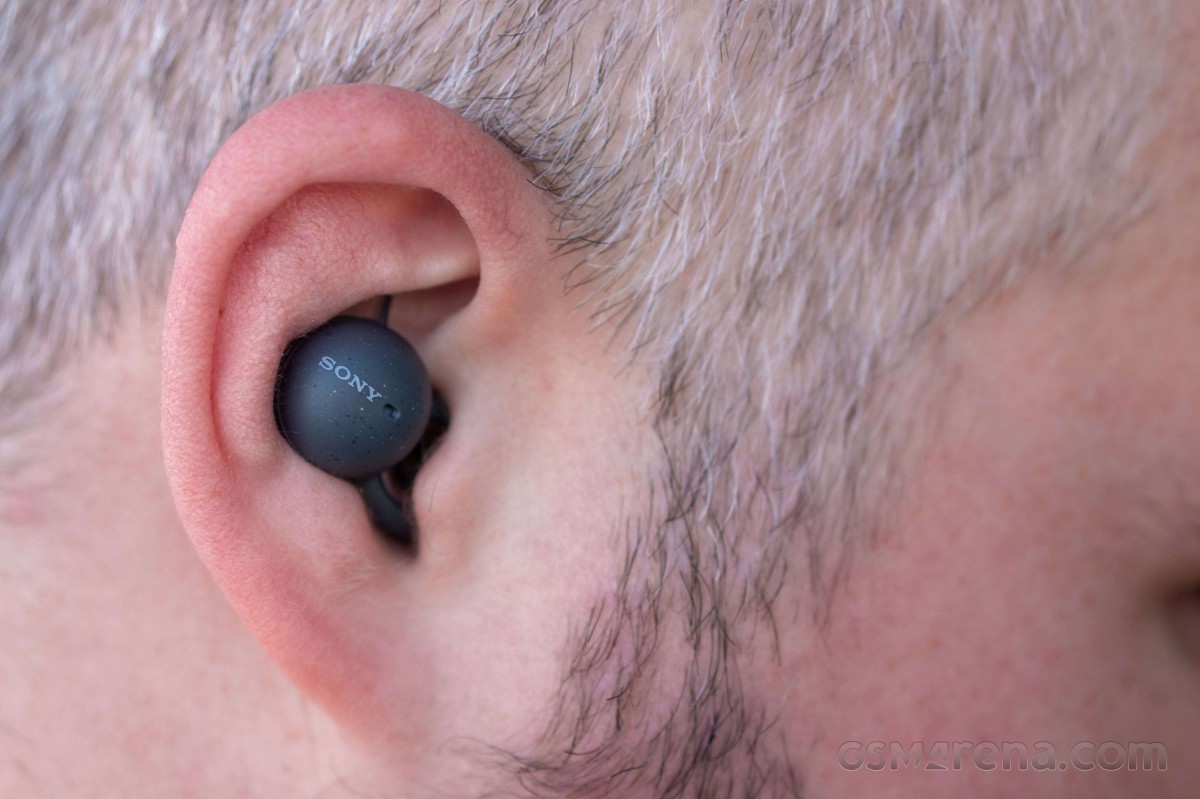 The case has compact size and design reminiscent of a ring box. It has a latch button on the front, so it won't open on its own and spill your earbuds when you inevitably drop it. There's a USB-C port for charging (no wireless charging), and a small button on the rear - hold the button for more than 5 seconds to reset the buds' connection.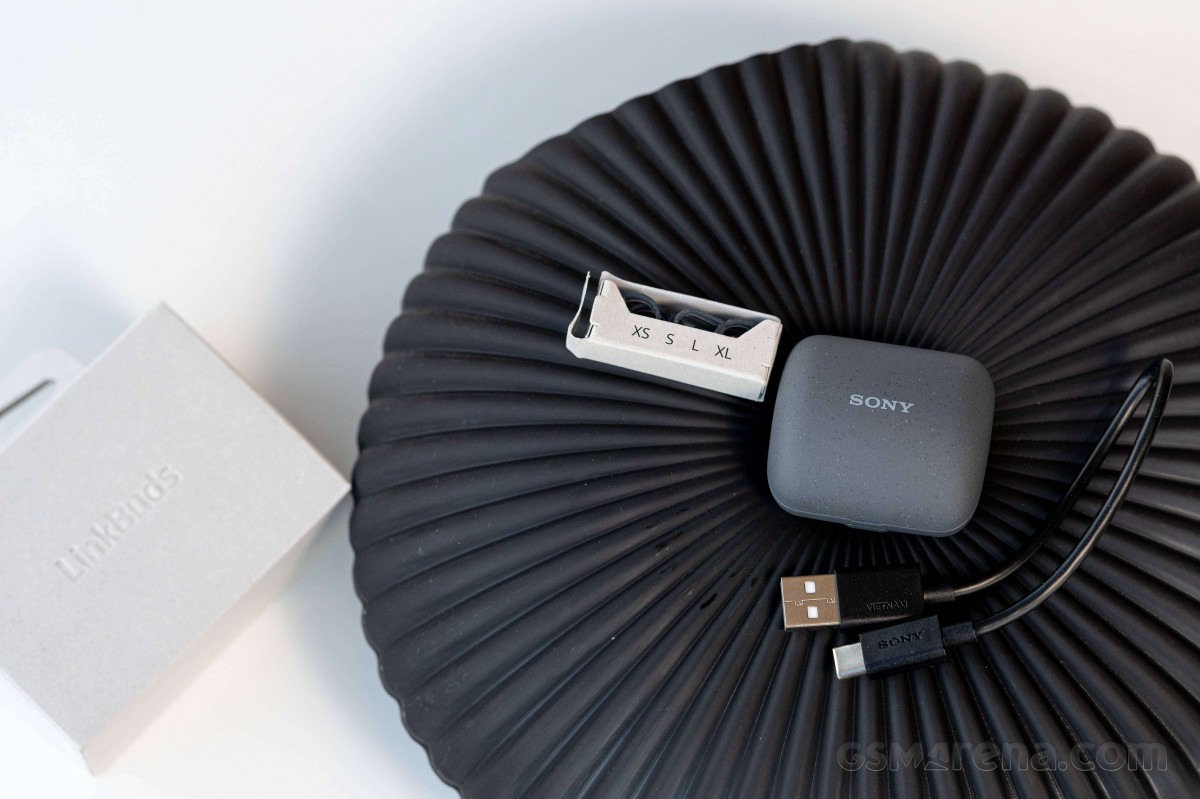 Inside, the buds sit charging. They attach magnetically in their place while closing the lid of the case pushes them down onto their charging pins.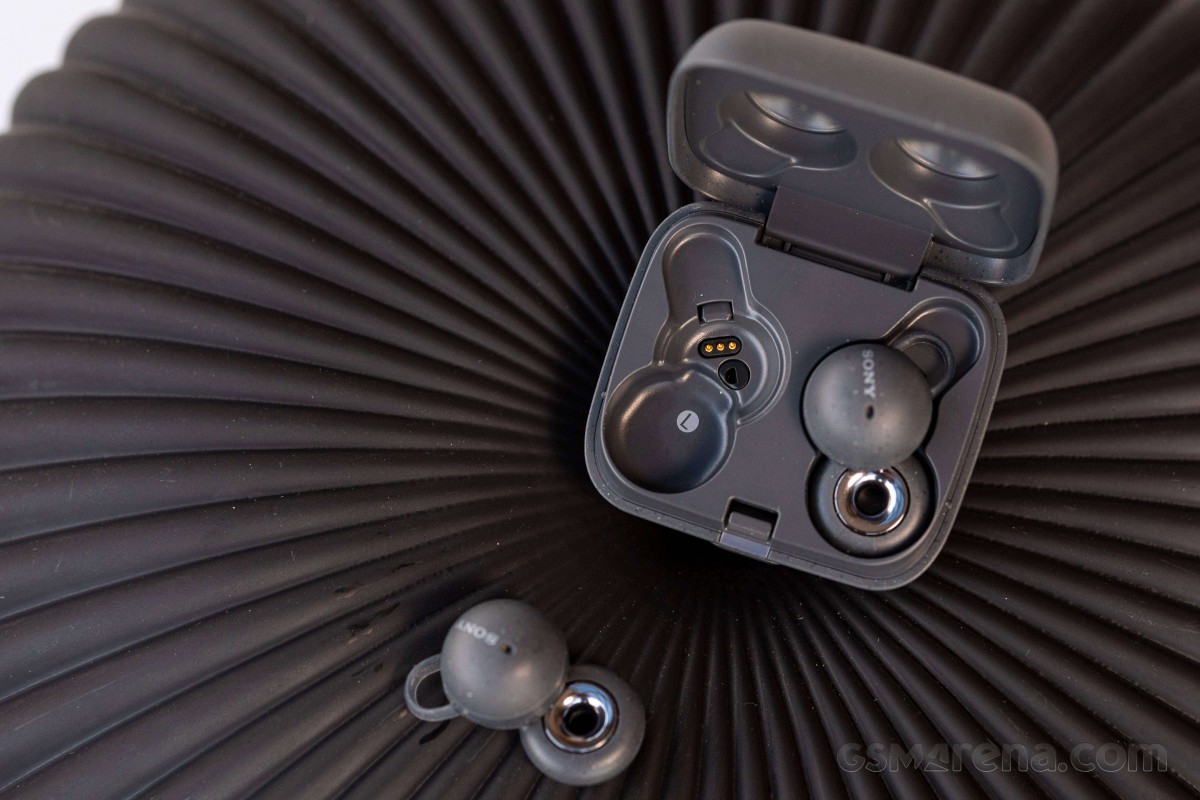 Sony made the decision to use recycled plastics for the LinkBuds and their case, and not use any plastic for the packaging, which we applaud.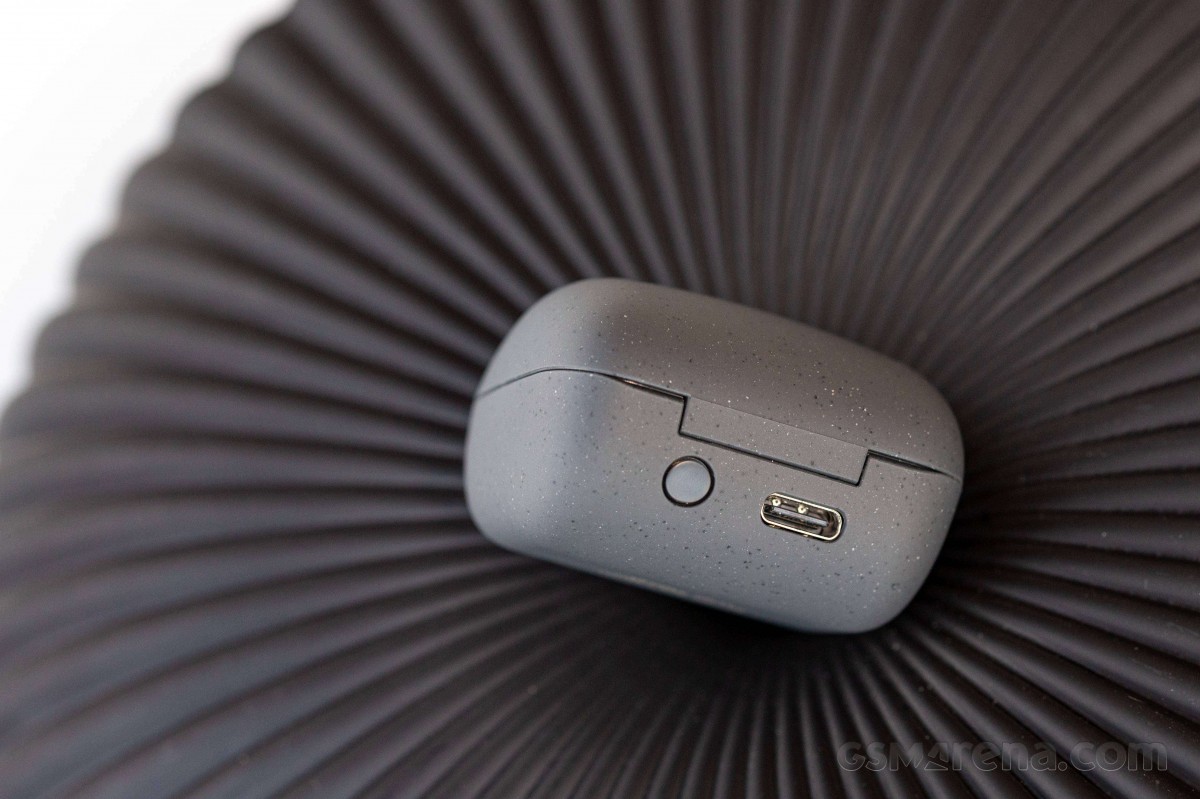 The LinkBuds are IPX4 rated, so they'll handle splashing water from any direction, as well as sweat.
Let's talk smarts. The LinkBuds, in true Sony fashion, have a lot of them. Beginning with the pairing process, which is a seamless affair, thanks to Google Fast Pair. When you open the case for the first time, your Android phone prompts you to connect. There's also Swift Pair support for Windows 10 and 11 devices, but iOS users will have to take the scenic route of conventional pairing.
Adaptive Volume Control can adjust the volume of whatever you're listening to automatically, depending on your environment. It's something you enable from Sony's Headphone app.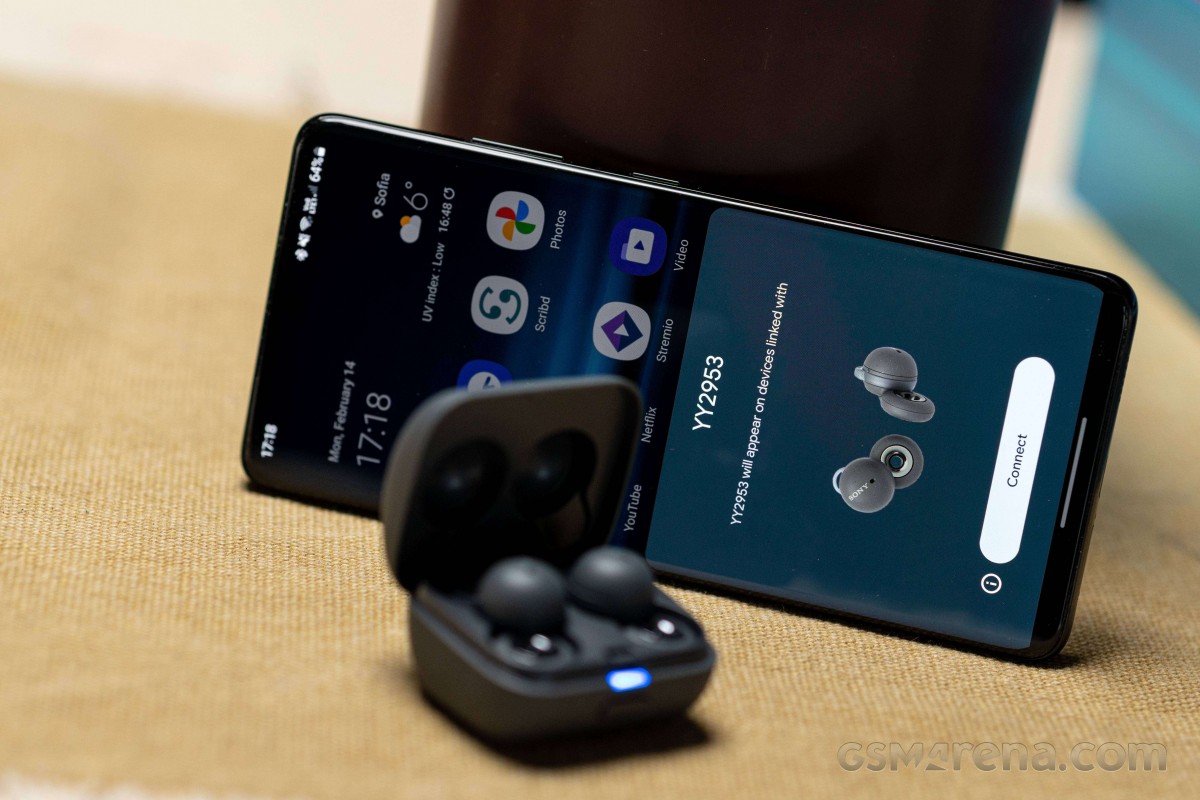 During a call, the LinkBuds will pick up your voice and enhance it, while suppressing outside noise. Sony uses an algorithm that was made by combing through 500 million voice samples and using Machine Learning to isolate ambient noise.
The connection was impressive. I got as far as 30 meters away from my phone and only ever got a bad signal when glass walls got between us. Going two rooms away wasn't an issue for the signal.
You also get always-on Google Assistant or Alexa support - the LinkBuds will recognize "Ok Google" and "Alexa" voice commands and perform tasks on your phone.
I found the voice commands to work every single time. As for calls, the LinkBuds were perfect - callers on the other line hadn't even noticed something out of the ordinary.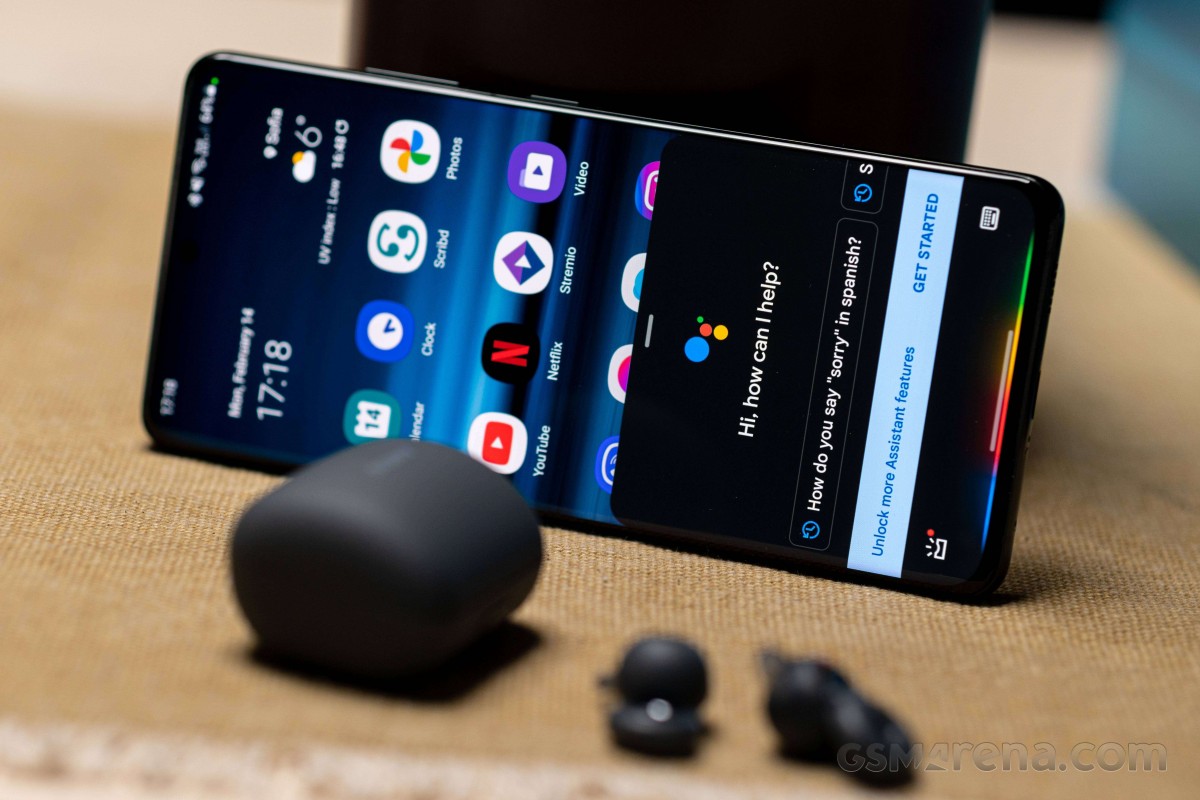 You can tap on each bud to play and pause, as well as skip to the next track. What's even more, the LinkBuds will recognize those taps even if you tap near them, like on, above, or in front of your ear.
Sony claims 5 and a half hours of playback from the LinkBuds and another 12 hours from the carrying case. With the volume set to 100%, I got a little over 5 and a half hours of Spotify streaming out of the LinkBuds, which exceeds expectations, because you are not supposed to go full blast for so long.
As for charging - a quick 10-minute top-up will give you an hour and a half of playback.
Now, let's talk audio quality. The Sony LinkBuds provide a midrange-centric soundstage. Because of their physical limitations - the lack of any meaningful isolation - there's practically no bass.
That means that instruments sound a bit thin, and the music lacks the warmth and fullness we've come to expect from modern consumer earbuds.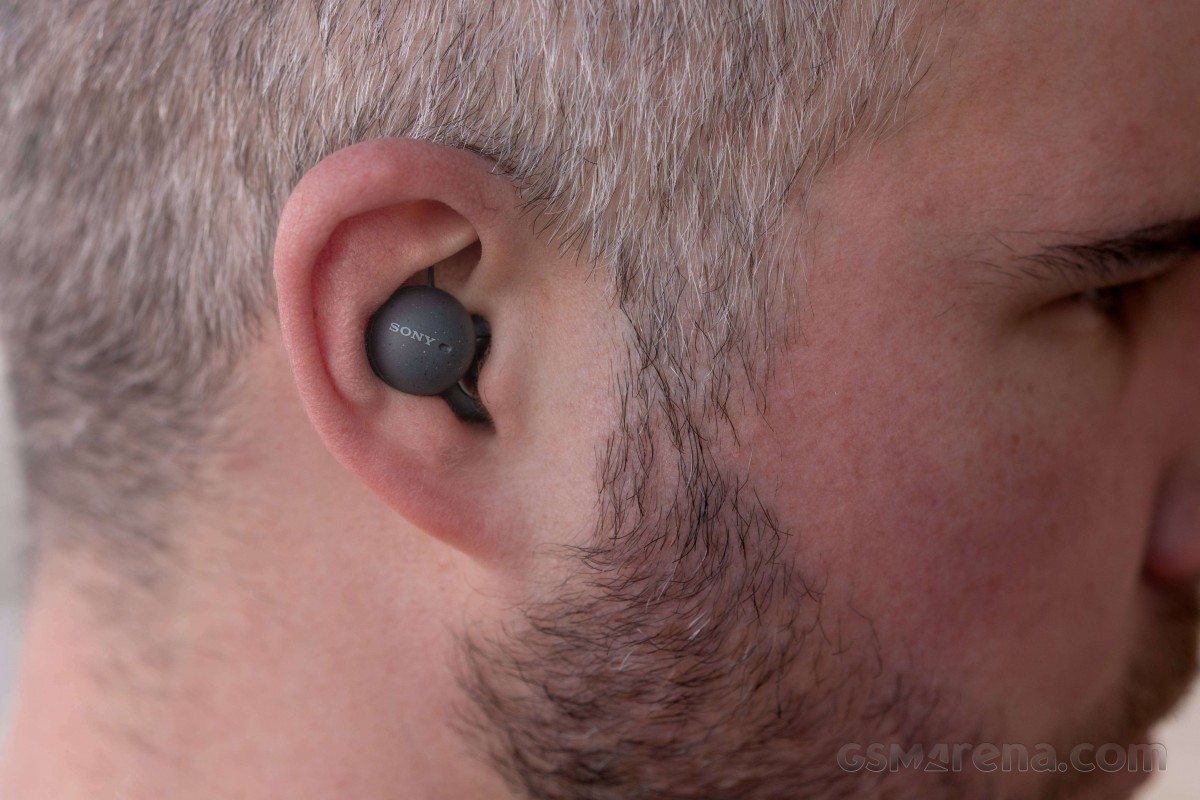 But, to their credit, The LinkBuds have a well-developed midrange. There's presence in instruments and vocals, both come out detailed, if a bit underpowered, and there's a prominent stereo feel that we like. Overall volume is good, as well.
Listening to my favorite music, I got used to the LinkBuds' sound in about a day. I didn't find the lack of bass that noticeable after that. But a quick side-by-side comparison to my usual, bass-heavy set of buds destroyed all of my achieved acceptance of the LinkBuds.
Sony built the LinkBuds to be inclusive of the outside world - its sounds and its busyness. And they're great at that. In-ear buds can attempt to bring you the outside world through software, but it sounds harsh and processed. Having a literal physical hole to the world is natural and comfortable.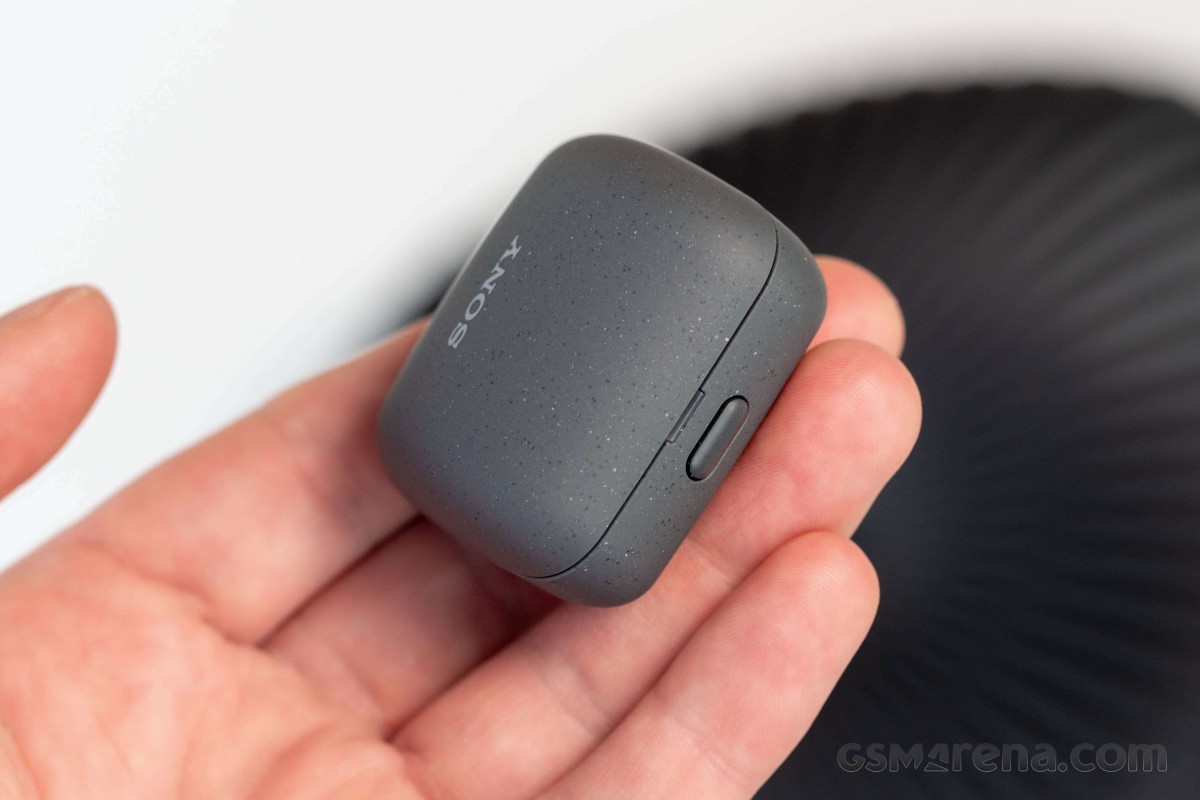 So if you like your earbuds to sit securely in your ears, but not drown out the world around you, the LinkBuds sit alone on a hill made just for you. And, at just €180/£150, I'd say they are priced adequately.
K
It's a codec that raises the bitrate from 256 to 356 kbps. At the consumer wireless market, codecs mean nothing; Developing the best driver and frequency response is what matters. Codecs and FLACs only matter at the super high-end open-back audi...
M
Completely wrong explanation of dynamic vs balanced armatures driver. Both drivers have different mechanism of working, on dynamic driver, diaphragm move with coil, and on balanced armature, diaphragm move with magnetic field variation of coil
I also hate the design of earbuds with it drilling into my ear. That's why I use the old design and I've already ordered these.
ADVERTISEMENT