Foldable Dynamic AMOLED 2X display
The Samsung Galaxy Z Fold2 takes its display game to the next level in more ways than one. Compared to its predecessor, the screens are now bigger - both on the inside and the outside of the phone. The selfie cameras are less obtrusive. And most importantly, the large 7.6-inch screen has 120Hz refresh rate support. The external 6.23-inch one is capped at 60Hz.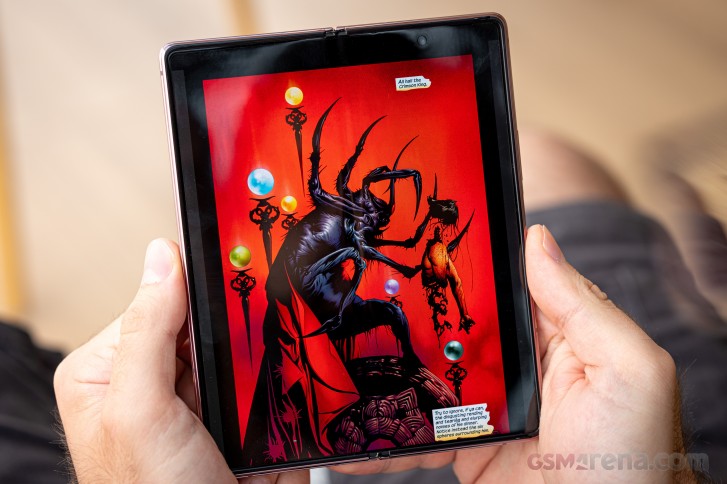 We already mentioned the surface of the large screen is not ideal in terms of traction and finger-gliding. There is also a visible crease in the middle and there is probably no going around that with any sort of foldable panel tech. At least not any time soon.
The crease is, of course, noticeable to the touch, especially while swiping. That unfortunate drawback remains.
However, it's a lot less prominent on our Z Fold2 review unit than on the old Galaxy Fold. On the other hand, we had the Fold 1 for longer, and the crease there did get worse over time, so we can't compare the two directly.
Image distortion along the crease is still a thing at some angles. However, it's not noticeable when looking at the Z Fold2 straight on. In fact, in this use case, it becomes invisible and you only feel it your fingers.
Display test
100% brightness
Black,cd/m2
White,cd/m2
Contrast ratio
Samsung Galaxy Note20 Ultra 5G (Max Auto)
0
1024
∞
OnePlus 8 Pro (Max Auto)
0
888
∞
Apple iPhone 11 Pro Max
0
820
∞
Xiaomi Mi 10 Ultra (Max Auto)
0
811
∞
Samsung Galaxy Z Fold2 (cover display, Max Auto)
0
741
∞
Asus ROG Phone 3 (Max Auto)
0
719
∞
Samsung Galaxy Z Fold2 (Max auto)
0
714
∞
Samsung Galaxy Fold (cover) (Max Auto)
0
623
∞
Samsung Galaxy Z Flip (Max Auto)
0
596
∞
Samsung Galaxy Fold (Max Auto)
0.006
557
92833:1
Sony Xperia 1 II (Max Auto)
0
538
∞
OnePlus 8 Pro
0
538
∞
Samsung Galaxy Note20 Ultra 5G
0
504
∞
Xiaomi Mi 10 Ultra
0
498
∞
Asus ROG Phone 3
0
464
∞
Samsung Galaxy Z Fold2
0
461
∞
Huawei Mate Xs
0
448
∞
Samsung Galaxy Z Fold2 (cover display)
0
425
∞
Huawei Mate Xs (Unfolded)
0
413
∞
Samsung Galaxy Fold (cover)
0
380
∞
Samsung Galaxy Z Flip
0
377
∞
Samsung Galaxy Fold
0.002
370
185000:1
Sony Xperia 1 II
0
333
∞
We found that both panels on the Z Fold2 hold their own very well in terms of brightness amid a flagship crowd. They are not quite on top of the food chain, but are truly impressive, given the differeces between the two displays, especially the odd nature of the main one.
We were surprised by how similar Samsung has managed to make the experience across the pair.
In manual mode, the bigger, foldable 7.6-inch panel managed to shine a bit brighter at full blast (461 nits) compared to the cover screen (425 nits), but they are quite close nonetheless.
In bright light and with auto-brightness switched on, we got close results out of the two panels as well. It was 714 nits for the large one and 741 nits for the cover display.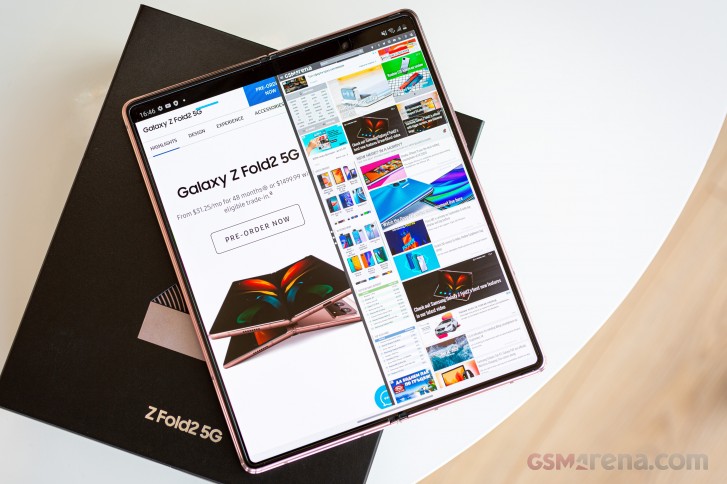 In more practical terms, both panels remain perfectly usable outdoors, even in direct sunlight. Each display has its own ambient light sensor, concealed underneath the panel.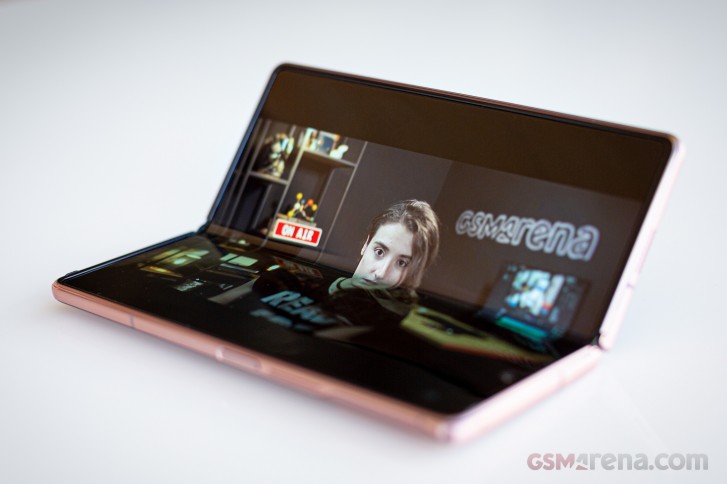 The contrast ratio is, again, excellent on both screens, thanks to the marvels of the OLED tech and its inky blacks.
Both panels look perfectly sharp as well. The main 7.6-inch panel has a resolution of 1768 x 2208 pixels and a pixel density of around 373 ppi.
The cover display has a resolution of 816 x 2260 pixels, which translates into an excessively-tall 25:9 aspect ratio. Even so, the increase in usability this panel provides over the 4.6-inch, 21:9 one in the old Galaxy Fold is massive. The cover display is now perfectly capable of handling any task or app without any compromises. Even those involving tiny images and text, like browsing maps and navigation.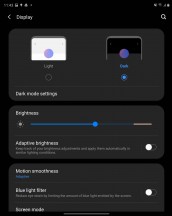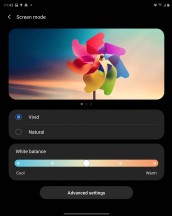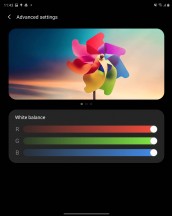 Display settings and color profiles
The two Galaxy Z Fold2 panels left us pleasantly-surprised in terms of color-reproduction, too.
In keeping with Samsung's current norm of a more straightforward approach to color profiles, there are just two options on the Display settings - the default "Vivid" mode and an additional "Natural" one. Plus, advanced sliders for custom white point tuning for anything beyond that.
In the default Vivid mode, the main 7.6-inch foldable panel managed an average dE2000 of 4.6 and a maximum of 10.2, while the cover display scored - 5.1 average and 11.4 max. In both cases, the color-tuning was very-consistent between the two screens.
Switching over to Natural mode and, once again, measuring against our standard choice of a DCI-P3 color space, we got an average dE2000 of just 1.4 (max 2.4) from the main display and 1.5 (max 2.3) on the cover one. These are truly impressive results and well expected from Samsung's factory tuned AMOLED screens.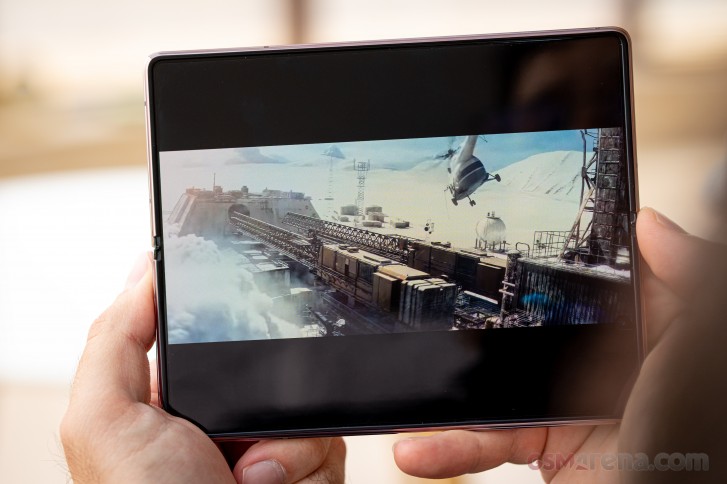 Like any recent Samsung flagship, the Galaxy Z Fold2 has HDR10+ support - alas, only on the large screen as the cover screen is not listed as HDR10+ capable. The device also has Widevine L1 certification, meaning that you can take full advantage of HDR sources, like Netflix and Amazon Video.
High refresh rate and adaptive refresh rate behavior
Speaking of things only the large panel supports, we also have 120Hz high refresh rate. The cover screen is limited to 60Hz.
To turn on the high refresh rate, there is an option for Display Smoothness, with two states - Adaptive and Standard. It is worth noting that One UI is smart enough only to show this option on the main display of the Z Fold2 and hide it while using the cover display where it is not relevant.
Standard is the straight-forward 60Hz option with all of the battery-savings that can net you.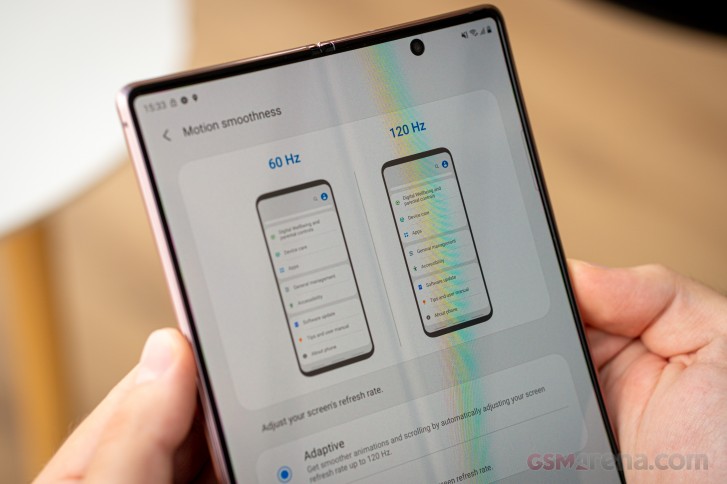 The Adaptive option is the only way you can make use of the 120Hz refresh rate of the main Z Fold2 display. Unlike on the Note20 Ultra or the S20 line, you don't need to drop to a lower resolution on the Z Fold2 to make use of the extra refresh rate. Its native resolution is low enough to handle apparently.
Just like on the Note20 Ultra, however, instead of providing a forced 120Hz toggle that simply locks the refresh rate at that level, Samsung has the so-called Adaptive mode which employs an automatic switching behavior, so that the effects of high refresh rate on battery endurance can be mitigated.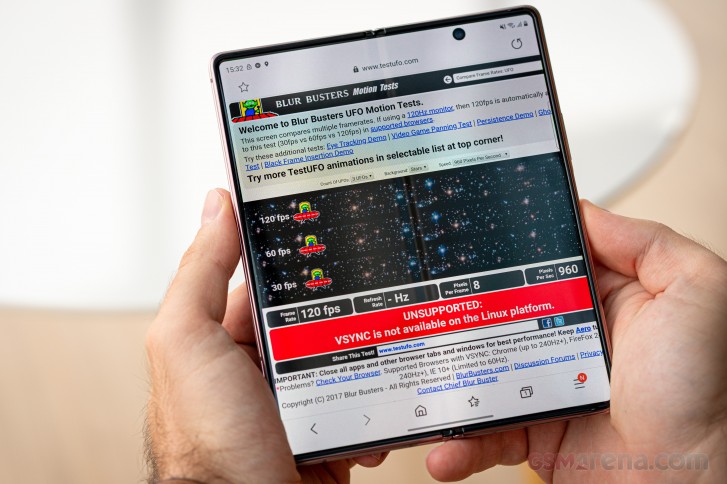 Going into the Z Fold2, we expected the Adaptive mode to have the same behavior we observed on the Note20 Ultra and described in great detail in its review. Basically, there, the refresh rate was adjusted based on whether the phone - or rather its screen - was actively used or not. Additionally, certain apps like video players or games that don't support high framerates, always ran with the screen at 60Hz or less.
However, as our review process progressed, we observed that the Adaptive smoothness mode forced 120Hz most of the time. Dropping down to 60Hz was extremely rare and based on specific apps rather than actual touch input logic.
Updated 12 Sep 2020: As it turned out, one of the factors the Adaptive mode takes into account is the ambient brightness. While the screen brightness remained set by us manually to 200nits, the Adaptive refrresh rate mode continued to monitor the ambient light levels, and would only decrease the refresh rate in bright surroundings.
Before we realized that, the phone would always work in 120Hz refresh rate regardless of whether you are touring the UI and system menus, or reading a static web page, viewing images in the gallery, playing a local video, or streaming video through YouTube and Netflix. That's really not how you save battery, we thought. But the logic behind the Adaptive refresh rate was more complex than expected.
But once the ambient light was bright enough, you could enjoy the granular refresh rate variability we observed on the Note20 Ultra. Here are the basics of how it works.
For starters, if you're actively tapping and swiping on the screen, it'll maintain 120Hz. Leave it on a table or even just stare blankly at it while holding it for a few seconds and it'll go down to 60Hz, only to crank the refresh rate back up once you touch the screen. That's the usual behavior you can expect across the UI, as well as in most apps including Instagram, Facebook, and browsers (we checked Chrome, Firefox, and Samsung's own).
Then there are app-specific peculiarities. Games are neither here nor there or, as we put it while reviewing the ROG Phone 3, 'High refresh rate gaming on Android is still the Wild West.'
Games that support 60fps+ framerates will be allowed to run at 120Hz, but the phone would not bother with the high refresh rate for the other titles which are capped at 60fps.
It is worth noting that the built-in Samsung Game Booster feature does include an optional toggle to force an even lower refresh rate and hence fps cap while gaming - 48Hz. It seems to work as advertised and consistently.
Samsung's Adaptive refresh rate system shows great promise and we're glad it's not 'stuck at 120Hz' as we initially thought. The system involves numerous triggers and we somehow missed that high ambient light was one of them, making us think it's quite random. you should be able to enjoy the same battery benefits it brings to the Note20 Ultra.
Samsung Galaxy Z Fold2 battery life
The Samsung Galaxy Z Fold2 packs a 4,500 mAh battery. Or, more accurately, two separate batteries that roughly total that rated capacity. That's a respectable amount for a modern device, but when you take into account the massive 7.6-inch panel with a 120Hz refresh rate and things don't look too promising anymore.
First, we tested the Z Fold2 unfolded with the tests running on the large screen at its max refresh rate of 120Hz. Consider this to be the worst-case scenario in terms of battery endurance. All things considered, however, the Z Fold2 still performed admirably.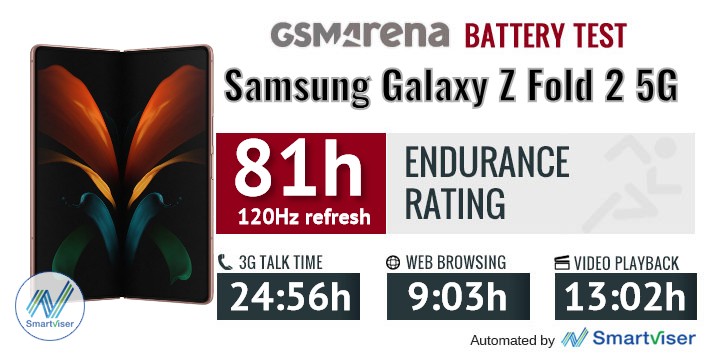 Then we switched the "Standard" or 60Hz mode, while still using the main screen. You might call this 'the best case scenario' for using the Z Fold 2 as a tablet. We see a pretty significant improvement in video endurance of about three hours.
The boost to web browsing is not as significant, which can be explained by the fact that the biggest power draw in this scenario is due to the predominantly white page contents rather than the high refresh rate itself.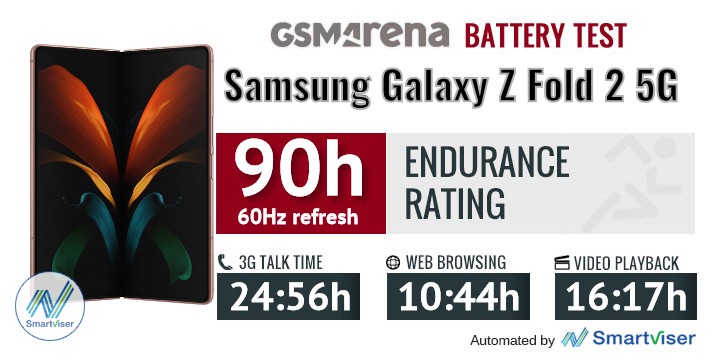 Last and probably least, we decided to see what kind of endurance we would get if we only stick to the secondary, relatively low-resolution (816 x 2260 pixels) OLED panel, which works at a standard 60Hz refresh rate, further helping it along with endurance. We can see that all of these things quickly add up.
Honestly, if you can get used to the extra-tall 25:9 aspect ratio, the 6.23-inch cover display on the Z Fold2 is amazingly usable. Much more so than the 4.6-inch unit on the old Galaxy Fold.
For most frequent every-day task, like checking notifications, changing songs, even the odd short reply to an IM, we felt perfectly content with using it, instead of involving a second hand and the main display.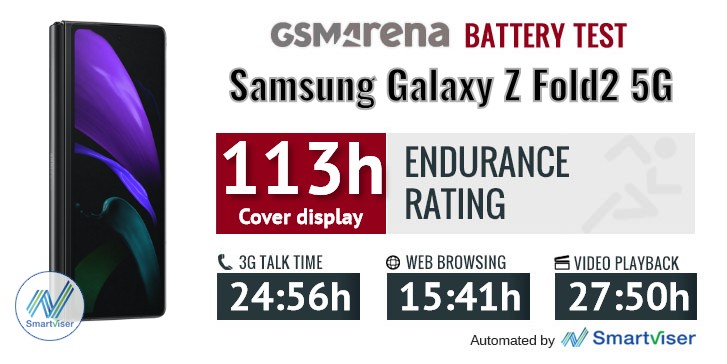 Since a lot of mixed-use will likely be the case for many Galaxy Z Fold2 buyers, as well, you can probably expect a realistic, real-world battery endurance number somewhere in the middle of the scale of numbers we provided.
Our battery tests were automated thanks to SmartViser, using its viSer App. The endurance rating above denotes how long a single battery charge will last you if you use the Samsung Galaxy Z Fold2 for an hour each of telephony, web browsing, and video playback daily. We've established this usage pattern so that our battery results are comparable across devices in the most common day-to-day tasks. The battery testing procedure is described in detail in case you're interested in the nitty-gritty. You can check out our complete battery test table, where you can see how all of the smartphones we've tested will compare under your own typical use.
Charging specifics
Charging on the Z Fold2 can be done at up to 25W wired and 11W wireless. Both hardly chart-topping numbers, but perfectly respectable. Not to mention, potentially better for battery longevity in the long run.
The Z Fold2 charged from 0 to 30% in half an hour, then 57% at the hour mark, with a full charge taking just shy of two hours. That's oddly slower than the rate achieved by the Galaxy Note20 Ultra, which shares both the charging rate and battery capacity. However, the Z Fold2 does have its battery split in two. With no official info on a special concurrent-charging standard, we can only assume that the slower overall charging is down to having to charge two smaller batteries, each with their own charging curve and trickle cycle.
30min charging test (from 0%)
Oppo Find X2 Pro
95%
Huawei P40 Pro
80%
Galaxy S20 Ultra 5G
64%
OnePlus 8 Pro
63%
Apple iPhone 11 Pro Max
50%
Sony Xperia 1 II
46%
Galaxy Note20 Ultra 5G
43%
Galaxy Z Fold2
30%
Time to full charge (from 0%)
Oppo Find X2 Pro
0:36h
Huawei P40 Pro
0:50h
Galaxy S20 Ultra 5G
0:58h
Galaxy Note20 Ultra 5G
1:23h
Sony Xperia 1 II
1:51h
Galaxy Z Fold2
1:55h
Apple iPhone 11 Pro Max
2:00h
You can also charge the Z Fold2 wirelessly. Samsung says it supports around 11W this way, which is a bit lower than, say the Note20 Ultra and its 15W.
Reverse wireless charging is about the same, though, rated at 4.5W and only available if you have at least 30% charge in the phone.
Speaker test
The Samsung Galaxy Z Fold2 has a pair of dedicated speakers on either side. The Z Fold2 earned itself a "very good" mark in our loudness test.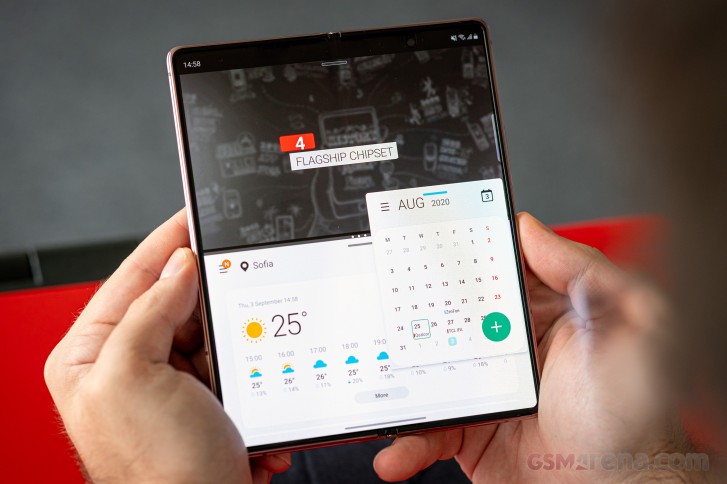 In real-world terms, the Z Fold2 is a true delight for media consumption.
If we have to be picky, we'd say that the speakers are quite easy to cover up in landscape use due to their lower position. Of course, you can just flip the unfolded Z Fold2 around and the problem is gone.
Use the Playback controls to listen to the phone sample recordings (best use headphones). We measure the average loudness of the speakers in LUFS. A lower absolute value means a louder sound. A look at the frequency response chart will tell you how far off the ideal "0db" flat line is the reproduction of the bass, treble, and mid frequencies. You can add more phones to compare how they differ. The scores and ratings are not comparable with our older loudspeaker test. Learn more about how we test here.
Audio output quality
We've recently discontinued our audio output quality test.
The reason for that is that most phones that arrived for testing were already excellent in this regard and whatever difference there was, it was marginal and probably indistinguishable to anything but our lab equipment.