A refinement act
Samsung Galaxy S7 review: A refinement act
Still 5.1 inches, even better now
Third generation in a row, the Samsung Galaxy S flagship comes with a 5.1-inch display and for the second time it has QHD (or 1,440 x 2,560 pixels) resolution. The subpixels are arranged in the familiar Diamond Pentile fashion, meaning the green subpixels are twice as many as any other single color.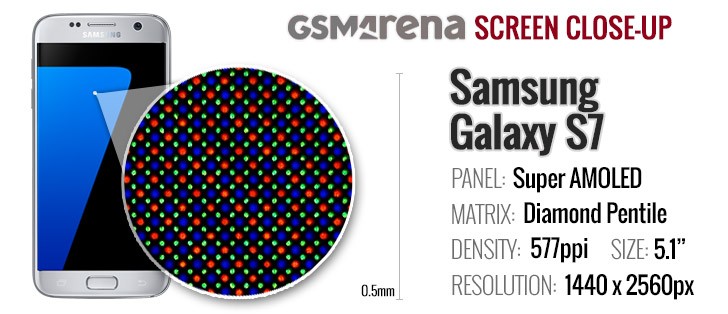 We're happy to see that Samsung is offering higher maximum screen brightness on the S7 when compared to the S6. The overdrive mode, which kicks in under bright sunlight if you have Auto brightness ON, goes a bit lower than what we saw on the S6.
The minimum display brightness is 2.1nits, which is perfectly suitable for late-night reading in a dark room.
Color accuracy of the screen is top notch as long as you opt for the Basic display mode. The other available modes make colors pop but they are nowhere near as color accurate as Basic (Average DeltaE 2000 of 1.7 and Max DeltaE of 2.3). For comparison, the Avg DeltaE in Adaptive mode is 7.1.
Display test
100% brightness
Black, cd/m2
White, cd/m2
Contrast ratio
Samsung Galaxy S7
0.00
395
∞
Samsung Galaxy S7 max auto
0.00
539
∞
Samsung Galaxy S6
0.00
363
∞
Samsung Galaxy S6 max auto
0.00
619
∞
LG Nexus 5X
0.30
455
1542
Sony Xperia Z5
0.59
583
986
Apple iPhone 6s
0.36
536
1481
LG G4
0.43
532
1238
Samsung Galaxy A5 (2016)
0.00
421
∞
Samsung Galaxy A5 (2016) max auto
0.00
601
∞
HTC One A9
0.00
366
∞
The Galaxy S7 posted a remarkable result in our sunlight legibility test, second only to Samsung's own Galaxy S6 edge+.
Sunlight contrast ratio
Samsung Galaxy S6 edge+
4.615
Samsung Galaxy S7
4.376
HTC One A9
4.274
Samsung Galaxy A3
4.241
Samsung Galaxy S6 edge
4.124
Samsung Galaxy S6
4.124
Samsung Galaxy Note5
4.09
Huawei Nexus 6P
4.019
OnePlus X
3.983
Oppo R7s
3.964
Samsung Galaxy A7 (2016)
3.918
Samsung Galaxy A5
3.895
Samsung Galaxy J7 outdoor
3.879
Samsung Galaxy J2 outdoor
3.873
Samsung Galaxy A8
3.859
Apple iPhone 6
3.838
Microsoft Lumia 950XL
3.837
Samsung Galaxy A9 (2016)
3.817
Motorola Moto X (2014)
3.816
Samsung Galaxy A5 (2016)
3.789
Apple iPhone 6s
3.783
Meizu Pro 5
3.781
Vivo X5Pro
3.706
Samsung Galaxy A7
3.679
BlackBerry Priv
3.645
Apple iPhone 6s Plus
3.53
Microsoft Lumia 950
3.512
Oppo R7 Plus
3.499
Samsung Galaxy J7
3.422
Meizu MX5
3.416
Oppo R7
3.32
Samsung Galaxy J2
3.235
Motorola Moto X Play
3.222
Lenovo Vibe Shot
3.113
LG Nexus 5X
3.092
Huawei Mate S
3.073
Microsoft Lumia 640 XL
3.065
Apple iPhone 6 Plus
3.023
Samsung Galaxy Note
2.97
Huawei Mate 8
2.949
HTC One S
2.901
Sony Xperia Z5
2.876
Microsoft Lumia 550
2.851
Sony Xperia Z5 compact
2.784
LG V10
2.744
Xiaomi Redmi 3
2.735
Sony Xperia M5
2.69
Xiaomi Mi 4i
2.641
Xiaomi Mi 4c
2.574
Microsoft Lumia 640
2.563
Motorola Moto G 4G
2.546
Oppo F1
2.528
Sony Xperia Z5 Premium
2.525
HTC One
2.504
Sony Xperia M4 Aqua
2.503
Motorola Moto G
2.477
Huawei G8
2.471
Sony Xperia Z
2.462
Huawei Honor 7
2.406
ZUK Z1 by Lenovo
2.382
LG G4
2.317
HTC One E9+
2.305
Sony Xperia C5 Ultra
2.253
Xiaomi Redmi Note 3 (MediaTek)
2.249
Sony Xperia C4 Dual
2.235
Motorola Moto G (2014)
2.233
LG Nexus 5
2.228
Huawei P8
2.196
Xiaomi Redmi Note 2
2.166
OnePlus Two
2.165
HTC One X
2.158
LG Aka
2.145
Archos 50 Diamond
2.134
Xiaomi Redmi Note
2.119
Huawei P8lite
2.078
Moto G 3rd gen max manual
2.026
Sony Xperia E4g
1.972
OnePlus One
1.961
Meizu m2 note
1.892
BlackBerry Leap
1.892
HTC Butterfly
1.873
ZTE Nubia Z9 mini
1.759
Sony Xperia U
1.758
Asus Zenfone Selfie
1.68
Motorola Moto E (2nd Gen)
1.675
ZTE Nubia Z9
1.659
Motorola Moto E
1.545
Sony Xperia M
1.473
Xiaomi Redmi 2
1.311
Sony Xperia C
1.283
Meizu MX
1.221
Connectivity
Samsung's Exynos 8890 chipset is paired with an LTE Cat. 9 modem. Theoretical maximums are 450Mbps downlink and 50Mbps uplink. If you have access to an HSPA network only, you'll get a maximum of 42Mbps and 5.76Mbps respectively.
The Samsung Galaxy S7 supports Wi-Fi ac networks for fast local connectivity. Wi-Fi, a/b/g/n at 2.4GHz and 5GHz networks are also supported, of course. Then there's Bluetooth 4.2 LE (for smartwatches, sport sensors and such) and apt-X codec (for high-quality audio streaming).
NFC support is present and is used for Samsung Pay (in conjunction with MST), which lets the S7 replace your credit cards. It's also useful for pairing with other devices and reading NFC tags.
The microUSB 2.0 port on the bottom of the phone supports fast charging and regular USB 2.0 transfer speeds. With the included adapter you can easily use the USB Host and OTG support - you can connect a mouse or a keyboard, USB flash sticks, or just use the Galaxy S7 as a power bank.
We noticed the Galaxy S7 lacks MHL support, which should render wired TV-out impossible. But since the wireless options are that rich, we suspect few people will miss it.
Samsung Galaxy S7 battery life
Battery capacity is one more key area where Samsung gives you more with the Galaxy S7. The smartphone packs a 3,000mAh power bank, a substantial increase over the S6's 2,550mAh. Okay, the battery is still sealed, but that's a lot easier to live with when there's simply more of it.
It's also quick to charge, even if the S7 only supports Qualcomm's QuickCharge 2.0 standard and not the latest version 3.0. Samsung promises 0 to 100% in 90min for the S7, but doesn't say just how rapidly those percentages climb from flat to, say, 70% where it starts to taper off.
Much like the company's last-year flagships, the Galaxy S7 is also capable of wireless charging with pads compliant with both Qi and PMA. Samsung will also sell you a fast wireless charging pad, which can fill up the battery nearly as fast as a cable will.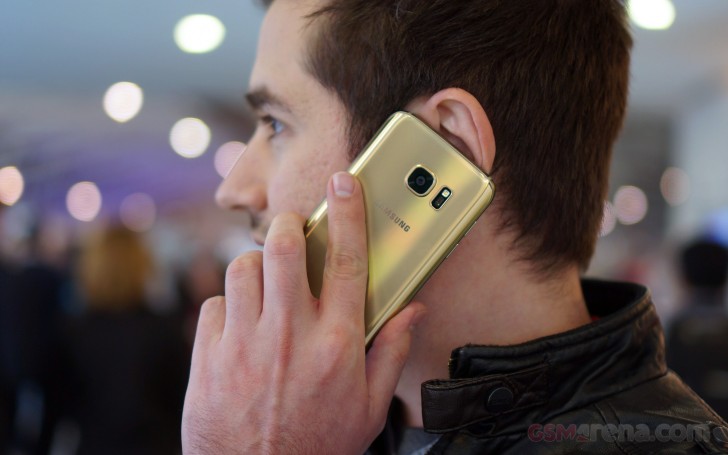 Now, let's move on to our test results, where the S7 does indeed outlast its predecessor. 23 hours of voice calls on a 3G network is three more than the S6, and the nearly 15 hours of video playback are about 2 and a half on top of last year's model, and an impressive achievement in its own right.
It's web browsing that is a slight letdown, at nine and a half hours with the built-in TouchWiz browser. We did manage to squeeze close to an hour more using Chrome, but even 10:20h isn't spectacular. Still, in the scorecard we've used Samsung's own browser result, as that's our default course of action when more than one app is provided.
The Always On display feature was always going to be a battery drainer, no two ways about it. Samsung's claim that it would cost you 1% per hour seems about right and it does leave a huge impact on the overall endurance rating. That's because our proprietary score also includes a standby battery draw test, which we carried out with the AOD off and then once again with AOD on. These results are not featured in our test scorecard but are calculated in the total rating.
Since its launch, the AOD setting has been optimized and now allows you to schedule times to activate it. Of course, your mileage will vary depending on how long you keep the phone out of your pocket.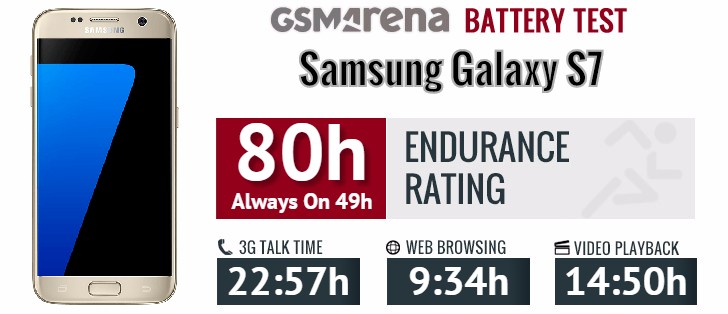 Our proprietary rating denotes the number of hours the phone will be operational if you are to make an hour of 3G talks, web browsing and video playback per day. Such usage pattern is of course entirely artificial, but we've established it so our battery results are comparable across devices.
The battery testing procedure is described in detail in case you're interested in the nitty-gritties. You can also check out our complete battery test table, where you can see how all of the smartphones we've tested will compare under your own typical use.