Opening new doors
Samsung Galaxy Nexus review: Opening new doors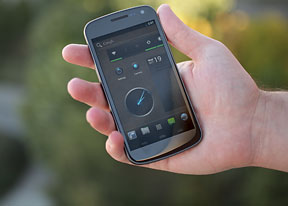 Gallery is better
The Gallery application has been completely redesigned for Ice Cream Sandwich and there are a lot of nice new features.
The Default view of the gallery is Albums, which is what we're used to seeing - it lists all folders with photos in the phone. Rather than the familiar stacks, the app uses a grid of photos, two on a line.
Besides, Album view, you also get Locations (photos are grouped based on where they were taken), Times (grouped by when they were taken), People (if the photos have tagged faces in them) and Tags (these are general tags you can add manually).
A handy option is the Make available offline feature - it lets you easily select multiple online albums and download them for offline viewing. The Gallery app supports online albums like Picasa (but not Facebook) and you can set it to sync photos only over Wi-Fi.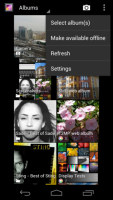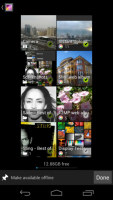 Making an album available offline is very simple
Getting inside an album displays all the photos in a rectangular grid, which is horizontally scrollable. When you try to scroll past the end, the photo thumbnails will tilt to remind you you're at the end.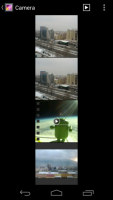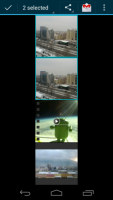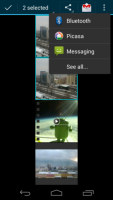 Sharing options are easily accessible
Anyway, the single photo view is updated too - above the photo are several sharing shortcuts and a delete button, while below is a line of small thumbnails of all other photos in the album. You can tap those small thumbnails to move to other images or you can just swipe to the side.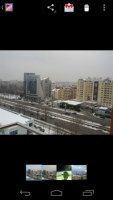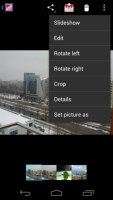 Viewing a single photo • Simple editing options
The settings menu lets you do simple edits to a photo (rotate, crop) or go into a more capable editor with a lot more option. The editor offers light adjustments (so you can bring out the shadows or the highlights), effects, color styles, red eye correction, straightening a photo, sharpening and face glow (which detects faces automatically). Most of these options have a slider that lets you fine-tune the strength of the effect.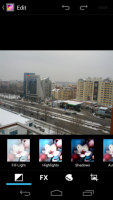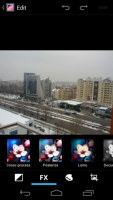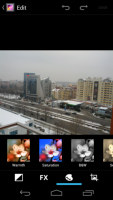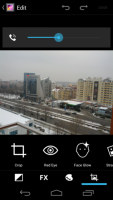 A more capable image editor is available too
An app called Movie Studio handles editing videos and it's quite feature rich. You can add multiple videos to the timeline and trim their start and end points, you can add titles and effects (including transition effects) add music and there are multiple options available when you decide to export the video (resolution, quality, etc.).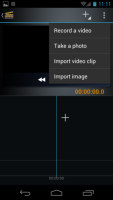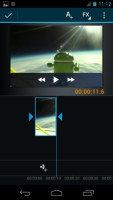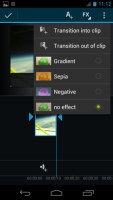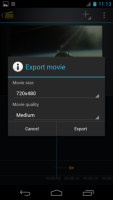 The Movie Studio app is a feature-full video editor
It's an app we hope to see on other droids when the get Android Ice Cream Sandwich, as it can completely eliminate the need for a computer for most people when creating videos. Plus Apple charges a good amount of money for the same functionality with their iMovie app. Same goes for the image editor too.
Stock video player grows DivX support, little else
The video player has been largely neglected by Google and there's still no dedicated videos app (you have to go through the Gallery), but at least the Samsung Galaxy Nexus includes the DivX codec. XviD is supported too, but a lot of videos failed to play. Even some DivX videos were a problem and played back at half speed.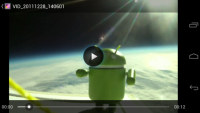 Not much of an interface for the video player
The functionality is still very limited - you get play/pause and a slider to scrub through the video but that's it. Don't count on subtitles or .MKV support.
On the upside, the 4.65" SuperAMOLED with 720p resolution is perfect for watching movies on the go. You can play a 720p video and it will fit pixel to pixel on the screen. If you transcode them into a supported format, of course. You can also download a third-party movie player, which hopefully supports more view formats.
There's also HD TV-Out available to use the Galaxy Nexus for a media player at home thanks to the MHL support of the microUSB port. However we can't get rid of the feeling that the gimped video player wastes the brilliant screen and powerful chipset.
You can always go to the Android Market for alternative players that support more codecs, subtitles and whatnot, fixing all but the TV-Out issue.
Music player with new UI, equalizer
The Samsung Galaxy Nexus comes with the latest Music app by Google. It has the same side-scrollable tabs like much of the other stuff in Ice Cream Sandwich and comes with plenty of updates.
The tabs are used to organize your music library - there's Recent, Artists, Albums, Songs, Playlists and Genres.
The Now playing interface features the track's album art with the track info and playback controls below it. You can tap it to reveal more options - upvote/downvote the song, a bar to scrub through the song and shuffle and repeat toggles.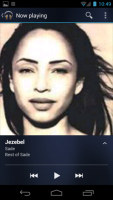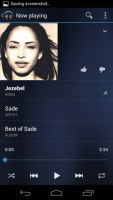 The now playing interface has simple and extended views
From the Settings key you can get into the equalizer. It can be turned on and off and features several presets that along with a user defined one. If you plug in a headset, you can also play with the Bass boost and 3D effect sliders.
There are several Shop for artist shortcuts sprinkled throughout the interface, which bring you to a Google search page with albums from the selected artist that you can buy from multiple online sellers. There's even an option to look for nearby stores that have the album if you want a hard copy.
While the player is working, the lockscreen features the album art and track info for the current song along with simple playback controls. The notification area also lets you control the playback.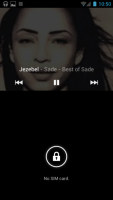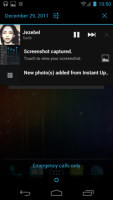 Music player controls on the lockscreen • In the notification area
Impressive audio quality
The Samsung Galaxy Nexus came up with some pretty impressive scores in our audio quality test. The ICS pioneer was not only one of the loudest smartphones we have ever seen, but it also has some remarkably clean output.
When used with an active external amplifier the Galaxy Nexus is virtually perfect. Its frequency response is only the slightest of bits off, but that's hardly detectable with a naked ear.
And there's not too much deterioration when you plug in a pair of headphones either. Volume levels remain high, noise levels and dynamic range are still great and the frequency response remains quite good. Stereo crosstalk does rise, but it's nothing to complain about (it's still better than most of its competitors) and the only imperfection is the intermodulation distortion that creeps in. As you can see from the table though, things could be much worse.
Check out the table and see for yourself.
| | | | | | | |
| --- | --- | --- | --- | --- | --- | --- |
| Test | Frequency response | Noise level | Dynamic range | THD | IMD + Noise | Stereo crosstalk |
| Samsung Galaxy Nexus | +0.11, -0.69 | -90.6 | 90.6 | 0.0085 | 0.014 | -91.8 |
| Samsung Galaxy Nexus (headphones attached) | +0.41, -0.61 | -89.5 | 89.5 | 0.097 | 0.267 | -63.5 |
| Samsung Galaxy Note N7000 | +0.04, -0.08 | -90.4 | 88.9 | 0.0044 | 0.066 | -87.4 |
| Samsung Galaxy Note N7000 (headphones attached) | +0.12, -0.06 | -89.7 | 88.4 | 0.0084 | 0.112 | -51.6 |
| Samsung I9100 Galaxy S II | +0.04, -0.09 | -91.4 | 91.9 | 0.0042 | 0.066 | -89.7 |
| Samsung I9100 Galaxy S II (headphones attached) | +1.05, -0.22 | -90.0 | 90.2 | 0.013 | 0.647 | -49.4 |
| HTC Sensation (headphones attached) | +0.71, -0.15 | -89.1 | 90.1 | 0.019 | 0.522 | -70.6 |
| HTC Sensation | +0.05, -0.34 | -90.2 | 90.2 | 0.012 | 0.021 | -91.1 |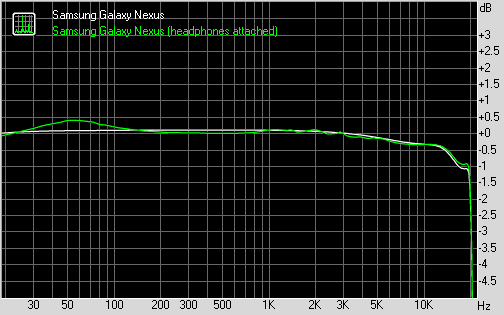 Samsung Galaxy Nexus frequency response
You can learn more about the whole testing process here.