Display
The Galaxy J7 (2016) is equipped with a 5.5" Super AMOLED display similarly to its predecessor. As we said in the beginning, the international version has 1280x720 pixel resolution, which isn't great, but is still favored by manufacturers in the lower part of the price spectrum. Even with it, the pixel density is adequate at 267ppi.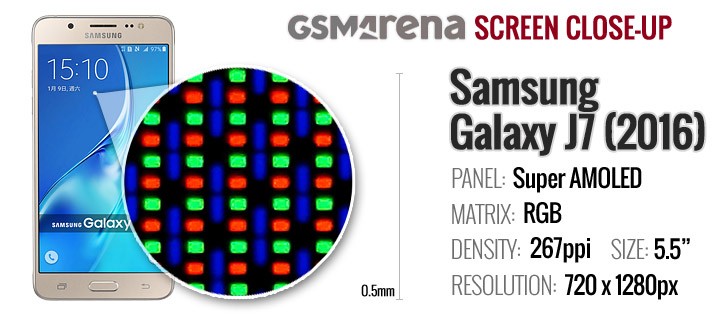 As with most of its Super AMOLED devices, Samsung has included a number of display modes. In Basic mode, colors are most accurate, whereas AMOLED cinema, they're notably oversaturated. The middle ground is AMOLED photo.
Display test
100% brightness
Black, cd/m2
White, cd/m2
Contrast ratio
Samsung Galaxy J7 outdoor
0
500
∞
Samsung Galaxy J7 (2016)
0.00
353
∞
Samsung Galaxy J7 (2016) outdoor mode
0.00
484
∞
Xiaomi Redmi Note 3 (MediaTek)
0.42
403
953
Lenovo Vibe K5 Plus
0.44
441
998
Oppo F1 Plus
0.00
351
∞
Meizu m3 note (int)
0.52
459
883
Vivo V3Max
0.66
596
903
Huawei Nexus 6P
0.00
352
∞
Huawei Honor 5X
0.44
473
1073
Huawei P9
0.46
500
1094
LG G5
0.17
306
1855
LG G5 max auto
0.20
378
1881
As is normal for a Super AMOLED unit, the Galaxy J7 (2016)'s screen offers great contrast. The display is decently bright at 353 nits. Tick the Outdoor mode option, and brightness is cranked up to 484 nits.
You certainly won't have problems using the Galaxy J7 (2016)'s display in sunlight. The phone's bright enough and has a 3.756 ratio, which goes up to 3.902 in outdoor mode.
Sunlight contrast ratio
Samsung Galaxy S6 edge+
4.615
Samsung Galaxy S7 edge
4.439
Samsung Galaxy S7
4.376
HTC One A9
4.274
Samsung Galaxy A3
4.241
Samsung Galaxy S6 edge
4.124
Samsung Galaxy Note5
4.09
Huawei Nexus 6P
4.019
OnePlus X
3.983
Oppo R7s
3.964
Samsung Galaxy A7 (2016)
3.918
Samsung Galaxy J7 (2016) outdoor mode
3.902
Samsung Galaxy A5
3.895
Samsung Galaxy J7 outdoor
3.879
Samsung Galaxy J2 outdoor
3.873
Samsung Galaxy A8
3.859
Apple iPhone 6
3.838
Samsung Galaxy A9 (2016)
3.817
Motorola Moto X (2014)
3.816
Samsung Galaxy A5 (2016)
3.789
Apple iPhone 6s
3.783
Meizu Pro 5
3.781
Microsoft Lumia 650
3.772
Samsung Galaxy J7 (2016)
3.756
Oppo F1 Plus
3.709
Vivo X5Pro
3.706
Apple iPhone SE
3.681
Samsung Galaxy A7
3.679
Meizu PRO 6
3.659
BlackBerry Priv
3.645
Apple iPhone 6s Plus
3.53
Acer Jade Primo
3.521
Microsoft Lumia 950
3.512
Oppo R7 Plus
3.499
Samsung Galaxy J7
3.422
Meizu MX5
3.416
Oppo R7
3.32
Samsung Galaxy J2
3.235
Sony Xperia X Performance
3.234
Motorola Moto X Play
3.222
Huawei P9
3.195
Lenovo Vibe Shot
3.113
Motorola Moto X Force
3.105
LG Nexus 5X
3.092
Huawei Mate S
3.073
Microsoft Lumia 640 XL
3.065
Apple iPhone 6 Plus
3.023
Sony Xperia X
2.989
Samsung Galaxy Note
2.97
Huawei Mate 8
2.949
LG G5
2.905
HTC One S
2.901
Sony Xperia Z5
2.876
Microsoft Lumia 550
2.851
Sony Xperia Z5 compact
2.784
LG V10
2.744
Xiaomi Redmi 3
2.735
Sony Xperia M5
2.69
Vivo V3Max
2.659
Xiaomi Mi 4i
2.641
Xiaomi Mi 4c
2.574
LeEco Le Max 2
2.567
Microsoft Lumia 640
2.563
Oppo F1
2.528
Sony Xperia Z5 Premium
2.525
Sony Xperia M4 Aqua
2.503
Motorola Moto G
2.477
Lenovo Vibe K5 Plus
2.473
Huawei G8
2.471
Sony Xperia Z
2.462
Huawei Honor 7
2.406
ZUK Z1 by Lenovo
2.382
HTC 10
2.378
Samsung Galaxy J5 (2016)
2.378
HTC One E9+
2.305
Alcatel One Touch Hero
2.272
Lenovo Vibe K4 Note
2.254
Sony Xperia C5 Ultra
2.253
Xiaomi Redmi Note 3 (MediaTek)
2.249
Sony Xperia C4 Dual
2.235
Motorola Moto G (2014)
2.233
LG Nexus 5
2.228
Huawei P8
2.196
Xiaomi Redmi Note 2
2.166
OnePlus Two
2.165
HTC One X
2.158
LG Aka
2.145
Archos 50 Diamond
2.134
Xiaomi Redmi Note
2.119
Acer Liquid X2
2.084
Huawei P8lite
2.078
Moto G 3rd gen max manual
2.026
Xiaomi Mi Max
1.996
Sony Xperia E4g
1.972
OnePlus One
1.961
Meizu m3 note
1.923
BlackBerry Leap
1.892
Meizu m2 note
1.892
HTC Butterfly
1.873
ZTE Nubia Z9 mini
1.759
Sony Xperia U
1.758
Asus Zenfone Selfie
1.68
Motorola Moto E (2nd Gen)
1.675
ZTE Nubia Z9
1.659
Jolla Jolla
1.605
Motorola Moto E
1.545
Sony Xperia M
1.473
Xiaomi Redmi 2
1.311
Sony Xperia C
1.283
Meizu MX
1.221
Sony Xperia E
1.215
Samsung Galaxy J7 (2016) battery life
Inside the phone, there's a 3,300mAh Li-Ion battery, which users can replace with ease. The combination of 720p resolution and 14nm chipset manufacturing process promises solid battery life on paper, but we're not ones to go by the specsheet alone.
A few days of testing later, we were nothing short of amazed by the J7's battery life. It achieved more than 18 hours in our video playback test. When browsing the web over Wi-Fi, the result isn't quite as spectacular, but is still great at almost 12 and a half hours. On a 3G voice call the smartphone is good for a full day and change.
All that adds up to an overall endurance rating of 101 hours - an excellent result. It's a resonable 10-hour improvement on the previous generation and some 30 hours on top of direct competitors like the Xiaomi Redmi Note 3 (72h) and the Lenovo Vibe K4 Note (73h).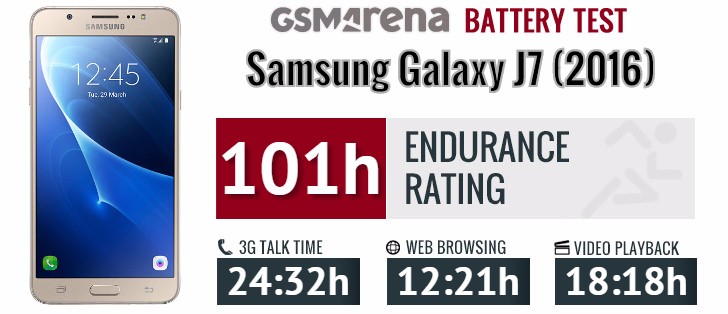 The battery testing procedure is described in detail in case you're interested in the nitty-gritties. You can also check out our complete battery test table, where you can see how all of the smartphones we've tested will compare under your own typical use.
Connectivity
In a predictable Samsung nature, the Galaxy J7 (2016) is available in single-SIM and dual-SIM variants, so you can get some flexibility in terms of carriers and plans.
Naturally, you get Wi-Fi, but it only operates on the 2.4GHz band, so needless to say there's no Wi-Fi ac support. There's GPS with A-GPS, Bluetooth v.4.0, and an FM radio receiver. NFC is also on board with a dedicated options menu in the Settings.
Wired options include a microUSB port and a 3.5mm jack. The microUSB port can be used to attach an external accessory as it supports USB On-The-Go.