Telephony and loudspeaker
The Samsung Galaxy J7 (2016) is available as a single-SIM phone, but there's a dual-SIM version as well. On the latter, the SIM card manager lets you pick a preferred SIM for voice, text and data.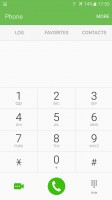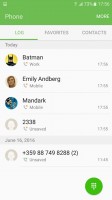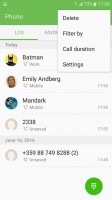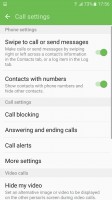 Dialer • Call log • Filtering the log • Call settings
The Do Not Disturb mode can be put on an automated schedule. When it's on, only priority notifications can get through hand you decide what counts as "priority" - it can be anything from calls from select contacts to reminders from key apps.
In our loudspeaker test, the Galaxy J7 (2016) scored an Average mark. You won't have problems hearing the phone ring in most situations.
| | | | | |
| --- | --- | --- | --- | --- |
| Speakerphone test | Voice, dB | Pink noise/ Music, dB | Ringing phone, dB | Overall score |
| Apple iPhone 6s | 66.5 | 64.6 | 65.8 | Below Average |
| Oppo F1 Plus | 66.3 | 66.2 | 65.9 | Below Average |
| Samsung Galaxy S7 retest | 67.2 | 64.6 | 66.6 | Below Average |
| Meizu m3 note | 66.5 | 64.6 | 71.7 | Average |
| Samsung Galaxy J7 (2016) | 64.5 | 71.0 | 68.9 | Average |
| LG G5 | 68.7 | 66.2 | 73.2 | Good |
| Xiaomi Redmi Note 3 | 66.5 | 66.6 | 75.8 | Good |
| Lenovo Vibe K4 Note | 74.7 | 66.6 | 72.3 | Good |
Text input
The Galaxy J7 (2016) uses an updated version of the Samsung Keyboard. It's quite comfortable, with a dedicated numbers row, a row above that for word suggestions and additional characters on each key (accessible via long-press).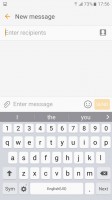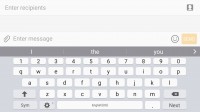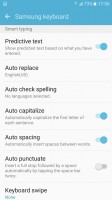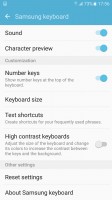 Keyboard • A lot of options to play with
If that seems too tall, you can scale the keyboard down (or up, if you want bigger keys). We don't like that the Space key is quite short, though.
Additional typing tools include swipe input, My Hot Keys (predefined phrases that can be typed by long-pressing a number key) and voice dictation.
Other apps
Samsung continues to bundle the Microsoft app package that includes Word, Excel, PowerPoint, OneNote and Skype. Note that only Skype was actually installed, the rest are just shortcuts to Galaxy Apps (this way they don't take up space until you actually need and install them).
Google Drive is pre-installed, however, the actual document editors are not (they are a free download, though).
The Samsung-customized web browser features tabs, the ability to save web pages and enhanced privacy control. It gets the job done, but if you want synchronization across devices, Chrome or Firefox are a better bet.
S Health is on board though without the advanced sensors (heart rate, blood oxygen) its functionality is more limited. It can still track walking/running/cycling and you can manually input water and coffee intake and so on.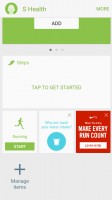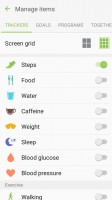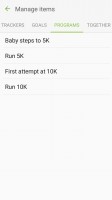 S Health is missing the hardware sensors
The My Files app is the default file browser. It features Google Drive integration. You can ZIP folders to make them easier to share as a single file.
Finally, there's Galaxy Apps, Samsung's own app store. Galaxy Essentials is a good place to find great tools (like Kids Mode), but for general app shopping, you would probably be better off with Google Play.