A Note for the masses
Samsung Galaxy C7 review: A Note for the masses
Display
It seems you can always count on an upper midrange Samsung smartphone to come with a great-looking display. The Korean Giant is pretty much on top of the food chain when it comes to its excellent Super AMOLED technology where high contrast and punchy colors are a given.
Sitting proud at a respectable 5.7 inches, the Galaxy C7 is a perfect stand-in for a Note phablet, minus the S Pen of course, among other things. The point is, you definitely won't suffer from any shortage of screen real estate and the Full HD resolution and 386ppi still make for an absolutely sharp image. Plus, skipping on the increasingly popular QHD does go easier on your battery.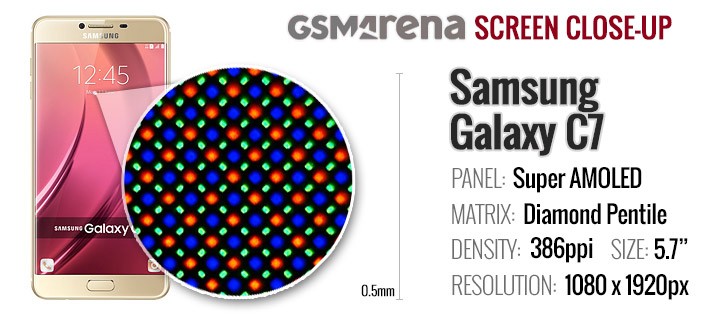 As far as performance goes, the panel on the Galaxy C7 does quite alright. It has deep blacks and the benefit of infinite contrast. At 100% brightness level, it maxes out at 422 nits, which is pretty close to what Samsung's current flagship devices, like the Galaxy S7 and Note7 are capable of. When presented with a bright external light source, the C7 can burn up to 624 nits in Max Auto mode, so using it outdoors is trouble-free, even on the brightest of days.
Display test
100% brightness
Black, cd/m2
White, cd/m2
Contrast ratio
Samsung Galaxy C7
0.00
422
∞
Samsung Galaxy C7 (Max auto)
0.00
625
∞
Samsung Galaxy A5 (2016)
0.00
421
∞
Samsung Galaxy A7 (2016)
0.00
425
∞
LeEco Le Max 2
0.30
426
1444
Huawei Mate 8
0.346
471
1361
Xiaomi Redmi Note 3 (MediaTek)
0.42
403
953
Samsung Galaxy Note5
-
439
∞
Samsung Galaxy Note5 max auto
-
620
-
Xiaomi Mi Max
0.46
424
922
Sony Xperia XA Ultra
0.50
531
1071
Samsung Galaxy A9 (2016)
0.00
427
∞
Huawei Nexus 6P
0.00
352
∞
Samsung Galaxy S6 edge+
-
410
∞
Samsung Galaxy S6 edge+ max auto
-
540
-
LG V10
0.29
432
1490
As already mentioned, sunlight legibility does not disappoint. In fact, it is nothing short of excellent.
Sunlight contrast ratio
Samsung Galaxy S6 edge+
4.615
Samsung Galaxy S7 edge
4.439
OnePlus 3
4.424
Samsung Galaxy S7
4.376
HTC One A9
4.274
Samsung Galaxy Note7
4.247
Samsung Galaxy A3
4.241
Samsung Galaxy S6 edge
4.124
Samsung Galaxy Note5
4.09
Huawei Nexus 6P
4.019
OnePlus X
3.983
Vivo Xplay5 Elite
3.983
Oppo R7s
3.964
Huawei P9 Plus
3.956
Samsung Galaxy A7 (2016)
3.918
Samsung Galaxy C7
3.896
Samsung Galaxy A5
3.895
Samsung Galaxy J7 outdoor
3.879
Samsung Galaxy J2 outdoor
3.873
Samsung Galaxy A8
3.859
Apple iPhone 6
3.838
Samsung Galaxy A9 (2016)
3.817
Motorola Moto X (2014)
3.816
Samsung Galaxy J7 (2016) outdoor mode
3.802
Samsung Galaxy A5 (2016)
3.789
Apple iPhone 6s
3.783
Meizu Pro 5
3.781
Microsoft Lumia 650
3.772
Samsung Galaxy J7 (2016)
3.756
Oppo F1 Plus
3.709
Vivo X5Pro
3.706
Apple iPhone SE
3.681
Samsung Galaxy A7
3.679
Meizu PRO 6
3.659
BlackBerry Priv
3.645
Apple iPhone 6s Plus
3.53
Samsung Galaxy J3 (2016)
3.523
Samsung Galaxy J3 (2016) outdoor mode
3.523
Acer Jade Primo
3.521
Microsoft Lumia 950
3.512
Oppo R7 Plus
3.499
Samsung Galaxy J7
3.422
Meizu MX5
3.416
Oppo R7
3.32
Samsung Galaxy J2
3.235
Sony Xperia X Performance
3.234
Motorola Moto X Play
3.222
Huawei P9
3.195
Lenovo Vibe Shot
3.113
Motorola Moto X Force
3.105
LG Nexus 5X
3.092
Huawei Mate S
3.073
Microsoft Lumia 640 XL
3.065
Apple iPhone 6 Plus
3.023
Sony Xperia X
2.989
Samsung Galaxy Note
2.97
Huawei Mate 8
2.949
Sony Xperia XA Ultra
2.906
LG G5
2.905
HTC One S
2.901
Sony Xperia Z5
2.876
Microsoft Lumia 550
2.851
Xiaomi Redmi 3 Pro
2.803
Sony Xperia Z5 compact
2.784
LG V10
2.744
Xiaomi Redmi 3
2.735
Sony Xperia M5
2.69
Huawei P9 Lite
2.679
Vivo V3Max
2.659
Xiaomi Mi 4i
2.641
Sony Xperia XA
2.609
Xiaomi Mi 4c
2.574
LeEco Le Max 2
2.567
Microsoft Lumia 640
2.563
Lenovo Moto G4
2.544
Oppo F1
2.528
Sony Xperia Z5 Premium
2.525
Huawei Honor 7 Lite / Honor 5c
2.506
Sony Xperia M4 Aqua
2.503
Oppo F1s
2.481
Motorola Moto G
2.477
Lenovo Vibe K5 Plus
2.473
Huawei G8
2.471
Sony Xperia Z
2.462
Lenovo Vibe K5
2.459
Huawei Honor 7
2.406
Sony Xperia E5
2.386
ZUK Z1 by Lenovo
2.382
HTC 10
2.378
Samsung Galaxy J5 (2016)
2.378
HTC One E9+
2.305
Alcatel One Touch Hero
2.272
Lenovo Vibe K4 Note
2.254
Sony Xperia C5 Ultra
2.253
Xiaomi Redmi Note 3 (MediaTek)
2.249
Sony Xperia C4 Dual
2.235
Motorola Moto G (2014)
2.233
LG Nexus 5
2.228
Huawei P8
2.196
Xiaomi Redmi Note 2
2.166
OnePlus Two
2.165
HTC One X
2.158
LG Aka
2.145
Archos 50 Diamond
2.134
Xiaomi Redmi Note
2.119
Acer Liquid X2
2.084
Huawei P8lite
2.078
Moto G 3rd gen max manual
2.026
Xiaomi Mi Max
1.996
Sony Xperia E4g
1.972
OnePlus One
1.961
Meizu m3 note
1.923
BlackBerry Leap
1.892
Meizu m2 note
1.892
HTC Butterfly
1.873
ZTE Nubia Z9 mini
1.759
Sony Xperia U
1.758
Asus Zenfone Selfie
1.68
Motorola Moto E (2nd Gen)
1.675
ZTE Nubia Z9
1.659
Jolla Jolla
1.605
Motorola Moto E
1.545
Sony Xperia M
1.473
Xiaomi Redmi 2
1.311
HTC Desire C
1.3
Sony Xperia C
1.283
Meizu MX
1.221
Sony Xperia E
1.215
Color accuracy is impressive as well, but you do have to switch the display to Basic mode to enjoy the most accurate color reproduction. In Basic mode the average delta E is only 2.4 and a max reading of 5, interestingly enough, in the cyan color. But if you would much rather enjoy the punchy colors AMOLED has to offer, you can just leave the C7 in Adaptive mode, where reds tend to deviate as far off as 12.7.
Overall, the display is excellent save for the slight color shift when looking at it from an angle.
Connectivity
The Samsung Galaxy C7 is equipped with a total of two nano SIM slots. It's a hybrid slot so one of the card positions is to be used with either a SIM card or a Micro SD card, so you do have to choose. As for network speed, the Snapdragon 625 powering the phablet is equipped with an X9 LTE modem, capable of speeds of up to Cat.7 or 300 Mbps. However, Samsung has capped the C7 to Cat.4 or 150 Mbps. Other Internet connectivity options include Wi-Fi a/b/g/n/ac.
Local connectivity includes Bluetooth 4.2 complete with ANT+ support, so Samsung has made sure to keep the hardware up to date in this department. NFC is also on board, and it is compatible with Samsung Pay.
The microUSB 2.0 port handles charging and data, but it also supports USB OTG so you can hook up external hardware to the phone.
You do get FM radio as well, as a more old-school source of music and entertainment. It is full-featured as well and includes RDS and recording.
Battery
The Samsung Galaxy C7 is powered by a hefty 3300mAh battery, which is non-removable. However, on a positive note, combined with the 1080p AMOLED panel and a 14nm midrange Snapdragon processor, the sealed-in pack manages to go a long way. Just as a reference, you might recall the Galaxy J7 (2016), which managed to pull a whopping 101 hours of endurance with an identical 3300mAh battery, a 14nm Exynos chipset and a 720p AMOLED display.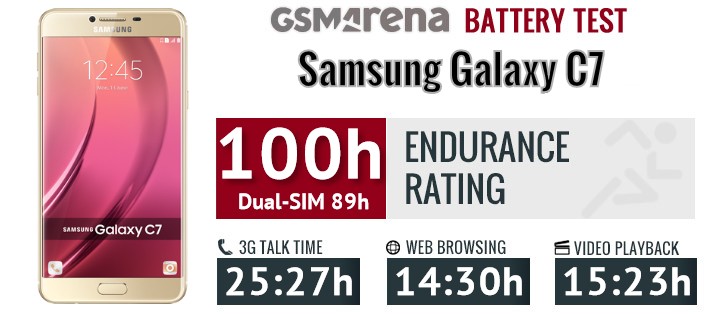 The C7, which has most of the same ingredients, scored 100 hours flat in our dedicated battery life test. That is a truly outstanding performance and puts the C7 only a notch below the Galaxy J7 (2016) in our battery performance chart and in the top 15 of all time. And better yet, this incredible endurance is achieved while still maintaining an above average 2.0GHz of clock rate on the Cortex-A53 cores and an impressive overall performance. We have no doubt that similar battery life results will become more common as the 14nm development processes spread to more and more chip designs. However, right now, you should look no further than the Galaxy C7 for excellent battery life.
The battery testing procedure is described in detail in case you're interested in the nitty-gritties. You can also check out our complete battery test table, where you can see how all of the smartphones we've tested will compare to each other under your own choice of usage pattern.