Display
Samsung generally doesn't disappoint when it comes to panels across pretty much its entire lineup. Going for a mid-ranger, like the new Galaxy C5 or the C7, guarantees you will get one of the Korean giant's own excellent Super AMOLED units. High contrast and punchy colors are a given with these.
5.2 inches definitely come very close to the proverbial "sweet spot" for most current smartphone users. It is a far cry from the Galaxy C7 and its phablet-territory 5.7-inch diagonal, but that is kind of the point. The 1080p FullHD resolution ensures a quite good for a midranger pixel density of 424ppi. You can rest assured everything looks exceptionally sharp and punchy.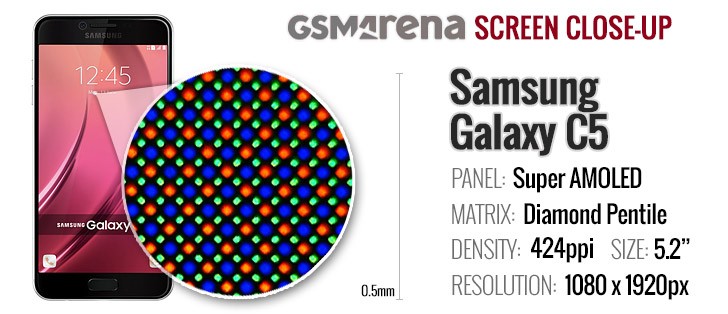 As far as performance goes, the panel on the Galaxy C5 appears to be almost identical to the one in its bigger sibling and does quite alright. It has deep blacks and the benefit of infinite contrast.
At 100% brightness level, it maxes out at 424 nits, which is pretty close to what Samsung's current flagship devices, like the Galaxy S7 and Note7 are capable of.
When presented with a bright external light source, the C5 can burn up to 625nits in Max Auto mode, so using it outdoors is trouble-free, even on the brightest of days.
Display test
100% brightness
Black, cd/m2
White, cd/m2
Contrast ratio
Samsung Galaxy C5
0.00
424
∞
Samsung Galaxy C5 (Max auto)
0.00
625
∞
Samsung Galaxy C7
0.00
422
∞
Samsung Galaxy C7 (Max auto)
0.00
625
∞
Samsung Galaxy A5 (2016)
0.00
421
∞
Samsung Galaxy A5 (2016) max auto
0.00
601
∞
Samsung Galaxy J5 (2016)
0.00
338
∞
Samsung Galaxy J5 (2016) outdoor mode
0.00
476
∞
Xiaomi Redmi Note 3 (MediaTek)
0.42
403
953
Xiaomi Mi 5
0.51
628
1227
Meizu m3 note
0.52
425
816
Meizu PRO 6
0.01
360
40000
Huawei Honor 7 Lite / Honor 5c
0.58
416
717
Huawei Honor 8
0.34
374
1101
Huawei Honor 8 (Max auto)
0.34
395
1161
Huawei Mate 8
0.346
471
1361
Sony Xperia XA
0.38
523
1376
Sony Xperia X
0.44
539
1219
Huawei P9 Lite
0.42
497
1192
OnePlus X
0.00
340
∞
Lenovo Vibe K4 Note
0.47
442
940
LG Nexus 5X
0.30
455
1542
Interestingly enough, the C5 does show a measurable, albeit hardly noticeable with bare eyes increase in maximum brightness, compared to the older Galaxy A5 (2016). Since both are equipped with panels identical in size, it is a pretty fair comparison and serves as a good indication that Samsung is still actively upgrading its displays, materials and finishes.
Sunlight contrast ratio
Samsung Galaxy S6 edge+
4.615
Samsung Galaxy S7 edge
4.439
OnePlus 3
4.424
Samsung Galaxy S7
4.376
HTC One A9
4.274
Samsung Galaxy Note7
4.247
Samsung Galaxy A3
4.241
Samsung Galaxy S6 edge
4.124
Samsung Galaxy Note5
4.09
Huawei Nexus 6P
4.019
OnePlus X
3.983
Vivo Xplay5 Elite
3.983
Oppo R7s
3.964
Huawei P9 Plus
3.956
Samsung Galaxy A7 (2016)
3.918
Samsung Galaxy C5
3.911
Samsung Galaxy C7
3.896
Samsung Galaxy A5
3.895
Samsung Galaxy J7 outdoor
3.879
Samsung Galaxy J2 outdoor
3.873
Samsung Galaxy A8
3.859
Samsung Galaxy A9 (2016)
3.817
Motorola Moto X (2014)
3.816
Samsung Galaxy J7 (2016) outdoor mode
3.802
LG V20 Max auto
3.798
Samsung Galaxy A5 (2016)
3.789
Apple iPhone 6s
3.783
Meizu Pro 5
3.781
Microsoft Lumia 650
3.772
Samsung Galaxy J7 (2016)
3.756
Oppo F1 Plus
3.709
Vivo X5Pro
3.706
Sony Xperia X Compact
3.694
Apple iPhone SE
3.681
Samsung Galaxy A7
3.679
Meizu PRO 6
3.659
BlackBerry Priv
3.645
Apple iPhone 6s Plus
3.53
Samsung Galaxy J3 (2016)
3.523
Samsung Galaxy J3 (2016) outdoor mode
3.523
Acer Jade Primo
3.521
Microsoft Lumia 950
3.512
Oppo R7 Plus
3.499
Samsung Galaxy J7
3.422
Meizu MX5
3.416
LG V20
3.402
Oppo R7
3.32
Xiaomi Mi 5
3.24
Samsung Galaxy J2
3.235
Sony Xperia X Performance
3.234
Motorola Moto X Play
3.222
Huawei P9
3.195
Lenovo Vibe Shot
3.113
Motorola Moto X Force
3.105
LG Nexus 5X
3.092
Huawei Mate S
3.073
Microsoft Lumia 640 XL
3.065
Apple iPhone 6 Plus
3.023
Sony Xperia X
2.989
Samsung Galaxy Note
2.97
Huawei Mate 8
2.949
Sony Xperia XA Ultra
2.906
LG G5
2.905
HTC One S
2.901
Sony Xperia Z5
2.876
Microsoft Lumia 550
2.851
Xiaomi Redmi 3 Pro
2.803
Sony Xperia Z5 compact
2.784
LG V10
2.744
Xiaomi Redmi 3
2.735
Sony Xperia M5
2.69
Huawei P9 Lite
2.679
Vivo V3Max
2.659
Xiaomi Mi 4i
2.641
Sony Xperia XA
2.609
Xiaomi Mi 4c
2.574
LeEco Le Max 2
2.567
Microsoft Lumia 640
2.563
Lenovo Moto G4
2.544
Oppo F1
2.528
Sony Xperia Z5 Premium
2.525
Huawei Honor 7 Lite / Honor 5c
2.506
Sony Xperia M4 Aqua
2.503
Oppo F1s
2.481
Motorola Moto G
2.477
Lenovo Vibe K5 Plus
2.473
Huawei G8
2.471
Huawei nova
2.467
Sony Xperia Z
2.462
Lenovo Vibe K5
2.459
Huawei Honor 7
2.406
Sony Xperia E5
2.386
ZUK Z1 by Lenovo
2.382
HTC 10
2.378
Samsung Galaxy J5 (2016)
2.378
Huawei nova plus
2.329
HTC One E9+
2.305
Alcatel One Touch Hero
2.272
Apple iPhone 4S
2.269
Lenovo Vibe K4 Note
2.254
Sony Xperia C5 Ultra
2.253
Xiaomi Redmi Note 3 (MediaTek)
2.249
Sony Xperia C4 Dual
2.235
Xiaomi Mi Note
2.234
Motorola Moto G (2014)
2.233
LG Nexus 5
2.228
Huawei P8
2.196
Xiaomi Redmi Note 2
2.166
OnePlus Two
2.165
HTC One X
2.158
LG Aka
2.145
Archos 50 Diamond
2.134
Xiaomi Redmi Note
2.119
Acer Liquid X2
2.084
Huawei P8lite
2.078
Moto G 3rd gen max manual
2.026
Xiaomi Mi Max
1.996
Sony Xperia E4g
1.972
OnePlus One
1.961
Meizu m3 note
1.923
BlackBerry Leap
1.892
Meizu m2 note
1.892
HTC Butterfly
1.873
ZTE Nubia Z9 mini
1.759
Sony Xperia U
1.758
Asus Zenfone Selfie
1.68
Motorola Moto E (2nd Gen)
1.675
ZTE Nubia Z9
1.659
Jolla Jolla
1.605
Motorola Moto E
1.545
Sony Xperia M
1.473
HTC Desire C
1.3
Sony Xperia C
1.283
Meizu MX
1.221
Sony Xperia E
1.215
Color accuracy is impressive as well, even a bit better than that of the Galaxy C7. This could either be considered an indication that the C5 uses a slightly different panel, or perhaps Samsung did a better job with the factory color calibration. In either case, you still have to enable Basic mode to enjoy the most accurate color reproduction. In it the average delta E is only 1.7 and the max deviation reading is the impressively low DeltaE 3.3. But if you would rather enjoy the punchy colors the AMOLED technology has to offer, you can just leave the C5 in Adaptive mode, where reds tend to deviate as far off as DeltaE of 11.8.
Overall, the Galaxy C5 display is excellent, save for the slight color shift when looking at it from an angle, which is quite often visible with AMOLED screens.
Connectivity
The Samsung Galaxy C5 is equipped with a total of two nano SIM slots. It's a hybrid slot so one of the card positions is to be used with either a SIM card or a Micro SD card, so you do have to choose. It is pretty much the same deal with the C7 as well.
Another unfortunate parallel between the two has to do with network speed. Again, it is capped to only Cat.4 or 150 Mbps, despite the fact that the X8 modem inside the Snapdragon 617 is rated for up to Cat.7. Again, this is bound to be a market decision, but does put the C5 at a weird disadvantage compared to the Galaxy A5 (2016) in this one single respect.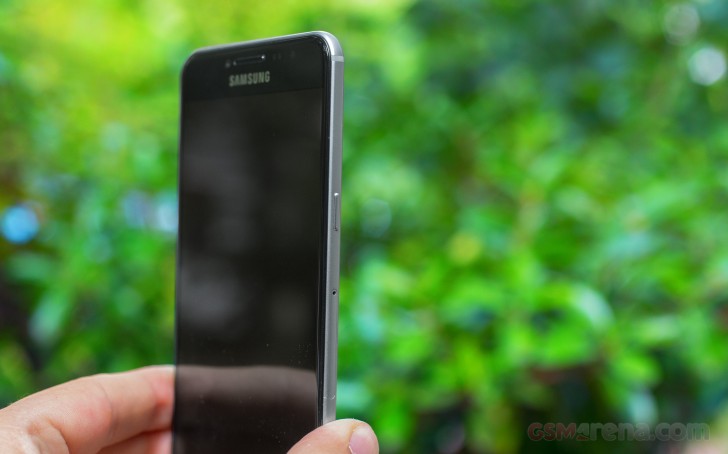 Other Internet connectivity options include Wi-Fi a/b/g/n. Sadly, no 802.11ac support is present. Local connectivity includes Bluetooth 4.2 complete with ANT+ support, so Samsung has made sure to keep the hardware up to date in this department. NFC is also on board, and it is compatible with Samsung Pay.
The microUSB 2.0 port handles charging and data, but it also supports USB OTG so you can hook up external hardware to the phone.
You do get FM radio as well - as a more old-school source of music and entertainment. It is full-featured as well and includes RDS and recording.
Galaxy C5 battery life test
Battery endurance was the area where the Samsung Galaxy C7 definitely shined the brightest when we reviewed it thanks to awesome combination of a power-efficient AMOLED panel and a mid-range SoC, made on a 14nm process. That got it a whopping 100 hours in our endurance test.
Sadly, the Galaxy C5 doesn't really get to participate in this new power-efficient movement due to the downgrade in chipset - it has to make do with the Snapdragon 617, which is made using a 28nm process, which is not as power efficient.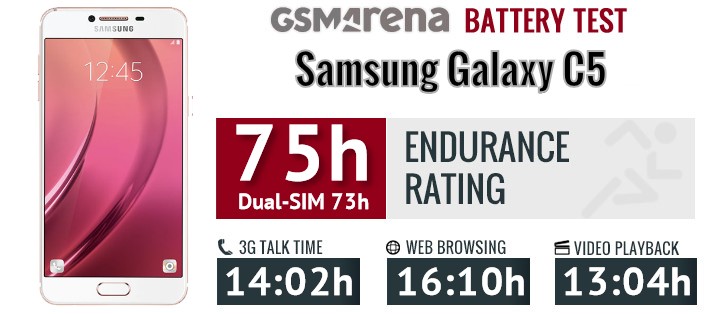 Still, an endurance rating of 75 hours in single SIM config and a 73-hour rating in dual mode is not a bad score at all. The call test seems to be its Achilles' heel. Other than that, software-dependent tasks like web browsing and video playback seem to be well optimized.
Still, we have to wonder whether Samsung would have been better off relying on its own 14nm Exynos 7870 Octa chip. The latter is an option on the lower-end Samsung Galaxy J7 (2016), which we already reviewed as well.
The battery testing procedure is described in detail in case you're interested in the nitty-gritties. You can also check out our complete battery test table, where you can see how all of the smartphones we've tested will compare to each other under your own choice of usage pattern.