No less than four upcoming members of Samsung's A family of devices have been leaked today, which must be some kind of record. We're talking major specs for all of these, so buckle up and let's take them one at a time.
First off, let's start with what will seemingly be the highest-end of the bunch, as the name implies too: the Galaxy A73.
This is said to sport a 6.7" FHD+ 120 Hz AMOLED screen, the Snapdragon 750G chipset at the helm, a quad rear camera system, and a 5,000 mAh battery with support for 25W fast charging. Now let's detail those cameras: you'll get a 108 MP main shooter, a 2 MP decorative cam (most likely a depth sensor), and two additional ones - a 12 MP and an 8 MP. One of those is definitely an ultrawide, and the other could be a 2/3x zoom lens.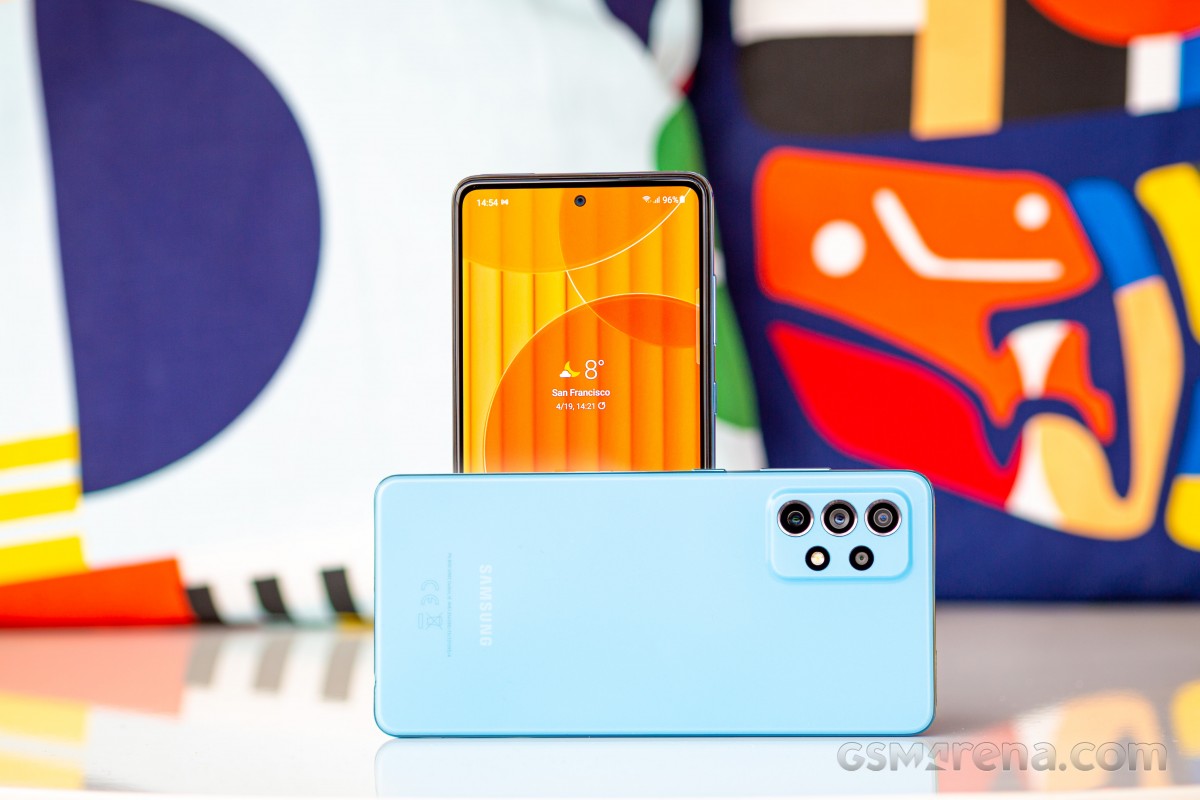 Samsung Galaxy A72
For comparison's sake, keep in mind that the Galaxy A72 5G that this model will be replacing has the same chipset, but a 64 MP main camera. Otherwise the specs look pretty similar.
Moving on to the Galaxy A53. This one is to be powered by the yet-unofficial Exynos 1200 SoC, and will have a 6.52" FHD+ 120 Hz AMOLED panel, another quad rear cam setup (64 MP main + 12 MP ultrawide + 5 MP depth + 5 MP macro most likely), and a 5,000 mAh battery once again with support for 25W charging.
The A52s 5G which this is supposed to be replacing has what could be a better chipset, but only a 4,500 mAh battery, and is otherwise incredibly similar. Both the Galaxy A73 and Galaxy A53 are going to run Android 12 from day one.
The Galaxy A33 is coming with a 6.4" FHD+ AMOLED screen (and apparently 60 Hz), the MediaTek Dimensity 720 SoC, a different quad rear camera setup (48 MP main + 8 MP ultrawide + 5 MP macro + 2 MP depth), a 5,000 mAh battery with 15W charging support, and Android 11 on board, disappointingly enough.
The Galaxy A32 5G has a lower res screen and it's not AMOLED, but otherwise seems identical.
Finally we have the Galaxy A23, which is allegedly launching with a 6.6" FHD+ 90 Hz IPS LCD panel, the Dimensity 700 chipset, another quad rear camera setup (50 MP main + 8 MP ultrawide + 2 MP macro + 2 MP depth), a 5,000 mAh battery with 15W charging support, and Android 11 preinstalled.
The Galaxy A22 5G is basically the same phone aside from only having three cameras, with lower-res main and ultrawide.
It looks like the A series is getting mostly minor improvements this year. All of these handsets are rumored to become official next month.
I'm so happy everything in this article was wrong and we got much better phones
S
It should be noted in this article, the A72 has not even been released worldwide, if at all yet. Besides that, I'll be a little disappointed if the A53 won't have a Snapdragon chipset, but it'll just mean I'll have to step up to t...
B
Yes it is hard to get a steady video with the A71, you have to stand still and move very slowly.
ADVERTISEMENT