V-shaped notch on an LCD panel
The Samsung Galaxy A23 is built around a 6.6-inch IPS LCD panel with a V-shaped notch housing the selfie cameraр. However, that's pretty much what you'd expect from a phone in this price range. Resolution is adequate, too - 1080 x 2408px.
The V-shaped notch is somewhat outdated, and the panel only goes up to 90Hz, whereas most rivals boast 120Hz. Still, we doubt this would be a deal-breaker for most users looking for a basic phone such as the Galaxy A23.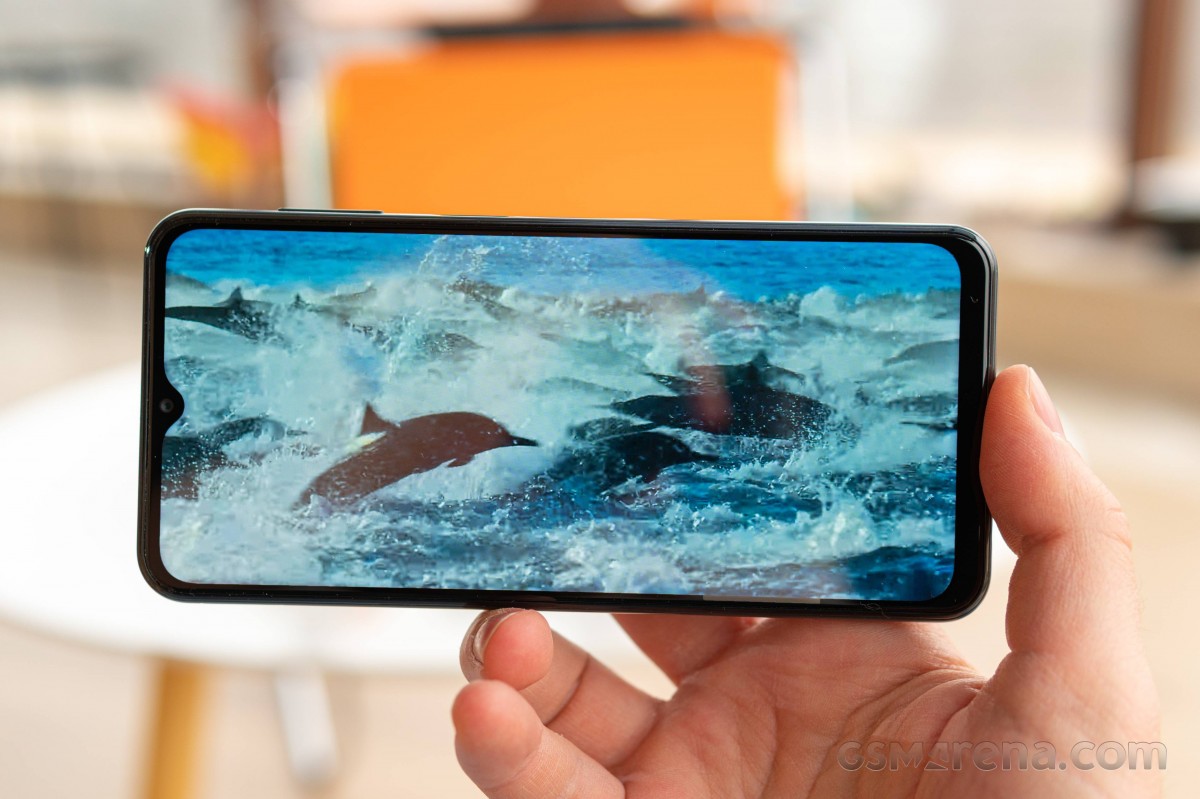 As part of the cost-cutting measures, the Galaxy A23 seems to omit proximity and ambient light sensors. The first one may pose a problem during calls as most virtual proximity sensors are notorious for their poor performance and consistency. The absence of an ambient light sensor, though, might be the bigger problem.
We found that the current implementation adjusts screen brightness far from adequate. Phones that lack ambient light sensors use the front-facing camera to measure lighting conditions. This means it's less energy efficient, takes too much time to react to changes, and it's inaccurate at times. Taking the phone out of the pocket takes a couple of seconds for the software to increase the brightness or when taking it indoors. We found ourselves reaching for the brightness slider more often than not.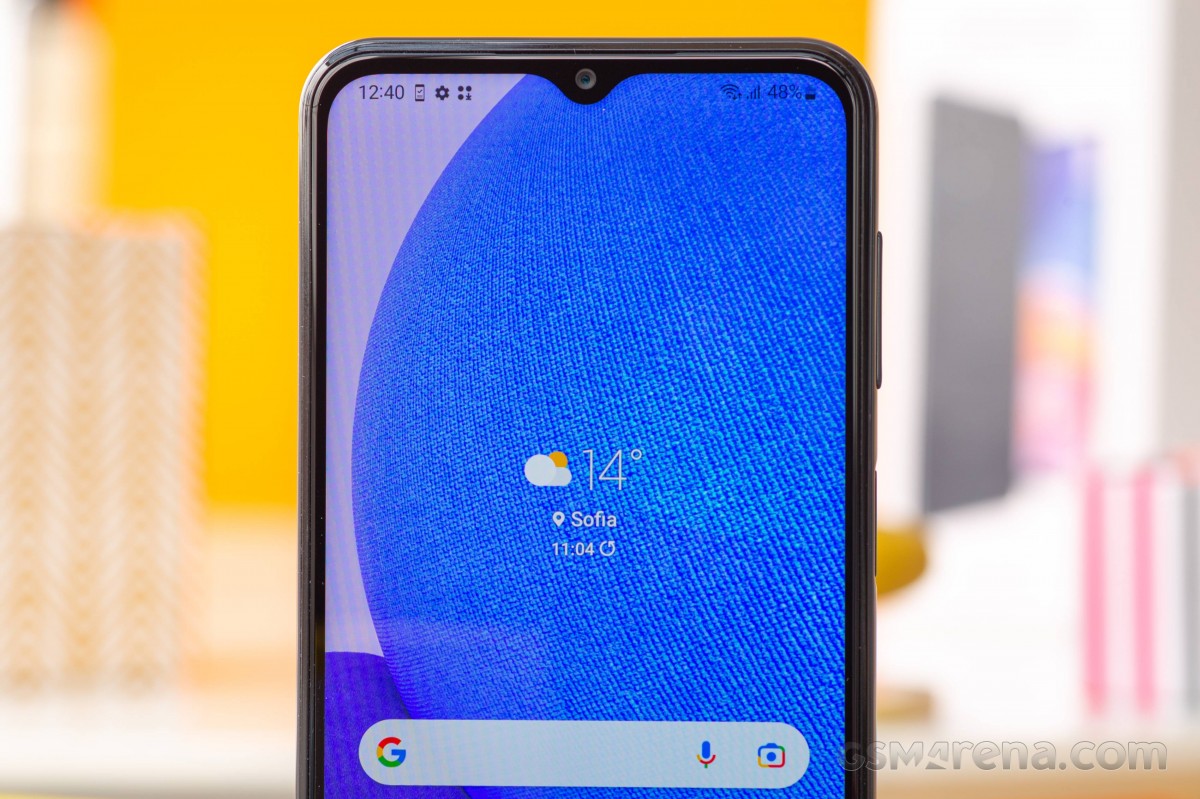 We also couldn't make it go beyond 464 nits. This will probably be enough for most scenarios but using the handset on a bright sunny day outside is a challenge. Sub-500 nits aren't enough, and the more reflective nature of LCD panels makes it even harder. And even in this price category, we've seen brighter displays.
Display test
100% brightness
Black,cd/m2
White,cd/m2
Contrast ratio
Samsung Galaxy A22
0
391
∞
Samsung Galaxy A22 (Max Auto)
0
597
∞
Samsung Galaxy A22 5G
0.236
385
1631:1
Samsung Galaxy A13
0.376
498
1324:1
Samsung Galaxy A13 (Max Auto)
0.448
587
1310:1
Poco X4 Pro
0
477
∞
Poco X4 Pro (Max Auto)
0
754
∞
Samsung Galaxy A23
0.374
464
1241:1
Xiaomi Redmi Note 11 Pro
0
470
∞
Xiaomi Redmi Note 11 Pro (Max Auto)
0
746
∞
Xiaomi Redmi Note 11 Pro 5G (Max Auto)
0
746
∞
Xiaomi Redmi Note 11 Pro 5G
0
470
∞
Xiaomi Redmi Note 11
0
465
∞
Xiaomi Redmi Note 11 (Max Auto)
0
736
∞
Samsung Galaxy A52s 5G
0
383
∞
Samsung Galaxy A52s 5G (Max Auto)
0
800
∞
Realme 9 Pro
0.288
461
1601:1
Realme 9 Pro (Max Auto)
0.385
567
1473:1
Color accuracy isn't the best either, as whites and grays are straight up blue. Unfortunately, Samsung didn't put color presets, and there's no way to adjust the color temperature, so you are stuck with a bit oversaturated colors across the board (which might not be bad for most users), but the blue-ish tint on white and gray backgrounds is a hard pill to swallow.
HRR control
The software offers just two modes - Adaptive and Standard. The latter limits the refresh rate to 60Hz, while the other prioritizes 90Hz. The HRR management is pretty simple and predictable, though. If you are not interacting with the display, it will tone down to 60Hz, no matter the scenario. And we are happy to report that all of the popular apps we've tried saturate the full 90Hz.
Battery life
The Samsung Galaxy A23 packs a 5,000 mAh battery, which has become an industry standard in the last two or so years. Combined with the efficient Snapdragon 680 SoC, the device scored an impressive 130h overall endurance rating.
Moreover, the arguably more important components of the test - the screen-on runtimes - deliver excellent runtimes as well. The web browsing test is above 18 hours, and the video playback test returned a score of almost 16 hours.
To be frank, most of the handsets in this category offer good battery endurance, but the Galaxy A23 edges out.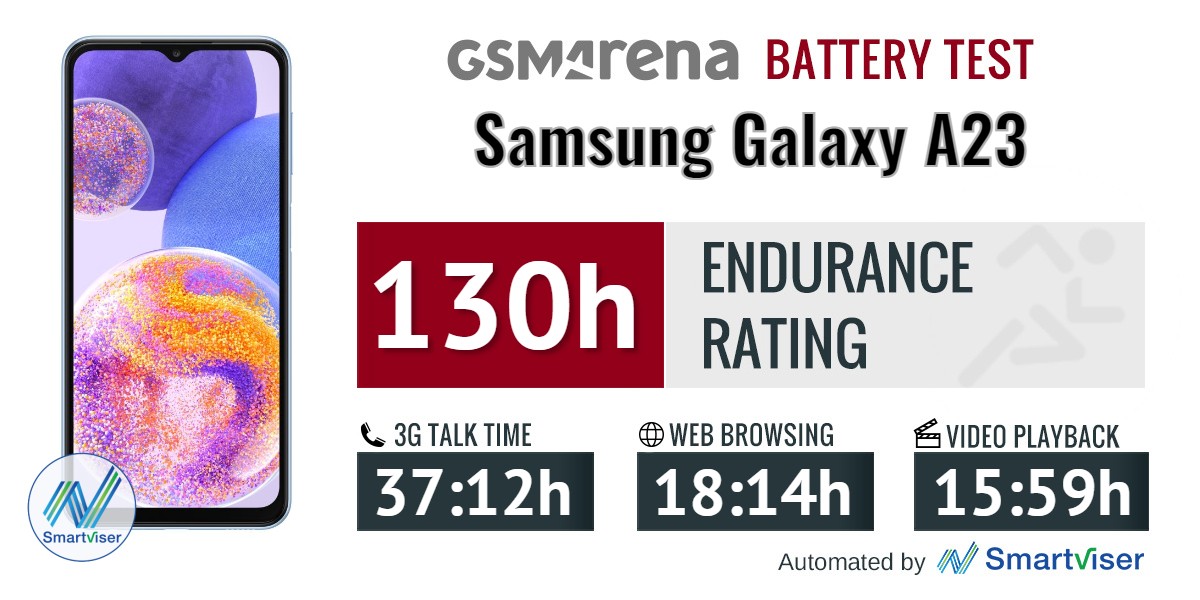 Our battery tests were automated thanks to SmartViser, using its viSerDevice app. The endurance rating denotes how long the battery charge will last you if you use the device for an hour of telephony, web browsing, and video playback daily. More details can be found here.
Video test carried out in 60Hz refresh rate mode. Web browsing test done at the display's highest refresh rate whenever possible. Refer to the respective reviews for specifics. To adjust the endurance rating formula to match your own usage patterns check out our all-time battery test results chart where you can also find all phones we've tested.
Charging speed
Although the device supports 25W fast charging over the Power Delivery 3.0 standard, the A23 ships with Samsung's standard 15W charger. You can always pick up one of Samsung's 25W-rated chargers and the appropriate USB-C to USB-C cable.
Anyway, we tested the provided 15W charger against the 5,000 mAh battery inside the phone, and the results aren't impressive. The phone chargers from 0 to 100% in 1 hour and 43 minutes while a 30-minute charge from flat fills up the cell to just 32%. Those numbers are pretty far off of what the competition has to offer.
30min charging test (from 0%)
Higher is better
Xiaomi Redmi Note 11 Pro
78%
Poco X4 Pro 5G
75%
Xiaomi Redmi Note 11 Pro 5G
74%
Samsung Galaxy A52s 5G
53%
Realme 9 Pro
52%
Samsung Galaxy A23
32%
Samsung Galaxy A13
27%
Samsung Galaxy A22
23%
Samsung Galaxy A22 5G
23%
Time to full charge (from 0%)
Lower is better
Xiaomi Redmi Note 11 Pro 5G
0:45h
Xiaomi Redmi Note 11 Pro
0:48h
Poco X4 Pro 5G
0:49h
Realme 9 Pro
1:14h
Samsung Galaxy A52s 5G
1:28h
Samsung Galaxy A23
1:43h
Samsung Galaxy A13
2:18h
Samsung Galaxy A22
2:20h
Samsung Galaxy A22 5G
2:29h
Speaker
The handset relies only on a single, bottom-firing speaker, which received a "Good" overall score at -27.6 LUFS. That's slightly higher than the Galaxy A13's score. Quality-wise, it's understandably unimpressive. The sound is rather flat with non-existing bass and lacking mids. That's still par for the course.
Samsung provides a couple of customization features, including an in-depth equalizer and Dolby Atmos support, but the latter is limited to headphones and Bluetooth speakers only.
Use the Playback controls to listen to the phone sample recordings (best use headphones). We measure the average loudness of the speakers in LUFS. A lower absolute value means a louder sound. A look at the frequency response chart will tell you how far off the ideal "0db" flat line is the reproduction of the bass, treble, and mid frequencies. You can add more phones to compare how they differ. The scores and ratings are not comparable with our older loudspeaker test. Learn more about how we test here.