120Hz Super AMOLED display
The 6.43-inch display on the Realme X7 Max 5G is one of its spotlight features. It is manufactured by Samsung and appears to be borrowed directly from the vanilla Realme GT. On top of being OLED, the panel is also capable of a 120Hz refresh rate. Though, with just fairly basic automatic switching capabilities. But, we'll circle back to that.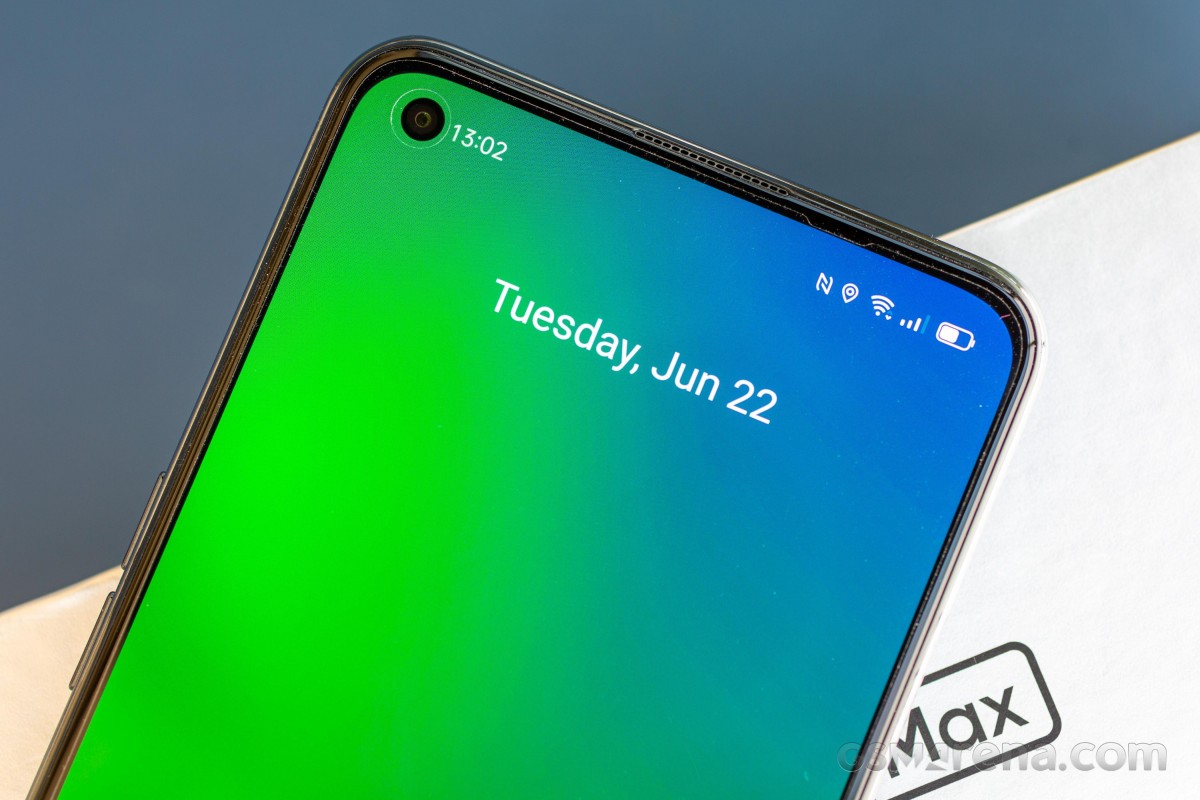 Looking at brightness and contrast test numbers for the Realme X7 5G, we can indeed say that it almost certainly shares a panel with its Realme GT sibling. While not really "flagship-grade", the panel in question manages a very solid 433 nits of maximum brightness by going all out on the manual slider. There is a max auto mode beyond that, which we measured at up to 640 nits.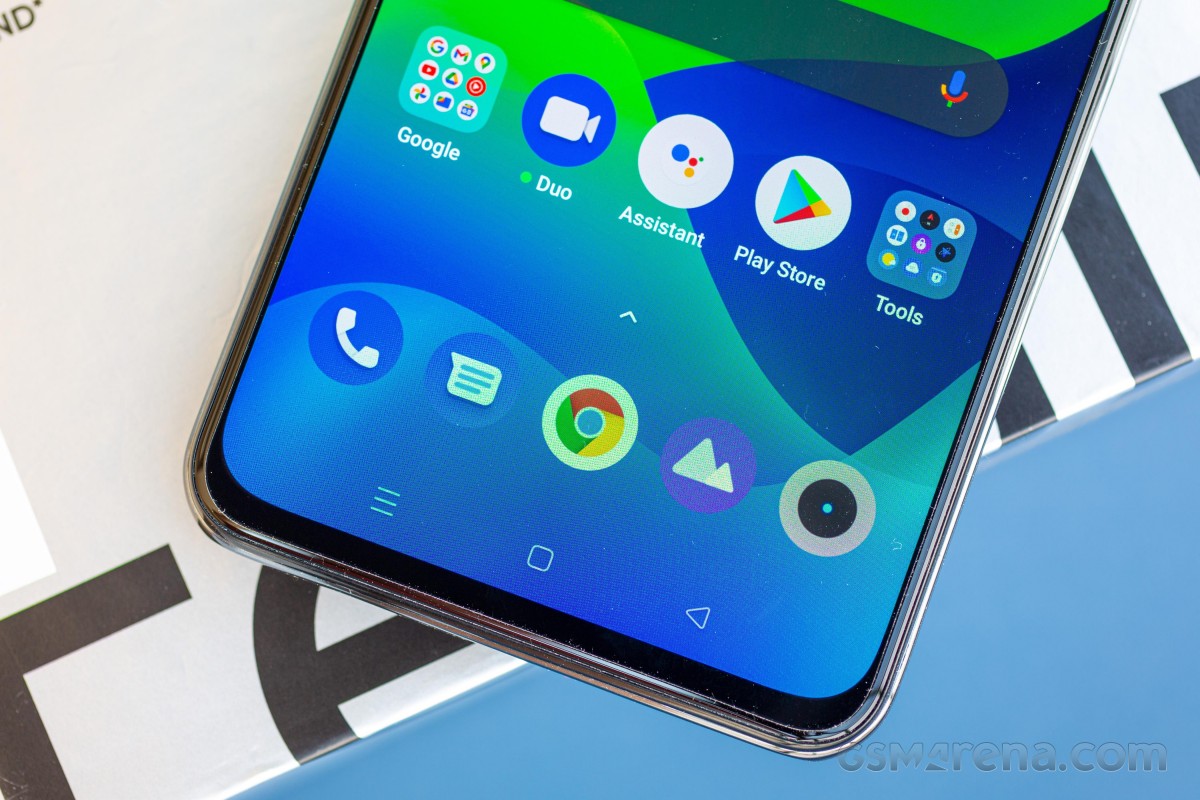 Both of these numbers come is slightly lower than our Realme GT unit, yet close enough to consider normal deviation from unit to unit.
Display test
100% brightness
Black,cd/m2
White,cd/m2
Contrast ratio
Xiaomi Mi 11 Lite 5G (Max Auto)
0
846
∞
Samsung Galaxy A52 (Max Auto)
0
794
∞
Xiaomi Redmi Note 10 Pro (Max Auto)
0
725
∞
Poco F3 (Max Auto)
0
716
∞
Xiaomi Black Shark 4 (Max Auto)
0
694
∞
Realme GT 5G (Max Auto)
0
650
∞
Realme X7 Max 5G (Max Auto)
0
640
∞
Oppo Reno5 5G (Max Auto)
0
634
∞
Xiaomi Mi 10T Pro (Max Auto)
0.541
630
1165:1
Realme 8 Pro (Max Auto)
0
627
∞
OnePlus Nord CE 5G (Max Auto)
0
607
∞
Realme 8 5G (Max Auto)
0.408
577
1414:1
Poco M3 Pro 5G (Max Auto)
0.366
536
1464:1
Poco X3 Pro (Max Auto)
0.4
534
1335:1
Xiaomi Mi 11 Lite 5G
0
514
∞
Xiaomi Mi 10T Pro
0.432
512
1185:1
Poco F3
0
511
∞
Xiaomi Black Shark 4
0
498
∞
Xiaomi Redmi Note 10 5G (Max Auto)
0.275
492
1789:1
Realme 8 5G
0.334
472
1413:1
Poco X3 Pro
0.327
458
1401:1
Xiaomi Redmi Note 10 Pro
0
457
∞
Realme 8 Pro
0
454
∞
Oppo Reno5 5G
0
444
∞
Realme GT 5G
0
443
∞
Realme X7 Max 5G
0
433
∞
OnePlus Nord CE 5G
0
429
∞
Poco M3 Pro 5G
0.28
413
1475:1
Samsung Galaxy A52
0
386
∞
Xiaomi Redmi Note 10 5G
0.21
377
1795:1
Color accuracy on the Realme X7 Max 5G mostly follows the same trend - solid overall, even if falling a bit short of truly flagship-grade. The phone has a total of three color modes. The default is Vivid, which aims for the DCI-P3 color space and almost manages to hit it. Our unit has slightly colder tones overall, which threw the results off. Thankfully, we managed to correct these via the built-in color temperature slider and almost got a color-accurate profile.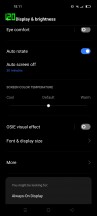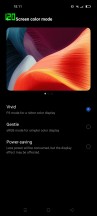 Display color profiles and temperature slider
Then there is Gentle color mode, which is meant to cover the sRGB space. Just like the Vivid profile, Gentle managed to get most of the way to a "color accurate" image on our unit and this time around, sliding the color temperature a two-thirds towards the warm end of the scale got us a great and color-accurate sRGB profile. Nice.
Finally, there is the Power-saving profile, which seems to be based on the Gentle one, without really aiming for sRGB. Instead, it dials back a lot of the color intensity, especially in the red and green channels, in an attempt to save some power. This results in a noticeably less-vivid image overall, but still not totally washed out.
While on the topic of colors, HDR is an interesting topic on the Realme X7 Max 5G. Our unit's software reports support for both HDR10 and HLG (no HDR10+ or Dolby Vision, though). There is even an interesting "Bright HDR video mode" toggle in the display settings menu, which promises to boost brightness further for HDR playback.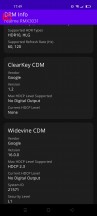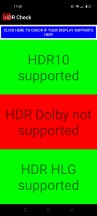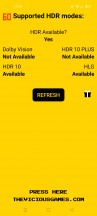 Software HDR support flags and Widevine
All fine and dandy, but it should be noted that third-party app support for HDR content delivery is not perfect yet. As of writing this review, the YouTube app was perfectly ok to serve HDR videos on our review unit, but Netflix didn't acknowledge any HDR support at all, let alone offer it in streams. We do know that the latter has its own whitelists for devices, so this will hopefully change.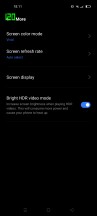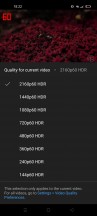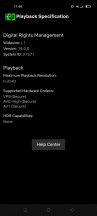 Bright HDR video mode • YouTube HDR support • No HDR support in Netflix
High refresh rate handling
The Realme X7 Max 5G has a 120Hz display, which is great on paper. It even has a 360Hz touch sampling rate. However, high refresh rate on a modern phone is only as good as the software logic backing it up.
Realme phones have always been kind of funky in this regard, pretty much always failing to run actual games at anything beyond 60Hz and consequently up to 60FPS.
The Realme X7 Max 5G did offer an initial glimmer of hope while running our standard slew of benchmarks. Both GFXBench and 3D Mark managed to make use of its 120Hz mode, with some tests even pushing past the 60fps barrier, proving that everything is working as intended - a sort of a precedent on a Realme. However, our excitement was short-lived since no matter how hard we tried, we couldn't get a single game to run at anything higher than 60fps. And we tried quite a few titles we know support higher refresh rates. Bummer.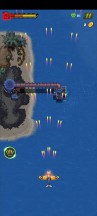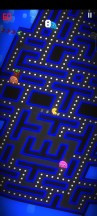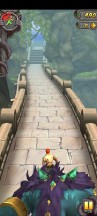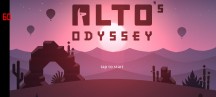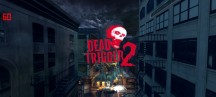 Games refuse to run at anything other than 60Hz
That doesn't mean that the 120Hz refresh rate on the X7 Max 5G is totally wasted, though. You can still enjoy the buttery smoothness in many apps and all throughout the UI. There are some caveats with this as well, though. Buried unnecessarily deep in the Display settings menu, we find three refresh rate modes - Auto select, 120Hz and 60Hz.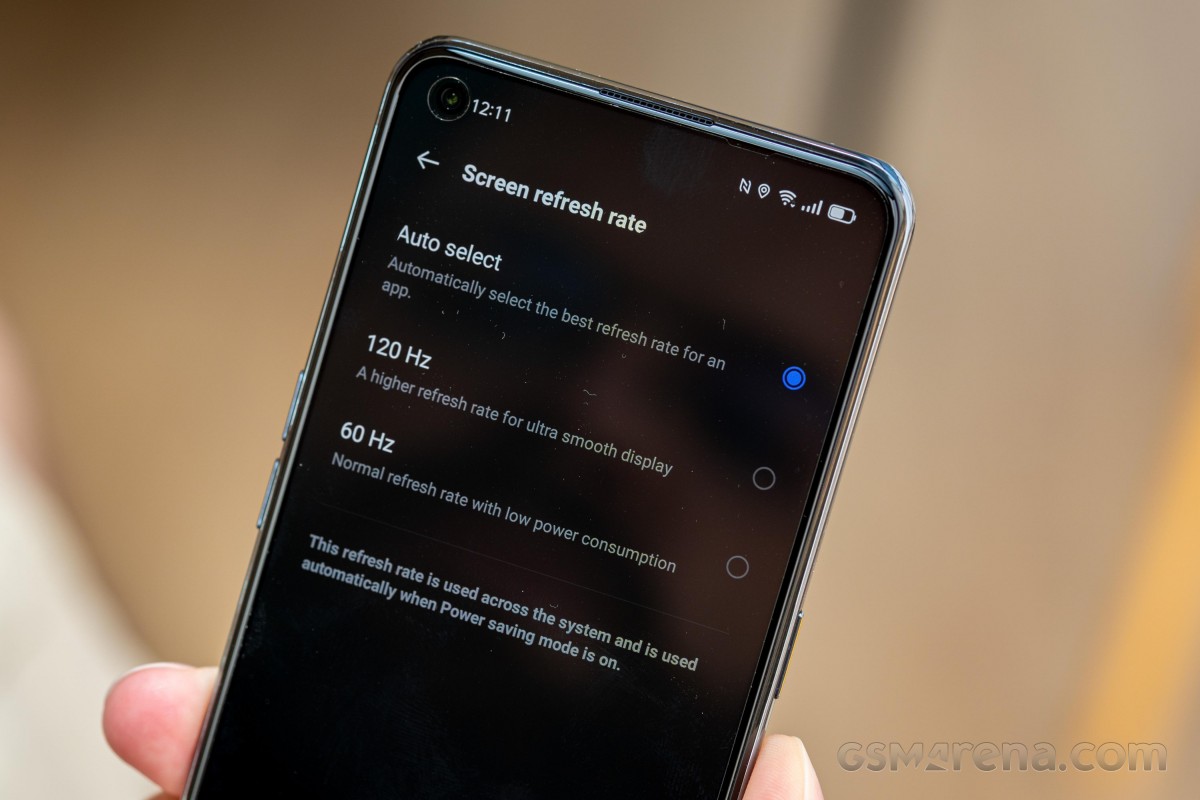 Getting the simple stuff out of the way - 60Hz simply locks everything to what is the basic and most widespread Android refresh rate. All of the apps we tried were perfectly happy to oblige. Same goes for the UI.
120Hz acts sort of like a 120Hz lock as well. Most of the time, at least. Games are one unfortunate, notable and major exception. Some apps, like TikTok disregarded our desire to get 120Hz, as well. But, overall, most interfaces stayed at 120Hz. This includes quite a few ones with video playing back on them, which is not ideal for power efficiency. Since 120Hz seems to be useless for gaming, we would probably shy away from it for this reason alone.
Instead, there is the last and default Auto select mode, which promises to switch refresh rate as needed. Without digging too deep into specifics, the general logic for this mode seems to be - stick to 120Hz, unless you encounter a specific app. There is no "automatic" switching down logic we managed to spot beyond a simple app list. Leaving the phone alone for a while on a static image does not lower the refresh rate, and neither does triggering a full-screen video player within an app that is otherwise running at 120Hz. These are all things we have seen on other devices and hence can be considered deficiencies in the logic implemented here.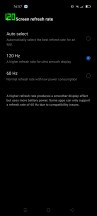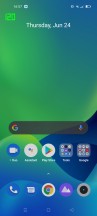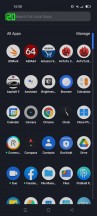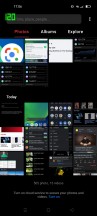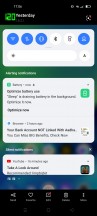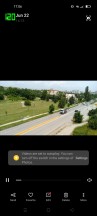 Most things stick to 120Hz in Auto select mode
In case you want some particular examples of apps exhibiting some form of "auto-select" behavior - dropping down to 60Hz on launch, these include the Realme browser (though not Chrome). The default Video player app, though not the Gallery. The File Manager also runs at 60Hz and so do Google Photos and YouTube. Though Chrome, Gmail and the Google app all continue to happily do 120Hz.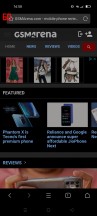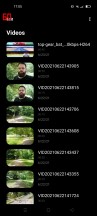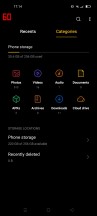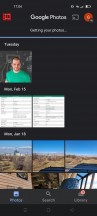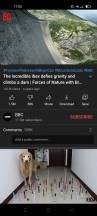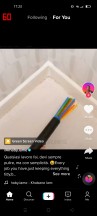 Auto select refresh rate: Browser • Video • File manager • Google Photos • YouTube • TikTok
Most social networks we tried, including Facebook, Snapchat and Instagram simply launched at 120Hz and stayed there regardless of whether we were scrolling or watching a full-screen video. TikTok, like we mentioned was always stuck at 60Hz, regardless of settings.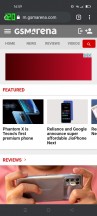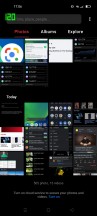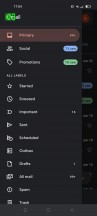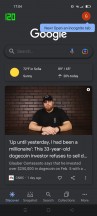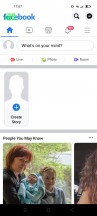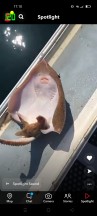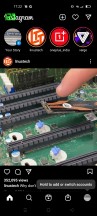 Auto select refresh rate: Chrome • Gallery • Gmail • Google app • Facebook • Snapchat • Instagram
The only app that kind of threw off our initial analysis here was Netflix, which in both 120Hz and auto select modes managed to exhibit flawless behavior - running at 120Hz in the UI and then instantly switching to 60Hz when a video is actually playing. Upon further inspection, however, it turns out that the way Netflix works is to spawn its video player inside what is almost a "separate app" instance, which even shows up separately in the recent apps interface. Hence we are fairly certain that its perfect behavior is just a happy coincidence and not due to realme UI actually behaving in a smart way.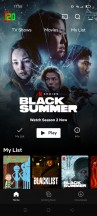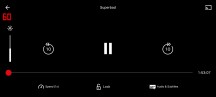 Netflix running in 120Hz mode in the UI and 60Hz for video playback
We admit this section got a bit out of hand. In our defense, the ability of the Realme X7 5G to go beyond 60Hz in GFXBench and 3D Mark got us really hopeful and excited. In reality, however, the current setup Realme has in place is flawed in more ways than one and needs plenty of work. Either the Autoselect mode needs to become a lot smarter than a simple whitelist or, alternatively, Realme could simply offer an actual user-editable per-app refresh rate settings interface. We are not exactly sure how the 60Hz lock for gaming factors into the whole situation and, more perplexing still, how some benchmarks, which are essentially "games" in their on-screen GPU test portions manage to work as expected. Regardless, all of it needs to be addressed by Realme as soon as possible.
Battery life
The Realme X7 Max 5G is packing a 4500 mAh battery - not particularly beefy, but still quite decent, especially considering the phone's relatively compact dimensions. We've already seen MediaTek's Dimensity line of chips perform pretty well with battery endurance. Granted, our experience mostly consists of Dimensity 700 and 800 series chips, so we were quite interested to see how this translates to the top-dog Dimensity 1200. After all, it is based on an efficient 6nm manufacturing process, so the odds are in its favor.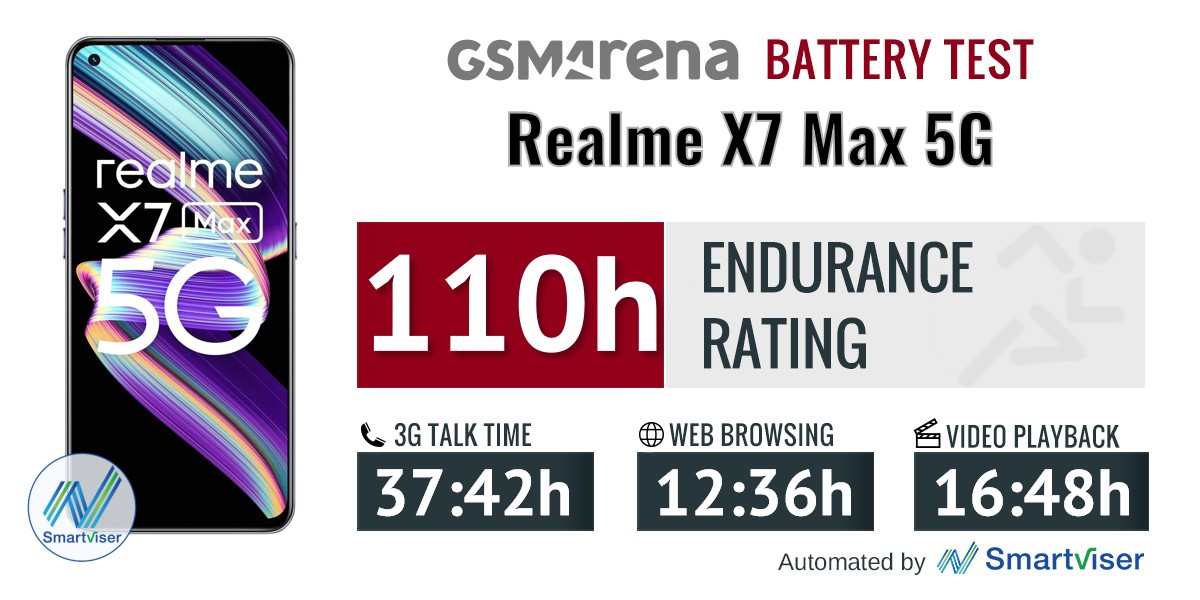 Overall, considering the battery capacity, we would definitely say that the Realme X7 Max is making proper use of the available juice. Other MediaTek-equipped devices we have tested do tend to be a bit over the place with their cellular energy consumption. That is to say, idle and call endurance.
The Realme X7 Max 5G did great in the call test and quite solid in the standby test. Devices like the vivo V21 and the Realme 8 5G did a bit better in this department. Granted, however, those use the Dimensity 800U and the Dimensity 700, respectively. Then again, the Dimensity 1200 inside the Realme X7 Max 5G managed to score a clear win in both tests over the Realme GT 5G and its Snapdragon 888 chipset.
As for the on-screen portion of our testing, video endurance on the Realme X7 Max 5G falls pretty much perfectly in line with what we would expect. We did our video testing at 60Hz. On the flip side - web testing, as per our protocol, was done at 120Hz. This is actually one of the few scenarios high refresh rate works great and makes a big difference on the Realme X7 Max 5G.
For the sake of thoroughness, we also ran our web battery testing with a locked 60Hz refresh rate to see how much of a difference it makes. The result- about what we would expect, which is to say not much.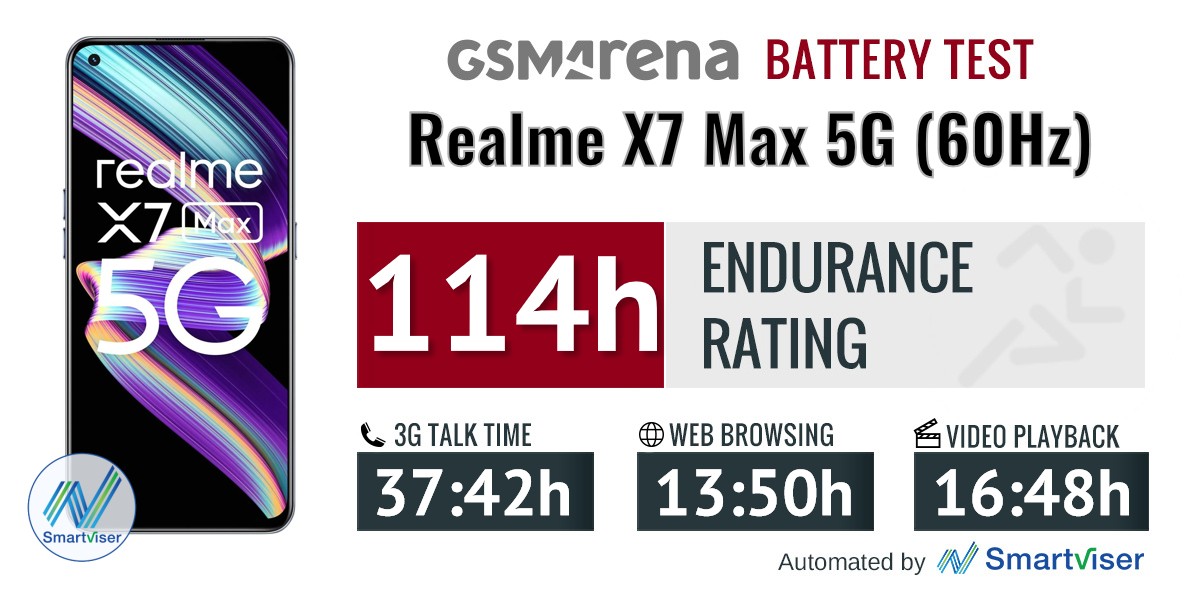 Looking at other Dimensity-equipped devices and their respective web endurance tests, we would say that the Realme X7 Max 5G stands to be optimized a bit further.
All things considered, while 110 hours is not a chart-topping endurance number, the Realme X7 Max 5G offers solid battery performance, especially considering the extra performance offered by the Dimensity 1200 chipset, compared to its lower-end sibling models. There is still some room for extra improvement on Realme's part, which we hope will happen with future software updates.
Our battery tests were automated thanks to SmartViser, using its viSerDevice app. The endurance rating denotes how long the battery charge will last you if you use the device for an hour of telephony, web browsing, and video playback daily. More details can be found here.
Video test carried out in 60Hz refresh rate mode. Web browsing test done at the display's highest refresh rate whenever possible. Refer to the respective reviews for specifics. To adjust the endurance rating formula to match your own usage patterns check out our all-time battery test results chart where you can also find all phones we've tested.
Charging speed
The Realme X7 Max 5G can charge at up to 50W via SuperDart technology. Like we already mentioned in the unboxing section, getting it to work requires both a compatible charger, like the provided one, capable of a 10V@5A output, as well as the proprietary Type-A to Type-C cable as it has an extra pin.
Charging is one area where Realme had to compromise a bit with the Realme X7 Max 5G compared to the Realme GT. Our best guess is that it has something to do with the swap to a MediaTek Dimensity 1200 5G chipset though, it could also be unrelated.
In any case, Realme is slightly overselling the charging speed on the X7 Max 5G in official specs, claiming it can go from zero to 50% in 16 minutes when in reality, we only managed to complete it in 23 minutes. A full charge from a flat battery took us exactly 60min.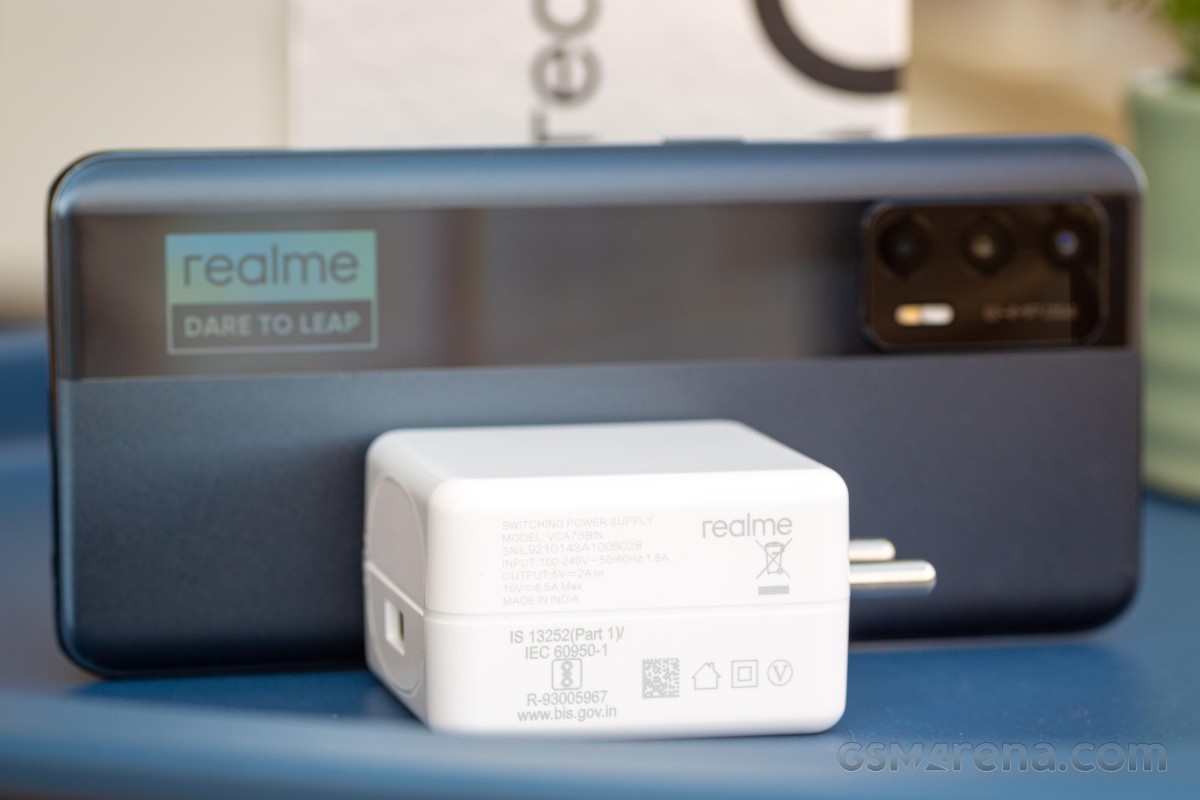 One interesting thing to note is that the Realme GT still managed to charge a bit faster when using a 50W charger. Our best guess is that the diminished charging rate has something to do with the different chipset. In any case, the Realme X7 Max 5G is no slouch when it comes to charging even if its 4,500 mAh battery is not the biggest around.
30min charging test (from 0%)
Higher is better
Xiaomi Black Shark 4
100%
OnePlus 9
100%
Realme GT 5G (65W)
87%
vivo X60 Pro+
84%
Xiaomi Mi 11
83%
Huawei Mate X2
80%
Realme GT 5G (50W mini)
68%
Poco F3
67%
OnePlus Nord CE 5G
67%
Xiaomi Redmi Note 10
65%
vivo V21 5G
64%
Realme X7 Max 5G
60%
Asus Zenfone 8
60%
Realme 8
56%
Samsung Galaxy A52 (25W)
52%
Poco X3 Pro
50%
Sony Xperia 10 III (third-party 65W PD)
37%
Samsung Galaxy A52
34%
Sony Xperia 10 III
20%
Time to full charge (from 0%)
Lower is better
Xiaomi Black Shark 4
0:19h
OnePlus 9
0:29h
Realme GT 5G (65W)
0:39h
vivo X60 Pro+
0:42h
Xiaomi Mi 11
0:50h
Poco F3
0:56h
Realme GT 5G (50W mini)
0:57h
Huawei Mate X2
0:58h
Realme X7 Max 5G
1:00h
OnePlus Nord CE 5G
1:03h
vivo V21 5G
1:05h
Poco X3 Pro
1:08h
Realme 8
1:09h
Xiaomi Redmi Note 10
1:13h
Asus Zenfone 8
1:28h
Samsung Galaxy A52 (25W)
1:30h
Samsung Galaxy A52
2:03h
Sony Xperia 10 III (third-party 65W PD)
2:10h
Sony Xperia 10 III
2:58h
Speakers
The Realme X7 Max 5G has a hybrid stereo setup. One channel is handled by the bottom-firing speaker, while the other by the amplified earpiece. It is not a perfect system, but still better than relying on a single speaker. Even though the two channels aren't exactly blasting in the same direction, the output managed to sound surprisingly balanced on our review unit.
The Realme X7 5G managed a "Very Good" loudness score in our testing, just like the Realme GT 5G. Unsurprisingly, the two devices have a similar frequency response curve as well. That is to say - decent, though not particularly impressive in any way.
Comparing it to something like the popular Xiaomi Poco X3 Pro - a well-known contender in the same price range, we see that the Realme X7 Max 5G manages to handle lows a bit better, whereas the Poco has better behavior in the highs. The Poco X3 Pro has two dedicated speakers, which makes the comparison a bit less straight-forward.
Use the Playback controls to listen to the phone sample recordings (best use headphones). We measure the average loudness of the speakers in LUFS. A lower absolute value means a louder sound. A look at the frequency response chart will tell you how far off the ideal "0db" flat line is the reproduction of the bass, treble, and mid frequencies. You can add more phones to compare how they differ. The scores and ratings are not comparable with our older loudspeaker test. Learn more about how we test here.