Familiar 6.62-inch, 120Hz OLED panel
At first glance, we thought the GT Neo 3T uses the same display panel as last year's GT Neo2, but it appears that it offers a substantial improvement, at least according to our tests. Let's get the boring specs out of the way first.
The display uses a Samsung-made E4 AMOLED that fits in a 6.62-inch diagonal (same as the GT2 and the GT Neo2), offering a standard 1080 x 2400px resolution, 100% DCI-P3 color gamut coverage, 1,300 nits peak brightness and 120Hz refresh rate. It can do 360Hz touch sampling rate for improved responsiveness when gaming. HDR10+ support is also on the list of features, and we can confirm that it works on Netflix and YouTube.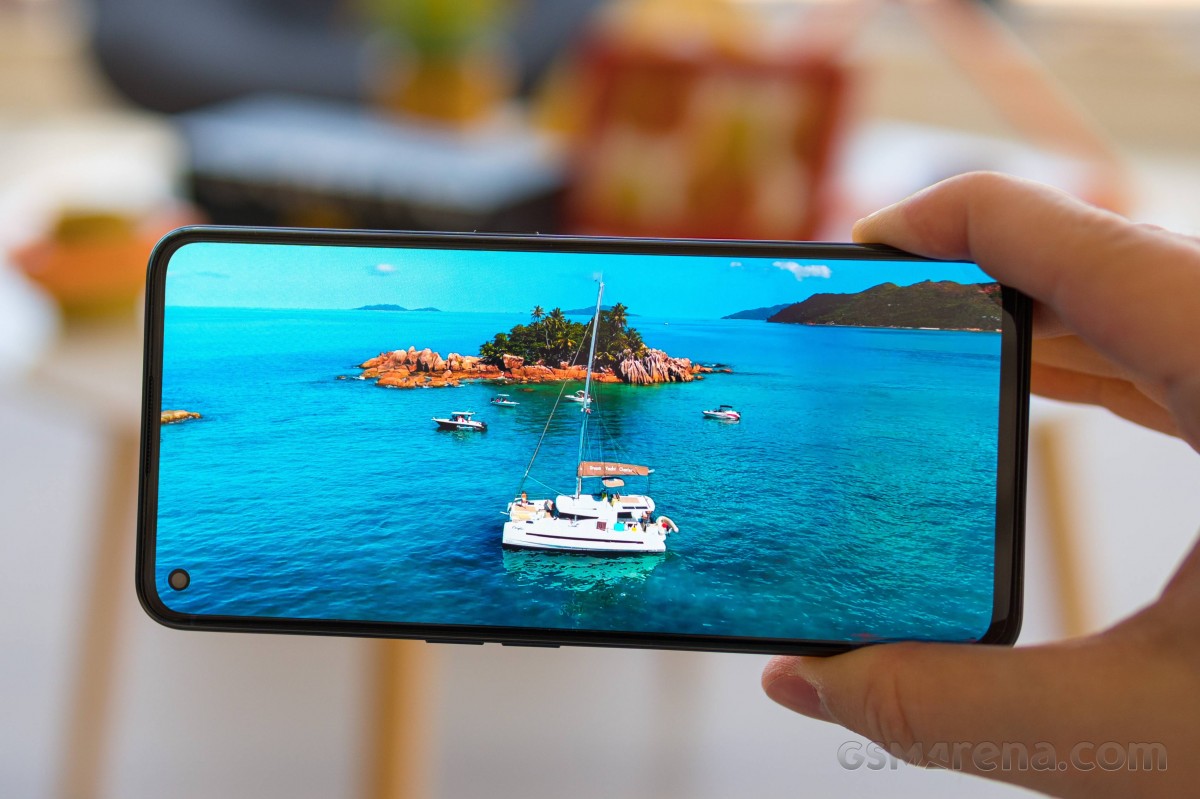 Even though we weren't able to record 1,300 nits in our tests, we believe it's still possible to peak to that value if the lit area is small enough during HDR content playback. With our standard 75% APL test pattern, we got up to respectable 803 nits, which is a big upgrade over last year's Neo2. In fact, this display seems to be on par with the GT2's (we suspect they share the same panel) and the GT Neo3, at least in terms of brightness. In manual mode, the display can go up to 516 nits, which is rather impressive as well.
Display test
100% brightness
Black,cd/m2
White,cd/m2
Contrast ratio
Realme GT Neo3 (Max Auto)
0
796
∞
Realme GT Neo3
0
466
∞
Realme GT Neo 3T
0
516
∞
Realme GT Neo 3T (Max Auto)
0
803
∞
Realme GT2 Pro
0
482
∞
Realme GT2 Pro (Max Auto)
0
778
∞
Realme GT2
0
517
∞
Realme GT2 (Max Auto)
0
846
∞
Samsung Galaxy S21 FE 5G
0
792
∞
Samsung Galaxy S21 FE 5G (before second slide)
0
385
∞
Xiaomi Mi 11T Pro
0
516
∞
Xiaomi Mi 11T Pro (Max Auto)
0
837
∞
Xiaomi Mi 11T
0
498
∞
Xiaomi Mi 11T (Max Auto)
0
798
∞
Samsung Galaxy A53 5G
0
427
∞
Samsung Galaxy A53 5G (Max Auto)
0
830
∞
Realme GT Master
0
437
∞
Realme GT Master (Max Auto)
0
634
∞
Outdoor reading, chatting, or even content consumption is pretty comfortable on a bright sunny day.
Color accuracy is another aspect on which Realme improved significantly with this iteration. We again got excellent readings in the so-called Natural mode with average dE2000 of just 1.4. Whites and grays are pretty close to natural with a barely noticeable blue-ish tint. The Pro mode provides similar color accuracy but against the DCI-P3 color gamut.
HRR control
The HRR implementation is identical to other Realme devices with fast displays. An idle screen dials down to 60Hz while pretty much every app or system menu we tried saturates the full 120Hz. Playing videos using the default Gallery app, YouTube and Netflix will reduce the refresh rate to 60Hz to preserve power.
Sadly, high refresh rate gaming is still out of the question as we struggle to find any games that can get the most out of the 120Hz display.
Battery life
It's no surprise that the GT Neo 3T offers long battery life since it shares the same hardware as the GT Neo2, which showed great results in our endurance tests. With the same 5,000 mAh battery and the same Snapdragon 870 SoC under the hood, the only difference between these two is the software. And perhaps that's the reason for the GT Neo 3T's better standby runtime, whereas the rest of the tests were within the normal margin of statistical error compared to the Neo2.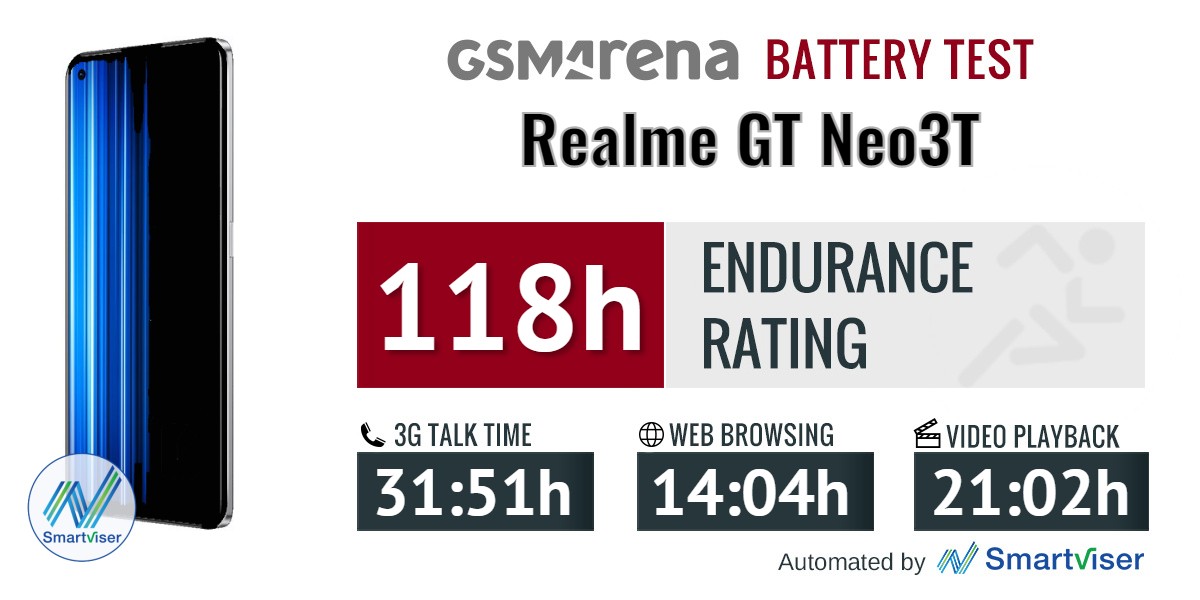 Our battery tests were automated thanks to SmartViser, using its viSerDevice app. The endurance rating denotes how long the battery charge will last you if you use the device for an hour of telephony, web browsing, and video playback daily. More details can be found here.
Against its rivals, the Neo 3T is confidently leading the pack with great endurance in all of our tests. More importantly, though, the screen-on tests are particularly impressive.
Video test carried out in 60Hz refresh rate mode. Web browsing test done at the display's highest refresh rate whenever possible. Refer to the respective reviews for specifics. To adjust the endurance rating formula to match your own usage patterns check out our all-time battery test results chart where you can also find all phones we've tested.
Charging speed
The 80W charging solution on the Neo 3T is nothing short of impressive. The handset ships with an 80W charging brick that works over a USB-C to USB-C cable and can do even Power Delivery 3.0 at a lower wattage. The 5,000 mAh battery can be charged up to 95% in just 30 minutes, and a full charge takes about 40 minutes. And while those numbers are impressive on their own, we wonder why the GT2 and the GT2 Pro with 65W charging and the same battery capacity achieve the same, if not slightly better, charging times. There is room for statistical error, of course, so the best case scenario would be that the GT Neo 3T's charger is just as fast as the 65W one.
30min charging test (from 0%)
Higher is better
Realme GT Neo3 150W
100%
Xiaomi 11T Pro
100%
Realme GT Neo2
97%
Realme GT2
97%
Realme GT Neo3T
95%
Realme GT2 Pro
91%
Xiaomi 11T
86%
Samsung Galaxy S21 FE 5G
51%
Time to full charge (from 0%)
Lower is better
Realme GT Neo3 150W
0:16h
Xiaomi 11T Pro
0:21h
Realme GT Neo2
0:32h
Realme GT Neo3T
0:40h
Realme GT2 Pro
0:40h
Realme GT2
0:40h
Xiaomi 11T
0:41h
Samsung Galaxy S21 FE 5G
1:15h
We won't be going into details as there are a lot of factors involved here including chipsets, charging throttle induced by temperatures and battery tech. Either way, the GT Neo 3T promises a speedy and reliable charging experience, which is all we could ask for, but it's definitely not the upgrade we were hoping for.
Speakers
We suspect that the GT Neo3's speaker setup is exactly the same as last year's Neo2 since we observed the same quality and loudness. The latter turned out to be -25.2 LUFS, getting a "Very Good" score. Quality-wise, we can say it's good. The two loudspeakers (the bottom-firing one and the top speaker acting as an earpiece as well) are well-balanced; lows are pronounced enough while highs are clear at medium loudness. Cranking the volume up results in slight distortion, which is the norm.
Use the Playback controls to listen to the phone sample recordings (best use headphones). We measure the average loudness of the speakers in LUFS. A lower absolute value means a louder sound. A look at the frequency response chart will tell you how far off the ideal "0db" flat line is the reproduction of the bass, treble, and mid frequencies. You can add more phones to compare how they differ. The scores and ratings are not comparable with our older loudspeaker test. Learn more about how we test here