High-ish refresh rate, low-ish max brightness
The Realme 6 Pro is fitted with a 6.6-inch display, a whole 0.1 inches more than the Realme 6's. The 20:9 aspect ratio means the FullHD+ resolution works out to a 2400x1080px resolution while pixel density is 399ppi.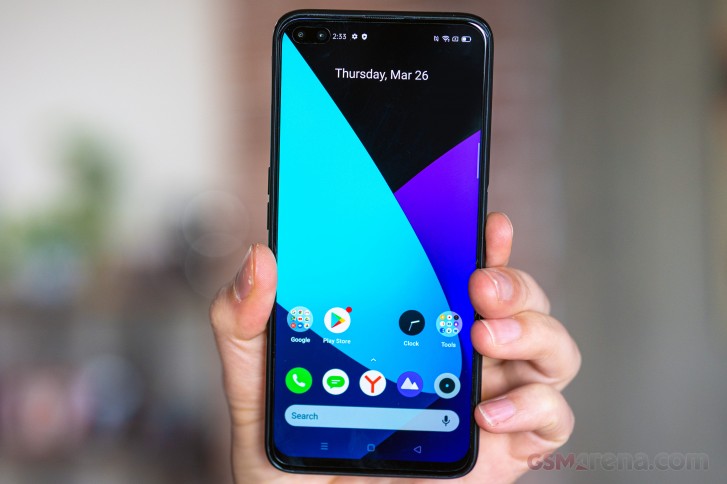 Another key spec is the refresh rate - the screen is capable of 90Hz in a land of 60Hz midrangers. It's not quite 120Hz as the higher-end phones, but it's not a high-end phone, the Realme 6 Pro. There's another manifestation of the handset's relatively budget-conscious nature - the screen is an LCD and not an OLED.
And it's not a very bright LCD either. We measured just 421nits with no boost with the auto toggle engaged. Contrast is okay at 1300-something-to-1, but we've been spoiled by OLEDs and their true blacks and OLEDs can be had for the Realme 6 Pro's asking price with some other concessions to be made if the display is higher on your list of priorities.
Display test
100% brightness
Black,cd/m2
White,cd/m2
Contrast ratio
Realme 6 Pro
0.318
421
1324:1
Realme 6
0.343
451
1315:1
Realme X2
0
432
∞
Xiaomi Redmi Note 8T
0.331
450
1360:1
Xiaomi Redmi Note 8T (Max Auto)
0.453
600
1325:1
Xiaomi Redmi K30
0.399
550
1378:1
Xiaomi Redmi K30 (Max Auto)
0.527
714
1355:1
Samsung Galaxy A51
0
413
∞
Samsung Galaxy A51 (Max Auto)
0
636
∞
Samsung Galaxy M30s
0
441
∞
Samsung Galaxy M30s (Max Auto)
0
642
∞
Huawei P40 Lite
0.425
461
1085:1
Huawei P40 Lite (Max Auto)
0.501
515
1028:1
The Realme 6 Pro handles colors in a similar fashion to its stablemates. Out of the box, it's in Vivid mode, which should supposedly be tuned for accurate rendition of DCI-P3 content, but we measured an average DeltaE of 5.3 and a maximum of 10.3 for our test swatches with the white point quite off too at around 9. Since it had a blueish-purplish shift, we figured bumping the temperature slider in the warm direction would help, and it did - whits were closer to target (DeltaE of 5) and the average DeltaE was 4.1.
We had more success with the Gentle mode and its sRGB tuning. The default setting was relatively accurate already (average DeltaE of 2.2 and maximum of 4.5), but whites were a little too yellowish to our liking. Pull the slider all the way to the coolest state, and you'd get an average DeltaE of 1.5, a 2.6 maximum, and white under 2.
Realme 6 Pro battery life
The Realme 6 Pro is powered by a 4,300mAh battery, same capacity as the one in the Realme 6, which posted pretty impressive numbers. The Pro does have a different (if similarly sized) display and chipset, so we didn't expect quite the same numbers.
Indeed, we got different results, and not better ones. We wouldn't really call 14:42h of web browsing or 14 hours of looping videos bad numbers - on the contrary, they're excellent. We measured the same results with the display refresh rate set at 90Hz and 60Hz alike, so for these types of usage the refresh rate doesn't make a difference. Voice call longevity turned out very good as well, with more than 31 hours possible on a single charge.
The overall Endurance rating of the Realme 6 Pro then works out to 107h.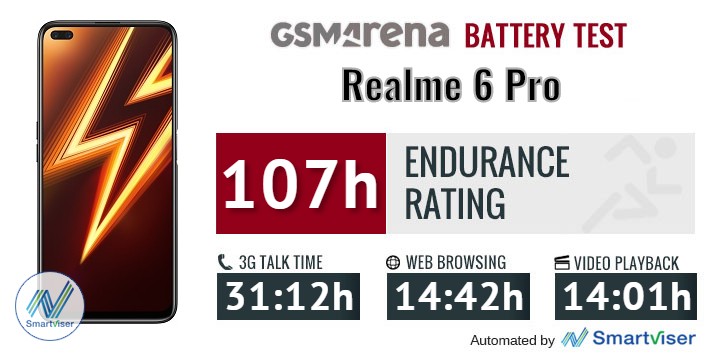 Our battery tests were automated thanks to SmartViser, using its viSer App. The endurance rating above denotes how long a single battery charge will last you if you use the Realme 6 Pro for an hour each of telephony, web browsing, and video playback daily. We've established this usage pattern so that our battery results are comparable across devices in the most common day-to-day tasks. The battery testing procedure is described in detail in case you're interested in the nitty-gritty. You can check out our complete battery test table, where you can see how all of the smartphones we've tested will compare under your own typical use.
Realme promises that charging the 6 Pro from empty to full will take one hour flat. In our testing, we clocked 57 minutes, so even batter. At the half-hour mark we were looking at 68%. Mind you, that only works with with the company's VOOC peripherals - adapter and cable, as they have not strictly standard circuitries and pinouts. Additionally, the 6 Pro supports USB PowerDelivery up to 15 watts.
Speaker test
The Realme 6 Pro has a single bottom-firing speaker - its Pro-ness wasn't enough for a stereo setup. It did, apparently, qualify for better hardware than the Realme 6, as it delivers richer and more robust sound than the vanilla version. Still, the measured loudness was essentially the same between the two in our testing and both earned 'Average' marks.
Use the Playback controls to listen to the phone sample recordings (best use headphones). We measure the average loudness of the speakers in LUFS. A lower absolute value means a louder sound. A look at the frequency response chart will tell you how far off the ideal "0db" flat line is the reproduction of the bass, treble, and mid frequencies. You can add more phones to compare how they differ. The scores and ratings are not comparable with our older loudspeaker test. Learn more about how we test here.