Display
The Poco X3 GT features a 6.6" IPS LCD that's similar to what we saw on the Poco X3 NFC and Poco X3 Pro. It has a resolution of 1,080 x 2,400 pixels (399ppi), supports HDR10, 120Hz adaptive refresh rate, and 240Hz touch sampling.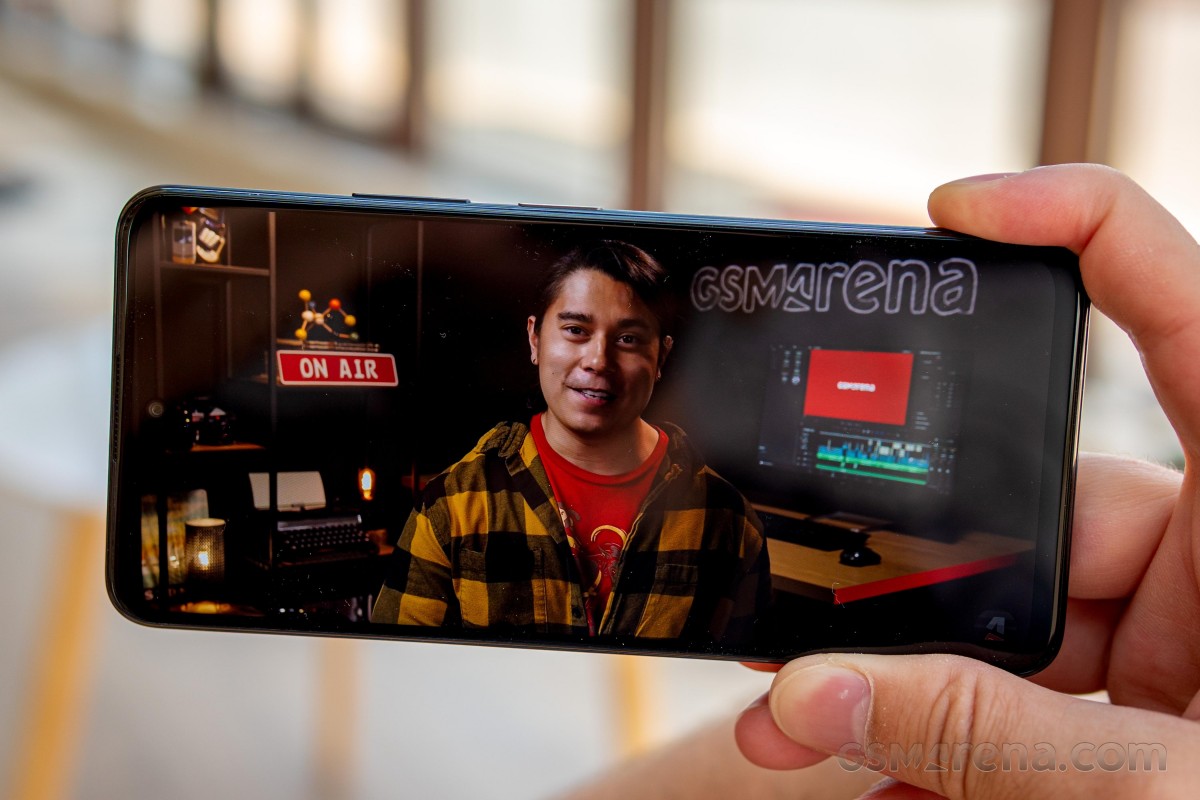 Just like the other Poco X3 models, the GT has a punch-hole for the selfie camera, but this time around we are happy to find even backlighting around the cutout.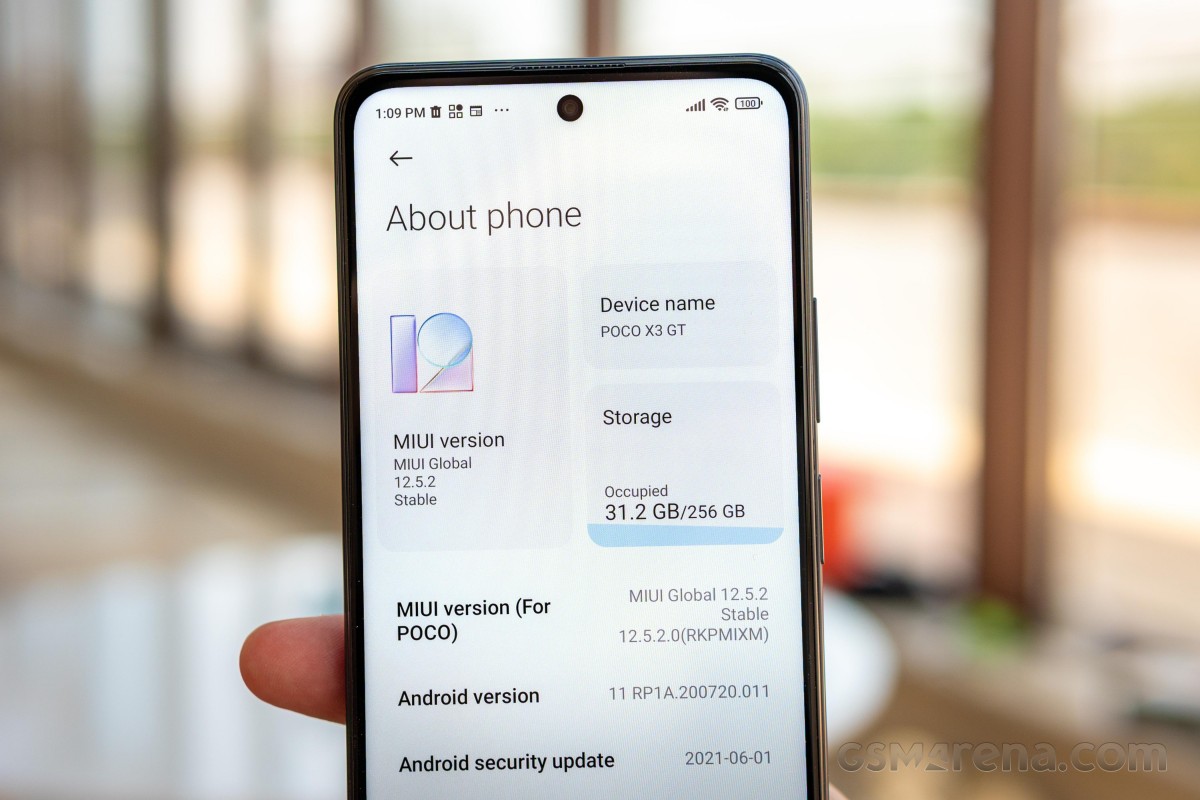 Poco promises 450 nits of typical brightness for the screen. Well, we did our usual measurements and the display maxed out at 430 nits when we adjusted the brightness manually - it is in the ballpark of the advertised number.
When set to the Auto (or the Sunlight Mode is active) and faced with bright light, it will go as high as 537 nits. That's not a great improvement, but it is on par with the Poco X3 Pro. Yet the Poco X3 NFC's display would go almost 100 nits higher to 630.
The black level is among the deepest we've captured on an LCD, and the contrast turned out excellent at about 1400:1.
The minimum brightness is outstanding - we measured the incredible 0.9 nits at point white.
Display test
100% brightness
Black,cd/m2
White,cd/m2
Contrast ratio
Poco X3 GT
0.301
429
1425:1
Poco X3 GT (Max Auto)
0.38
537
1413:1
Poco X3 Pro
0.327
458
1401:1
Poco X3 Pro (Max Auto)
0.4
534
1335:1
Poco X3 NFC
0.354
460
1299:1
Poco X3 NFC (Max Auto)
0.515
631
1225:1
Poco F3
0
511
∞
Poco F3 (Max Auto)
0
716
∞
Xiaomi Redmi Note 10 Pro
0
457
∞
Xiaomi Redmi Note 10 Pro (Max Auto)
0
725
∞
Realme GT 5G
0
443
∞
Realme GT 5G (Max Auto)
0
650
∞
Realme X7 Max 5G
0
433
∞
Realme X7 Max 5G (Max Auto)
0
640
∞
Samsung Galaxy A52
0
386
∞
Samsung Galaxy A52 (Max Auto)
0
794
∞
Xiaomi Mi 11 Lite 5G
0
514
∞
Xiaomi Mi 11 Lite 5G (Max Auto)
0
846
∞
Realme 7 Pro
0
459
∞
Realme 7 Pro (Max Auto)
0
585
∞
MIUI's display settings offer three different Color presets - Auto (default), Saturated, and Standard - each one tailored to a specific color space.
The Auto option covers the DCI-P3 color space and it would adjust the colors to correspond to your current lighting (like Apple's True Tone). Usually, the screen has this bluish tint and isn't that accurate. The Saturated option makes the color pop even more, so if accuracy is what you are after, you better use Auto and tweak the advanced color settings to your liking.
The Standard setting is made for sRGB, and we captured a good color accuracy (average deltaE of 3.2).
If you want more accurate colors, you can play with the color temperature tool and adjust it towards a bit warmer, yellowish hues.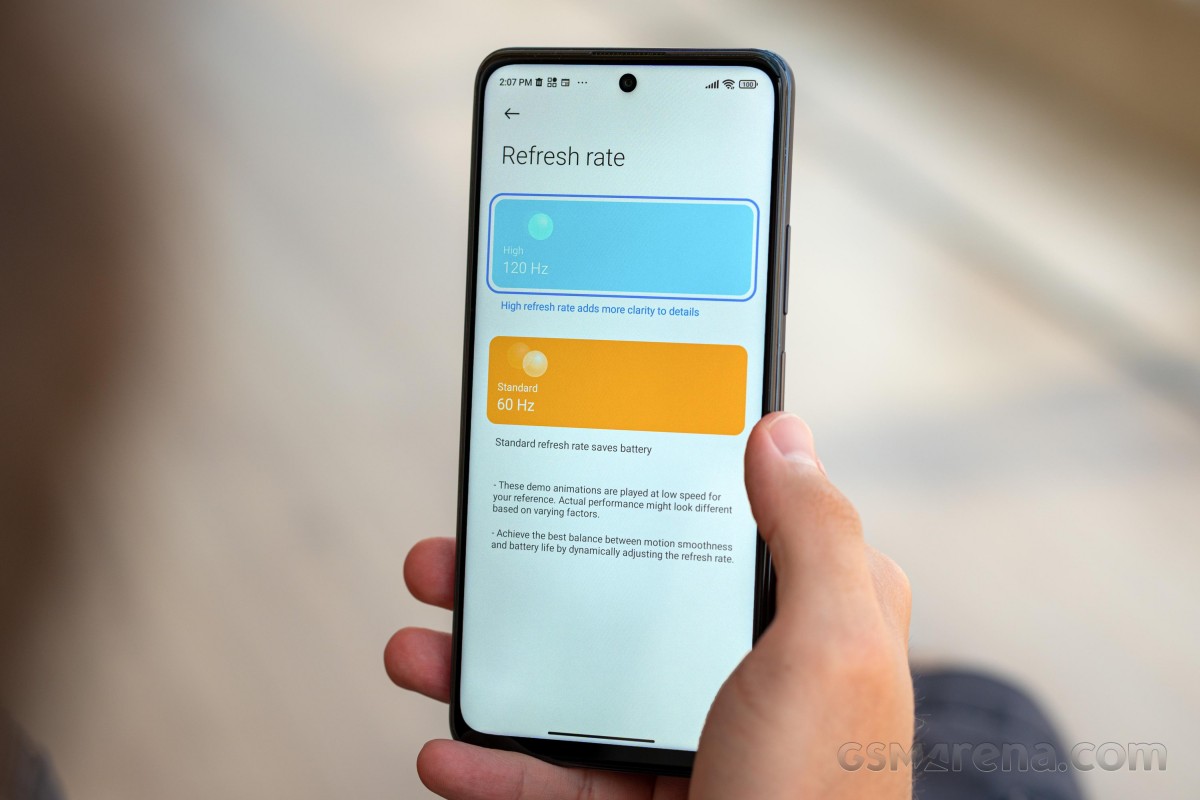 Now, let's talk refresh rate. There are two settings available to you - Standard (60Hz) and High (120Hz). The latter is adaptive, and the Poco X3 GT supports 30Hz, 48Hz, 50Hz, 60Hz, 90Hz, and 120Hz steps.
So, when using the 120Hz adaptive mode you would be getting 120Hz refresh rate whenever you're touching the phone and across the UI. It will drop to 50Hz a couple of seconds after your last interaction with the screen, although not every time. This behavior varies across apps, system ones even, so we can't really identify a pattern.
There are exceptions, though, with most of them being video apps. In YouTube and Netflix, for example, the screen would always run at 60Hz. But when watching videos, it often switches to 48Hz or 50Hz depending on the video. It can even drop to 30Hz if it decides to. Speaking of 30Hz, the only time we were able to push the display this low was when playing 30fps videos captured with a smartphone camera.
Unlike the Realme GT, the Poco X3 GT unlocks its high refresh rate modes for all compatible games like Dead Trigger 2 and Ace Combat.
The Poco X3 GT display is truly one of the most adaptive we've met to this date. It switches to the promised refresh rates when the occasion arises - videos are played/streamed in 30Hz or 48Hz modes, HRR-capable games run at 90Hz and 120Hz, the task switcher uses 90Hz, static pictures are shown at 50Hz, and so on.
Finally, the screen does support HDR10 and is recognized as such by all hardware reading apps. It plays HDR10 videos on YouTube, too.
Our unit came with the basic Widevine L3 DRM support though, meaning the streaming apps cannot show Full HD and HDR10 media. But Xiaomi has so far pushed L1 updates shortly after launch on its previous phones, so we are hopeful this will happen for the Poco X3 GT, too.
Battery life
The Poco X3 GT, just like the Poco X3 NFC and Poco X3 Pro, is powered by a solid 5,000mAh cell. Fast wired charging is supported, and the 67W adapter is bundled with the phone.
So, this new Poco X3 GT model scored some impressive numbers on our battery test. It posted a 110h endurance rating - close to the Poco X3 Pro's 112h score. It can last north of 36 hours on 3G calls, do more than 17 hours of web browsing, or play videos for nearly 16 hours. The X3 GT also demonstrated some good standby performance.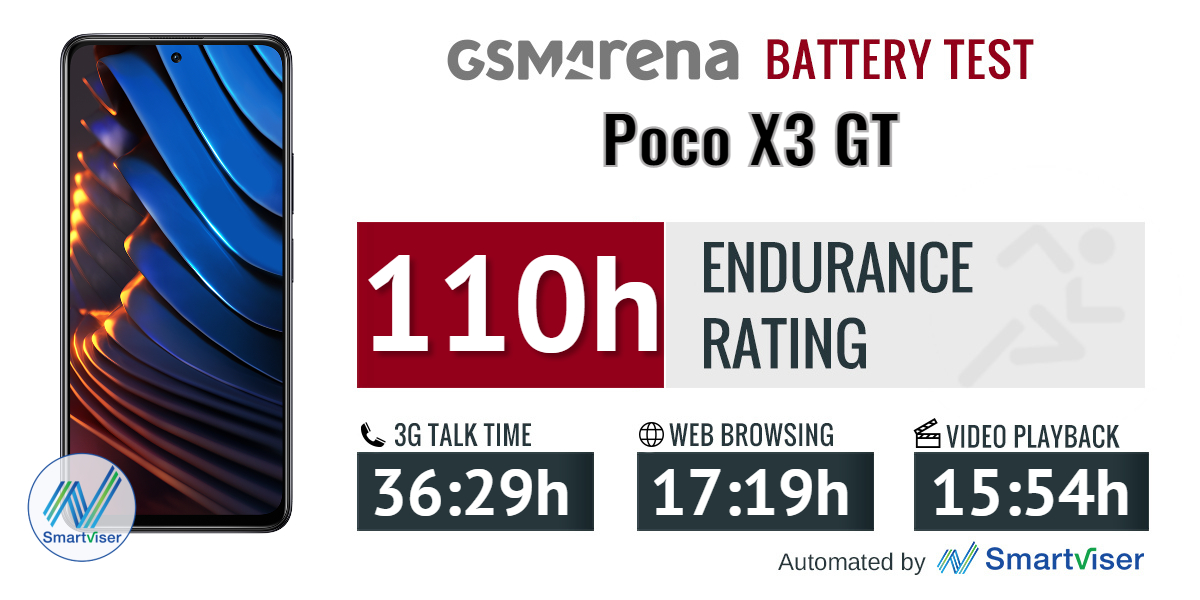 Our battery tests were automated thanks to SmartViser, using its viSerDevice app. The endurance rating denotes how long the battery charge will last you if you use the device for an hour of telephony, web browsing, and video playback daily. More details can be found here.
Video test carried out in 60Hz refresh rate mode. Web browsing test done at the display's highest refresh rate whenever possible. Refer to the respective reviews for specifics. To adjust the endurance rating formula to match your own usage - check out our all-time battery test results chart.
Charging speed
The Poco X3 GT supports 67W Mi Fast Charging and comes with a 67W adapter and a 6A-rated USB-C cable inside the box. Poco's official statement says the 67W charger fully recharge the X3 GT for 42 minutes.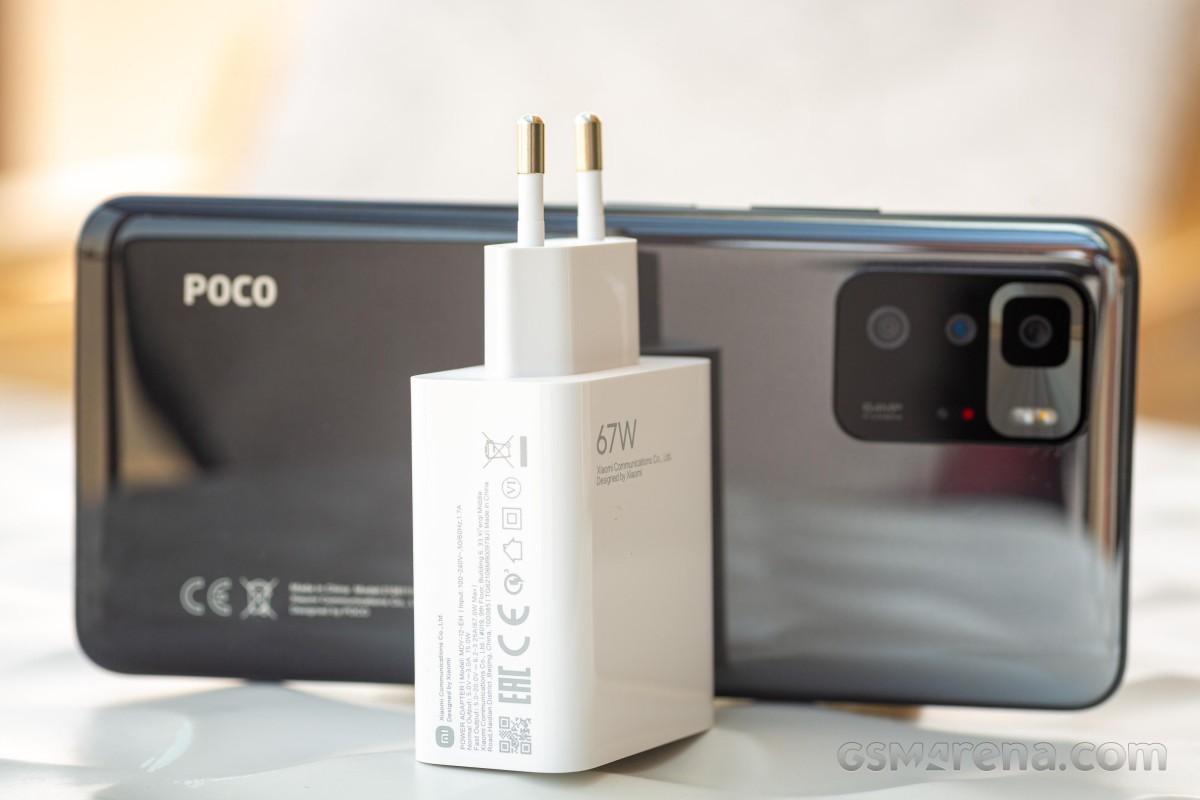 We put that to the test, of course, and here are the numbers we got. The supplied charger refills 75% of the GT's dead battery in 30 minutes.
30min charging test (from 0%)
Higher is better
Realme 7 Pro
94%
Realme 8 Pro
88%
Realme GT 5G (65W)
87%
Poco X3 GT
75%
Poco F3
67%
Realme X7 Max 5G
60%
Realme 8
56%
Poco X3 NFC
55%
Samsung Galaxy A52 (25W)
52%
Poco X3 Pro
50%
Xiaomi Redmi Note 10 Pro
50%
Samsung Galaxy A52
34%
Realme 8 5G
29%
A full charge required 48 minutes, not that far from what the maker promises.
Time to full charge (from 0%)
Lower is better
Realme 7 Pro
0:37h
Realme 8 Pro
0:38h
Realme GT 5G (65W)
0:39h
Poco X3 GT
0:48h
Poco F3
0:56h
Realme X7 Max 5G
1:00h
Poco X3 Pro
1:08h
Realme 8
1:09h
Poco X3 NFC
1:15h
Xiaomi Redmi Note 10 Pro
1:21h
Samsung Galaxy A52 (25W)
1:30h
Samsung Galaxy A52
2:03h
Realme 8 5G
2:20h
There is something we want to mention and it's not exclusive to the Poco X3 GT. The charging speed depends on the temperature of the phone when you plug it and the ambient temperature. First, we did our test at 30C room temperature (it's one hot summer we are having here), and we achieved full charge in 54 minutes. Then we repeated the test at 24C room temperature and got the 48-minute result. We guess 42 minutes is very much achievable under certain conditions although they might involve uncomftrtably cold temperatures. And this, of course, applies in various degrees to any charging test and any smartphone.
The Poco X3 GT doesn't appear to support reverse wired charging. There is no wireless charging option either.
Speakers
Just like the Poco X3 Pro, the Poco X3 GT offers two full-blown speakers on its top and bottom sides behind two dedicated grilles. The top speaker also doubles as an earpiece and that's why sound is coming from both the earpiece and the top grilles.
The two speakers seem loud enough with nicely balanced output.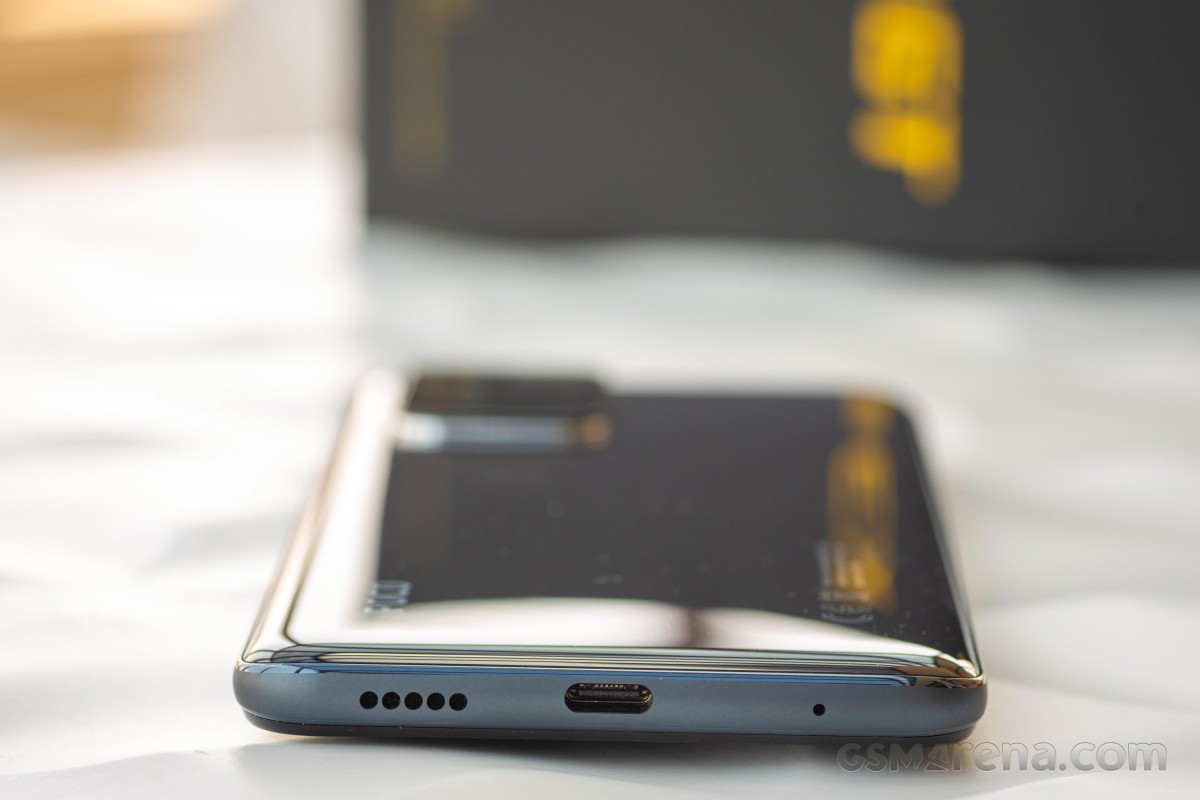 The Poco X3 GT scored an Average loudness on our test. But the setup offers impressively rich and deep audio and sounds better than any of its competitors, so kudos for that.
Use the Playback controls to listen to the phone sample recordings (best use headphones). We measure the average loudness of the speakers in LUFS. A lower absolute value means a louder sound. A look at the frequency response chart will tell you how far off the ideal "0db" flat line is the reproduction of the bass, treble, and mid frequencies. You can add more phones to compare how they differ. The scores and ratings are not comparable with our older loudspeaker test. Learn more about how we test here.
The speakers support Dolby Atmos and you can turn that on in certain apps, such as the default Mi Video player (via a swipe-able menu). The effects surely sound nice, although we imagine a handful of people will be playing movies via the speakers of the phone.