Bright 90Hz OLED
Judging by the specs - everything from rated maximum brightness to resolution and size - the Reno6 5G recycles the Reno5 5G's display. It has a 6.43-inch OLED with an off-centered punch-hole for the front-facing camera and crams up a tall 1080 x 2400px resolution (20:9 aspect ratio). It's also 90Hz, just like the previous vanilla Reno phone.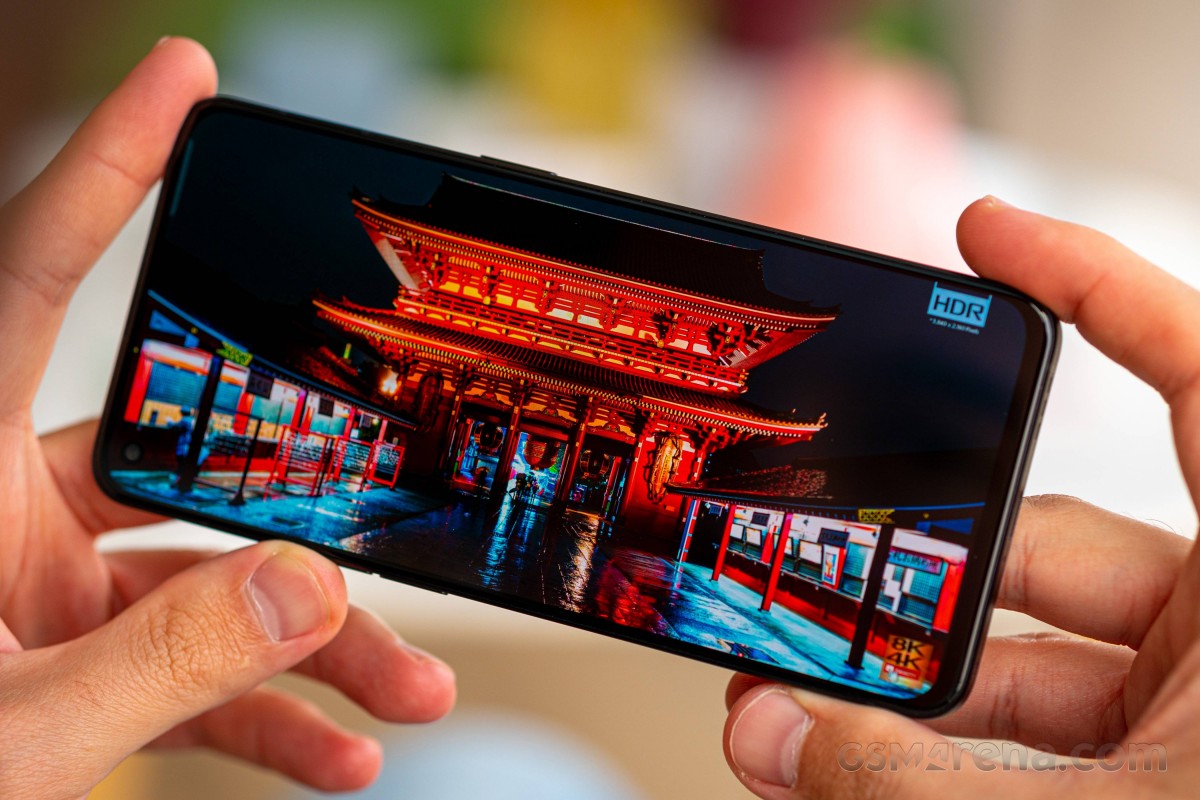 But while the previous iteration got a pass on the 90Hz panel, we don't feel comfortable letting the Reno6 5G walk away with it. Sure, 90Hz is better than 60Hz, but it's also a step behind the competition's commonly used 120Hz panels, OLED at that.
Display test
100% brightness
Black,cd/m2
White,cd/m2
Contrast ratio
Oppo Reno6 5G
0
438
∞
Oppo Reno6 5G (Max Auto)
0
632
:1
Realme GT 5G
0
443
∞
Realme GT 5G (Max Auto)
0
650
∞
OnePlus Nord 2 5G
0
438
∞
OnePlus Nord 2 5G (Max Auto)
0
633
∞
Xiaomi Mi 11T
0
498
∞
Xiaomi Mi 11T (Max Auto)
0
798
∞
Samsung Galaxy A52s 5G
0
383
∞
Samsung Galaxy A52s 5G (Max Auto)
0
800
∞
Oppo Reno5 5G
0
444
∞
Oppo Reno5 5G (Max Auto)
0
634
∞
There's also no HDR10 support, although the maximum recorded brightness in auto mode is 632 nits - a respectable score that should do just fine outdoors. We also found it to be quite responsive to the environment and adjusts its brightness accordingly. Manually, the screen can go up to 438 nits - again a good result.
Unfortunately, color accuracy isn't its strongest suit, with yellows, greens, purples and reds being slightly off. More noticeably, the whites and grays are leaning towards blue with the default Vivid mode. Going with the Gentle mode would improve the color accuracy slightly, but would still leave blue-ish whites and grays. There's a color temperature slider that could come in handy if you are looking for a warmer and more accurate white balance.
HRR control doesn't seem to have improved since the previous generation. We found the same behavior at hand with 60Hz kicking in only in select scenarios. Opening the YouTube and Netflix apps would limit the display's refresh rate to 60Hz, and so does playing videos with the default player in the gallery. However, for everything else, you get 90Hz, even when the screen is idle.
That's not ideal, but we would definitely take that over the forced 90Hz refresh rate on all things.
Battery life
The Reno6 5G runs on the same 4,300 mAh battery as its predecessor and employs the same 6.43-inch OLED panel. One of the main reasons why the two handsets scored exactly 109 hours overall endurance rating. However, the change in the chipset has caused a change in the screen-off and screen-on runtimes.
The Dimensity 900 helped the Reno6 5G get a significantly higher standby score as well as slightly higher web browsing runtime while falling short in the video playback and 3G talk time tests.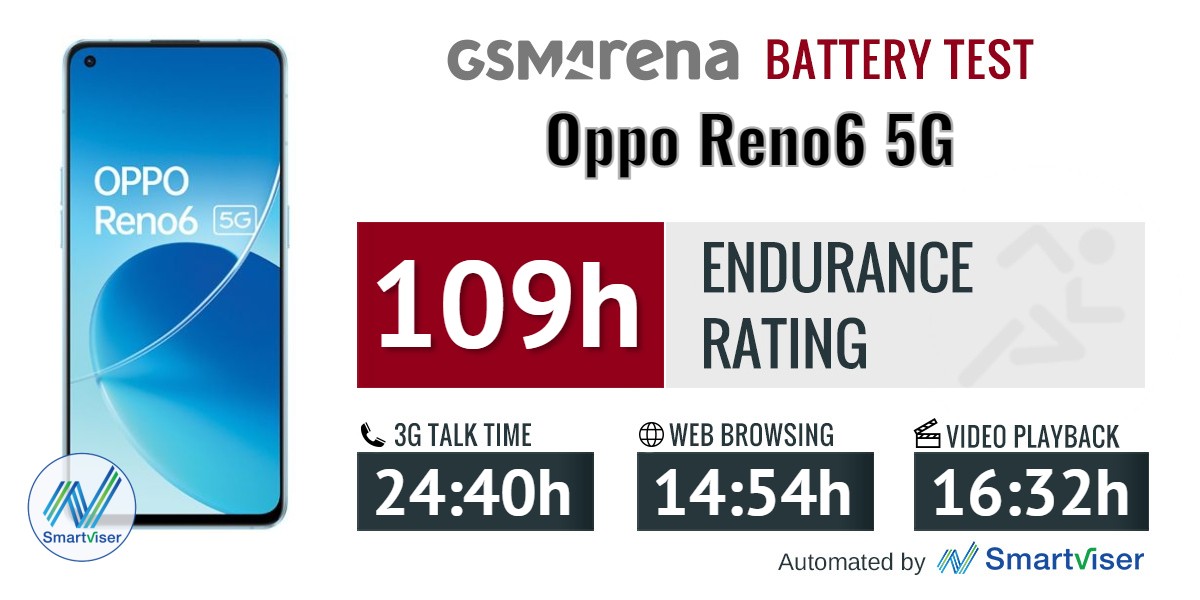 Our battery tests were automated thanks to SmartViser, using its viSerDevice app. The endurance rating denotes how long the battery charge will last you if you use the device for an hour of telephony, web browsing, and video playback daily. More details can be found here.
Compared to some of its rivals, the Reno6 5G holds up well, but its battery endurance isn't on par with the competition. Here's how it stacks against some of the alternatives on the market.
Video test carried out in 60Hz refresh rate mode. Web browsing test done at the display's highest refresh rate whenever possible. Refer to the respective reviews for specifics. To adjust the endurance rating formula to match your own usage patterns check out our all-time battery test results chart where you can also find all phones we've tested.
Charging speed
Even though the Reno5 and Reno6 have the same battery capacity (4,300 mAh) and charge over the same 65W SuperVOOC 2.0 charger, the new model smokes its predecessor (and the competition). It seems like Oppo has adjusted the charging curve to achieve a blazing-fast 100% charge in 29 minutes. Only OnePlus' Nord 2 5G gets close to the Reno6 5G's charging, but the Nord has a slightly bigger battery.
30min charging test (from 0%)
Higher is better
Oppo Reno6 5G
100%
OnePlus Nord 2
98%
Oppo Reno5 5G
87%
Realme GT 5G (65W)
87%
Xiaomi 11T
86%
Samsung Galaxy A52s 5G
53%
Time to full charge (from 0%)
Lower is better
Oppo Reno6 5G
0:29h
OnePlus Nord 2
0:31h
Realme GT 5G (65W)
0:39h
Oppo Reno5 5G
0:40h
Xiaomi 11T
0:41h
Samsung Galaxy A52s 5G
1:28h
And for those of you worried about battery health with all that fast charging, the software can take care of that when doing overnight charging. It would keep the battery at a high percentage, but not 100%, until right before you wake up. This limits the overcharging and thus, keeps your battery healthy for longer.
Speaker
Sadly, still no stereo speakers. And judging by the loudness score and the sound quality, we bet it's the same speaker as before. This means that the loudness of just -30 LUFS isn't impressive by any means. The competition has already moved to stereo speaker setups.
Audio quality isn't on par with rivals either. The highs are a bit distorted at higher volumes, and the non-existing bass makes everything sound flat.
Use the Playback controls to listen to the phone sample recordings (best use headphones). We measure the average loudness of the speakers in LUFS. A lower absolute value means a louder sound. A look at the frequency response chart will tell you how far off the ideal "0db" flat line is the reproduction of the bass, treble, and mid frequencies. You can add more phones to compare how they differ. The scores and ratings are not comparable with our older loudspeaker test. Learn more about how we test here