Design and ergonomics
While the design and handling are almost identical to the Reno4 Pro, there's one big difference that Oppo doesn't want you to miss, and that's the Reno Glow glass on the back. According to the company, that's no ordinary frosted glass. It uses the right amount of magnesium and potassium to grow microscopic pyramid crystals. This way, the back can catch more light and refract more of it, too, making that specific glow we are talking about. It really does look amazing in person, and as Oppo suggests, fingerprints are hard to stick. However, the surface makes the phone a bit more slippery than usual.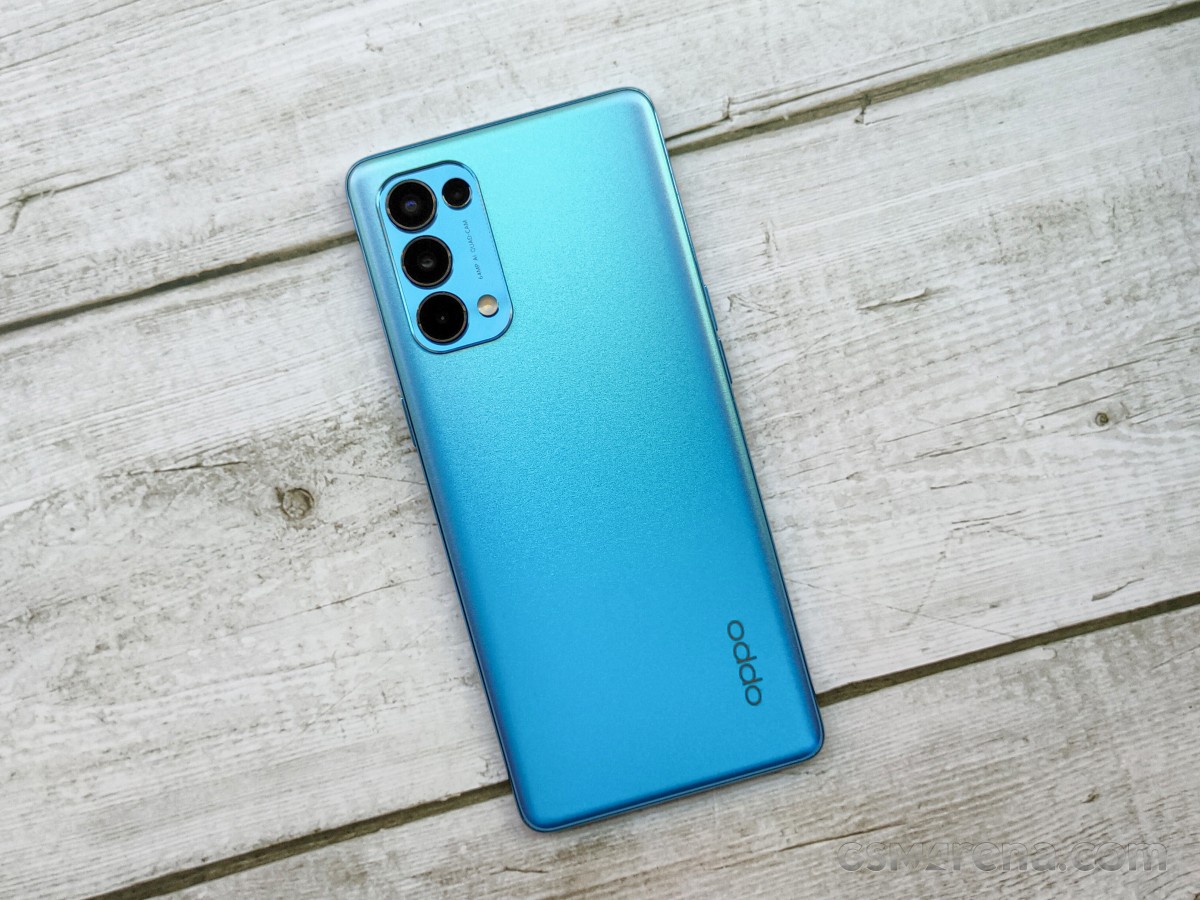 Aside from the color, the camera bump makes the phone stand out just as much. The camera bump is layered as the camera lenses stick out even further, just like the iPhone 11 and 12-series.
It does feel pretty light, though, tipping the scale at just 173g and having a rather thin 7.6mm profile, so using it for long periods isn't an issue at all. The curved glass panel to the sides helps with the overall feel in hand.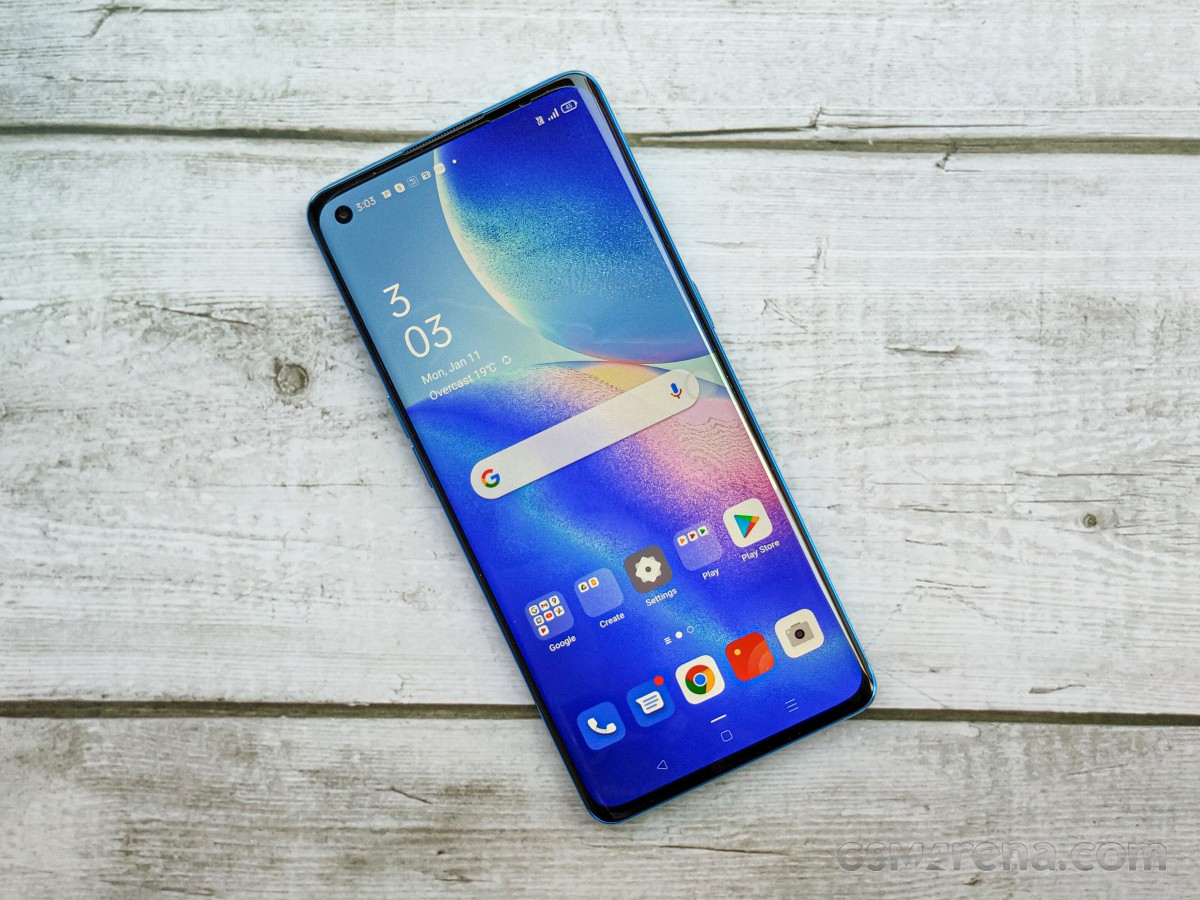 Buttons are well-positioned, provide nice and clicky feedback, and the fingerprint reader is fast, accurate and responsive. On the other hand, bezels seem a bit thick, but the curved front glass gives the impression of a much thinner design.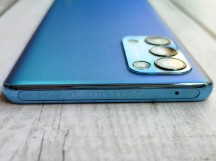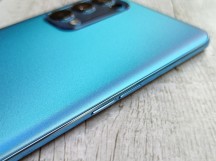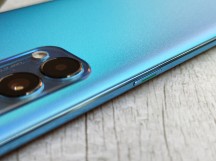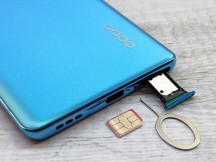 Oppo Reno5 Pro 5G from the sides
While the handset is made of premium materials like glass and aluminum for the frame, there's no word on Gorilla Glass, so we assume there's no additional protection for the front panel.
Hardware and performance
As we already stated at the beginning of the hands-on review, the Oppo Reno5 Pro 5G checks quite a few boxes and the specs sheet starts with an impressive 6.55-inch AMOLED display with a 90Hz refresh rate at 1080 x 2400px resolution and also has HDR10+ support.
Oppo says that it can peak at 800 nits, too, and even if we still haven't measured it yet, we tend to believe it as it offers great outdoor visibility. Interestingly, the Pro and the Pro+ from the Reno5 lineup both share the same OLED panel, so no compromises here with the vanilla version.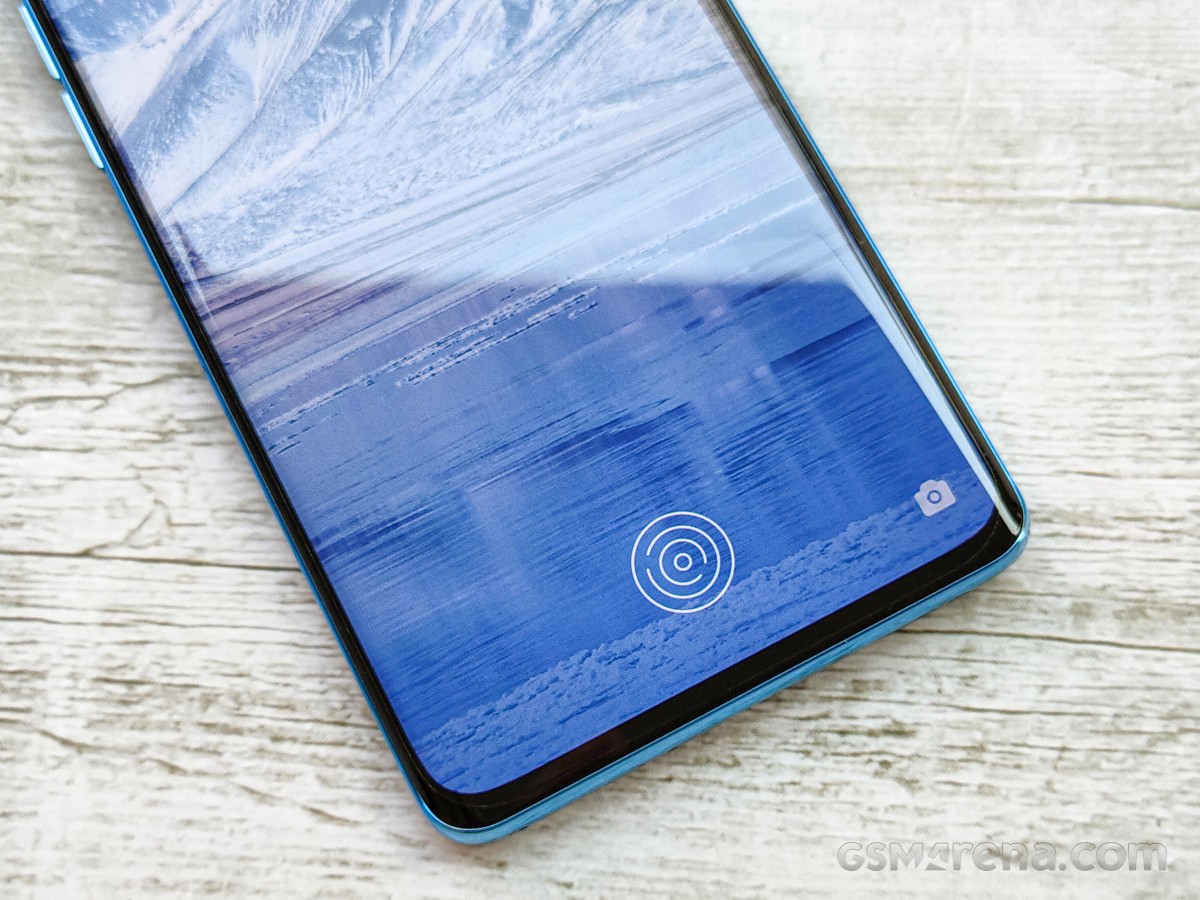 The biggest difference comes with the SoC. The standard Pro model, which we have here, sports a MediaTek Dimensity 1000+ chipset supporting 5G connectivity and is paired with either 8GB/128GB or 12GB/256GB memory. The storage is UFS 2.1 as opposed to the much faster UFS 3.1 on the Pro+.
Another big difference between the Pro and the Pro+ is the camera setup. The Pro+ employs a more versatile and advanced camera setup mostly because it has a 13MP telephoto camera. Anyway, the one here sports a 64MP main camera with f/1.7 aperture while the ultrawide is 8MP with f/2.2 aperture. Sadly, the specs sheet reads a 115-degree field of view, which, to be frank, isn't very wide, to begin with. The other two cameras are for depth sensing and macro shots, both with 2MP resolution. Lastly, we have a 32MP f/2.4 camera on the front for selfies.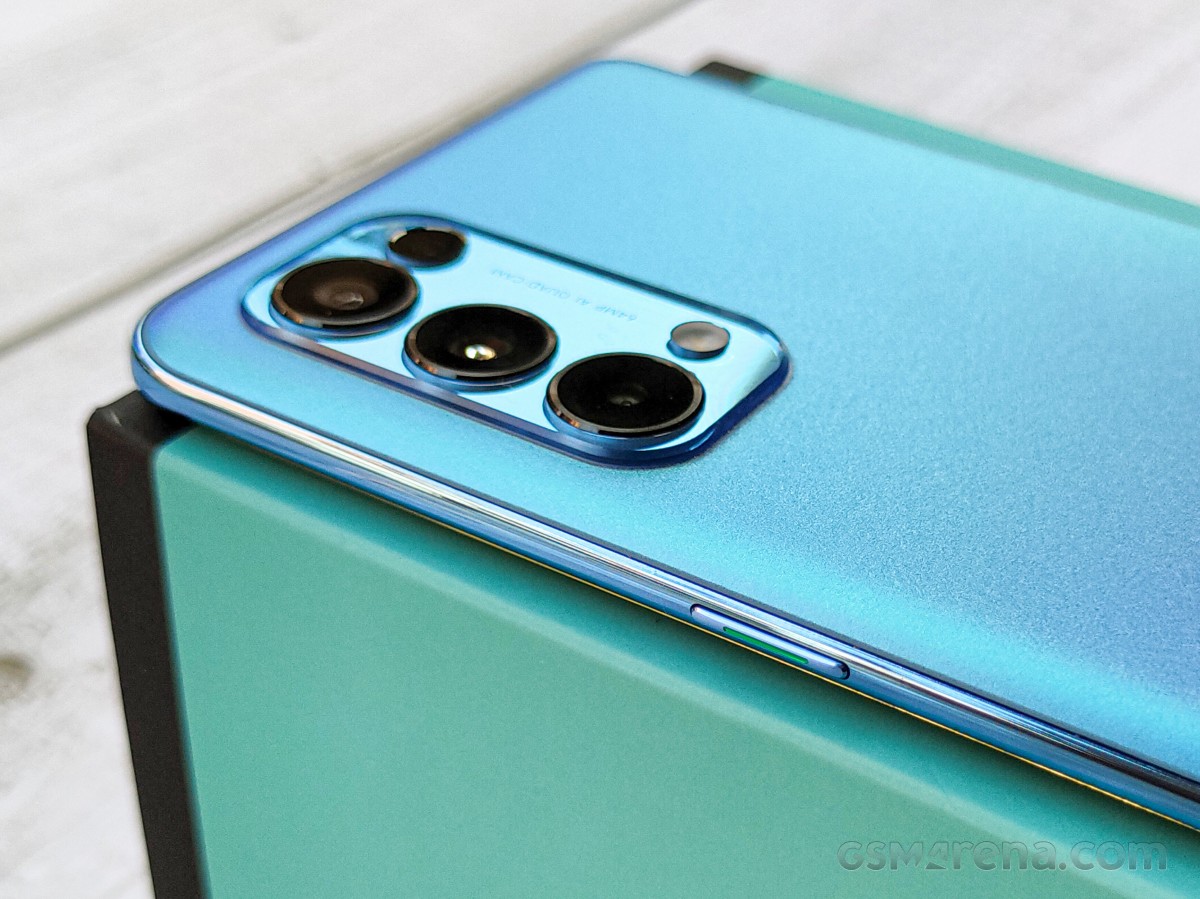 Now, when it comes to battery endurance, our initial tests suggest that it won't be record-breaking by any means. We had about 4 hours of Screen-On time at 90Hz by mostly browsing. The 4,350 mAh battery, though, can charge really fast using the provided 65W adapter in the box. It can go from 0 to 100% in under 30 minutes, while a 15-minute charge gets you 61% of the juice back.
Performance
We ran some of the benchmarks we usually run to see how the Dimensity 1000+ stacks against the competition. And as expected, MediaTek's SoC is still falling behind the Snapdragon 865 from last year by a significant margin, but it does have a substantial lead over the rest of the Snapdragon family, including the Snapdragon 765G and 750G. We think it fits perfectly in the upper mid-range price category.
GeekBench 5 (multi-core)
Higher is better
Samsung Galaxy S20 FE
3296
Oppo Reno5 Pro 5G
3091
Oppo Reno4 Z 5G
2196
Xiaomi Mi 10T Lite
2009
OnePlus Nord
1953
Realme 7 5G
1794
GeekBench 5 (single-core)
Higher is better
Samsung Galaxy S20 FE
906
Oppo Reno5 Pro 5G
712
Xiaomi Mi 10T Lite
661
OnePlus Nord
610
Realme 7 5G
598
Oppo Reno4 Z 5G
522
AnTuTu 8
Higher is better
Samsung Galaxy S20 FE
543986
Oppo Reno5 Pro 5G
435166
Xiaomi Mi 10T Lite
318882
Realme 7 5G
318535
OnePlus Nord
312794
Oppo Reno4 Z 5G
295562
GFX Car Chase ES 3.1 (offscreen 1080p)
Higher is better
Samsung Galaxy S20 FE
52
Oppo Reno5 Pro 5G
43
OnePlus Nord
21
Realme 7 5G
20
Oppo Reno4 Z 5G
20
Xiaomi Mi 10T Lite
19
GFX Car Chase ES 3.1 (onscreen)
Higher is better
Samsung Galaxy S20 FE
45
Oppo Reno5 Pro 5G
36
OnePlus Nord
19
Realme 7 5G
17
Xiaomi Mi 10T Lite
16
Oppo Reno4 Z 5G
16
3DMark SSE ES 3.1 (offscreen 1440p)
Higher is better
Samsung Galaxy S20 FE
7215
Oppo Reno5 Pro 5G
6436
Oppo Reno4 Z 5G
3308
OnePlus Nord
3285
Realme 7 5G
3163
Xiaomi Mi 10T Lite
2789
It's probably important to note that we felt the phone getting a bit warmer than usual even without gaming. The usual browsing and the occasional video ramped up the temps on the back of the phone, but we still need to conduct more tests to see if this poses any real issue.