Excellent 6.55-inch AMOLED display
The Reno4 Pro 5G is equipped with a 6.55-inch AMOLED display with a 1080x2400px resolution in a 20:9 ratio. For whatever reason, Oppo lists the diagonal at 0.05 inches more than the non-5G Reno4 Pro, but it may very well be the same panel. It supports a 90Hz refresh rate, while the touch sampling goes all the way up to 180Hz.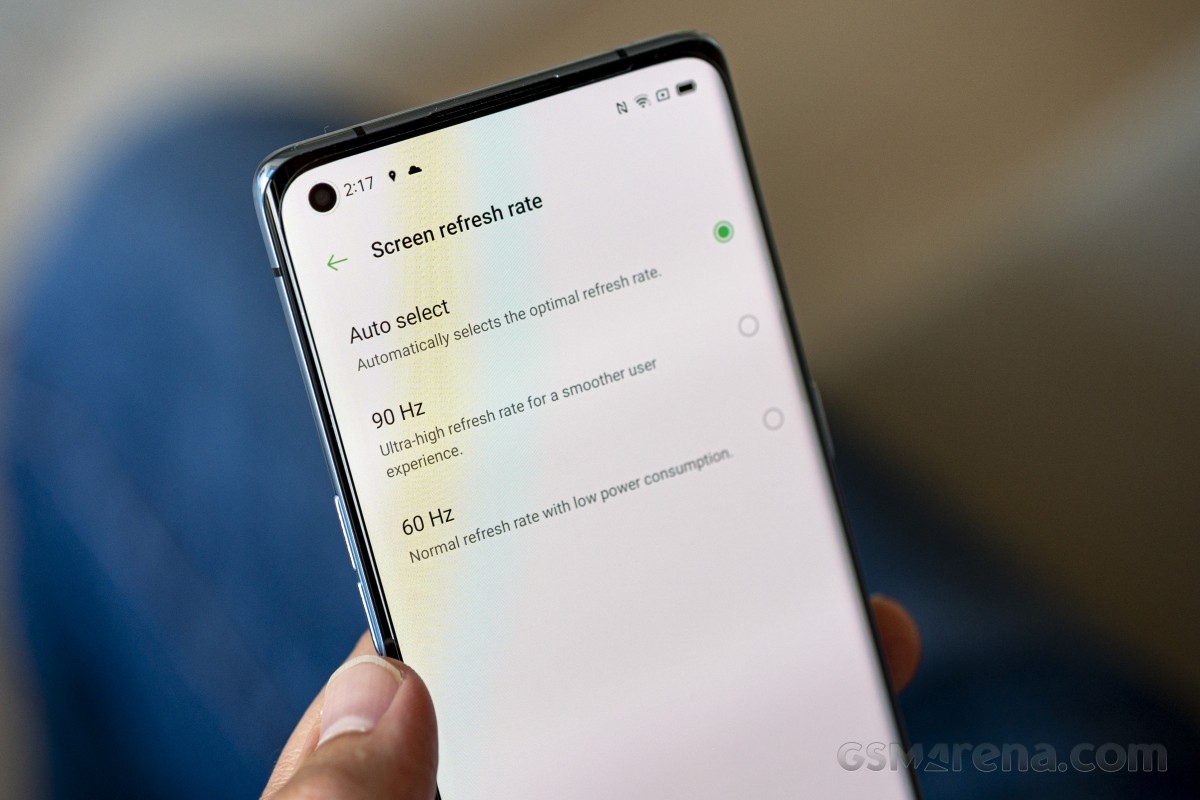 Much like the 4G version, the Reno4 Pro 5G claims a max brightness of 500nits in regular use, up to 800nits in bright ambient light, and a peak of 1100nits. That last number is for HDR applications, while the other two are for full-screen illumination. OLED displays can go brighter when they don't have to power up the entire screen area. We always test at 75% average picture level, so this explains the difference between advertised numbers and the numbers we get.
We measured similar brightness on the Reno4 Pro 5G as we did on the 4G, as well as on the Reno3 Pro 5G. That's both with manual slider adjustment and in auto-brightness under direct light - 515nits and 845nits, respectively. Both are great results and in line with what you can get on top-tier handsets (save for the Note20 Ultra that can push beyond 1000nits in our testing setup).
Display test
100% brightness
Black,cd/m2
White,cd/m2
Contrast ratio
Oppo Reno4 Pro 5G
0
515
∞
Oppo Reno4 Pro 5G (Max Auto)
0
845
∞
Oppo Reno4 Pro
0
508
∞
Oppo Reno4 Pro (Max Auto)
0
843
∞
Oppo Reno3 Pro 5G
0
510
∞
Oppo Reno3 Pro 5G (Max Auto)
0
819
∞
Samsung Galaxy A51 5G
0
410
∞
Samsung Galaxy A51 5G (Max Auto)
0
642
∞
Motorola Edge
0
416
∞
Motorola Edge (Max Auto)
0
595
∞
Google Pixel 5
0
475
∞
Google Pixel 5 (Max Auto)
0
699
∞
LG Velvet
0
405
∞
LG Velvet (Max Auto)
0
617
∞
OnePlus Nord
0
323
∞
OnePlus Nord (Max Auto)
0
756
∞
OnePlus 8
0
496
∞
OnePlus 8 (Max Auto)
0
803
∞
Samsung Galaxy S20+
0
379
∞
Samsung Galaxy S20+ (Max Auto)
0
797
∞
Samsung Galaxy S20 FE
0
404
∞
Samsung Galaxy S20 FE (Max Auto)
0
823
∞
The Reno4 Pro has two color presets - Vivid (the default one) and Gentle. There's an additional Cool-to-Warm slider offering stepless adjustments in either mode. In our testing, Vivid mode returned an average dE2000 of 3.9 for the standard set of DCI-P3 test swatches with excellent sub-2 results on the primaries, but way off in terms of white and grayscale rendition - purplish whites some 10 units off the mark. Move the slider all the way to the Warm right, and you'd get an average dE2000 of 2.9 and somewhat better whites and grays (dE2000 ~7, now pinkish).
Gentle mode is where you'd go for sRGB-tuned colors, though things aren't too peachy to start with. Again, we measured excellent results on the RGB CMY, but a poor white point rendition (dE2000 ~10, blue) and an average dE2000 of 3.8. Again, we got a better overall rendition with the temperature slider at the Warmest setting (2.9 average, white around 6). Overall, reasonably accurate colors from the Reno4 Pro 5G, nearly the same as on the 4G, but a noticeable blue/purple shift in the default state and no real option to fix that.
Much like on the Reno4 Pro non-5G, the HDR capability of this one isn't a straightforward topic. Oppo doesn't mention HDR in the promo materials, but the phone clearly supports some sort of HDR.
YouTube serves the Reno HDR versions of compatible videos, and you can clearly see the phone shift its colors and brightness. Amazon Prime, too, shows HDR icons next to supported titles. On the other hand, Netflix doesn't want to play nicely, and while it does deliver 1080p resolution, it refuses to do so in HDR. This could be a temporary state, and a fix could technically be in the making. However, if our experience with the 4G version of the phone is any indication, such a development seems unlikely.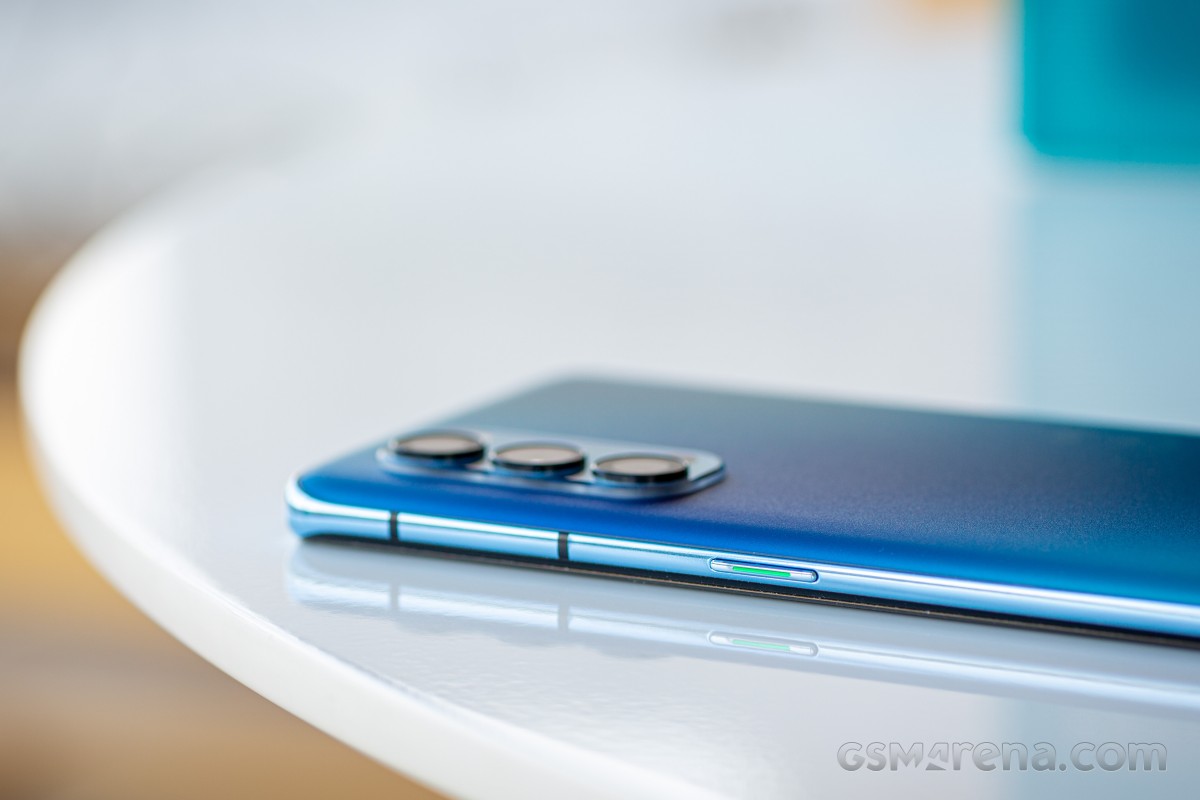 High refresh rate handling is also done in a way we're familiar with from the 4G model. With the phone set to 90Hz, you'll get 90Hz across the UI and in browsers too. However, it will switch to 60Hz for anything related to video playback - the native player and Netflix once you play something, YouTube (as soon as you open the app). That's the same behavior you'll get if you opt for the 'Auto Select' option in the display refresh rate settings menu.
The 60Hz option locks the display at 60Hz, simple as that.
Oppo Reno4 Pro 5G battery life
The Oppo Reno4 Pro 5G packs a 4,000mAh battery, which is relatively standard for the class. It's the same capacity as what the non-5G version gets and a nominal downgrade from the odd 4,025mAh of the Reno3 Pro 5G.
Despite all the similarities in hardware between the 3 and 4 generations of Reno Pro 5Gs, the battery results turned out different in our testing. The Reno4 Pro 5G posted an 18:31h result in video playback, up from 16:11h on the older phone. In web browsing, however, we clocked a lower result - 11:16h on the 4 vs. 14:13 on the 3.
A little clarification is due here - the video playback test was carried out at 60Hz only since the phone will switch to that refresh rate when it detects a video is playing, regardless of what mode the display is set to. As for web browsing, the 11:16h result is measured with the screen at 90Hz (going for 60Hz got us precisely one extra hour to 12:16h).
The Reno4 Pro 5G is good for a full day of constant voice calls if you're up for it.
The individual results add up to an Endurance rating of 91h - a small downgrade from the Reno3 Pro 5G's nice and round 100h.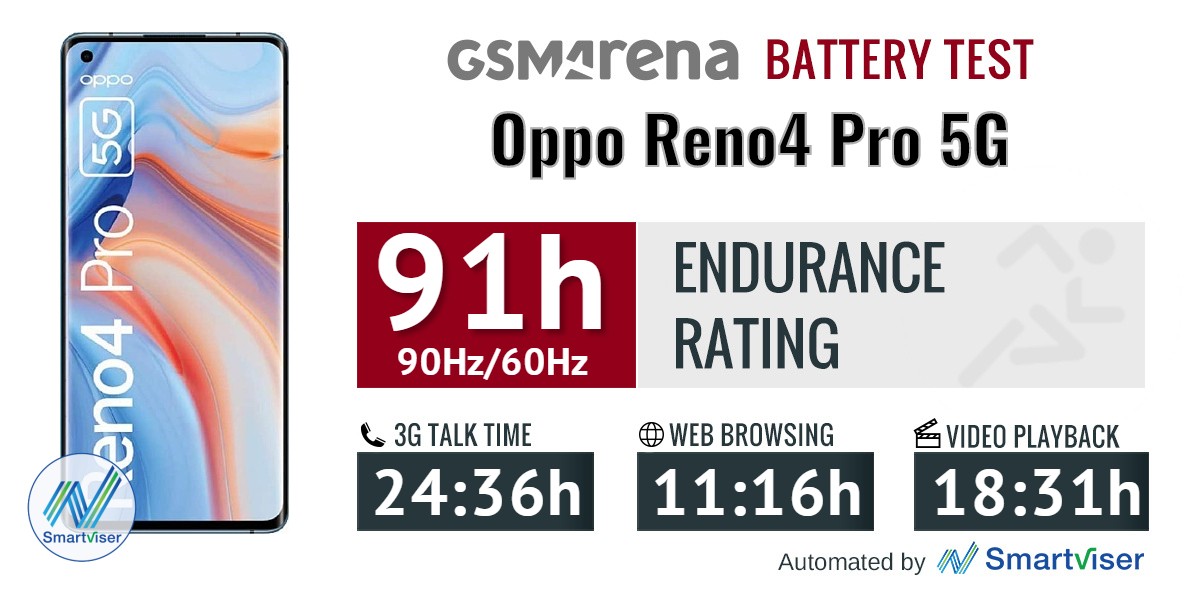 Our battery tests were automated thanks to SmartViser, using its viSer App. The endurance rating above denotes how long a single battery charge will last you if you use the Oppo Reno4 Pro 5G for an hour each of telephony, web browsing, and video playback daily. We've established this usage pattern so that our battery results are comparable across devices in the most common day-to-day tasks. The battery testing procedure is described in detail in case you're interested in the nitty-gritty. You can check out our complete battery test table, where you can see how all of the smartphones we've tested will compare under your own typical use.
Battery charging
The Reno4 Pro 5G comes with a 65-watt SuperVOOC 2.0 charging adapter inside the box. The system provides spectacular charging speeds.
In our testing, the Reno4 Pro 5G battery took 32 minutes to go from flat to full. The battery indicator showed 97% at the 30-minute mark (our standard testing duration). SuperVOOC is a true chart-topper when it comes to charging speeds.
30min charging test (from 0%)
Oppo Reno4 Pro
98%
Oppo Reno4 Pro 5G
97%
OnePlus 8
69%
Oppo Reno3 Pro
67%
Samsung Galaxy S20+
62%
OnePlus Nord
60%
vivo X50 Pro+
60%
Galaxy S20 FE (25W)
57%
Google Pixel 5
41%
Motorola Edge
37%
Galaxy S20 FE (15W bundled)
37%
LG Velvet
36%
Time to full charge (from 0%)
Oppo Reno4 Pro
0:31h
Oppo Reno4 Pro 5G
0:32h
OnePlus 8
0:53h
Samsung Galaxy S20+
0:57h
OnePlus Nord
1:05h
Galaxy S20 FE (25W)
1:10h
vivo X50 Pro+
1:11h
Oppo Reno3 Pro
1:12h
Galaxy S20 FE (15W bundled)
1:35h
LG Velvet
1:52h
Google Pixel 5
1:54h
Motorola Edge
2:32h
Speaker test
The Reno4 Pro 5G comes with a stereo speaker configuration - that's the Reno3 Pro 5G's setup, as opposed to the mono-only non-5G Reno4 Pro. It ranks in the 'Very good' category for loudness in our 7-track music test - same as the previous generation, notably better than the 4G model of the current one.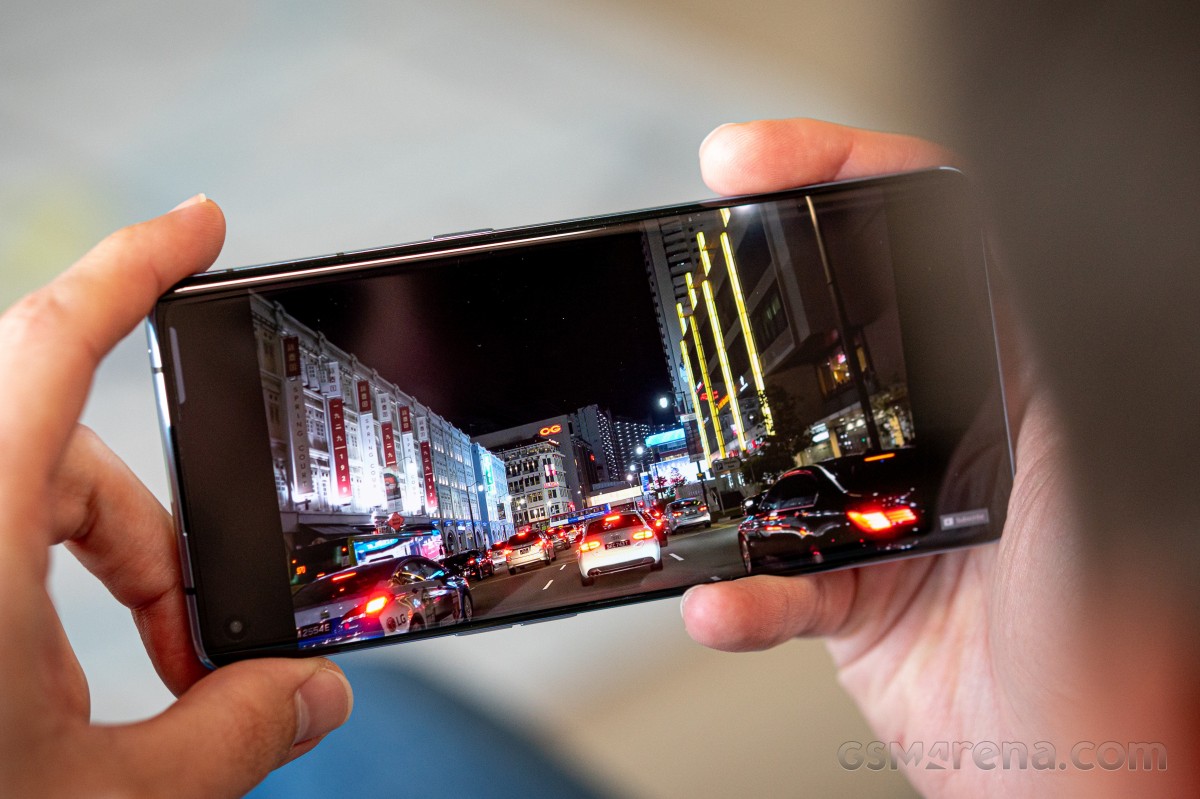 We found it somewhat lacking in the lower frequency region, but that aside, it's a very well sounding phone for video watching and music playback alike.
Use the Playback controls to listen to the phone sample recordings (best use headphones). We measure the average loudness of the speakers in LUFS. A lower absolute value means a louder sound. A look at the frequency response chart will tell you how far off the ideal "0db" flat line is the reproduction of the bass, treble, and mid frequencies. You can add more phones to compare how they differ. The scores and ratings are not comparable with our older loudspeaker test. Learn more about how we test here.
Audio output quality
We've recently discontinued our audio output quality test.
The reason for that is that most phones that arrived for testing were already excellent in this regard. Whatever difference there was, it was marginal and probably indistinguishable by anything but our lab equipment.