Handle without care
Motorola Moto X Force review: Handle without care
Display
Motorola Moto X Force comes with a 1440p display with the unusual 5.4 inches in diagonal and visually, it's about as good as it gets. The matrix is an AMOLED one based on the Diamond PenTile pattern while the AMOLED itself guarantees sharp and punchy colors and deep blacks. With a pixel density of 540 ppi, it is very sharp too and offers great clarity.
The shatter-proof glass above the display is the key feature, of course, and it comes with a 4-year warranty. This means if your display glass shatters or cracks, Motorola will replace it for free. There are some limitations of course - Motorola doesn't cover scratches, or damages on the phone itself. Nor will it replace your glass if you broke it intentionally (by experimenting).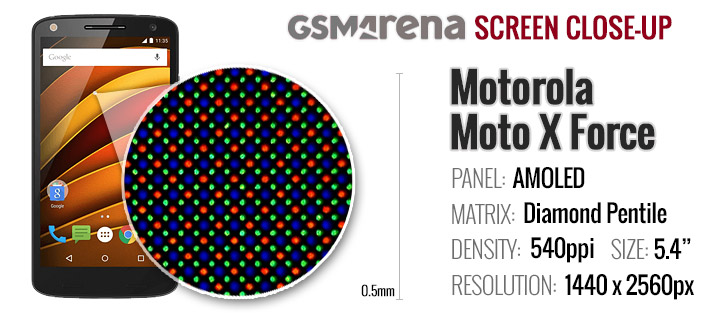 We have come to associate AMOLED panels with absolute blacks and infinite levels of contrast and that fits with the nature of the technology itself. Still, with the Moto X Force, we didn't actually manage to get an absolute black reading - our colorimeter kept picking up some light. Perhaps it is some intentional software trick or a controller bug, but the blackest of blacks still clocked 0.04nits of brightness.
In reality, you would need to be in a pitch dark room to even get a chance of noticing this sort of light levels, but it does mean that the contrast is not infinite as on other AMOLED phones, but it rather works out to about 9432:1. As you can see, it's still times better than LCD displays.
The panel on the Moto X Force has an expected maximum brightness level of 349nits at full blast (manual control). It can go up to 486nits though, when exposed to bright light, courtesy of the auto-brightness algorithm.
Display test
100% brightness
Black, cd/m2
White, cd/m2
Contrast ratio
Motorola Moto X (2014)
0.00
358
∞
Motorola Moto X Play
0.41
620
1520
Motorola Moto X Force
0.04
349
9432
Motorola Moto X Force max auto
0.05
486
9529
LG G5
0.17
306
1855
Samsung Galaxy S7
0.00
391
∞
Apple iPhone 6s Plus
0.43
590
1382
Huawei P9
0.46
500
1094
Microsoft Lumia 950XL
0.00
335
∞
Samsung Galaxy Note5
-
439
∞
Samsung Galaxy Note5 max auto
-
620
-
BlackBerry Priv
0.02
377
25133
Motorola did a good job of calibrating the screen on the Moto X Force. We measured an average deltaE of 4.8, which is close to the iPhone 6s and a rather good result.
We found the red channel to be rather off with a DeltaE of 13.2 while all other colors are well below DeltaE of 7.
People use their phones more than they are willing to admit, even in the black of night. This is why the minimum brightness is important too so that you can use the phone without squinting. The Moto X Force managed to do 5.4nits at full white, which is rather low and should do OK for most people.
Sunlight legibility, definitely does not disappoint but is far from impressive. The Moto X Force remains usable even under direct sunlight though we've seen better. Its glass is a bit more reflective than we'd prefer and that's the reason for the average result for this AMOLED panel.
Sunlight contrast ratio
Samsung Galaxy S6 edge+
4.615
Samsung Galaxy S7 edge
4.439
Samsung Galaxy S7
4.376
HTC One A9
4.274
Samsung Galaxy A3
4.241
Samsung Galaxy S6 edge
4.124
Samsung Galaxy Note5
4.09
Huawei Nexus 6P
4.019
OnePlus X
3.983
Oppo R7s
3.964
Samsung Galaxy A7 (2016)
3.918
Samsung Galaxy A5
3.895
Samsung Galaxy J7 outdoor
3.879
Samsung Galaxy J2 outdoor
3.873
Samsung Galaxy A8
3.859
Apple iPhone 6
3.838
Microsoft Lumia 950XL
3.837
Samsung Galaxy A9 (2016)
3.817
Motorola Moto X (2014)
3.816
Samsung Galaxy A5 (2016)
3.789
Apple iPhone 6s
3.783
Meizu Pro 5
3.781
Microsoft Lumia 650
3.772
Oppo F1 Plus
3.709
Vivo X5Pro
3.706
Apple iPhone SE
3.681
Samsung Galaxy A7
3.679
BlackBerry Priv
3.645
Apple iPhone 6s Plus
3.53
Acer Jade Primo
3.521
Microsoft Lumia 950
3.512
Oppo R7 Plus
3.499
Samsung Galaxy J7
3.422
Meizu MX5
3.416
Oppo R7
3.32
Samsung Galaxy J2
3.235
Motorola Moto X Play
3.222
Huawei P9
3.195
Lenovo Vibe Shot
3.113
Motorola Moto X Force
3.105
LG Nexus 5X
3.092
Huawei Mate S
3.073
Microsoft Lumia 640 XL
3.065
Apple iPhone 6 Plus
3.023
Samsung Galaxy Note
2.97
Huawei Mate 8
2.949
LG G5
2.905
HTC One S
2.901
Sony Xperia Z5
2.876
Microsoft Lumia 550
2.851
Sony Xperia Z5 compact
2.784
LG V10
2.744
Xiaomi Redmi 3
2.735
Sony Xperia M5
2.69
Xiaomi Mi 4i
2.641
Xiaomi Mi 4c
2.574
Microsoft Lumia 640
2.563
Oppo F1
2.528
Sony Xperia Z5 Premium
2.525
Sony Xperia M4 Aqua
2.503
Motorola Moto G
2.477
Lenovo Vibe K5 Plus
2.473
Huawei G8
2.471
Sony Xperia Z
2.462
Huawei Honor 7
2.406
ZUK Z1 by Lenovo
2.382
HTC One E9+
2.305
Alcatel One Touch Hero
2.272
Lenovo Vibe K4 Note
2.254
Sony Xperia C5 Ultra
2.253
Xiaomi Redmi Note 3 (MediaTek)
2.249
Sony Xperia C4 Dual
2.235
Motorola Moto G (2014)
2.233
LG Nexus 5
2.228
Huawei P8
2.196
Xiaomi Redmi Note 2
2.166
OnePlus Two
2.165
HTC One X
2.158
LG Aka
2.145
Archos 50 Diamond
2.134
Xiaomi Redmi Note
2.119
Huawei P8lite
2.078
Moto G 3rd gen max manual
2.026
Sony Xperia E4g
1.972
OnePlus One
1.961
Meizu m2 note
1.892
BlackBerry Leap
1.892
HTC Butterfly
1.873
ZTE Nubia Z9 mini
1.759
Sony Xperia U
1.758
Asus Zenfone Selfie
1.68
Motorola Moto E (2nd Gen)
1.675
ZTE Nubia Z9
1.659
Motorola Moto E
1.545
Sony Xperia M
1.473
Xiaomi Redmi 2
1.311
Sony Xperia C
1.283
Meizu MX
1.221
Battery life test
Motorola has been very generous in terms of battery capacity. The Moto X Force packs up to 3,760 mAh worth of juice, but the battery itself is not user-replaceable.
The smartphone supports the company's TurboPower fast charging, and most markets will get the charger within the retail package. In case you aren't among the lucky ones, you may want to buy it separately for $35/£25. Note that the Moto X Force coming without the charger in those regions will be sold at a lower price.
The Snapdragon 810 isn't exactly power-sipping, so we didn't expect chart-topping results but we still like what we got.
The phone is good for 23.5 hours of 3G voice calls - an excellent result. In our video playback test, the Moto X Force died after a hair more than 15 hours - another excellent mark, but the Wi-Fi web browsing longevity is 'just' very good at 9 and a half hours. All that works out to a proprietary endurance rating of 78 hours. It could have been better, but the standby endurance turned out just average.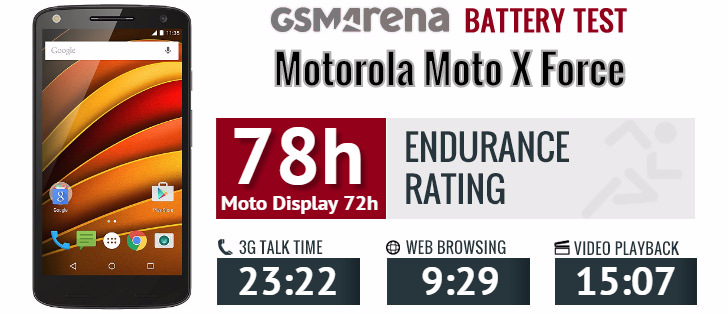 If you opt for the Moto Display, you'll lose 6 hours from the total endurance rating down to 72 hours. In this mode the screen doesn't stay constantly on, but the two infra-red sensors do, and, we guess, that's what's depleting the battery.
The battery testing procedure is described in detail in case you're interested in the nitty-gritties. You can also check out our complete battery test table, where you can see how all of the smartphones we've tested will compare under your own typical use.
Connectivity
The Motorola Moto X Force has a wide range of connectivity options. It supports quad-band 2G, penta-band 3G and a host of 4G frequencies. Cat. 6 LTE is supported for theoretical speeds of 300Mbps down and 50Mbps up.
The Moto X Force has Wi-Fi 802.11 a/b/g/n/ac in the 2.4GHz and 5GHz spectrums and hotspot support. There is a GPS receiver, Bluetooth is of the 4.1 iteration, and NFC.
The microUSB 2.0 port supports USB on-the-go to let you attach peripherals. A standard 3.5mm jack completes the wired connectivity package.
There is no FM radio.