Bright, 6.6-inch OLED
The handset is built around a nice 6.6-inch OLED panel with a small centered punch-hole for the front-facing camera. It supports a refresh rate of up to 120Hz, but there are no additional HDR certifications. Full HD playback in Netflix is possible as Widevine L1 is supported, though. Resolution is standard - 1080 x 2400px.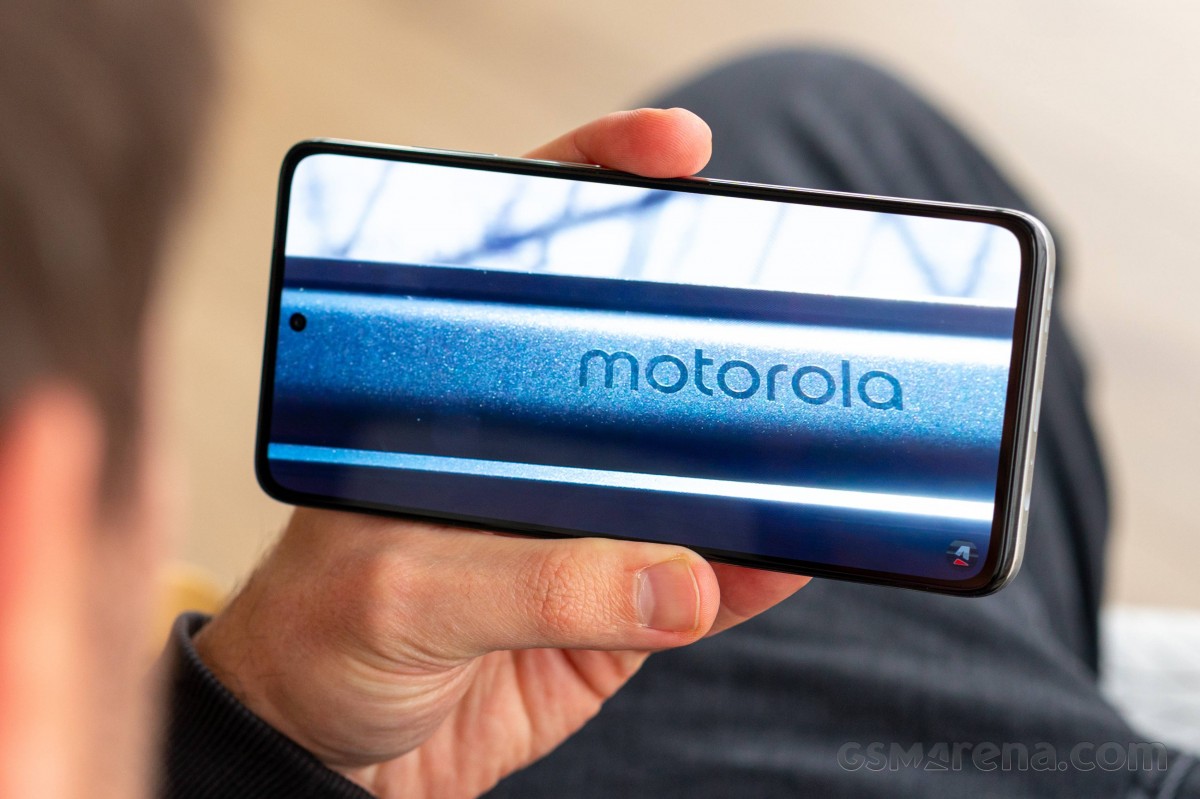 We got solid readings in our tests - the Moto G82's display can go up to 496 nits in manual mode, while strong ambient light in auto mode can boost that to 690 nits. That's more than enough for comfortable outdoor use on a bright sunny day, making the G82 with one of the brightest displays around.
Display test
100% brightness
Black,cd/m2
White,cd/m2
Contrast ratio
Motorola Moto G82
0
496
∞
Motorola Moto G82 (Max Auto)
0
690
∞
Motorola Moto G62
0.289
454
1571:1
Motorola Moto G62 (Max Auto)
0.37
552
1492:1
Motorola Edge 30 Neo
0
489
∞
Motorola Edge 30 Neo (Max Auto)
0
1004
∞
Realme 9 Pro+
0
433
∞
Realme 9 Pro+ (Max Auito)
0
613
∞
Realme 9 Pro
0.288
461
1601:1
Realme 9 Pro (Max Auto)
0.385
567
1473:1
Xiaomi Redmi Note 11 Pro 5G
0
470
∞
Xiaomi Redmi Note 11 Pro 5G (Max Auto)
0
746
∞
Samsung Galaxy A33 5G
0
407
∞
Samsung Galaxy A33 5G (Max Auto)
0
728
∞
Samsung Galaxy A53 5G
0
427
∞
Samsung Galaxy A53 5G (Max Auto)
0
830
∞
Poco X4 Pro
0
477
∞
Poco X4 Pro (Max Auto)
0
754
∞
Color accuracy isn't great in the default color mode, but the Natural preset brings down average dE2000 to just 1.2 while maximum dE2000 is 2.2. No blue-ish whites and no unnecessarily boosted colors. Excellent result right there.
HRR control
The HRR control is pretty simple, and there are three refresh rate modes - 60Hz, 120Hz and Auto. Their names are pretty self-explanatory, but we recommend using the Auto one. The implementation is very simple, yet effective - if you touch the display, it will boost the refresh rate to 120Hz, and if you are not interacting with the phone, it will dial down to 60Hz. In most apps we tried, the display runs at 120Hz.
Battery life
The Moto G82 has a generous 5,000 mAh battery and an energy-efficient Snapdragon 695 SoC on board. The OLED panel also helps preserve energy in certain scenarios, so battery life is expectedly excellent. The Moto aced all of our tests, whether screen-on or screen-off, no matter the scenario. An overall endurance score of 130 hours is an impressive feat.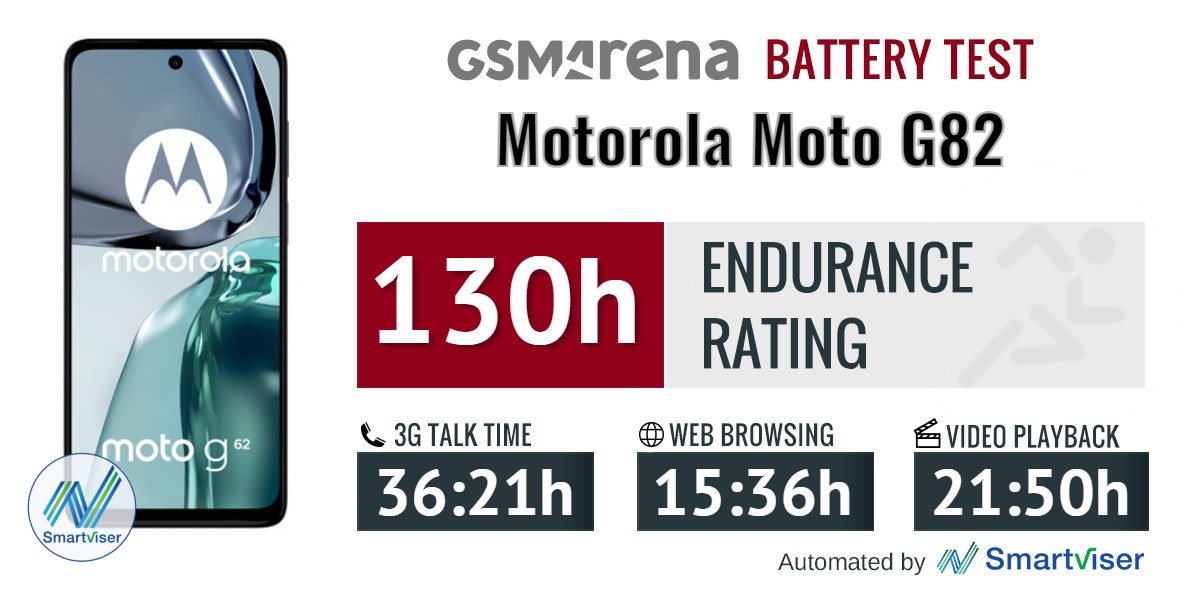 Our battery tests were automated thanks to SmartViser, using its viSerDevice app. The endurance rating denotes how long the battery charge will last you if you use the device for an hour of telephony, web browsing, and video playback daily. More details can be found here.
The Snapdragon 695 is known for producing phones with great battery life, and the Moto G82 is among the best in this regard.
Video test carried out in 60Hz refresh rate mode. Web browsing test done at the display's highest refresh rate whenever possible. Refer to the respective reviews for specifics. To adjust the endurance rating formula to match your own usage patterns check out our all-time battery test results chart where you can also find all phones we've tested.
Charging speed
The device relies on the included 33W charger in the box, but the charging speed caps at 30W. The 5,000 mAh battery takes 1 hour and 15 minutes to fully charge from 0%, while а 30-minute charging gives you 57% of the juice back. It's not the fastest one around, but it's decent enough.
30min charging test (from 0%)
Higher is better
Motorola Edge 30 Neo
92%
Realme 9 Pro+
77%
Poco X4 Pro 5G
75%
Xiaomi Redmi Note 11 Pro 5G
74%
Motorola Moto G82
57%
Realme 9 Pro
52%
Samsung Galaxy A33 5G
50%
Samsung Galaxy A53 5G
45%
Motorola Moto G62
24%
Time to full charge (from 0%)
Lower is better
Motorola Edge 30 Neo
0:40h
Xiaomi Redmi Note 11 Pro 5G
0:45h
Realme 9 Pro+
0:49h
Poco X4 Pro 5G
0:49h
Realme 9 Pro
1:14h
Motorola Moto G82
1:15h
Samsung Galaxy A33 5G
1:15h
Samsung Galaxy A53 5G
1:24h
Motorola Moto G62
1:46h
As usual, that's faster than Samsung's contenders, while the Realmes tend to offer faster charging in the same price category.
Speakers
The Moto offers a set of stereo speakers - one at the bottom, as usual, and one that doubles as an earpiece. Understandably, the latter isn't as loud as the bottom one. Overall, the loudness is pretty good, though. The Moto G82 got -26.4 LUFS in our tests.
Quality-wise, the setup isn't impressive, but it ain't bad either. The sound is relatively clean, highs and mids have minimal distortion at high volume, but the bass seems to be lacking. Tracks without pronounced bass sound rather flat.
Use the Playback controls to listen to the phone sample recordings (best use headphones). We measure the average loudness of the speakers in LUFS. A lower absolute value means a louder sound. A look at the frequency response chart will tell you how far off the ideal "0db" flat line is the reproduction of the bass, treble, and mid frequencies. You can add more phones to compare how they differ. The scores and ratings are not comparable with our older loudspeaker test. Learn more about how we test here.