90Hz FullHD LCD on the Moto G100
Motorola went with an LCD for Moto G100 instead of an OLED, which kind of makes sense for a G-series device. It's a well-specced LCD, offering a 90Hz refresh rate and a 1080x2520px resolution in a taller-than-most 21:9 aspect ratio.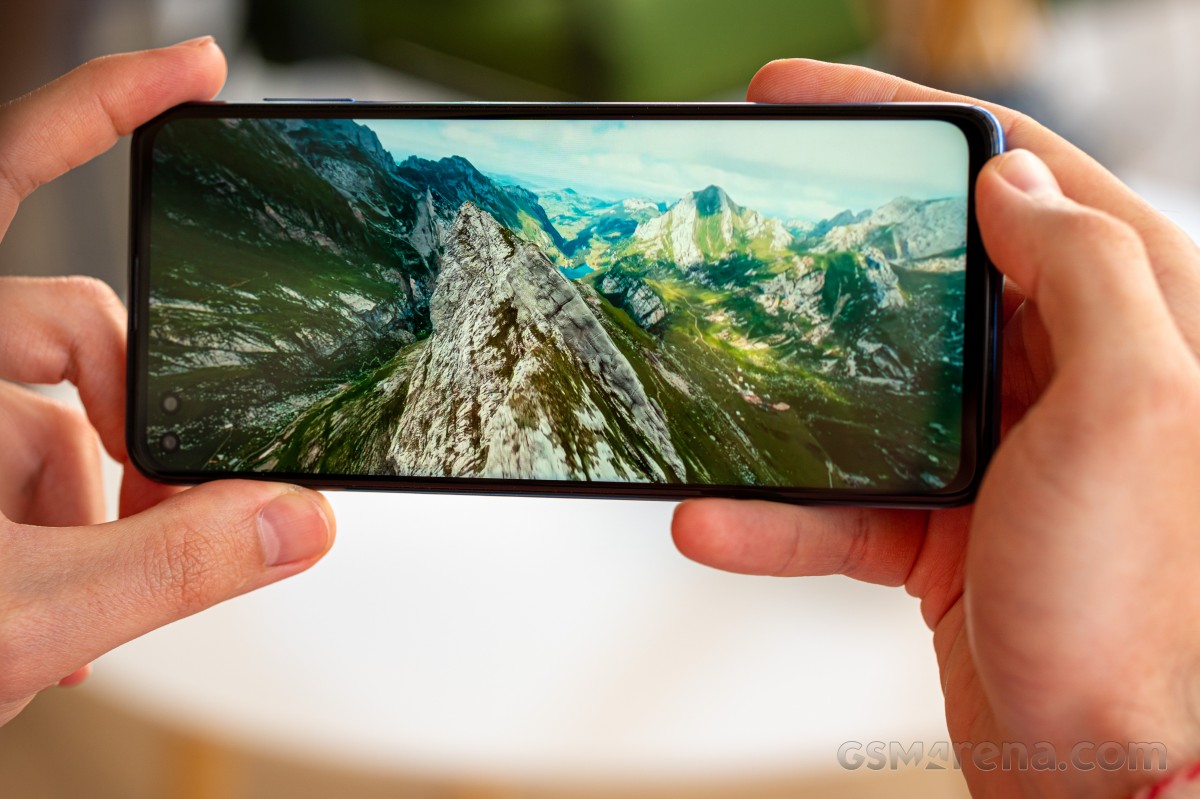 In our brightness testing, the Moto G100 posted okay numbers. Under direct light and with adaptive brightness enabled, the phone was capable of 613nits, while operating the slider manually got us just shy of 500nits. We got average readings for the black level, so ultimately contrast is merely good at around 1400:1. We say 'merely good' because Motorola's own cheaper Moto G30 can do nearly 2000:1 for contrast, though, admittedly, it's not as bright as the G100.
Display test
100% brightness
Black,cd/m2
White,cd/m2
Contrast ratio
Motorola Moto G100
0.349
498
1427:1
Motorola Moto G100 (Max Auto)
0.434
613
1412:1
Motorola Moto G30
0.204
403
1975:1
Motorola Moto G30 (Max Auto)
0.241
468
1942:1
Motorola Edge
0
416
∞
Motorola Edge (Max Auto)
0
595
∞
Poco F3
0
511
∞
Poco F3 (Max Auto)
0
716
∞
Xiaomi Poco F2 Pro
0
516
∞
Xiaomi Poco F2 Pro (Max Auto)
0
854
∞
OnePlus Nord
0
323
∞
OnePlus Nord (Max Auto)
0
756
∞
Xiaomi Mi 10T Lite
0.348
476
1368:1
Xiaomi Mi 10T Lite (Max Auto)
0.455
596
1310:1
Poco X3 Pro
0.327
458
1401:1
Poco X3 Pro (Max Auto)
0.4
534
1335:1
Samsung Galaxy A52
0
386
∞
Samsung Galaxy A52 (Max Auto)
0
794
∞
Xiaomi Redmi Note 10
0
475
∞
Xiaomi Redmi Note 10 (Max Auto)
0
682
∞
OnePlus 8
0
496
∞
OnePlus 8 (Max Auto)
0
803
∞
The Moto G100 adopts the AOSP way of handling color reproduction and offers Natural, Boosted and Saturated modes. The default one is Saturated, and it offers a wide color gamut and vivid colors, though the white point is shifted way towards blues, and it's not particularly accurate when it comes to reproducing our DCI-P3 swatches. The Natural mode is for sRGB content, and it's a lot closer to target, though the white point is again off the mark and has a blue-green tinge in this mode.
The Moto G100's display is HDR capable, and we were able to play YouTube videos in HDR on it. We also got HDR streams on Amazon Prime Video.
However, at the time of writing, Netflix wouldn't play in HDR on the G100. The phone does support the required Widevine L1 level, so it's a matter of Netflix whitelisting the model, though there isn't a single Motorola device in the streaming platform's HDR compatibility list, so fingers crossed. For what it's worth, both major platforms offer 1080p resolution on the Moto G100.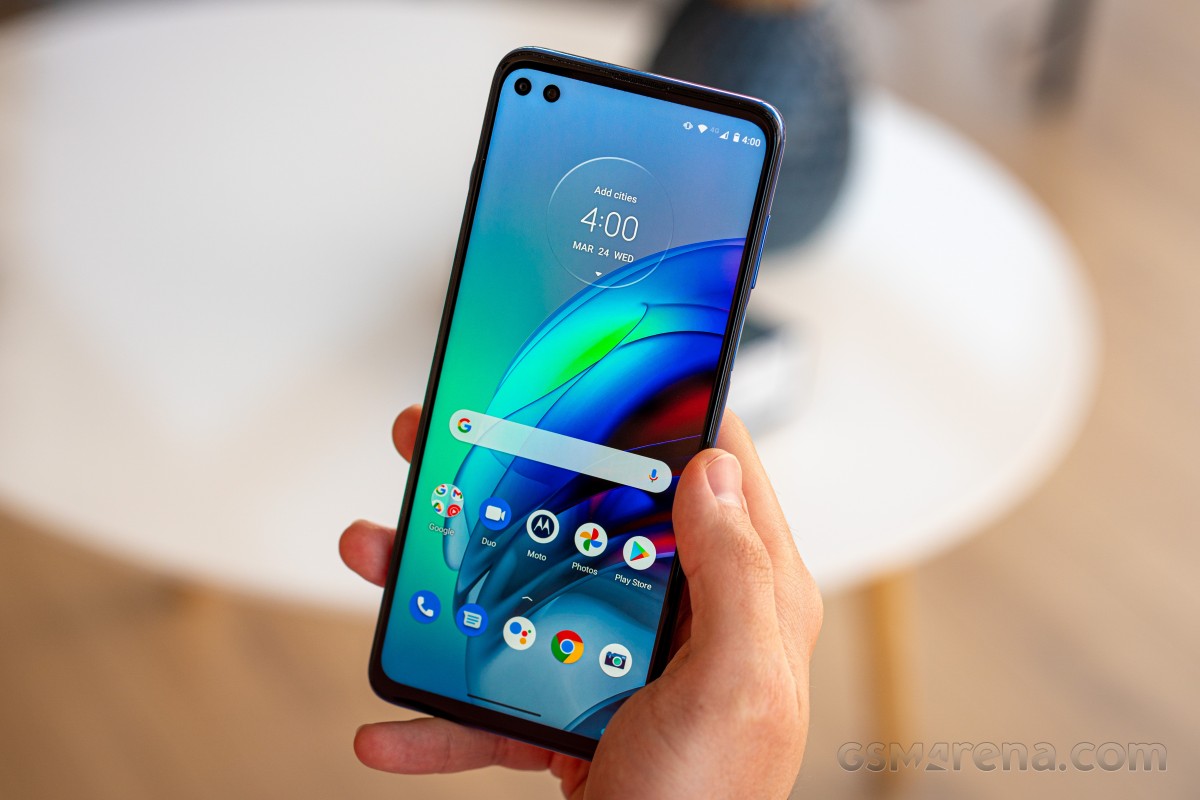 The Moto G100 handles its refresh rate in an identical manner to the Moto G30, which we reviewed recently. It has three modes in the refresh rate menu - 60Hz, 90Hz and Auto. The first one will have you locked in 60Hz for all tasks, and that's what we'd expect of it. In 90Hz mode, you'd be getting 90Hz for pretty much every task, including video playback - not optimal behavior in terms of battery life, but one that's at least honest.
If you do want to optimize battery usage, the Auto mode will try and help with that by adjusting the refresh rate down to 60Hz as soon as you stop interacting with the phone - so you'd be getting 90Hz when you touch the screen and scroll around, but it will drop to 60Hz once you stop touching the screen. On this phone (unlike on the G30), you actually stand to gain some minor battery life improvements in 60Hz, so opting for the Auto mode may yield improved longevity.
Motorola Moto G100 battery life
The Moto G100 is equipped with a 5000mAh battery, about as standard capacity as power packs go these days. This particular phone does have a more powerful and thus a more power-hungry chipset inside, so we weren't expecting exactly the Moto G30's results (another 5,000mAh battery, similarly sized but lower-res 90Hz display, and an inferior chipset). Even so, the Moto G100 did quite well.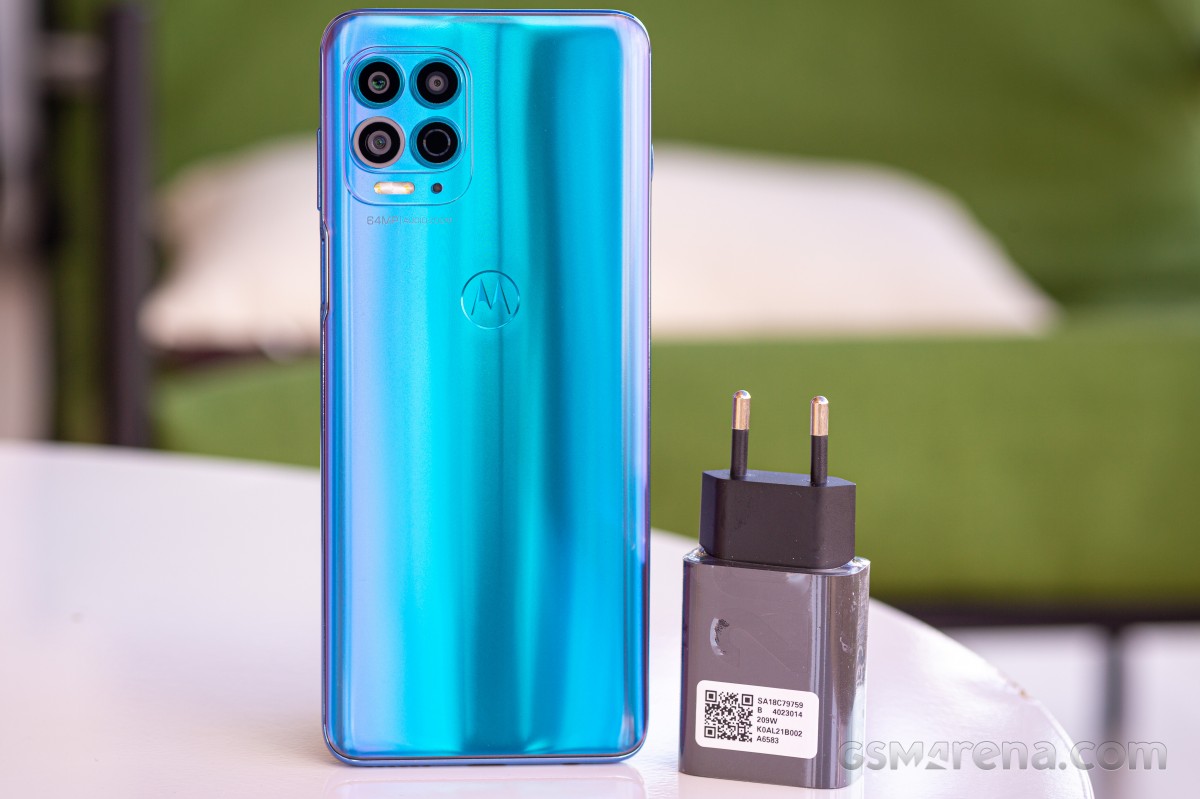 We clocked 12 hours of Wi-Fi web browsing at a constant 90Hz refresh rate and nearly 15 hours of looping videos offline, again at 90Hz, because it can. With 38 hours of potential voice calls on a single charge and reasonable standby performance (for a top-tier Snapdragon), the Moto G100 posted an Endurance rating of 100 hours.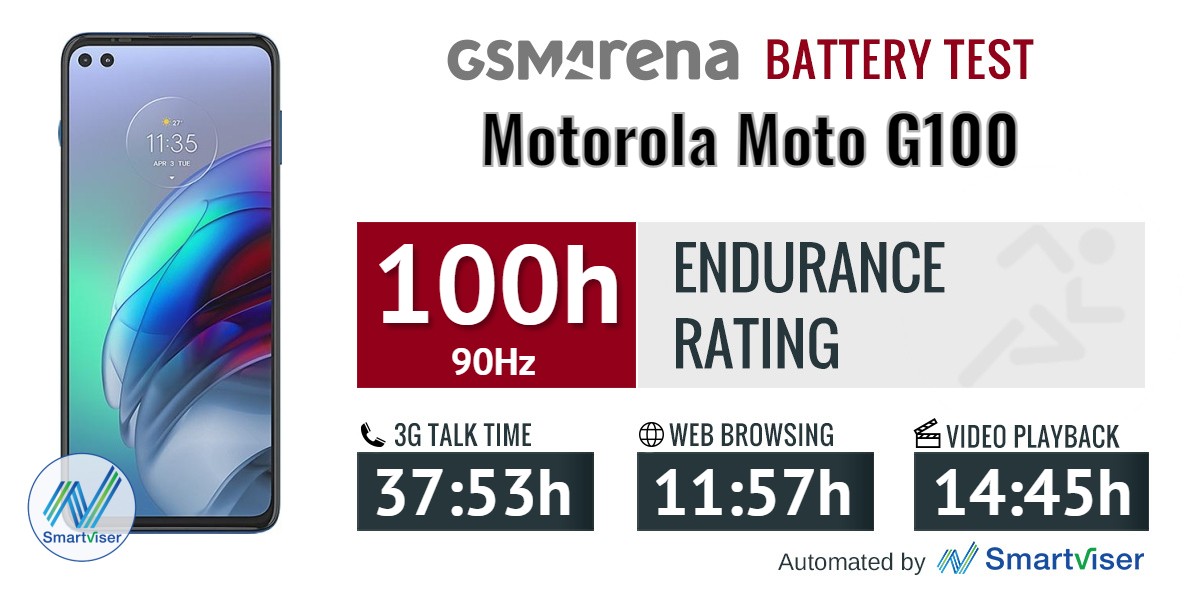 As we mentioned, you stand to gain a bit of extra battery life if you keep the refresh rate down at 60Hz. That will get you another hour of web browsing or about an hour and a half of video playback for an adjusted Endurance rating of 105 hours.
In our book, the Auto mode does make sense on the Moto G100 even if it's not quite as adaptive as recent efforts by Samsung, Oppo and OnePlus.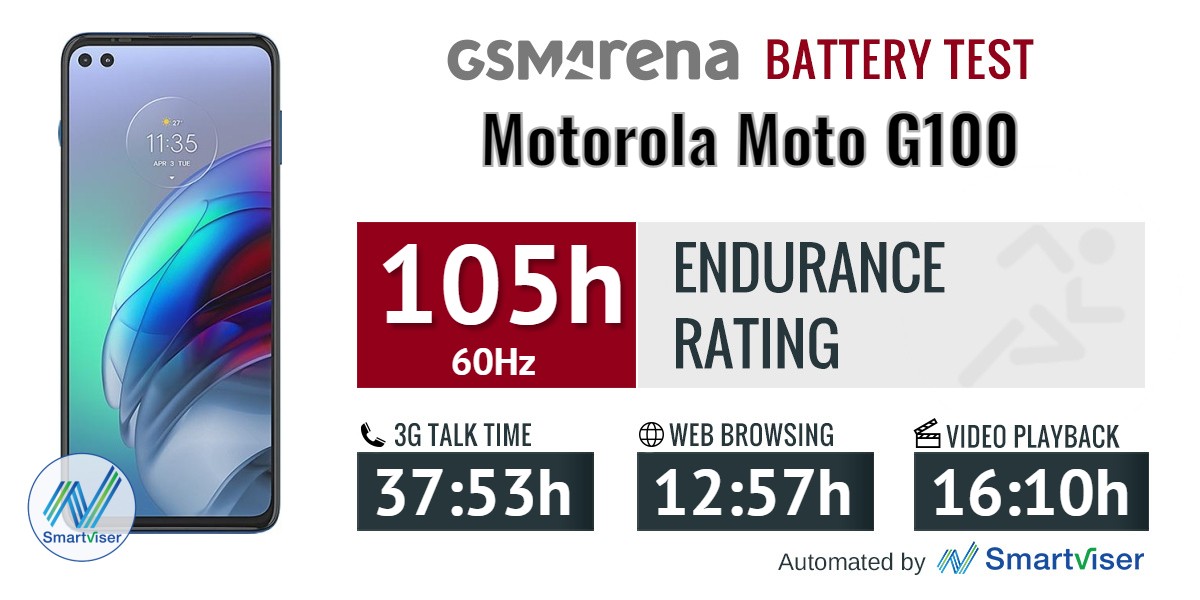 Our battery tests were automated thanks to SmartViser, using its viSerDevice app. The endurance rating denotes how long the battery charge will last you if you use the device for an hour of telephony, web browsing, and video playback daily. More details can be found here.
All test results shown are achieved under the highest screen refresh rate mode. You can adjust the endurance rating formula manually so it matches better your own usage in our all-time battery test results chart where you can also find all phones we've tested.
Charging speed
The Moto G100 ships with the same 20W charger we got with the Moto G30. Here, however, we got quicker charging times, though the numbers are hardly impressive for a €500 phone. A full charge from flat with the included adapter took a little under 2 hours, while a 30-minute session will get you from 0 to 37%.
30min charging test (from 0%)
OnePlus 8
69%
Xiaomi Mi 10T Lite 5G
68%
Xiaomi Mi 10T Pro
61%
Xiaomi Poco F2 Pro
60%
OnePlus Nord
60%
Xiaomi Redmi Note 10 Pro
50%
Poco X3 Pro
50%
Motorola Moto G100
37%
Motorola Edge
37%
Oppo Reno4 Z 5G
36%
Samsung Galaxy A52
34%
Motorola Moto G30
32%
Time to full charge (from 0%)
OnePlus 8
0:53h
Xiaomi Mi 10T Pro
0:58h
Xiaomi Mi 10T Lite 5G
0:58h
Xiaomi Poco F2 Pro
1:05h
OnePlus Nord
1:05h
Poco X3 Pro
1:08h
Xiaomi Redmi Note 10 Pro
1:21h
Motorola Moto G100
1:54h
Oppo Reno4 Z 5G
1:55h
Samsung Galaxy A52
2:03h
Motorola Moto G30
2:28h
Motorola Edge
2:32h
Speaker test
The Moto G100 has a single speaker firing out the bottom of the device, and that came as a bit of a disappointment. We were almost expecting a stereo setup from a semi-premium Moto, given that the modest Moto G8 Plus and Power had them, and so did both the Edge and Edge+ (and, again, the G100 is sort of an Edge itself).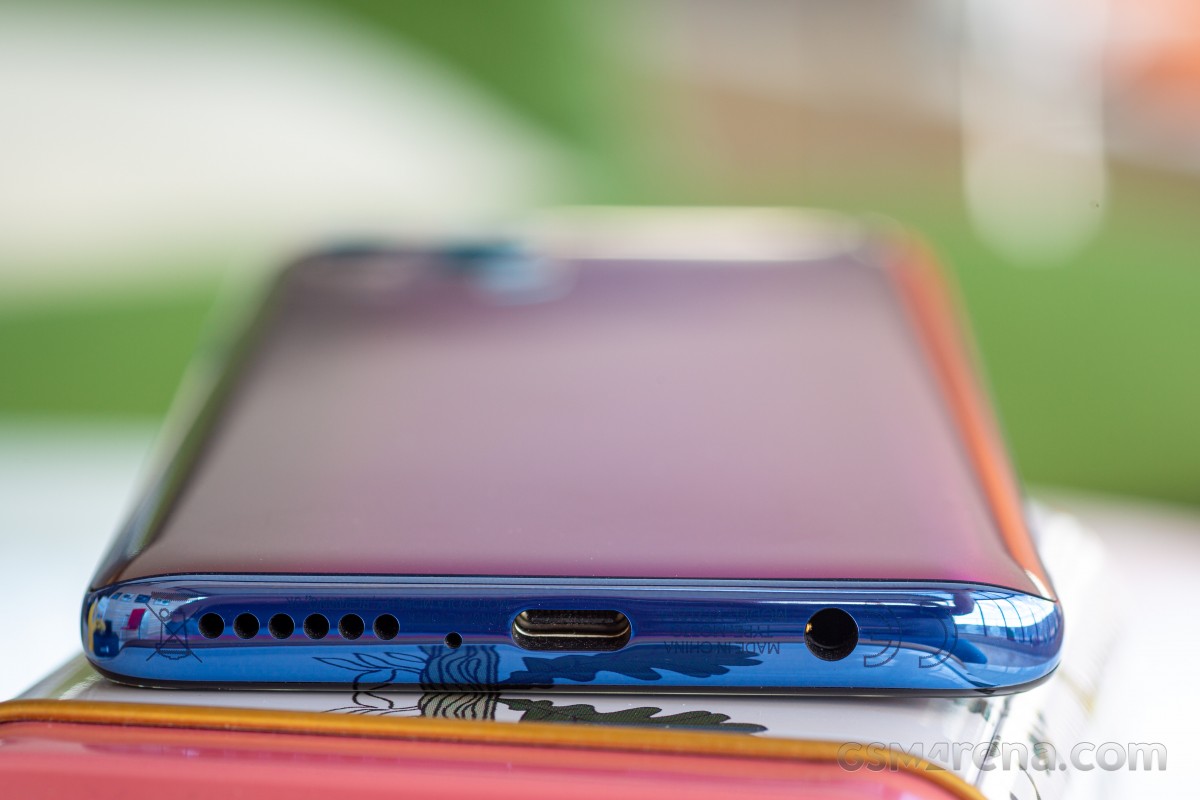 As for loudness, the Moto G100 placed in the 'Average' category in our test. It's about there with the Moto G30, though it does have better-defined vocals and more sparkly treble. Still, the cheaper Redmi Note 10 Pro has stereo speakers, which are also louder than the Moto's. For G100 money, you can also (still) get a OnePlus 8 with a much louder stereo setup.
Use the Playback controls to listen to the phone sample recordings (best use headphones). We measure the average loudness of the speakers in LUFS. A lower absolute value means a louder sound. A look at the frequency response chart will tell you how far off the ideal "0db" flat line is the reproduction of the bass, treble, and mid frequencies. You can add more phones to compare how they differ. The scores and ratings are not comparable with our older loudspeaker test. Learn more about how we test here.