Display
The Motorola Edge packs a 6.7" OLED screen with curved long sides. It has a small punch-hole cutout around the top left corner making way for the selfie camera. The panel is protected by a layer of Gorilla Glass 5.
The screen is of extended Full HD resolution - 2,340 x 1,080 pixels which adds for 385ppi. It supports high refresh rate - 90 Hz - and you can choose between 60Hz, 90Hz, and Auto.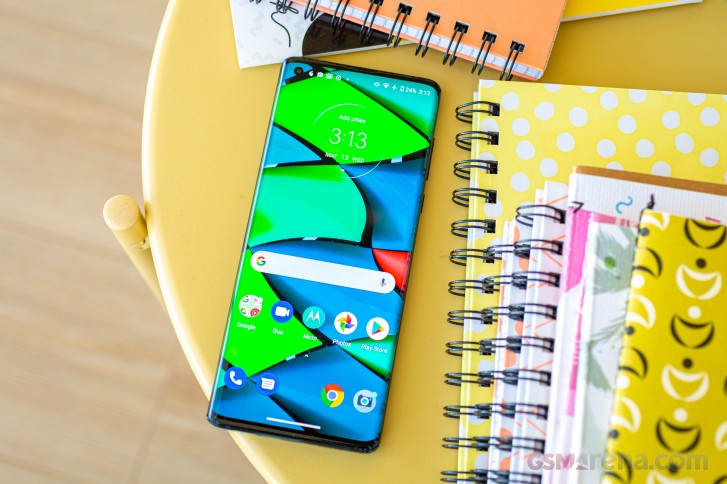 The Edge+ and Edge have the same screen panels but this one here only got HDR10 certification in contrast to the HDR10+ certified screen on the Edge+.
That's not a huge loss, but a more important difference between the two phones is the fact that Netflix and Amazon Prime only stream SD content to the Edge even though it supports Widevine L1. We do hope things improve via an update later on, though.
We measured a maximum brightness of 416 nits when using the brightness scrubber manually.
When the screen uses Adaptive Brightness it can light up as high as 595 nits. Oddly, the sunlight boost is available only for the 90Hz refresh rate, while at 60Hz - you will be limited to 416 nits the whole time.
A fun fact, the brightness scrubber is far from linear and we measured the 200 nits needed for our tests at nearly 90% on the brightness scale so there is very little space for fine control of the brightness between 200 and 400 nits.
Finally, the minimum brightness we were able to achieve with white was 2.3 nits - so an excellent result.
Display test
100% brightness
Black,cd/m2
White,cd/m2
Contrast ratio
Motorola Edge
0
416
∞
Motorola Edge (Max Auto)
0
595
∞
Motorola Edge+
0
422
∞
Motorola Edge+ (Max Auto)
0
607
∞
Realme X50 Pro 5G
0
525
∞
Realme X50 Pro 5G (Max Auto)
0
635
∞
Xiaomi Redmi K30
0.399
550
1378:1
Xiaomi Redmi K30 (Max Auto)
0.527
714
1355:1
Xiaomi K20 Pro/Mi 9T Pro
0
453
∞
Xiaomi K20 Pro/Mi 9T Pro (Max Auto)
0
643
∞
Samsung Galaxy S20+
0
379
∞
Samsung Galaxy S20+ (Max Auto)
0
797
∞
Sony Xperia 1
0
391
∞
Sony Xperia 1 (Max Auto)
0
665
∞
Oppo Find X2
0
518
∞
Oppo Find X2 (Max Auto)
0
850
∞
OnePlus 8 Pro
0
538
∞
OnePlus 8 Pro (Max Auto)
0
888
∞
OnePlus 8
0
496
∞
OnePlus 8 (Max Auto)
0
803
∞
Xiaomi Mi 10 5G
0
522
∞
Xiaomi Mi 10 5G (Max Auto)
0
854
∞
You get to choose between Natural, Boosted, or Saturated color modes.
The default Saturated mode got us an average DeltaE of 3.5 against DCI-P3 targets. With Natural mode, we measured an average DeltaE of 4.0 against sRGB targets.
Overall, color reproduction is very good on the Motorola Edge even if the white and gray hues always have a somewhat bluish tinge.
Battery life and charging
The Motorola Edge has a large 4,500 mAh battery. The phone supports Moto's 18W Turbo Power charging and it fills 37% of the depleted battery in 30mins, not fast and yet not sluggish either. A full charge takes 2 hours and 32 minutes though.
We've put the Motorola Edge through our battery life test and the phone aced it. The Edge scored a 102-hour Endurance rating. It did a remarkable job in all tested scenarios - video, calls, and web browsing. It is also quite efficient when it comes to stand-by performance and hence the 100+ endurance.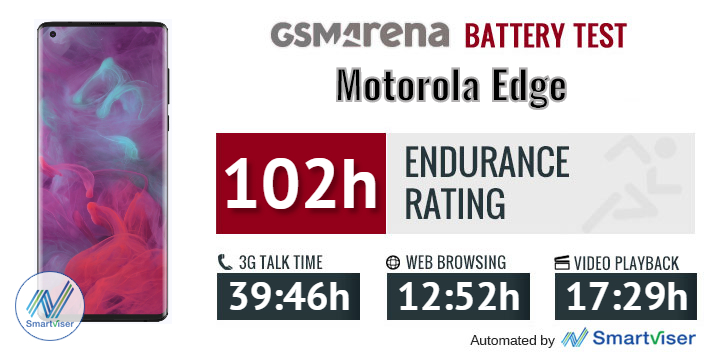 The video and web browser battery test ran at 90Hz display setting - the default one - and that's what our battery picture is showing. When set at 60Hz, we clocked 1 hour more on web and 2 more hours on video playback. The final endurance rating rose to 106h.
Our battery tests were automated thanks to SmartViser, using its viSerDevice app. The endurance rating above denotes how long a single battery charge will last you if you use the Motorola Edge for an hour each of telephony, web browsing, and video playback daily. We've established this usage pattern so that our battery results are comparable across devices in the most common day-to-day tasks. The battery testing procedure is described in detail in case you're interested in the nitty-gritty. You can check out our complete battery test table, where you can see how all of the smartphones we've tested will compare under your own typical use.
Speakers
The Motorola Edge has a hybrid stereo speaker configuration, just like the Edge+. It is quite common - the earpiece doubles as a second speaker. The Edge earpiece isn't as powerful as the bottom one though and lacks noticeably in the lows, but other than that makes for a convincing stereo effect.
Motorola also offers its proprietary Moto Audio enhancements, which improve in real-time the audio quality through the speakers depending on the content - movie, music, or game.
The speakers have been allegedly tuned by a company called Waves with the goal of providing class-leading loudness and output quality.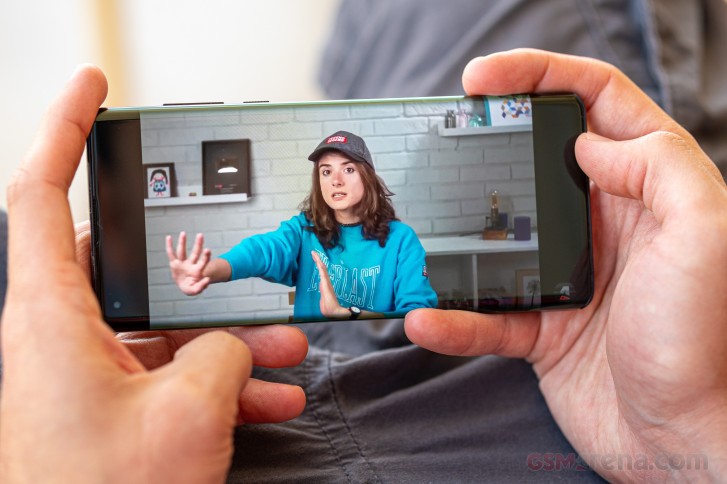 In our new speaker test, however, the Motorola Edge scored a Below Average mark for loudness.
As for the quality - it's very good and has rich sound output. The high notes are a bit muffled and not as crisp as the output from the Motorola Edge+. So overall, the audio output is above average but not class-leading.
Use the Playback controls to listen to the phone sample recordings (best use headphones). We measure the average loudness of the speakers in LUFS. A lower absolute value means a louder sound. A look at the frequency response chart will tell you how far off the ideal "0db" flat line is the reproduction of the bass, treble, and mid frequencies. You can add more phones to compare how they differ. The scores and ratings are not comparable with our older loudspeaker test. Learn more about how we test here.
Audio output quality
We've recently discontinued our audio output quality test.
The reason for that is that most phones that arrived for testing were already excellent in this regard and whatever difference there was between phones, it was marginal and probably indistinguishable to anything but our lab equipment.