Display
The similarities between the Moto Z Play and the Moto G4 Plus, we reviewed earlier, are notable and on at least a few levels. However, the display is one area where the added hardware value of the former starts to shine through. Instead of a simple IPS panel, even the entry-level Moto Z handset offers a superior Super AMOLED panel.
It has a diagonal of 5.5-inches and a resolution of 1080p, for a total pixel density of 403ppi. We continue to stand firm behind our believe that this is perfectly sharp for a display of this size. Plus, an OLED panel, combined with said resolution and the efficient Snapdragon 625 chipset should yield some impressive battery endurance results. But, more on that later.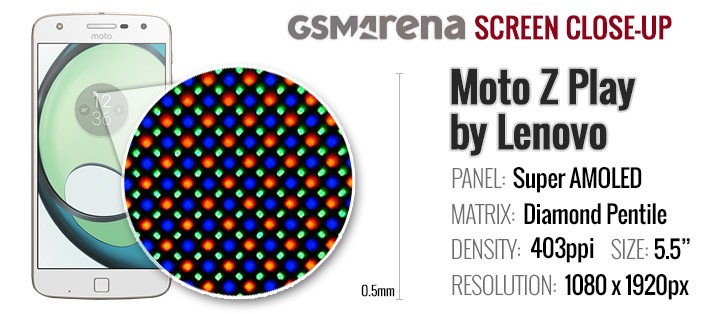 The "Super AMOLED" notation itself indicates that the panel comes from Samsung. However, it is not really a top-of-the-line piece. Viewing angles are sub-par and the maximum brightness could use some improvement. In our test, we measured 371 nits in normal mode and up to 526 in max auto. The auto brightness adjustment is not very quick to respond to changes in ambient light, so we often found ourselves reaching for the brightness slider to override it.
Color accuracy is only about average. We understand that vibrant colors are what most users have come to expect from OLED so that we won't judge the Moto Z Play too harshly. If that is what you are after, the Vibrant mode has all the "pop" you could ever want. There maximum color deviation has a DeltaE 2000 of 11.8, and the average is 5.3.
Then, there is the Standard mode. It lowers the maximum DeltaE to 7.1, which is quite good. You do, however, end up with a slightly colder color pallet and it's still not calibration-grade color reproduction.
We can thank Super AMOLED technology for the practically infinite contrast. The almost uncanny exact match in numbers with the more expensive Moto Z is not a typo. Motorola seems to be using panels with basically identical performance between the pair.
Display test
100% brightness
Black, cd/m2
White, cd/m2
Contrast ratio
Motorola Moto Z Play
0.00
371
∞
Motorola Moto Z Droid
0.00
371
∞
Motorola Moto G4 Plus
0.33
478
1448
OnePlus 3T
0
447
∞
Xiaomi Mi 5s
0.51
660
1294
Xiaomi Redmi 4 Prime
0.475
528
1112
Xiaomi Redmi Pro
0.00
408
∞
Asus Zenfone 3 ZE552KL
0.45
607
1349
LeEco Le Max 2
0.30
426
1444
ZTE Axon 7
0.00
352
∞
LG G5
0.17
306
1855
nubia Z11
0.43
513
1196
Meizu PRO 6
0.01
360
40000
Meizu MX6
0.34
457
1344
Huawei Mate 8
0.346
471
1361
Huawei P9 Plus
0.00
400
∞
Huawei Honor 8
0.34
374
1101
Alcatel Idol 4S
0.00
373
∞
Samsung Galaxy J7 (2016)
0.00
353
∞
Samsung Galaxy C7
0.00
422
∞
Oppo R9s
0.032
411
12844
The Moto Z Play's AMOLED panel is superior over the Moto G4 Plus one in the sunlight legibility as well. The results themselves are nothing spectacular, but, still, the improvement is tangible.
Sunlight contrast ratio
Samsung Galaxy S6 edge+
4.615
Samsung Galaxy S7 edge
4.439
OnePlus 3
4.424
Samsung Galaxy S7
4.376
HTC One A9
4.274
Samsung Galaxy Note7
4.247
Samsung Galaxy A3
4.241
OnePlus 3T
4.232
Google Pixel XL
4.164
ZTE Axon 7
4.154
Samsung Galaxy S6 edge
4.124
Samsung Galaxy Note5
4.09
Huawei Nexus 6P
4.019
OnePlus X
3.983
Vivo Xplay5 Elite
3.983
Oppo R7s
3.964
Apple iPhone 7
3.964
Huawei P9 Plus
3.956
Samsung Galaxy A7 (2016)
3.918
Samsung Galaxy C5
3.911
Samsung Galaxy C7
3.896
Samsung Galaxy A5
3.895
Samsung Galaxy J7 outdoor
3.879
Samsung Galaxy J2 outdoor
3.873
Samsung Galaxy A8
3.859
Samsung Galaxy A9 (2016)
3.817
Motorola Moto X (2014)
3.816
Samsung Galaxy J7 (2016) outdoor mode
3.802
Xiaomi Redmi Pro
3.798
LG V20 Max auto
3.798
Sony Xperia XZ
3.795
Samsung Galaxy A5 (2016)
3.789
Apple iPhone 6s
3.783
Meizu Pro 5
3.781
Microsoft Lumia 650
3.772
Samsung Galaxy J7 (2016)
3.756
Oppo F1 Plus
3.709
Vivo X5Pro
3.706
Sony Xperia X Compact
3.694
Apple iPhone SE
3.681
Huawei Mate 9
3.68
Samsung Galaxy A7
3.679
Meizu PRO 6
3.659
BlackBerry Priv
3.645
Apple iPhone 7 Plus
3.588
Apple iPhone 6s Plus
3.53
Motorola Moto Z Play
3.526
Samsung Galaxy J3 (2016)
3.523
Samsung Galaxy J3 (2016) outdoor mode
3.523
Acer Jade Primo
3.521
Microsoft Lumia 950
3.512
Oppo R7 Plus
3.499
nubia Z11
3.466
Samsung Galaxy J7
3.422
Meizu MX5
3.416
LG V20
3.402
Oppo R9s
3.352
Oppo R7
3.32
Xiaomi Mi 5s
3.276
Samsung Galaxy J2
3.235
Sony Xperia X Performance
3.234
Xiaomi Mi Note 2
3.228
Motorola Moto X Play
3.222
Huawei P9
3.195
Lenovo Vibe Shot
3.113
Motorola Moto X Force
3.105
LG Nexus 5X
3.092
Huawei Mate S
3.073
Microsoft Lumia 640 XL
3.065
Sony Xperia X
2.989
Huawei Mate 8
2.949
Xiaomi Redmi 3S
2.913
Sony Xperia XA Ultra
2.906
LG G5
2.905
HTC One S
2.901
Xiaomi Mi 5s Plus
2.884
Sony Xperia Z5
2.876
Microsoft Lumia 550
2.851
Xiaomi Redmi 3 Pro
2.803
Sony Xperia Z5 compact
2.784
Meizu MX6
2.751
LG V10
2.744
Xiaomi Redmi 3
2.735
Sony Xperia M5
2.69
Huawei P9 Lite
2.679
Vivo V3Max
2.659
Xiaomi Mi Mix
2.658
Xiaomi Mi 4i
2.641
Sony Xperia XA
2.609
Motorola Moto G4 Plus
2.582
Motorola Moto G4 Plus (max auto)
2.582
Xiaomi Mi 4c
2.574
LeEco Le Max 2
2.567
Microsoft Lumia 640
2.563
Asus Zenfone 3 ZE552KL
2.563
Lenovo Moto G4
2.544
Oppo F1
2.528
Sony Xperia Z5 Premium
2.525
Huawei Honor 7 Lite / Honor 5c
2.506
Sony Xperia M4 Aqua
2.503
Oppo F1s
2.481
Motorola Moto G
2.477
Lenovo Vibe K5 Plus
2.473
Huawei G8
2.471
Huawei nova
2.467
Sony Xperia Z
2.462
Lenovo Vibe K5
2.459
Meizu m3 max
2.447
Huawei Honor 7
2.406
Sony Xperia E5
2.386
ZUK Z1 by Lenovo
2.382
HTC 10
2.378
Samsung Galaxy J5 (2016)
2.378
Huawei nova plus
2.329
HTC One E9+
2.305
Alcatel One Touch Hero
2.272
Apple iPhone 4S
2.269
Lenovo Vibe K4 Note
2.254
Sony Xperia C5 Ultra
2.253
Xiaomi Redmi Note 3 (MediaTek)
2.249
Sony Xperia C4 Dual
2.235
Xiaomi Mi Note
2.234
Motorola Moto G (2014)
2.233
LG Nexus 5
2.228
Huawei P8
2.196
Huawei Honor 6
2.169
Xiaomi Redmi Note 2
2.166
OnePlus Two
2.165
HTC One X
2.158
LG Aka
2.145
Xiaomi Redmi Note 4
2.145
Archos 50 Diamond
2.134
Xiaomi Redmi Note
2.119
Acer Liquid X2
2.084
Huawei P8lite
2.078
Moto G 3rd gen max manual
2.026
Xiaomi Mi 3
2.001
Xiaomi Mi Max
1.996
Sony Xperia E4g
1.972
OnePlus One
1.961
Meizu m3 note
1.923
BlackBerry Leap
1.892
Meizu m2 note
1.892
ZTE Nubia Z9 mini
1.759
Sony Xperia U
1.758
Asus Zenfone Selfie
1.68
Motorola Moto E (2nd Gen)
1.675
ZTE Nubia Z9
1.659
Jolla Jolla
1.605
Motorola Moto E
1.545
Sony Xperia M
1.473
HTC Desire C
1.3
Sony Xperia C
1.283
Meizu MX
1.221
Sony Xperia E
1.215
Connectivity
We already mentioned this on a few occasions, but we will reiterate that the Moto Z Play offers a dual-SIM variant. Not only that, but it is incredibly convenient since you can use two Nano SIM cards and a microSD, all at once - a real rarity these days.
Dual-band Wi-Fi a/b/g/n is supported along with Bluetooth 4.1 LE. This is a rather odd downgrade since the Moto G4 Plus does have a newer Bluetooth 4.2 radio. Still, NFC has not been omitted this time around. That means you also get support for Android Pay in supported regions.
Including USB Type-C is a pretty progressive move on Motorola's part. However, like many other manufacturers, the new connector standard doesn't necessarily bring about new communication tech on the backend. Data transfer is handled by USB 2.0. There is no video output - MHL, SlimPort or otherwise. Luckily OTG is thrown in the mix.
Battery
Most of the Moto Z Play's girth can be attributed to the rather sizable 3510 mAh battery pack. It is sealed in, which has been the norm in the industry for some time now. We won't hold a grudge against Lenovo on this point.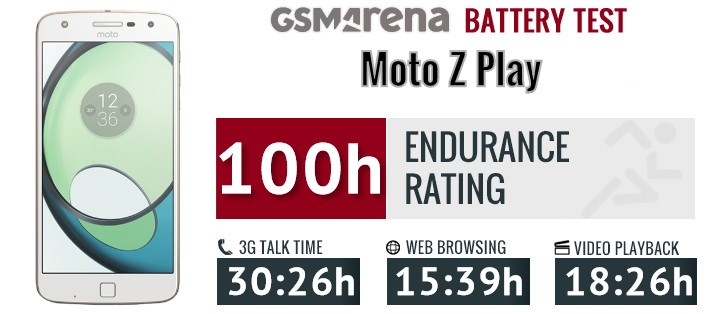 Battery endurance is definitely one of the Moto Z Play's strong suites. It is one of those mid-range offers with a focus on power efficiency. Their number has been growing in 2016, and we expect the trend to continue well into 2017 as well.
The better part of the magic lies within the chipset. The Snapdragon 625 SoC is still among the select few to use an efficient 14nm process. Since it relies on less powerful Cortex-A53 cores, the benefit is almost entirely to power efficiency.
Combine that with the 3510 mAh battery and the efficient nature of the FullHD Super AMOLED panel and you end up with what our endurance tests calculated at 100 hours. This is quite respectable and on par with the Samsung Galaxy C7.
The battery testing procedure is described in detail in case you're interested in the nitty-gritties. You can also check out our complete battery test table, where you can see how all of the smartphones we've tested will compare under your own typical use.